Medford, Oregon looks to take youth sports by storm with its new, premier indoor Rogue X complex
Medford, Oregon is strengthening its elite tourism allure by swinging for the fences with a new, 140,000-square-foot sports complex. Located in the heart of the Rogue Valley, the aptly named and sponsored Rogue Credit Union Community Complex broke ground at Howard Memorial Sports Park on September 10, 2021, with a projected completion time frame for Autumn 2023. Known by the city as Rogue X for short, the $75.7 million state-of-the-art complex looks to improve quality of life in the community with its abundance of features.
Currently, Rogue X is set to contain eight full-sized indoor basketball courts within its event center, which can be utilized for a variety of indoor sports events and tournaments. The additional 35,500-square-foot natatorium will benefit both sides of the coin with two different pools. The first is a 13-lane competitive pool, allowing Medford to host major swimming and other aquatic sporting events. The second, a recreational pool, will have two water slides and link up with an interactive outdoor splash pad for more family fun.
"Medford is so fortunate to have the Rogue Credit Union Community Complex opening next year… allowing us to host sports events we never could before which is super exciting," said Angela Wood, director of sales and sports development at Travel Medford. "We are a desirable location for sports events already due to our accessible location, mild climate and variety of outdoor venues. What we were missing was the indoor space, so those eight full-sized courts and recreational and competitive pools, which the community desperately needed, are the perfect addition."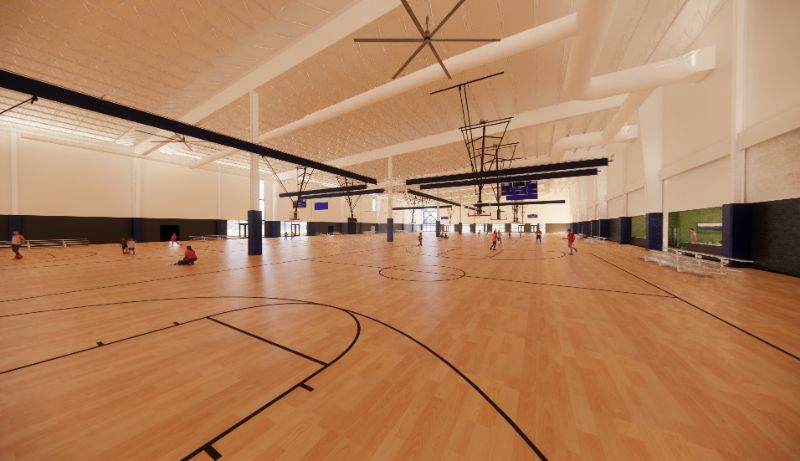 There is also room for future expansion at Rogue X and the surrounding Howard Memorial Sports Park, with multiple outdoor fields and a playground already planned. Parking originally had to be scaled down to 290 new spaces due to rising market costs since the inception for the center came to life in 2019. However, anticipating high demand for the complex prompted the necessity for more parking, which would be able to increase to a total of 664 spaces, all without compromising the beautifully designed layout.
Despite the challenges faced, Rogue X is on course to open in November 2023 to great fanfare. In the competitive youth sports tourism market, the complex will help drive more tournaments and events to Medford and the surrounding area of Rogue Valley. Of course this means injecting significant gains into local businesses—particularly when it comes to hospitality.
"Having a large events center and aquatics facility under one roof not only addresses community recreational space needs, but it will stimulate the local economy by putting 'heads in beds' for generations to come," said Richard Rosenthal, parks, recreation and facilities director at City of Medford. "We estimate the economic impact of Rogue X will be in excess of $12 million per year."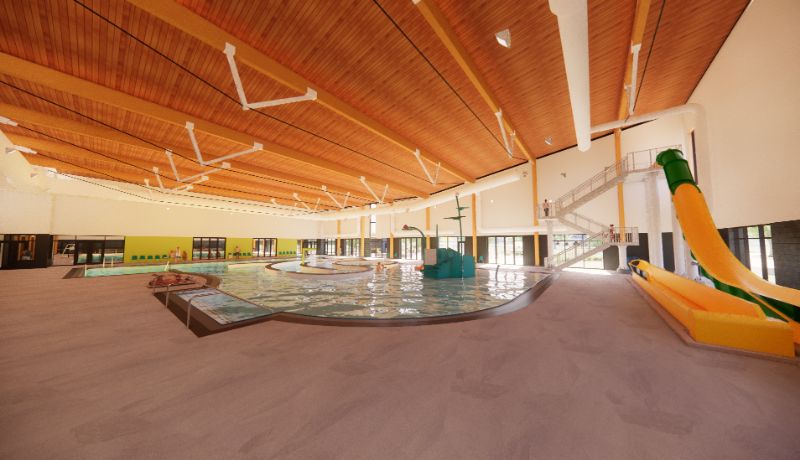 According to the Sports Events & Tourism Association's 2022 State of the Industry Report, sports tourism is valued at $91.8 billion and continuing to climb. Medford's move to open Rogue X will not only allow the city and its community to earn a larger portion of this market, it will also contribute to further expanding upon it in an area of the U.S. in need of a premier sports venue.
"There are very few complexes in the [Pacific Northwest] that can compare to Rogue X," Angela Wood commented. "This will put Medford in a great position to compete for more events in our region, and will ultimately make southern Oregon one of the most desirable destinations for sports events in the west. This is why Medford is Your Sportground, Where the West Coast Plays."
By Christopher D. Silbernagel