From North Carolina to Florida and Georgia to Tennessee, Southern destinations are showcasing some of the best championship soccer venues in the U.S.A. A quick look at these 11 shows why.
Foley Sports Tourism Complex/Foley, AL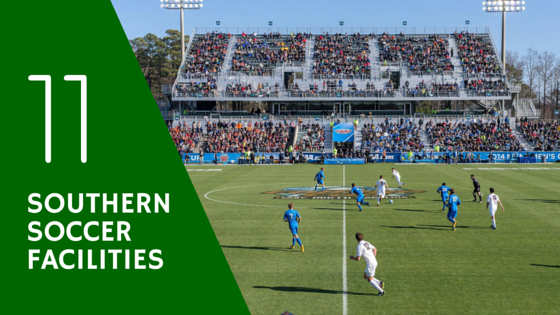 New isn't always better, but the state-of-the-art fields at Foley Sports Complex are setting the bar high. The Championship field with TV-ready lighting, press box and seating up to 2,000 anchors 16 fields. Teams walk to the fields from the on-campus Hilton Garden Inn, while the wide, sugar white sandy Alabama beaches are less than 8 miles away. Throw in some outlet shopping, a 480-acre nature preserve and outstanding dining options for a memorable sports travel experience.
Austin-Tindall Regional Park/Kissimmee, FL
If lineage counts, the exceptional soccer fields at Austin-Tindall have a story to tell. The five natural grass lighted fields and three practice fields have hosted everything from youth tournaments to major league soccer training. Good things do come in small packages, but there's nothing small about the destination. Conveniently located in Central Florida, Kissimmee is just minutes south of Orlando and its world-class attractions.
International Polo Club/Palm Beach County, FL
Is there a soccer competition event that's too big for the International Polo Club? With 50 natural grass fields in one location, I don't think so. Evidence the 2016 American Youth Soccer Association National Championship. With more than 16,000 rooms, there's no problem accommodating your event, and housing services are available. Of course there's just one minor catch: January-April is polo season and that's the sport taking center stage.
The fields are adjacent to both sides of gently flowing Noonday Creek, but there's more to this complex than just a pretty setting. Walking bridges connect the fields and there's plenty of parking on both sides of the creek. Twelve natural grass fields with two practice fields are adjacent to a concession building and playground. Just 20 minutes outside of Atlanta and all of its attractions, Cobb County is rich in history and home to Six Flags Over Georgia.
Henderson Park/DeKalb County, GA
The six natural grass fields at Henderson Park are certainly capable of hosting a variety of soccer competitions. But it's often the away-from-the-field memories an athlete takes away from an event. The Fernbank Museum of Natural History, historic Stone Mountain Park and Stone Summit, the fifth largest climbing wall in the U.S.A, ensure there's something for all ages after the on-field action is over. Amongst the stunning natural wonders of DeKalb County you'll find dining options to fit any appetite and abundant accommodation choices.
BB&T Soccer Park/Winston-Salem, NC
Located along the Yadkin River, the Park is home to 13-Bermuda grass fields and rave reviews from planners. Nine are lighted including a stadium field accommodating seating for 1,400, a filming tower for video taping games and practices. A Wi Fi Fieldhouse is ideal for team meetings. Located in the Triad Area of North Carolina just an hour north of Charlotte, Winston-Salem is easily accessible by major highways. Old Salem Historic District, Reynolda House Museum of American Art, Delta Fine Arts Center and Diggs Gallery make Winston-Salem a history, art and cultural center.
Being home to the NASL Carolina RailHawks for their spring and fall seasons and the site for a record-setting seventh time of the NCAA Women's College Cup National Championships speaks volumes for WakeMed's pedigree. Part of a 150-acre, multi-use complex, which saw a major renovation in 2012, the Soccer Park features a 10,000-seat lighted stadium field with luxury suites, concession, locker rooms, video board and meeting space, plus two other lighted fields for matches and five additional fields. The Greater Raleigh Sports Alliance can arrange a site inspection of WakeMed and area hotels and serves as a liaison between events rights holders and WakeMed.
Manchester Meadows Soccer Complex/Rock Hill-York County, SC
It did not take long for Manchester Meadows to attract regional and national soccer tournaments. The complex features eight lighted soccer fields. Two stadium fields seat 750 each and feature synthetic turf. Six lighted grass fields and three unlit grass fields complete the mix. Manchester Meadows also includes concessions and meeting rooms with seating up to 100. Located just 20 minutes south of Charlotte, North Carolina, Rock Hill is home to Carowinds amusement and waterpark and leading flag hotels.
MeSA Soccer Complex/Greenville, SC
In 2012 MeSA hosted 10,000 athletes and their spectators from 12 Southern states for the US Youth Soccer Southern Regional Soccer Tournament. The venue is equally adept at handling any size event. Located midway between Charlotte and Atlanta, the top-of-the-line 16 MeSA fields are set in a 60-acre complex. The playground and tournament facility are accessible from the playing fields. In addition to being a sport tourism destination, MeSA is home to the always-competitive Carolina Elite Soccer Academy. More than just the venue, Greenville has a well-deserved reputation for assuring visitors have a warm and memorable stay. Forbes magazine recently ranked downtown Greenville as one of the top 10 in the U.S.
Upward Sports Star Center/Spartanburg, SC
Although it is one of the newest venues in the South, the center has rapidly become a favored soccer destination. Two soccer fields with artificial turf and four grass fields provide space for tournament action. However, it could be the 120,000-square-foot, multi-sport facility that may be the clincher. The Rock Wall, Team Shop, orthopedic services and meeting rooms are attractive additions to planners' and coaches' wish lists. Located in the foothills of the scenic Blue Ridge Mountains, Spartanburg is easily accessible via interstate highway and air. There's plenty to see and do off the field and Visit Spartanburg is ready to help with site inspections and housing services.
Richard Siegel Soccer Complex/Rutherford County, TN
If you know soccer, it's a good possibility you know the Siegel Soccer Complex. Just about 30 minutes east of Nashville on I-24 in Murfreesboro, the soccer venue is part of a 130-acre athletic complex. A state, regional and national soccer destination, it consists of a lighted stadium field, eight lighted regulation fields and six unlit fields. All the amenities that families need are here, from playgrounds and pavilions available for rent to concessions, restrooms and ample parking. History, shopping and music are all part of the Rutherford County offerings. Central contract negotiations for venues and a preferred housing bureau make Rutherford County easy to work with.
Rights holders and event planners certainly have almost endless choices of soccer destinations. These 11 provide a good introduction to some of the leading venues in the South.