Why plan a tournament in Champaign?
There is so much more to the Land of Lincoln than Chicago. The Midwest way of life flows through the blood of every Illinoisan from Rockford to Carbondale, and it's no exception in Champaign County, where the good people of the state migrate on fall Saturdays to watch their Fighting Illini take the field.
That same loyalty these fans across Illinois show their favorite NCAA team each week is the same loyalty you'll find while planning a tournament in Champaign County, along with a cornucopia of activities to fill your time between games.
Located in the eastern part of central Illinois, Champaign is no stranger to tournaments large and small. Every year it hosts the Illinois High School Association Wrestling and Football championships as student athletes come down to see who is the best in Illinois.
With the its rural charm and big-city amenities and sports facilities, Champaign County is a versatile option for your next tournament. The collegiate home of professional players like Dick Butkus, Lou Boudreau and Deron Williams will feel like home for your next tournament.
What can we see in Champaign after the buzzer sounds?
Finding a great location for your sports event is more than just finding great sporting facilities. It has to be one your participants will be excited to see, a place offering a wide range of activities to create memories to bring back home–something Champaign can offer your group.
After a long game, take a victory lap around Champaign's downtown, which offers 40 places to eat and drink, along with unique shopping you won't find anywhere else. Eighteen specialty shops in the downtown area offer something for everyone in your group while recharging their batteries for the next day's game.
Fans of our nation's 16th president will find Champaign County has several attractions to hang their top hats upon. There are seven sites dedicated to President Abraham Lincoln in the state he called home. In the Museum of the Grand Prairie in Mahomet, visitors can check out the exhibit Champaign County's Lincoln, which details the president's life while he practiced law in the region. After learning about Lincoln's legal career, visit where it actually happened at the Champaign County Courthouse in Urbana.
Visitors also can see what the University of Illinois has to offer athletically, artistically and academically, along with wineries and microbreweries for the adults in your group.
---
X Factors
Site visits
Marketing & PR assistance
Customized webpages for tournament information
Local media coverage
Signage
Service bags with visitors guide, maps and area discounts
Planner Perspective
What we know about the facilities
Activities & Recreation Center
Sports: Basketball, volleyball, racquetball, swimming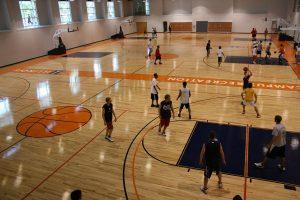 One of the largest on-campus recreational centers in the country, the Activities & Recreation Center at the University of Illinois, nicknamed ARC, boasts  340,000 square feet of competitive space with its four gyms holding 13 basketball courts and 17 volleyball courts. The center also features 12 racquetball courts, two pools, nine multi-use spaces and a 150-seat auditorium. The ARC provides ample locker storage along with two full-sized locker rooms. Spectators can grab a bite at the Courtside Cafe on the entrance floor or learn to cook healthy meals for hungry athletes at the instructional kitchen on the concourse level.
Dodds Park
Sports: Baseball/softball, soccer, disc golf
Since 1969 Dodds Park on the northwest side of Champaign has provided open space for outdoor activities. Today, the 110-acre park offers 12 soccer fields at various sizes for different ages, with permanent concessions, restrooms and parking along the entire eastern side of the campus. Across the park are nine baseball and softball fields, including lighted 4-Plex fields and 3-Plex fields to the north with parking between the two of them. Dodds Park also features an 18-hole disc golf course with the availability for dual pin positions.
Atkins Tennis Center & Khan Outdoor Complex
Sports: Tennis
Home of the Fighting Illini Tennis team and site of the 2013 NCAA Division I Men's and Women's Tennis Championships, the Atkins Tennis Center & Khan Outdoor Complex features eight championship courts with bleacher seating and lighting along with six indoor courts, a full service pro shop, locker rooms and lounge areas. There are also 12 additional newly refinished courts with lighting. For bigger tournaments, another 11 courts are just blocks away. The surfaces are hard courts.  Parking is available south of the building as well as in the grass area north of it.
Leonhard Center
Sports: Basketball, volleyball, badminton, pickleball
The Leonhard Center, located on the western side of town, is Champaign's newest facilityand offers a state-of-the-art location for indoor sports. Opened in 2014, the center offers two full-size basketball courts that can be split into four volleyball badminton or pickleball courts. The Leonhard Center also features full locker room services and meeting rooms for your tournament headquarters. In between games teams can utilize the group fitness room and a cardio and weight room. Geothermal energy is used to heat and cool the environmentally-friendly facility.
Stone Creek Golf Course
Sports: Golf
East of Champaign in Urbana sits Stone Creek Golf Course, home of the Fighting Illini golf teams since 1999. The 18-hole championship course features 7,118 yards of challenging golf from the tips as golfers hit around bunkers, water hazards and trees for a par of 72. Managed by Kemper Sports, the course has hosted local, regional and national tournaments, including the Steve Stricker Classic, Big Ten Championships, USGA Amateur Championship Qualifying Tournament and multiple American Junior Golf Association Tournaments. Inside the clubhouse you will find Attie's Bar & Grill with indoor and outdoor seating along with a banquet hall for large gatherings.
State Farm Center
Sports: Basketball, volleyball, wrestling, gymnastics
The iconic home of Fighting Illini Basketball is currently undergoing a $169.5- million renovation. The State Farm Center, previously called Assembly Hall, sits in the heart of the University of Illinois' athletic campus. It can house 16,000 spectators with both bleacher and premium club seating. The dome-shaped facility has been the home to Illini basketball since it opened in 1963 and at the time was one of only two edge-supported domes in the world. The historic basilica of basketball also can host wrestling, gymnastics, volleyball and other indoor sports. It provides full concession including a full-service lounge and bar called Club 53. Parking surrounds the area including a large lot to the west of the facility.
Memorial Stadium
Sports: Football
The 60,000-seat Memorial Stadium has stood as the home of the Fighting Illini football team since it was built in 1923, standing in memorial for those who paid the ultimate sacrifice in World War I. In 2012 the university installed a 36-foot by 96-foot, high definition display behind the south endzone. The stadium offers two floors of suits, outdoor and indoor club space and shares the parking lot with the State Farm Center. Players will do battle on the FieldTurf Revolution gridiron which has hosted Illinois state football tournaments and was the temporary home of the Chicago Bears during renovations to Soldier Field.
Outdoor Center Fields
Sports: Football, soccer, basketball, volleyball, tennis
If you're looking for a variety of outdoor sports, look to the northern part of the University of Illinois where you will find the Outdoor Center Fields. The facility is home to intramural activities at the university, featuring four football fields, two soccer fields, three sand volleyball courts, six basketball courts and six tennis courts, all of which are equipped with lighting for play after dark. The center has restrooms, drinking fountains and a meeting space which could be used as a tournament headquarters. University parking lots surround the facilities to the north east and south.
Getting to Champaign County
Though neighboring Indiana may be the "Crossroads of America," there are several routes into the home of Illinois' Big Ten university. A handful of major metro airports surround the county as well, all within a few hours' drive.
By Car: Three major highways meet in Champaign County, making it an easy destination from all four directions. From the north, stemming all the way from Chicago is Interstate 57, which also comes up to Champaign from the south from Memphis. Travelers coming from Indianapolis can take Interstate 74 all the way in, and those traveling from Iowa can take the same highway from the west. Those coming in through Northern Missouri or Southern Iowa can take Interstate 72.
By Air: Tournament goers can fly into Willard Airport just south of the University campus. Chicago's Midway and O'Hare Airports are less than three hours away. General Wayne Downing Airport in Peoria is even closer, just an hour away and is served by Delta, American, United and Allegiant airlines. Those flying into Indianapolis International Airport, just two hours away, can take Air Canada, American, Allegiant, Delta, Frontier, Southwest, United and Vacation Express.