Sports planners have an abundance of options when they visit Bryan College Station. Not only is it a passionate college town that features more than 30 multipurpose fields across two cities, it also has a wealth of attractions that will charm families when the games have concluded.
Notable Recent/Upcoming Events
USA Ultimate Division III College Championships – Veterans Park & Athletic Complex: May 18-19, 2019
AQHA Youth World Cup – Brazos County Expo: June 28-July 8, 2018
USA Powerlifting Collegiate Nationals – Ford Hall of Champions: April 18-22, 2018
NCAA Division I Indoor Track & Field National Championships – Gilliam Indoor Stadium: March 9-10, 2018
AJGA Junior All-Star – The Golf Club at Texas A&M: July 8-12, 2018
CVB/Sports Commissions Services Offered
Volunteer Staff
PR/Media Assistance
Signage
Site Visits
Transportation Assistance
Lodging Services
Grant Programs
Welcome Bags/Gifts
Itinerary Development
Event Planning Assistance
Click on tab to see more information about a specific facility
Veterans Park Athletic Complex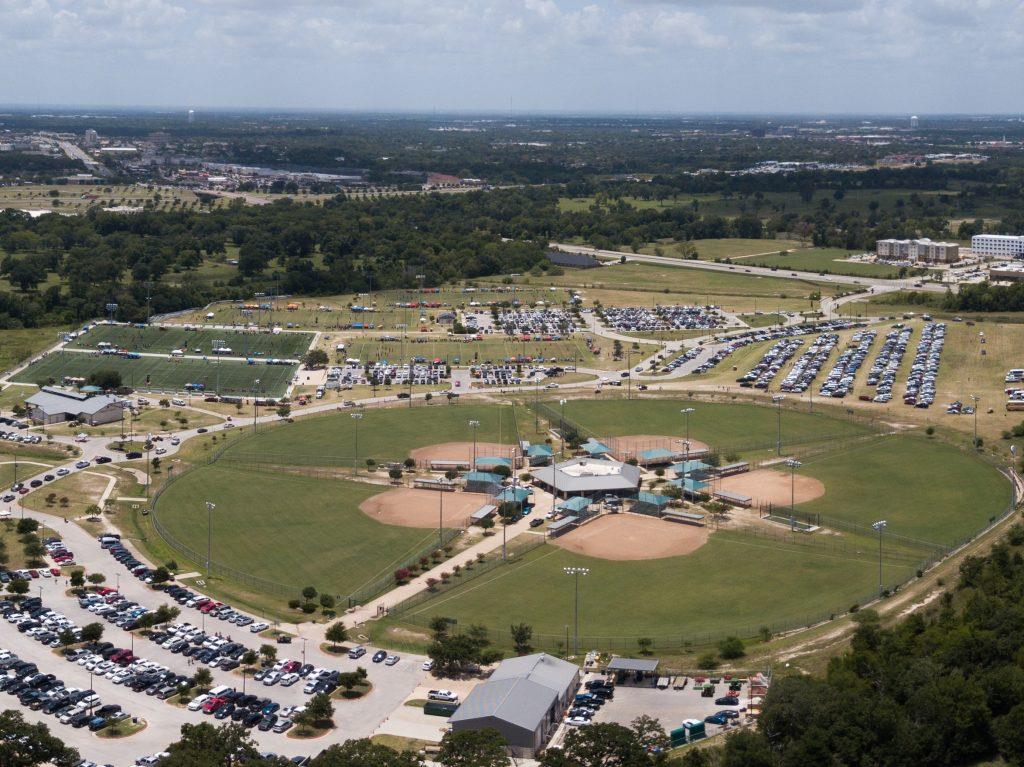 This impressive 150-acre park features 13 full-size multi-purpose athletic fields (four synthetic and nine natural grass) and five softball fields. It is host to the Adidas Texas State 7 on 7 Football Championships and includes a lighting system for day and evening play on all fields. The park also features Wi-Fi, a pavilion with 550-seat capacity, parking for more than 1,200 vehicles with an additional overflow parking lot and a 12-acre memorial site and heritage trail honoring military veterans.
Sports: Softball, kickball, soccer, football, lacrosse, field hockey, rugby, ultimate, quidditch, archery
Ford Hall of Champions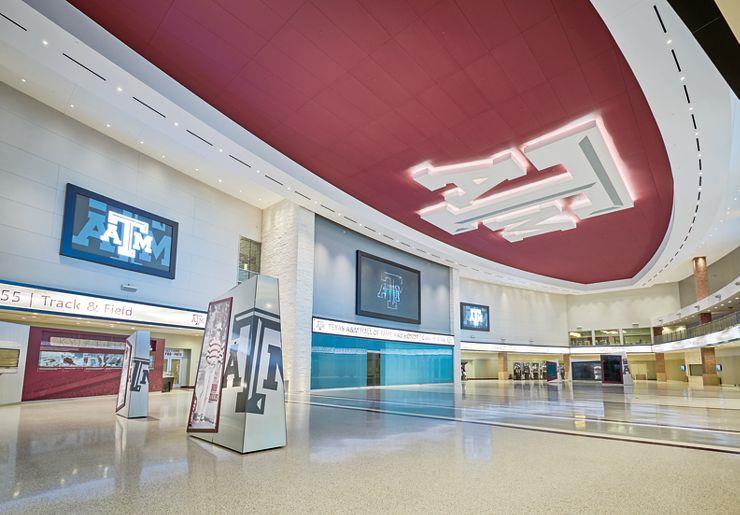 Home to the 2018 USA Powerlifting Collegiate Nationals, this massive 33,000-square-foot indoor event space serves as Bryan College Station's premier indoor venue. Located inside the famed Kyle Field, this facility stretches 100 yards in length, boasts 60 foot ceilings and is entirely column-free. Customizable ribbon boards, video screens and built-in food and beverage capabilities makes the Ford Hall of Champions a versatile and exciting venue, capable of hosting championship caliber events.
Sports: Powerlifting, award ceremonies
Texas A&M Natatorium
The Texas A&M Natatorium, host of the 2018 SEC Swimming & Diving Championships, is a world-class swimming and diving facility that offers its athletes an eight-lane, 50-meter pool with graduated depths of 7-9 feet. The competition pool includes two moveable bulkheads, an electronic timing system and an underwater viewing window. The Natatorium also boasts a state-of-the-art dive well with platforms ranging from 1 to 10 meters in height. Additional features include a dryland training area, poolside meeting rooms, heated Jacuzzi spas and a seating capacity of 2,524.
Sports: Swimming, diving
E.B. Cushing Stadium
Texas A&M's nationally ranked track and field program will have a new outdoor venue to call home in early 2019. Designs for the new track and field facility, which will be a 90,500-square-foot complex, includes a nine-lane sprint and hurdle straightaway down the middle of an Olympic standard nine-lane running oval along with a dual field event area. E.B. Cushing Stadium will host the 2020 SEC Outdoor Track and Field Championships.
Sports: Track and field
Penberthy Rec Sports Complex
The Penberthy REC Sports Complex at Texas A&M University is a tremendous option for outdoor sports. The venue covers 50 acres and features four artificial turf fields, six natural grass fields, two softball fields and 18 tennis courts (12 lighted). The complex also includes a covered pavilion area/lightning shelter with seating for 200-plus, restrooms with showers, changing areas and a central control room.
Sports: Football, baseball, softball, soccer, lacrosse, ultimate frisbee, rugby
Texas A&M Student Rec Center
With more than 400,000 square feet of recreational space, this flagship facility at Texas A&M University has something for everyone. The center hosted the 2018 NIRSA Region IV Basketball Championships and has a slew of features including an indoor archery room, an indoor climbing facility, an onsite Smoothie King, 10 basketball courts, 14 racquetball courts and nearly 15,000-square-feet of meeting space. The Texas A&M Student REC Center is within a 5 minute walking distance of over 5,000 parking spots and is more than able to accommodate events both large and small.
Sports: Basketball, archery, boxing, swimming, walking and running, weight lifting
Brazos County Expo Complex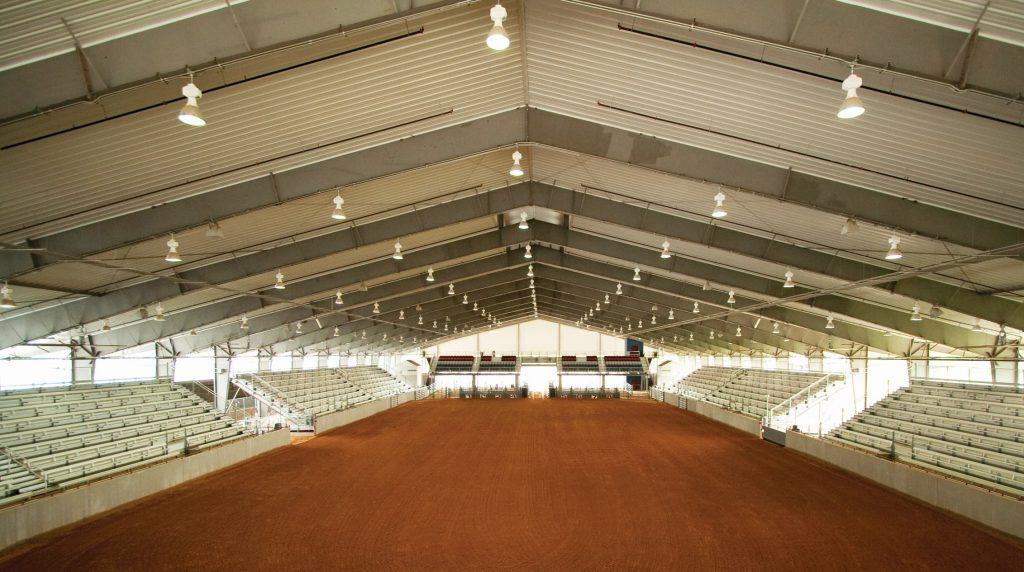 The Brazos County Expo, host of the 2018 American Quarter Horse Association Youth World Cup, is the ideal venue for equestrian, rodeo and livestock competitions in the Brazos Valley. The complex encompasses a 70,000-square-foot arena with seating for 3,000 and offers a second 75,000-square-foot arena tailored towards cutting, dressage and barrel racing events. Two 60,000-square-foot pavilions surround the complex with the ability to house a total of 1,674 heads of cattle or 532 horses. The complex also includes 50,000-square-feet of indoor multi-use space that can cater towards many sports and events.
Sports: Equestrian, rodeos, livestock events
Things to do in Bryan College Station
Bryan College Station is home to outstanding museums, art galleries, shopping, food trucks, outdoor recreation and more to entertain your team once the games have ended. It is also a place that is renowned for its fabulous eats, ranging from fabulous street food to savory barbecue.
Start your team visit by touring Texas A&M University, home of loyal Aggies. Explore the university's galleries and museums, Bonfire Memorial, horticulture gardens, campus, Kyle Field, and get an in-depth explanation of the traditions that thrive within the walls of the school and hearts of the students. Visitors can enjoy the George H.W. Bush Presidential Library and Museum for an intimate look at the life of the 41st president or spend an afternoon learning about our nation's military history at the Museum of the American GI. For a more casual setting, teams can spend their downtime at Century Square, an urbanized, central gathering spot filled with retail, restaurants and an activated green space or along the streets of Historic Downtown Bryan, where visitors find themselves immersed in a lively arts and cuisine scene. Teams and families that are feeling adventurous can take a comfortable drive through the 250-acre Aggieland Safari, Bryan College Station's newest attraction, and meet exotic animals in the 20+ acre Adventure Zoo. During the winter season, Bryan College Station boasts Santa's Wonderland, one of the nation's largest displays of holiday lights. Bring the family or the whole team to this Texas Christmas Experience where millions of lights and holiday cheer fill the cool, crisp Texas air.
When your players get hungry, enjoy delicious Texas barbecue at All The King's Men or indulge in award-winning pizza at RX Pizza in South College Station. Please the crowd and sample Bryan College Station's food truck scene at Wayside Food Park for a picnic-style lunch outdoors. After a hard-fought victory, celebrate at Blackwater Draw Brewing Company in Historic Downtown Bryan for craft brews and classic southern hospitality. Don't leave Texas, especially during the harvest season, without visiting Messina Hof Winery and Resort for a truly Texan wine tasting experience and a tour of the facility.
Planner Perspective
Great American Shootout loves bringing its events to Bryan/College Station. The people and the entire community embrace our events and continually make it a first class experience.
Great American Shootout: San Lowe
We had a great event at the Golf Club at Texas A&M and we are thrilled with its success. Bryan College Station Sports + Events was a tremendous help with the logistics leading up to the event, and AJGA appreciates all they did to make sure everyone had a wonderful tournament experience.

We are excited to have Bryan College Station Sports + Events involved with our program, and we look forward to a long and mutually beneficial relationship that will benefit the game of golf for many years to come.
AJGA: Stephen Hamblin
How to Get to Bryan College Station
With around 60 hotels and more than 6,000 rooms, Bryan College Station has no shortage of space for your participants. The area accommodates thousands of people attending the Texas A&M football games each fall, so hosting large tournaments is an easy proposition for the city.
By Car: Bryan College Station is located in the middle of the Dallas-Houston-San Antonio triangle, and is in the center of 80 percent of all of Texas' population. Both Houston and Austin are roughly an hour and a half drive away.
By Air: United and American Airlines fly into Bryan College Station's Easterwood Airport from Dallas and Houston. If you can't make one of those connections, the Austin or Houston airport are both about an hour-and-a-half drive from Bryan College Station.
Contact Information
Company Name: Bryan College Station Sports + Events
Sports Sales Manager: Dominique Powell
Title: Director of Sports + Events
Telephone: 979-260-9898