This week we pose to you a question…..
What is the best learning experience you have ever had?
I bet the answer has little to do with classroom setting, and more to do with an experience you had watching or working with someone else.  There is a good chance that this educational epiphany took place in an industry outside of sports.  Maybe at a business you frequent, or through your church, or in dealing with a service industry professional.  Education can come in many forms, if we are looking for it.
Nearly all our clients seek to find that "secret sauce" or the thing that can make their organization that much better than their peers.  I would tell you that it's likely that missing ingredient is already out there, being implemented by someone else.  So how do we experience and subsequently capture this knowledge?  How about a field trip?
A planned and structured knowledge exchange is a great way to foster a great learning environment.  Here are a few ways to accomplish that in the sports tourism and events industry…..
Leadership Exchange – Numerous chambers of commerce type entities plan an annual leadership exchange trip.  On this trip, a group of community leaders go to another "like" city and sit down to talk through how their counterparts do things.  We have also encountered several sports commissions and CVBs that engage in similar programs.  The agenda for these meetings could include discussion on funding mechanisms, destination marketing tactics, government relations, community engagement programs, volunteer recruitment and retention, and a myriad of additional topics.  Borrow what works, and pitch what doesn't.
Venue Tours – Everyone wants better venues, be it host communities, rights holders, NGBs, or tournament promoters.  The better the venue, normally the better the event.  With that in mind, many of our clients seek out the top venues in their competitive set across the country.  This is especially true when your community is contemplating the enhancement of an existing venue, or the construction of a new one.  You don't have to go far to be able to see a handful of top level facilities within a day's drive.  If you plan a trip to see a grouping of venues, we recommend taking a small tribe of community gatekeepers with you, in addition to your local events partners.  Also, include your counterparts in the community that you are planning to visit, they can often share how the facilities they have came to fruition, how they were paid for, management models, and related best practices that have worked for them (as well as what hasn't).
Industry Shows – Have you ever taken your board chair or a key elected official with you to one of the industry trade shows?  Rights holders, have you ever brought someone from your board to one?  If not, we highly recommend it.  One outcome that we guarantee will come from their presence and experience at one of the shows is this – they will see how advanced and hyper-competitive our industry is, and they will learn firsthand what you are up against "out there."
Expert Speakers – At the Phoenix Sports Commission, we often had an outside guest speaker at our board luncheons.  Usually it was a local team's general manager, or someone looking to us for support.  However, once a year we asked one of the top sports commission leaders in the country to come to town and talk about how they have had success in their markets.  This proved quite helpful on two fronts.  First, we were able to show our local stakeholders (the board) how certain programs and organizational structures work in other cities.  Second, and maybe most important, we also got to learn what DIDN'T work in these other communities, which often saved us from making similar mistakes.
These are but four ways you can use a "field trip" (inbound or outbound) to help educate, and also energize, your stakeholders.  Engaging the board and your local leaders in a more global dialog can be a very positive experience for them.  This will in turn, lead to a broader appreciation for the good work we all do every day, and likely for an increase in support for you and your organization going forward.
Enjoy your trip!
About the author:
Jon Schmieder is the Founder of the Huddle Up Group LLC, a consortium of three sports related companies led by award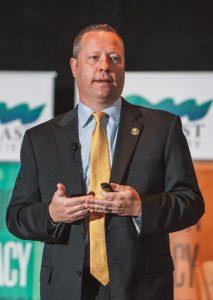 winning executives.  Schmieder has over 20 years of experience in leading sports tourism and events organizations through strategic growth and increased community collaboration.  Huddle Up Group clients and partners include USA BMX, Detroit Sports Commission, Fort Worth Sports Marketing, Eugene Cascades & Coast Sports, Connect Sports, Veteran Tickets Foundation, Arizona Football Coaches Association, Evansville Sports Corp, Travel Medford, Des Moines CVB, Las Cruces CVB, Morgantown CVB, Monroe-West Monroe CVB, Visit Mississippi Gulf Coast, Hershey Harrisburg Sports & Events Authority, Hamilton County Sports Authority, Bryan College Station CVB, USA Volleyball, USA Badminton, the Association of Chief Executives of Sport (ACES), Visit Duluth, Delaware Sports Commission, Arlington CVB, and Visit Norman.  The Huddle Up Group can be reached at Jon@HuddleUpGroup.com or 602.369.6955.  To receive the weekly "Monday Huddle Up" sign up at https://tinyletter.com/JonSchmieder.