Rocky Top Sports World Celebrates Successful Third Year
Gatlinburg complex scores big with $35.4-million economic impact
After three years of operation, Rocky Top Sports World, one of Sports Facilities Management's crown jewel facilities in Gatlinburg, Tennessee, has proven itself to be an unmitigated success. And that prosperity shows no signs of waning.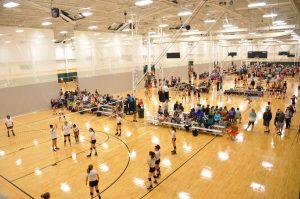 Rocky Top recently announced another record-breaking fiscal year as the facility added $35.4 million in economic impact to the Sevier County community in 2016-17. Since opening, more than 42,000 athletes and spectators have enjoyed this world-class venue located near the Great Smoky Mountains.
"Rocky Top has continued to overdeliver and we couldn't be more excited for the future," said Gatlinburg Mayor Mike Werner.
The complex's sizable attendance figures played a key role in securing more than 53,000 hotel rooms for Sevier County.
"Bringing consistent business into Sevier County is imperative to our overall success in the tourism industry," said Sevier County Mayor Larry Waters. "We are pleased to see the youth sports segment continue to grow."
Rocky Top also aided in doubling team attendance in multiple events, including the Peak Challenge volleyball tournament and the U.S. Amateur Girls Nationals basketball tournament.
"The City of Gatlinburg is extremely pleased with Rocky Top's performance over the past three years," said Gatlinburg City Manager Cindy Cameron Ogle. "The exponential growth in year three confirms, yet again, that this was the right choice for Gatlinburg and Sevier County."
Notable year three achievements for the complex include it being voted a Top Multi-Use Sports Facility ahead of 31 nationwide competitors. The National Association of Sports Commissions also recognized the complex for its work outside of the sports community while serving as a Red Cross disaster shelter during the Gatlinburg Wildfires that occurred in November of 2016.
"Rocky Top is the right facility, in the right location, with the right leadership," said Dev Pathik, founder and CEO of Sports Facilities Management. "This powerful combination of proper planning and collaboration among the public and private sector is what has led to Rocky Top's continued success."
For more information on the venue, facility rentals or event information, visit www.RockyTopSportsWorld.com or call 865-325-0044.
To read more about Rocky Top, visit http://sportsplanningguide.com/rocky-top-top-notch/
Summary
Article Name
Rocky Top Sports World Celebrates Successful Third Year
Description
Gatlinburg complex scores big with $35.4-million economic impact
Author