Unforgettable Sports Adventures in Richmond
Top-flight venues and great fun await you in Richmond
Top-flight Venues and Great Fun Await You in Richmond
Book your next team trip to one of the nation's oldest cities and experience a combination of high-quality athletic facilities and a lively city brimming with culture.
The best sporting events aren't all about sports – in fact, your team's tournament will only be one highlight of your trip to Richmond. Historic sites from Revolutionary America and the Civil War are nestled in the scenic Virginian landscape and provide the perfect backdrop for team bonding and relaxation after games. Both players and their parents will appreciate a sporting event that offers both a wonderful tournament experience and an unforgettable adventure for the whole family.
When planning a sporting event, convenience is key. Richmond is home to several world-class sports facilities with comfortable lodging nearby. Virginia's rolling hills, bustling cities, renowned monuments, home-style food and unique vibe will leave a lasting impact on your travel group – don't be surprised if you find yourself wanting to stay long after the final whistle is blown.
What Activities Does Richmond Offer?
Down time is just as important as play time when it comes to team bonding and memory-making. When in Richmond, check out the Virginia Museum of Fine Arts (VMFA) to explore its abundance of acclaimed photographs and paintings. The VMFA also offers group tours to tailor your experience to your team's interests. As far as sightseeing and enjoying Richmond's gorgeous views, plan a day trip to Belle Isle. Your athletic bunch will love the park's picturesque trails and huge outdoor rock climbing wall. As far as food in Richmond goes, it's hard to go wrong – but be sure to stop by Mama J's Kitchen for the best Southern comfort food you've ever had.
Let us connect you with Richmond Region Tourism

Danielle Vincenti CSEE
Senior Sports Development Manager
Phone: 804-783-7422
Website: SportsRichmondVA.com
---
X-Factors
• Richmond is a sports community with passionate fans and competitive athletes.
• One of the most central locations on the east coast.
• Over 18,000 hotel rooms.
• More than 900 restaurants and two dozen breweries/cideries.
• Class IV rapids and miles of urban trails are an outdoors enthusiast's dream.
• Featuring over 90 unique attractions.
• The Richmond Region is the seat of over 400 years of history.
• Named "Best Town Ever" by OUTSIDE MAGAZINE.
Planner Perspective
We have worked with Tourism Departments all over the country on large scale athletic events and can honestly say that working with the Richmond Region Tourism team has been incredible.  They have been accommodating at every turn and have helped make our events in Richmond very successful.  Great event venues and great attractions keep all of our participants and fans excited about visiting Richmond every year.

–Lee Corrigan, President, Corrigan Sports Enterprises
Triple Crown Sports chose the Richmond Region because of several key factors.  One of those factors was because of the close proximity to a very large segment of the US population as well as the number of colleges and universities that are within an 8 hour drive. Additionally, Richmond Region Tourism has a strong team that was capable of bringing several different entities together to collaborate with Triple Crown Sports in producing a premium baseball championship tournament.

–John Casale, Tournament Director, Triple Crown Sports
USA Fencing holds 8 National tournaments each year and frequently places competitions in Richmond, VA. Richmond Region Tourism not only understands the sports market but the specific needs of our organization and the athletes that attend our competitions.  In some cities, once the contracts are signed, the CVB or Sports Commission is done with our event. In Richmond, signing the contracts is just the beginning of the process as they are by our side prior to, during and following the tournament. They assist with logistics, marketing, press and bring their expertise to the table to ensure our tournaments are successful.  USA Fencing is pleased to say that we have been a long time partner with Richmond Region Tourism and look forward to continuing this partnership going forward.

–Christine Strong Simmons, Director of Operations, USA Fencing
Tough Mudder is thrilled to be working with Richmond Region Tourism to host our Tough Mudder Virginia event. We have such a strong partnership with the community of Richmond, so it's been a pleasure to work with RRT to not only build on the success of last year's event, but also to provide a positive economic impact on the region, as thousands of participants travel near and far to see what's in store for Tough Mudder Virginia.

–Robyn Pigozzi, Operations Manager, Tough Mudder
From start to finish, we encountered helpful, smiling, experienced personnel in planning and conducting our 2014 and 2016 USA Gymnastics State Championships. The network of knowledge between Richmond Region Tourism, the Greater Richmond Convention Center, hotels and all the various craft services made our event amazingly smooth. The feedback from the participating athletes, coaches, parents and officials was overwhelmingly positive and we hope to bring another State Championship back in the near future.

–Jim Roe, Owner, VA USA Gymnastics State Administrative Committee Member
Facilities
River City Sportsplex
Sports: Soccer, lacrosse, field hockey, flag football
River City Sportsplex encompasses 115 acres of top-notch athletic fields, including 12 all-weather turf fields, nine of which are fully lighted. In addition to warmup areas, River City Sportsplex includes a plaza and common area with access to electricity, bleachers on both ends, indoor restrooms and a concession stand. The Sportsplex takes spectators into consideration and creates a pleasant atmosphere for parents and familie s by supplying on-site wi-fi and over 1,200 parking spaces. Your team will play their best under the lights on the high-quality turf before heading back to one of the 20+ hotels located only 10 miles from the complex.
Greater Richmond Convention Center
Sports: Volleyball, cheerleading, dance, fencing, field hockey, figure skating, taekwondo and gymnastics, meetings & conventions
Teams will feel like champions no matter what the score at the Greater Richmond Convention Center, located only minutes from Richmond International Airport. The 700,000-square-foot facility boasts the title as largest convention center in Virginia with 180,000 square feet of exhibit hall space. Spectators will enjoy the 250-seat food court and lounge overlooking the courts, 1,100 parking spots for easy transportation, Cyber Café and business center with free wi-fi access. When it comes to athletic facilities, bigger is better – so why not give your sports team the best?
SwimRVA
Sports: Swimming, water polo
Swim RVA is the perfect destination for your team's next swim meet. The 54,000-square-foot facility features a 50-meter competition pool that was used for the 2008 Olympic Team Trials, where records were broken by the world's best swimmers. In addition, the facility provides athletes with a warmup pool and a warm-water therapy pool. Spectators will be comfortable in the 700-seat grandstand and will appreciate the five 50-inch HD TVs, free wi-fi access and ample parking space. The state-of-the-art air and water filtration systems, Omega starting blocks and competition venue lighting will inspire your athletes to perform at their best.
RF&P Park
Sports: Baseball, softball, football, soccer
This park, which integrates four restored RF&P train cars into its grandstand design, includes three youth softball fields, one 13-and-up baseball stadium, three 12-and-under baseball fields and one football/soccer field. The park's largest facility is Glen Allen Stadium, which seats 850 and has hosted many national tournaments. The stadium includes a full electronic scoreboard, a lighted playing field with a tarp and bullpens.
Dorey Park

Sports: Baseball, softball, football, soccer, disc golf
This 400-acre park is conveniently located 10 minutes from Richmond International Airport and features abundant competition fields and amazing amenities for the traveling fan. The park features six (4 slow pitch and 6 fast pitch compatible) softball fields, seven 12-and-under baseball fields, one 13-and-up baseball field and seven football/soccer fields with one field featuring a 500 seat grandstand. There is also an 18-hole disc golf course, five miles of horseback riding trails, a fishing pier and nearly two miles of hiking trails.
Richmond Coliseum

Sports: Basketball, boxing, indoor football, hockey, cheer & dance, gymnastics
The Richmond Coliseum features concerts, sporting events and family shows throughout the year, and its 70,000 square feet of space can contain professional-sized layouts for basketball, indoor football and ice hockey. Home to the Atlantic 10 Women's Basketball Championship tournament and numerous other past championships including the Colonial Athletic Association Men's Basketball Tournament and U.S. Figure Skating's Synchro Championship, it also coordinates events with the adjacent Greater Richmond Convention Center. Concessions, locker rooms and electronic video board accessibility are all options for organizers looking to host a tournament here.
How to Get to Richmond
Richmond, known as a hub for history and entertainment, is one of the most central locations on the East coast. You'll find that traveling to and from Richmond is extremely convenient and pleasurable.
By Air:
The Richmond International Airport, located only 8 miles from downtown Richmond, is home to all major air carriers, including low-cost carriers such as Allegiant Air, JetBlue and Southwest.
By Car:
Due to Richmond's advantageous location, it's only within a day's drive to half of the U.S. population by Interstates 64, 295 and 95.
Summary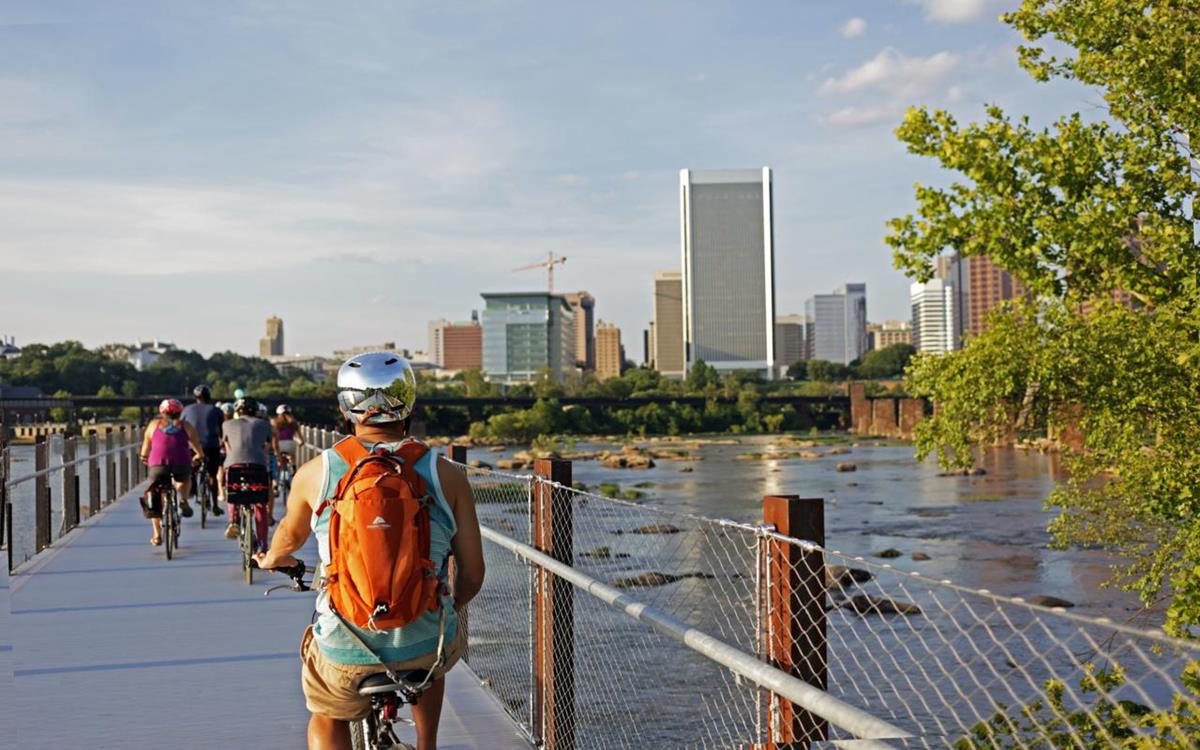 Article Name
Unforgettable Sports Adventures in Richmond
Description
Top-flight venues and great fun await you in Richmond
Author