There are some regions of the U.S. that claim to be year-round sports destinations, thanks to the fact that they lack a certain season or two (i.e. winter). Temperatures stay warmer throughout the year in these states, and snow is a rarity. Even so, there's something to be said for playing soccer on a crisp autumn day, running in the greenery on a spring morning or racing through powder in a downhill ski competition.
Michigan welcomes sports all year long, using its four distinct seasons to host intense, entertaining and popular athletic events of all kinds. The state features elite facilities and welcoming communities that are eager to cheer on teams as they compete in a range of different tournaments, both indoors and outside. No matter what time of year it is, Michigan has the spirit and the amenities for a successful sports event.
Summer
With warm summer months come the usual sporting events: Baseball, soccer, tennis, golf and more. Michigan has had the pleasure to host all kinds of summer sports events, from the aforementioned summer mainstays to running and rowing, beach volleyball and lacrosse.
Prestigious sports events are common in cities across Michigan, and some have become home to some great athletic traditions. The US Tennis Association Boys 18 & 16 National Championships is held annually in Kalamazoo, welcoming more than 400 athletes from all over the country. Grand Rapids has held the US Rowing Masters Nationals Championships at Grand River Riverside Park, which has seen upwards of 6,000 attendees. The 2016 ISF Junior Men's World Softball Championship was played in Midland, just west of Bay City, and featured top junior teams from all over the world.
The National Cherry Festival Bayside Beach Volleyball Tournament in Traverse City has become a favorite for players of all skill levels. It's been part of the festival for over 30 years, and consists of teams of two to four, both men and women, competing on the shores of West Grand Traverse Bay.
Autumn
The gold, orange and red leaves of fall set the perfect backdrop for football, field hockey, and track. The weather is still nice enough for outdoor activities, but if it does happen to turn cold and wet, there are plenty of sports that can still be played inside Michigan's great athletic venues.
The 2016 Michigan High School Athletic Association (MHSAA) State Volleyball Semifinals and Finals will be held in Kellogg Arena in downtown Battle Creek this November. This tournament brings together teams from districts all over the state to battle for the title of top school in their respective classes in Michigan. Over in Detroit, the 2016 USA Fencing North American Cup (NAC) will take place in October at the Cobo Center. It is the first NAC after the Rio Olympics. Another notable event hosted by the West
Michigan Sports Commission was the 2015 USA Synchro Masters National Championship in Grand Rapids. Since 1990, competitive cyclists have descended on Traverse City for the USA Cycling-sanctioned Iceman Cometh Challenge. The 30-mile, point-to-point, off-road race takes place each November and is the largest single-day mountain bike race in the U.S.
Winter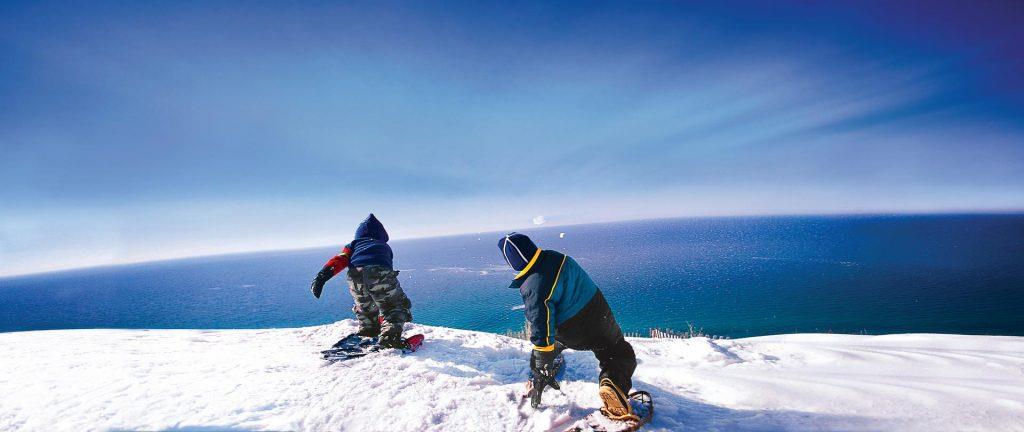 Winter brings in a whole new slew of elements, and snow sport enthusiasts. This is the perfect environment for ice skating, skiing, snowmobiling and snowboarding. Colder temperatures do not deter the excitement, but rather bolster it.
The U.S. Ski and Snowboard Association's annual SuperTour will make a stop in Marquette, Michigan in 2017. This is a series of International Ski Federation-sanctioned cross-country ski races that will take place across America. The race will take place on a newly approved trail, offering athletes some novel and exciting terrain. In early January and late February, Mt. Pleasant becomes home to the No Bull Triple Crown Snowmobile Races, a thrilling event that brings in the toughest competitors and gets the adrenaline pumping. Snowshoe racers compete in January at the Bigfoot Snowshoe Race in Traverse City, the Midwest qualifier for the National Championship Snowshoe race.
Not all winter sports events in Michigan take place outside. There are some unseasonable tournaments that must take place indoors, but Michigan's many facilities are prepared. In late 2015, the 2016 Team Trials for World Indoor Archery Championships were held at the Ingham County Fairgrounds Main Arena in Mason, near Lansing. At this event archers were selected to represent the U.S. in Ankara, Turkey at the World Championships.
Spring
The chill of winter begins to thaw as spring arrives, offering great conditions for both indoor and outdoor sports events. The 2016 Women's Michigan State Bowling Tournament took place in Muskegon this past spring, bringing thousands of bowlers to the region every weekend from February through May. This only added to Muskegon's bowling accolades, as it also hosted the 2014 Men's state tournament.
Nearly 100 top junior boxers competed in Flint and Genesee County during the 2016 USA Boxing Michigan Junior Olympics in May. In April 2017, Ann Arbor will host the US Figure Skating Nations' Cup Interclub Theatre On Ice competition at Yost Arena. This is only the second time the U.S. has hosted this international competition. About 30-40 teams from six countries are expected to compete.
No matter the season, Michigan delivers exceptional sports events for all age groups and skill levels, on an international, national and local level. The state hosts a range of sports from hockey to triathlons. There really is no limit to the kinds of athletic events the state can host; and thanks to its flexible four seasons, it has the ability to take on events that many other places could not accommodate. Michigan embraces its diverse seasons, making it a true year-round sports destination.