Sports tourism industry opening its eyes to positive attributes of lesser-known athletes
Traditionally, sports organizations host events that enable participants to compete in athletic competitions. Those with disabilities though, often struggle to find arenas in which they can compete.
With approximately 61 million people with disabilities living in the United States, adapted sports organizations (also known as adaptive sports or parasports) are often seeking ways to expand athletic inclusion for participants with disabilities. One such way is to host a symposium, like the recently held 2020 Adapted Sport Leadership & Business Symposium, which took place October 15 and featured more than 850 sport leaders logging into the remote session.
Dawna Callahan, founder and chief executive of All In Sport Consulting, organized the Adapted Sport Leadership & Business Symposium (LABS) with the aim of gaining momentum by fostering unity, inclusion and excellence in the adaptive sport industry. LABS brought adapted leaders from a variety of sports industries to lead educational discussions regarding sports, disability and the adaptive sports movement.
"Most of the current adapted sport conference and professional development offerings are specific to industry professionals and focus on technical skills such as fitting a racing chair, officiating a boccia match, or marketing specific adapted sport programs," Callahan said. "With LABS, I wanted to invite and engage both sport leaders within and outside the community. In order to advance the movement, we need to be inclusive by bringing in sport brokers so they can learn more about the adapted sport movement – what the needs are, how to host events for athletes with disabilities, what the challenges are related to access and expensive adapted sport equipment, and other similar issues."
LABS invited attendees – ranging from adapted sport leaders, disability advocates to national governing bodies, professional associations and grant organizations – to the cost-free virtual conference where diverse leaders and influencers discussed cutting-edge industry topics about the adapted sports industry. Important topics included creating successful partnerships, pursuing equitable and inclusive opportunities in the region, and economic impact of the parasports industry.
CREATING SUCCESSFUL PARTNERSHIPS TO BUILD SUCCESSFUL EVENTS
At LABS, event organizers shared insights on what it takes for organizations to create effective partnerships to build successful adapted sports events at national and international levels. In order to host successful events for athletes with disabilities, developing successful strategic partnerships is critical.
Visit Fort Wayne has collaborated with Turnstone, a nonprofit organization based in Fort Wayne, Indiana, that promotes empowerment for people with disabilities through therapeutic, educational, wellness and recreational programs. Effective and strategic partnerships between Turnstone CEO Mike Mushett and Visit Fort Wayne President/CEO Dan O'Connell is key, as they strategize to host events and attract participants to Fort Wayne competitions.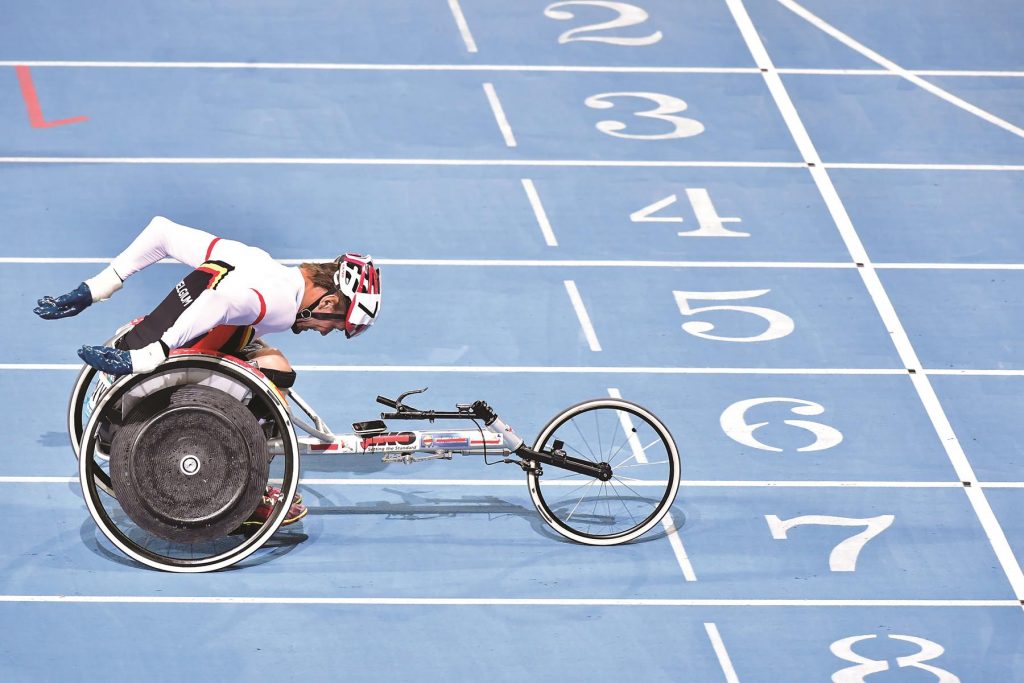 "Fort Wayne is a very sports-oriented community. Visit Fort Wayne has a lot of expertise in putting together bids, bringing events to town, and it was a natural partnership," said Mushett during the conference. "Dan and I put our heads together early on and started to go to work on how to identify and bring events for athletes with disabilities in the community. We have experienced a lot of success."
How do these organizations successfully host adaptive sports events? According to O'Connell, Visit Fort Wayne and Turnstone organize strategic plans to attract participants in the following areas:
First, we work with Turnstone to strategize together on what events fit in their facility, our calendar, our hotel community to decide what to bid on to host.
Second, we do provide some resources ($5K – $10K) to Turnstone to host or bid on events. If additional funds are needed, Turnstone has been able to raise them.
Third, they organize a Local Organizing Committee (LOC), usually many of their staff, board members and key players (police, college staff, venue staff) to plan the event.
Fourth, we try to attract participants by doing websites, post blogs, sometimes send postcard mailers to increase attendance. Increased attendance helps the event as well as the community when larger number of visitors arrive to participate.
Lastly, we both ensure participants are properly informed, treated well with our Hoosier Hospitality and enjoy both the competition and the camaraderie with their family and friends.
Since the therapeutic sports and recreation program started in 1996, Turnstone has presented athletes with disabilities the opportunities to participate in a variety of recreational and competitive activities, including wheelchair basketball, indoor rowing, adaptive golf, sled hockey and more.
"At the end of the day, it's about the community and tourism and having an economic impact in the community," Mushett said. "As event organizers, especially in the world of disability and Paralympic sport, we needed to upgrade the quality of events that we put together that they were marketable to sponsors and to the community and would garner community support. Measuring the economic impact on the events that they bring to the community creates marketing and sponsorship tool to use for future events. That's critical."
EQUITY AND INCLUSION
Another LABS panel topic delved into equity and inclusion, discussing how event planners pursue equitable and inclusive opportunities for individuals with disabilities in the adaptive sports industry. With a commitment to inclusion for people with disabilities, sports-related nonprofit organizations aim to create a hospitable environment for disabled athletes.
Providing accessibility and inclusion to various sporting events has become increasingly vital for organizations and individuals with all abilities. In 2019, the Richmond Region has teamed up with Sportable, an adaptive sports club in Central Virginia, to host the first RVA Adaptive Sports Festival, an event aimed to attract people with physical disabilities and visual impairment to various recreational and competitive sports programs.
"The Richmond Region serves as a host destination for all types of sporting events showcasing the talents of athletes of all abilities," said J.C. Poma, director of sports relations for Richmond Region Tourism. "Through our partnership with Sportable, we have not only been able to host adaptive sports events, but we have been able to make important strides in educating our hospitality community about creating inclusive environments for people with physical and visual impairments."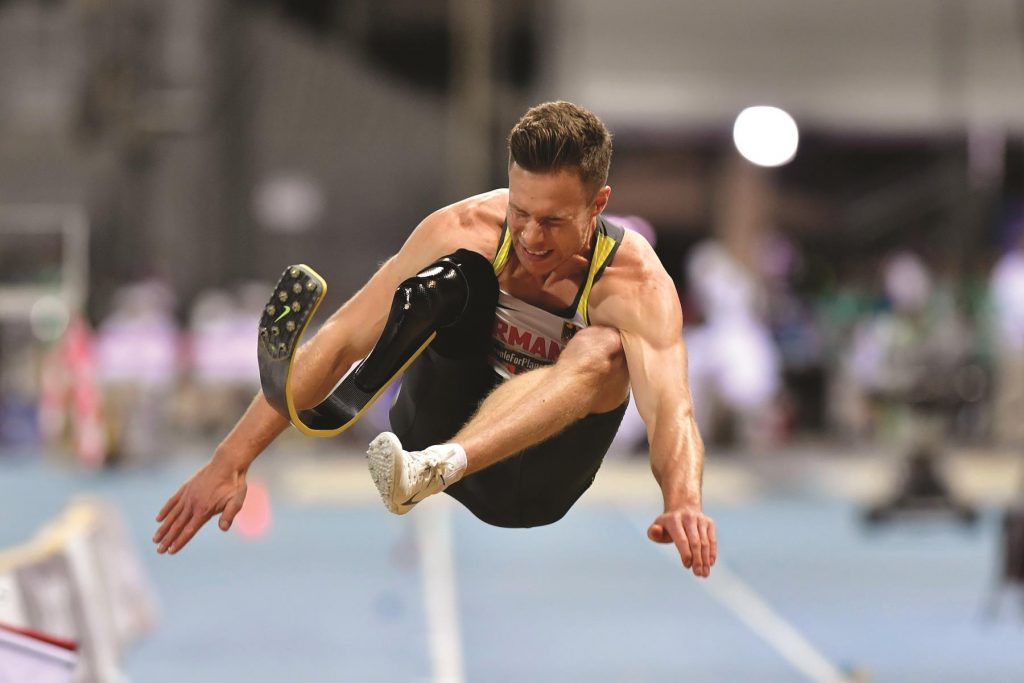 Since its establishment in 2005, the Richmond, Virginia-based organization's mission is to provide sporting opportunities to enhance the lives of people through adaptive sports programs. By committing to accessibility and making inclusion part of Sportable's brand pillars, the organization aims to "free athletes to see beyond their disability, build peer relationships and reducing social isolation and facilitate physical and attitudinal change in their community."
"We consider ourselves to be a very athletic community and we have a big participation sports town," said Hunter Leemon, executive director of Sportable. "If we are going to be a community that represents that for everyone, then it's our job to make sure everyone has a seat at the table. It's important because it elevates the status of our mission, our work and what our athletes do."
Sportable offers a workshop of Adaptive Sports 101, where young athletes with disabilities can participate in sessions that feature Paralympic Games as well as athletes' accomplishments and achievements through multimedia contents. Through the education program, athletes will obtain hands-on experience by learning basic rules and participating in activities such as goalball, sitting volleyball, and wheelchair basketball.
ECONOMIC IMPACT OF ADAPTED SPORT EVENTS
All In Sport Consulting, a Denver-based consulting firm, has partnered collaboratively with Stitch Marketing Research and Huddle Up Group to conduct its study of the economic impact of the adapted sport industry across the United States. This study revealed that adapted and para sport-related tourism events nationwide are likely to reach in the range of $80.5 million to $134.2 million annually. This study marks the first time these organizations measured the value of the para sports tourism industry. The purpose of the study is to provide an increased understanding of economic trends through budget data from U.S.-based adapted sports entities that shapes the overall market.
"We know the growth of the adapted sport industry has been dramatic over the last decade or so but there's never been a formal study conducted to measure its true economic footprint," Callahan said. "We want to change that and put a stake in the ground this year to help us move from anecdotal to concrete evidence about both the current economic picture and future outlook."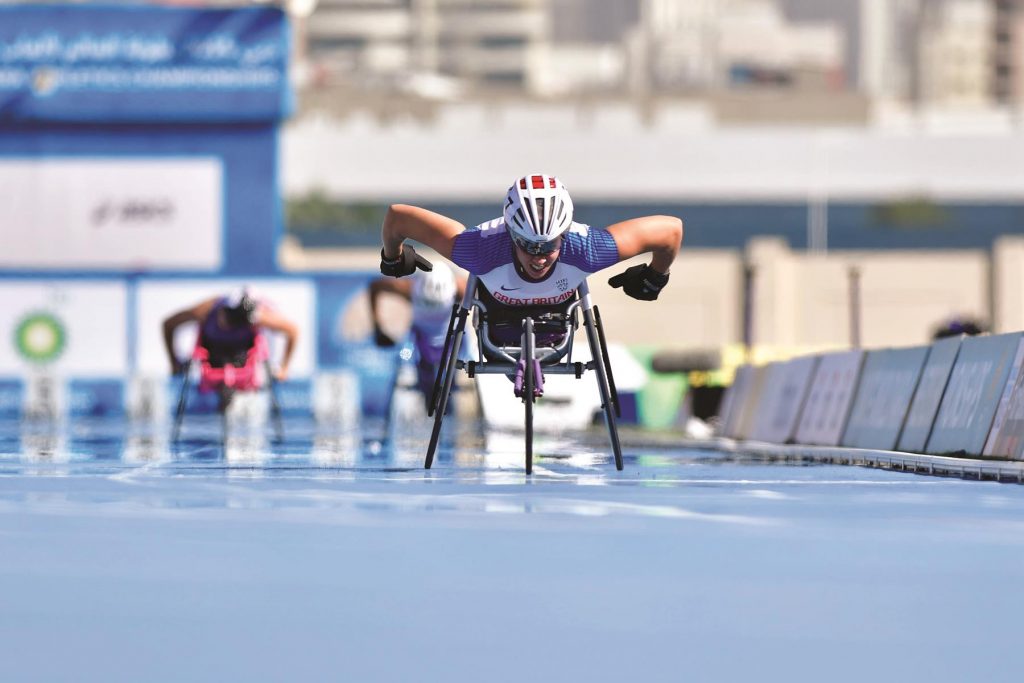 To conduct the survey that ran through September 2020, 262 organizations were asked to participate in a study led by this research group. The data from 55 organizations were collected and included in the final report.
As the new generation's interest in traveling for sports events continues to rise, the sports tourism industry continues to be one of the fastest growing economic sectors in the tourism industry. One thing the sports tourism market frequently excludes, however, is the para sports industry. By working with the research team, the group wants to provide baseline information to help understand the value of para sports in the tourism space.
"The sports tourism industry has largely ignored the para sports segment of our industry," said Jon Schmieder, founder and chief executive officer of Huddle Up Group. "With the exception of a small parasports organizations, the para market has not been well represented at the traditional meetings revolving around sports tourism. We wanted to set a baseline with this study the value of para sports and the events that are put on by para sports focused organizations."
HOPEFUL FOR FUTURE OF ADAPTIVE SPORTS LEADERS
The LABS conference is an important part of the symposium that provides interaction and engagement between panelists and audience concerning sports issues and movement in the adapted community. Callahan hopes LABS members who are not engrained in the community discover ways to reach out in their community, invite adaptive sports leaders to engage with adapted sport and be inclusive of the adapted community.
"I hope that all LABS attendees – those who have been in the industry for 20 years and those who may have had their first exposure to the movement during LABS – come away with more insight as to how we as sport leaders can better support athletes with disabilities," Callahan said.
The LABS leadership and advisory committee plans to host an in-person event in October of 2021.
---
By Jamaal Brown