If hosting tournaments were a sport, Auburn-Opelika would be the world champion! Not only do we feature the cutting edge sporting facilities of Auburn University, both cities also offer state of the art accommodations for amateur and youth tournament play in tennis, swimming, softball, soccer and more. Let the Auburn-Opelika Tourism Bureau make you the MVP when we expertly handle every detail of your event.
Small-town charm and a variety of activities for all ages make Auburn-Opelika the ideal location for your next event. Easily accessible lodging, restaurants, and diversions make your trip enjoyable on and off the court or field. Take in an SEC sporting event, hammock by the falls in our state park, or shop til you drop. Whatever your downtime preference, this southern college town will keep you entertained and engaged. One-day trip or week-long tournament, Auburn-Opelika is where champions are made.
Notable Recent/Upcoming Events
Super 7- AHSAA Football Championships- bi-annual- (December 5-8, 2018)
AHSAA State Championship Swim & Dive- annual- (November 30-December 1, 2018)
NCAA, SEC, USTA and ITA tennis tournaments (spring)
USA Softball Doubleheader Exhibition (April 2, 2017)
Barbasol PGA Championship (July 20-23, 2017)
XTERRA Off-Road Triathlon/trail run (August 18-19, 2018)
Collegiate Cycling Conference (SECCC) 2018 Mountain Bike Championship
CVB/Sports Commissions Services Offered
Volunteer Staff
PR/Media Assistance
Signage
Site Visits
Transportation Assistance
Lodging Services
Grant Programs
Welcome Bags/Gifts
Itinerary Development
Event Planning Assistance
Hospitality Services
Opening Ceremonies
Online Registration Processing
Click on tab to see more information about a specific facility
Auburn Soccer Complex
This top-notch, multi-purpose complex in Auburn encompasses six full-sized fields (five equipped with lighting) providing ample space for hosting soccer games. Future renovations will include a playground situated near the concession stand, five fields including one unlit field and an indoor complex for tournaments. A concessions building offers several office and meeting spaces, ideal for parents to relax in between and after games. The complex also has a paved parking lot with bus access, ensuring convenience for athletes traveling from far away or by bus. Restroom facilities can easily be found in the concessions building. The complex is close to several premier dining and entertainment options, perfect for families hoping to preview campus life for their children. Home to Auburn Soccer Association's recreation leagues, the complex hosts several tournaments throughout the year, making it a superb option for your next soccer tournament.
Sports: Soccer
Opelika SportsPlex & Aquatics Center
This expansive, elite-level sports center supplies more than just gym spaces for athletes to participate in fun activities. The 81,536-square-foot facility offers amenities and concessions like two racquetball courts, two gyms, five soccer fields, an 18-hole disc golf course, a weight room, an adult activities center, swimming pool, multimedia room, meeting rooms, an amphitheater and indoor and outdoor tracks. The center also spotlights a main building where you can find an aquatics center, two soccer buildings with restrooms and a softball concessions building covering 70 acres. Seating and parking can be found throughout and around the center, making it convenient for all spectators and competing athletes. Special events include the Back to School Bash and the SportsPlex Tri for Kids.
Sports: All
Auburn Softball Complex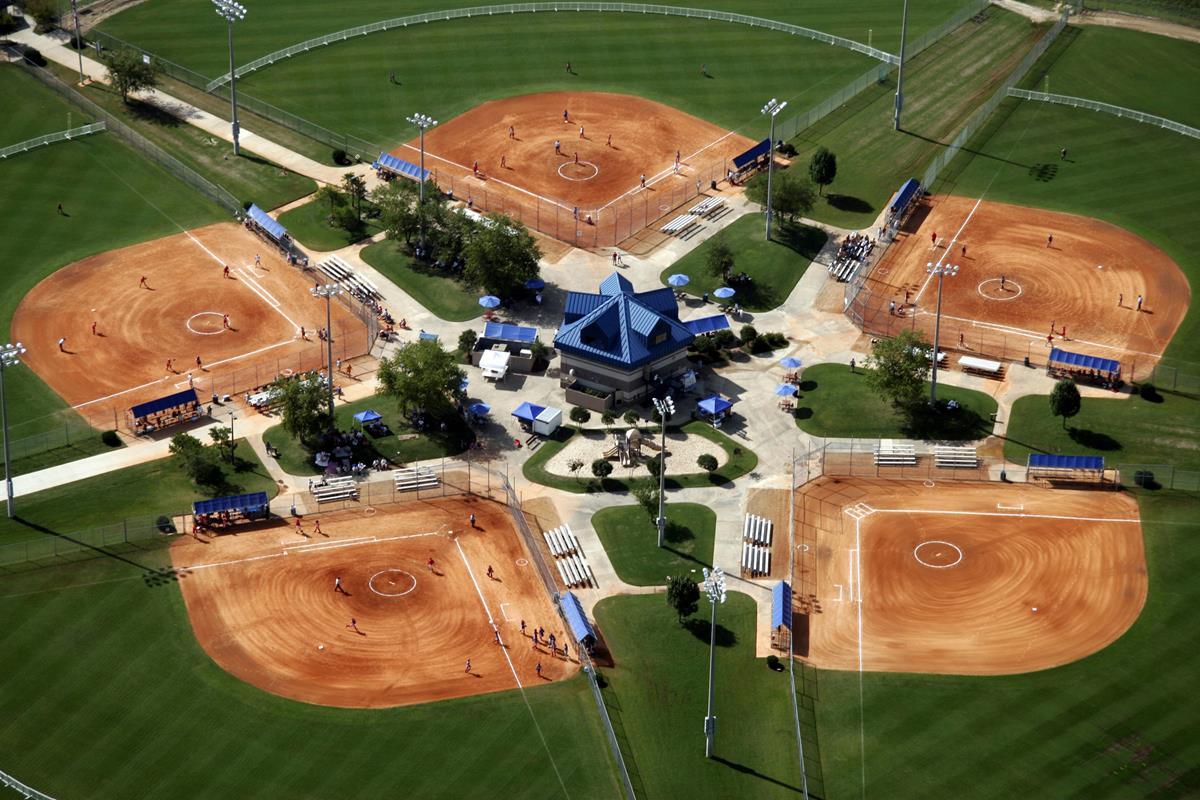 Home to the Auburn High School Tigers softball team, this bermuda-grass compound presents five softball fields, concession stands, a picnic area and seating for 1,200 guests, making it an excellent choice for tournament-style proceedings. The complex spotlights a three-story press box, covered dugouts, a control building and adult ball fields. Parking available for 750 spectators and onsite restrooms makes the facilities perfectly practical and stress-free for athletes and their families to revel in the last inning of the game and relish the warm sun of the Auburn-Opelika area. The complex has hosted 18 ASA national championships, making it no stranger to high-pressure, exciting softball games and tournaments.
Sports: Softball
Yarbrough Tennis Center (City of Auburn/Auburn University)

This championship-level, top-tier tennis center at Auburn University provides 4,300 square-feet of outdoor space and 33,314 square feet of indoor facilities for tennis players to show off their skills in front of family and friends. Spanning 4,300 square feet, the center comprises six indoor courts, 16 outdoor clay courts including one stadium court and 12 outdoor hard courts. Concessions and other useful facilities include a lounge, pro shop, director's office, lobby and locker room. Outdoor seating areas allow guests to bask in the beautiful, warm weather of Auburn-Opelika while enjoying nail-biting tennis tournaments that will be sure to have spectators on the edges of their seats. Showers and lockers are available in the onsite restrooms, and parking can be found at both the clay and Auburn University sides of the tennis center. Several NCAA, SEC, USTA and ITA tournaments are held every spring.
Sports: Tennis
Chewacla State Park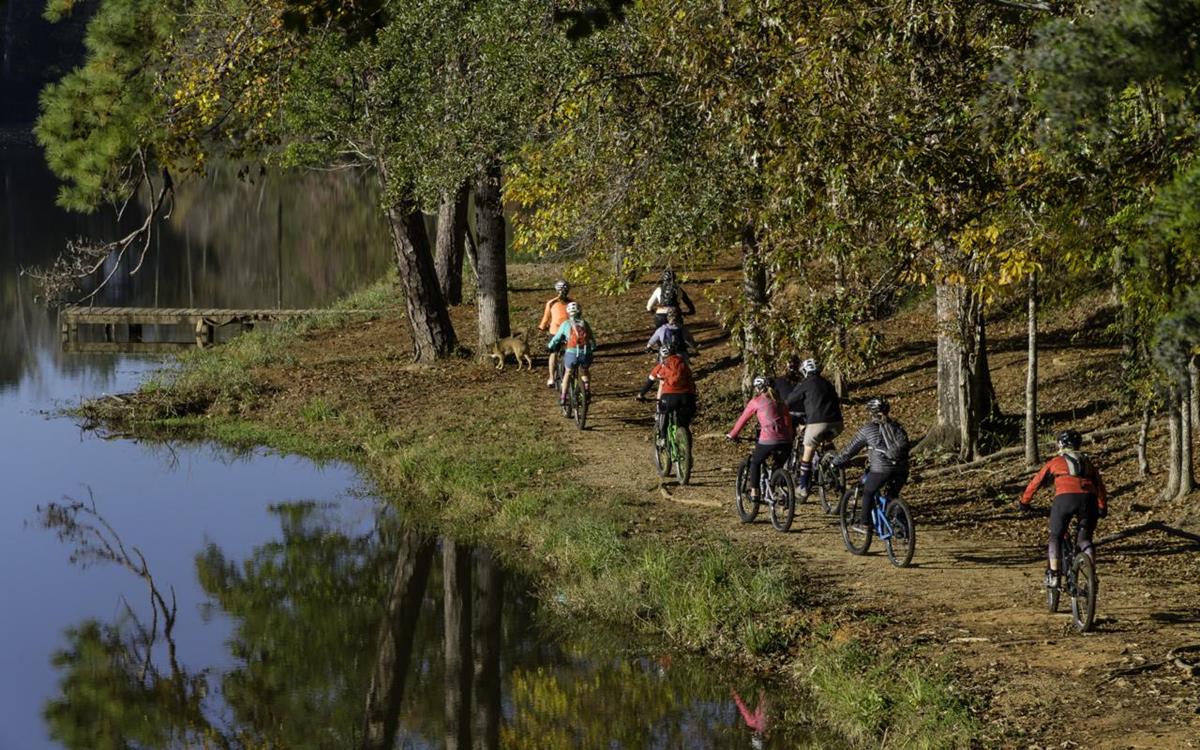 This picturesque state park nestled on the edges of Chewacla Lake highlights a 26-acre lake and rental boats, along with campsites for overnight camping trips, hiking trails and picnic areas. The park presents six cozy, newly-renovated cabins equipped with central heating and cooling systems. These stone cottages feature televisions, stone fireplaces, bathrooms, kitchens and hardwood floors, perfect for relaxing after game day. The gorgeous grounds make the site perfect for hiking, biking, camping, triathlons and a host of other activities and sports to engage in. If you prefer a rugged, adventurous experience, there are 36 hookup camping sites and 10 primitive sites. Showers are available in all camping sites, and RV, tent and group camping areas are perfect choices to sit down, kick back and enjoy a football game day. Nearby attractions include historic downtown Opelika, Tuskegee National Park and several retail and dining options.
Sports: Mountain biking, boating, triathlons
Jordan-Hare Stadium (Auburn University)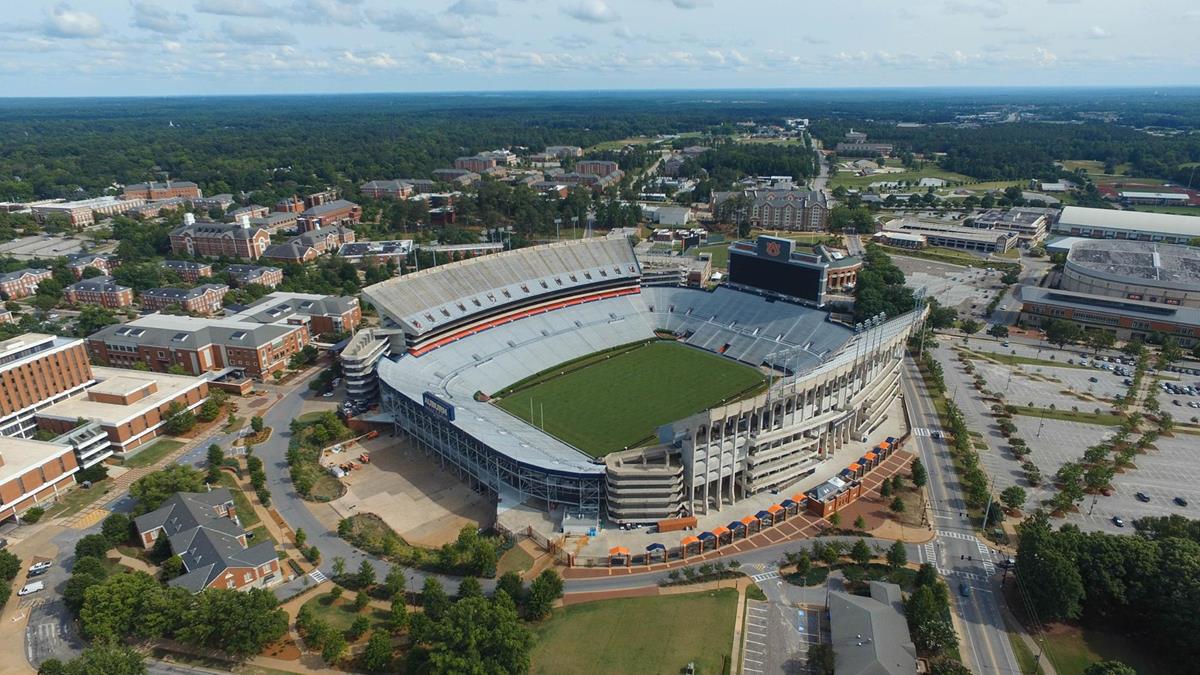 Named after Auburn's all-time winningest football coach, Ralph "Shug" Jordan, this vast football stadium was recently renovated in 2017, and, if it were a city, it would be the fifth-largest city in Alabama on game days. With a maximum seating capacity of 87,451, onsite restrooms and several parking decks for spectators, the stadium's convenience and practicality makes game days less stressful and more enjoyable. Concession stands are located on the main concourse throughout the arena, and an extensive food menu will let spectators enjoy in the fine foods and fun football that Auburn has to offer. Its full-sized, grass football field has seen some of the most exciting games in college sports, including the 2017 Iron Bowl, Alabama vs. Auburn, making it an ideal pick for your athlete's next football game.
Sports: Football
James E. Martin Aquatics Center (Auburn University)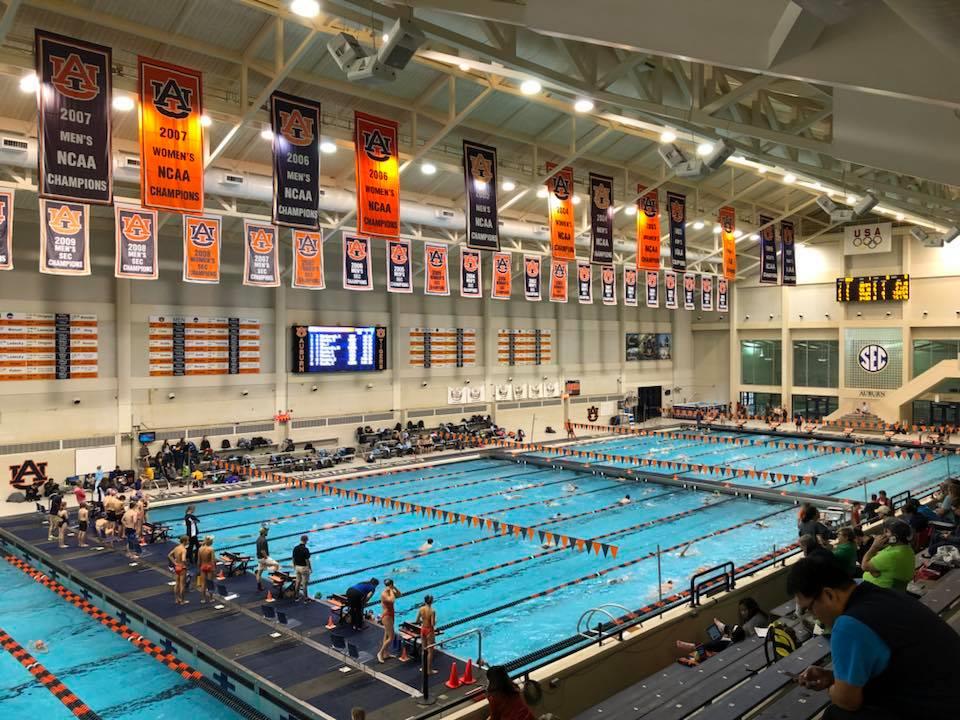 Did you know that in 2002, Sports Illustrated named this state-of-the-art aquatic center's pool the third-fastest pool in the country? The pool's construction and style utilizes a modern gutter system that absorbs waves, making it one of the nation's most dynamic pools. The center contains three pools – a competition pool with a diving well, an indoor training pool and an outdoor training pool. Extending 77,629 square feet, the complex can seat 1,000 visitors with an additional 800 seats for competitors on the swim deck, making it appropriate for all-day swim meets. Locker rooms are available for athletes and restrooms can be found throughout the center, along with seating and parking surrounding the complex. One of the country's leading natatoriums, the aquatics center has held the NCAA's Men's and Women's Swimming and Diving Championships, and maybe even one day your athlete can witness the prestigious experience of competing at this elite, competitive pool.
Sports: Swimming and diving, water polo
Things to do in Auburn-Opelika
In the downtime that teams and parents have before, in between and after games, Auburn-Opelika presents plentiful possibilities to explore the region's diverse array of cuisines, activities and entertainment. When arranging sporting events, it is important to schedule things to do for your athletes to encourage team bonding. Though it may be difficult to find a diverse array of activities for both athletes and parents to enjoy, Auburn-Opelika will be sure to relieve your worries with numerous recreation and relaxation alternatives to pick from.
If you adore the thrill of the outdoors, Chewacla State Park gives family members the chance to hike, swim, mountain climb, picnic or relax on their playground area. Similarly, the Louise Kreher Preserve and Nature Center provides visitors with the opportunity to view reptiles, ferns, native azaleas, streams, a butterfly garden and a waterfall. Alternatively, if you prefer calming leisure experiences, Jule Collins Smith Museum of Fine Art is equipped with 2,000 works of fine art, and features the Dale Chihuly chandelier, seven changing galleries and innovative visual arts. Coaches and parents may want to enjoy local libations at the John Emerald Distillery and Red Clay Brewing Company, or round off their night with their athletes at Good Times, equipped with an arcade, bowling and escape rooms.
Planner Perspective
The Auburn-Opelika team does a fantastic job of making our event (Super 7 Championships) successful for our participants and fans. Their hands-on service, attention to detail, and can-do attitudes continue to elevate the championships year after year after year.
AHSAA: Steve Savarese (Executive Director) 
How to Get to Auburn-Opelika
By Car: Auburn-Opelika is just an hour's drive from the capital of Montgomery. The following cities are less than six hours away: Birmingham, Huntsville, Mobile, Orange Beach, Tuscaloosa, Talladega and Gulf Shores. Interstates 59, 65 and 85 are connected to the city, with I-85 beginning in Montgomery towards Auburn and Tuskegee.
By Air: Birmingham-Shuttlesworth International Airport is approximately two hours and 15 minutes from Auburn-Opelika, while Montgomery Regional Airport is roughly one hour away and services American Airlines, Delta and Via Air.
Contact Information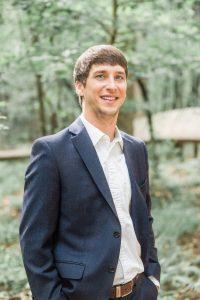 Company Name: Auburn-Opelika Tourism Bureau
Sports Sales Manager: Anthony Terling
Title: Sports & Event Development Manager
Telephone: 334-391-2527