A storied college sports town, Columbia is home to enjoyable attractions and state-of-the-art facilities.
Columbia, South Carolina is a destination that has been attracting sports planners and teams for decades, namely for its reputable and renowned sports facilities at the University of South Carolina, home to the Gamecocks sports teams. Other than the university's award-winning sports facilities, Columbia has a number of athletic centers and recreational parks for indoor and outdoor sporting events.
When teams aren't practicing or participating in games and tournaments, there are endless exciting, educational and outdoor activities to take advantage of during downtime. Columbia isn't just a hub for sports; it's also a great place for families to enjoy an outdoor picnic, go on a hike, rent kayaks or explore Congaree National Park, the only national park in the state, as well as one of the area's numerous regional and local parks. Lake Murray, in particular, is a favorite South Carolinian pastime boasting 650 miles of shoreline.
Columbia epitomizes the notion of Southern hospitality, and a huge part of that desired Southern hospitality involves homemade Southern cooking. Sports planners and families will have no problem finding the best local eateries offering an array of culinary creations, with various food districts filled with some of the best Southern cuisine in the state. A city with an incomparable Southern charm, Columbia also offers several contemporary accommodations options only to be found in an up-and-coming capital city.
Notable Recent/Upcoming Events
2019 NCAA Men's Basketball First/Second Rounds – March 22-24, 2019
2019 ACO South Atlantic Conference Tournament – June 14-15, 2019
2019 TNBA Southern Regional Tournament – November 21-24, 2019
2020 South Carolina vs Clemson "Battle at BullStreet" – February 29, 2020
2022 NCAA DII Women's Golf National Championship – May 11-14, 2022
CVB/Sports Commissions Services Offered
Volunteer Staff
PR/Media Assistance
Signage
Site Visits
Transportation Assistance
Lodging Services
Grant Programs
Welcome Bags/Gifts
Itinerary Development
Event Planning Assistance
Click on tab to see more information about a specific facility
Williams-Brice Stadium
Opened in 1934 and renovated most recently in 2012, Williams-Brice Stadium is the home of the University of South Carolina football team. The storied stadium, nicknamed "The Cock Pit," holds more than 80,000 people and has hosted some of the most thrilling (and loudest) games in college football history. Williams-Brice may be a football fan's dream venue, of course, but it is also popular with concert-goers. Past performers have included Metallica, Guns N' Roses, U2, Paul McCartney, the Rolling Stones and, most recently, Beyonce and Jay-Z. Want even more variety? The stadium hosted Pope John Paul II during a 1987 Papal visit to Columbia.
Sports: Football
Colonial Life Arena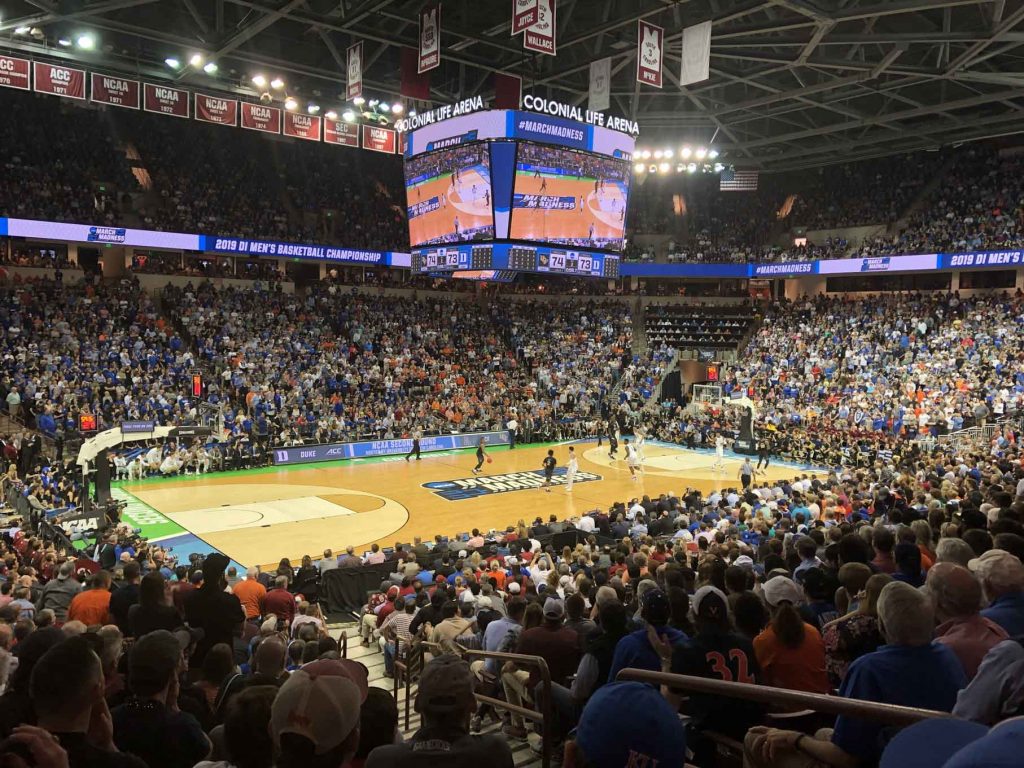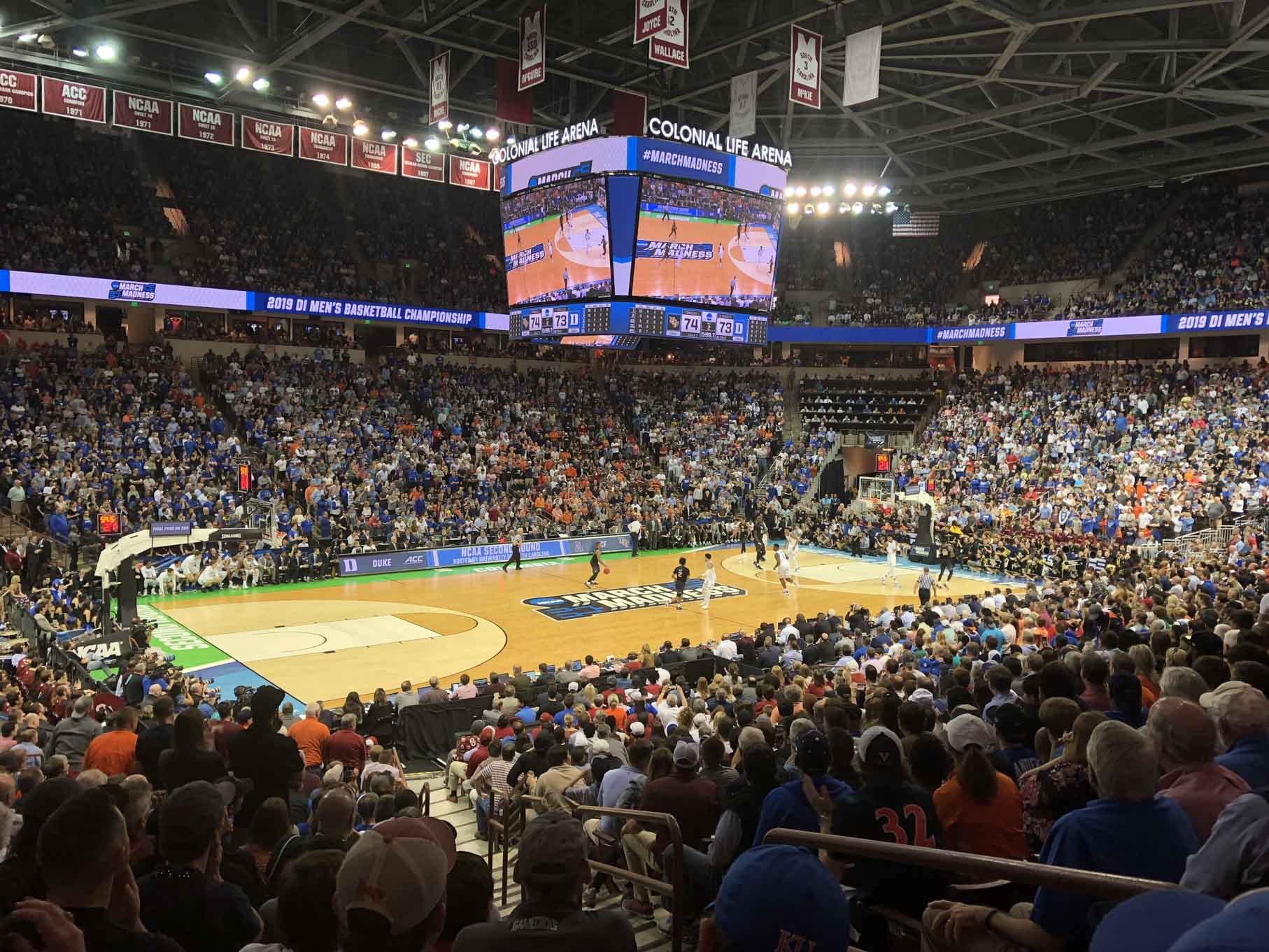 One of South Carolina's most impressive multi-use arenas, Colonial Life is an 18,000-seat venue that plays host to both sports and music events. It is best known as the home court of the South Carolina Gamecocks' men's and women's basketball teams, both of which have been highly successful in recent NCAA tournaments. It hosted first- and second-round NCAA men's basketball tournament games in March of 2019. Beyond basketball, though, Colonial Life Arena has held concerts by the likes of Billy Joel, Elton John, and Bruce Springsteen. Overall, this is a top-notch, multi-surface facility that regularly hosts some of the most exciting events the state has to offer.
Sports: Basketball
Segra Park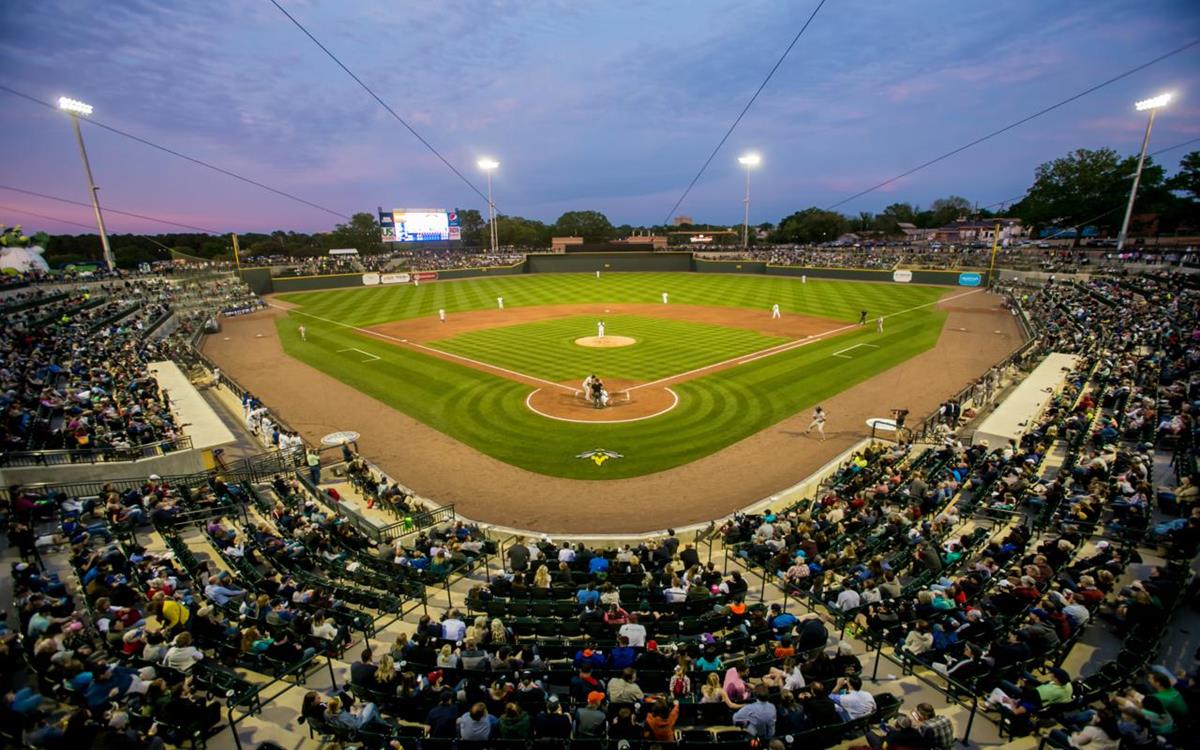 Segra Park is the home of the Columbia Fireflies, the city's Minor League Baseball team. The stadium, with capacity of over 9,000, opened in 2016 for the Fireflies' first game in April of that year. Baseball fans can catch exciting minor league games here, though Segra Park is much more than just a ballpark. It is also a great choice for weddings and business meetings. Inside the stadium, the Club Lounge has space for 500 guests, while the Broad River Balcony looks out onto the field and can hold as many as 120 people. There are also batting cages that accommodate 20 guests per hour and a large conference room located just off the concourse.
Sports: Baseball
Palmetto Health Fields at Saluda Shoals Park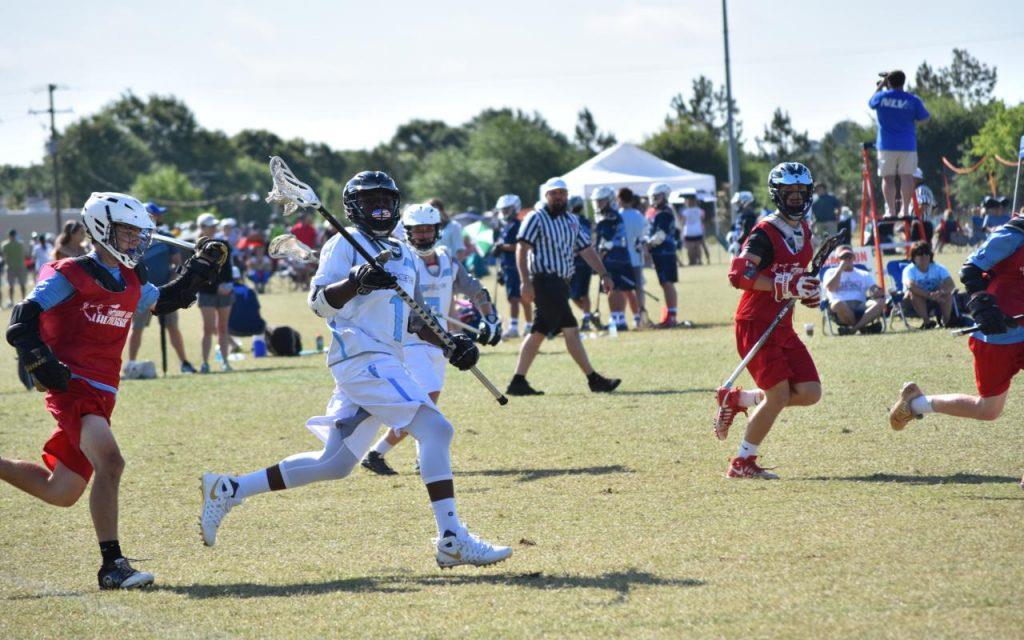 Palmetto Health Fields is an athletic complex situated within Saluda Shoals Park, a 400-acre riverfront park with paved and unpaved paths perfect for running, biking and walking. The river is also popular for those who want to go canoeing, kayaking or tubing on a warm summer day. The Palmetto Health Fields might be the park's finest feature: the area boasts six soccer, lacrosse and multi-use fields, six clay tennis courts and four hard-surface tennis courts. It also has many amenities, including turf fields, state-of-the-art lighting, restrooms, Wi-Fi access, onsite concessions and ample parking. Put simply, this venue is one of Columbia's best for hosting a large-scale sports tournament.
Sports: Soccer, Lacrosse, Tennis, Football
Cayce Tennis and Fitness Center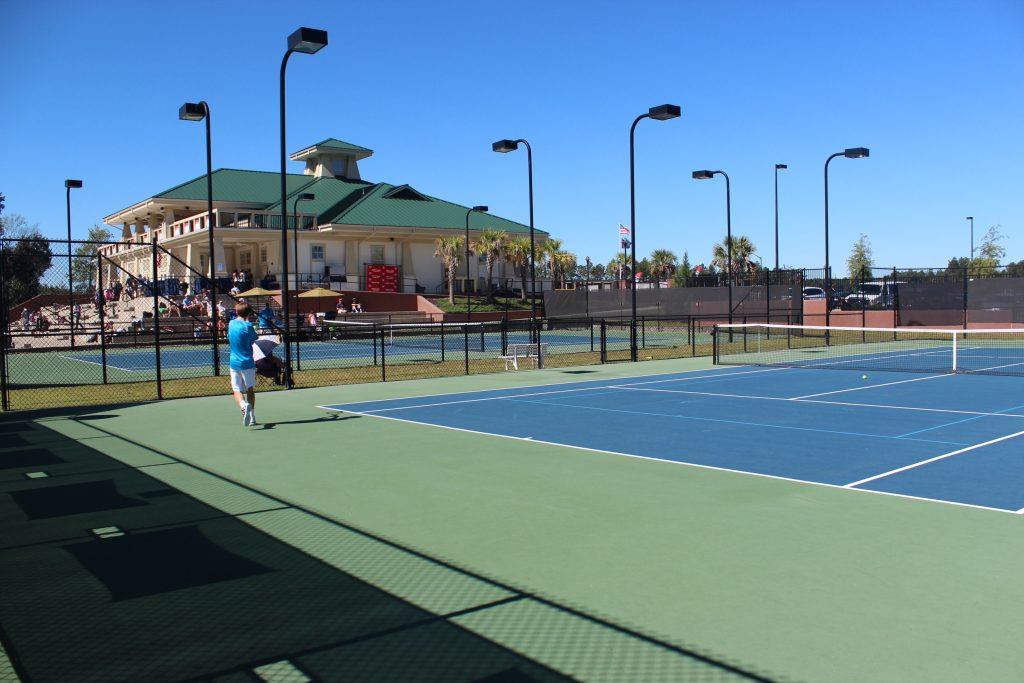 Cayce Tennis and Fitness Center is a beautiful complex that hosts 35 tennis events every year. What draws tourney planners to Cayce? Well, it offers 30 hard-surface courts, an 11,000-square-foot clubhouse and a 1,200-square-foot conference room. The stadium court, with a 500-person viewing area, has held the Big East Conference Championships, in addition to other major tournaments. Easily accessible off of Interstate-77, this venue also offers a large fitness center, fully-staffed pro shop, multiple viewing areas and four full-time professionals. One of the Palmetto State's finest sports facilities, Cayce is the place to be if you love tennis.
Sports: Tennis
Lexington Sports Complex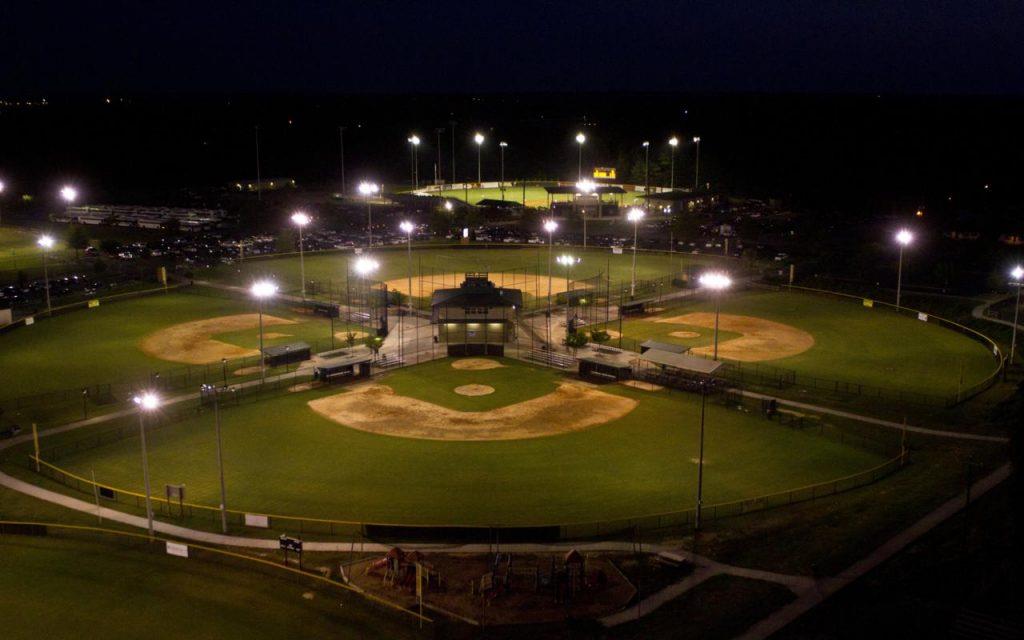 Located on Ball Park Road in Lexington, South Carolina (just a 20-minute drive from Columbia), Lexington Sports Complex accommodates a number of activities. First, the facility offers five youth baseball fields: one intermediate field, one regulation field and two T-Ball fields. This part of the complex also has lights and moderate seating capacity. Next, the complex boasts four hard tennis courts, also with lights. Finally, there are four lighted softball fields. Put it all together and you have a great location for a sports tournament just outside of South Carolina's capital city.
Sports: Baseball, softball, tennis
Founders Park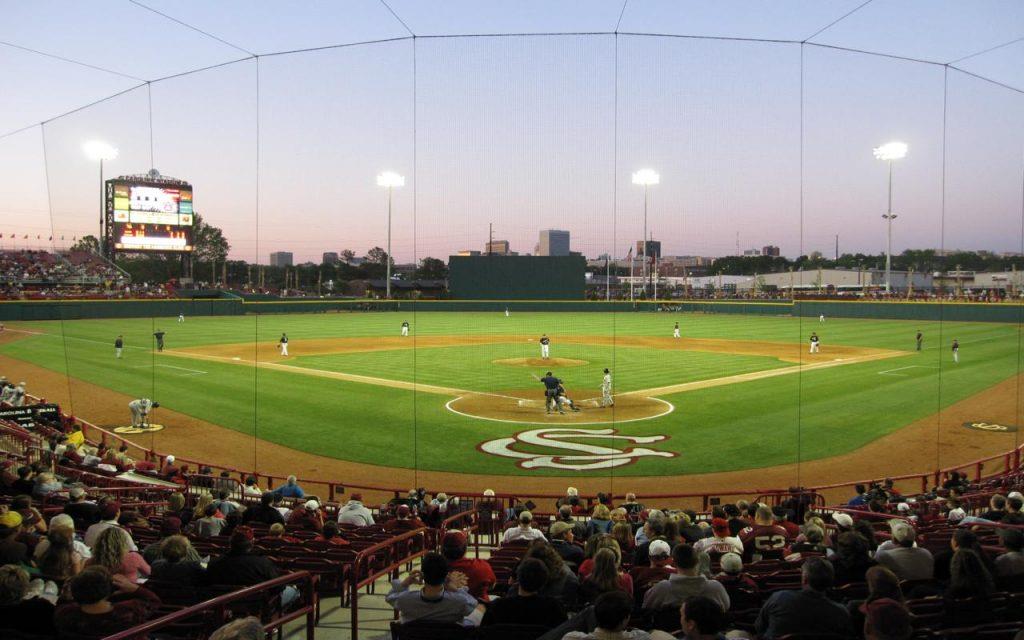 Founders Park is the home of the South Carolina Gamecocks baseball team. Opened in 2009, the stadium sits on the banks of the Congaree River and holds over 8,000 people, making it a favorite choice of college baseball enthusiasts. The park is a baseball player's dream, too: it offers four indoor batting tunnels, a 3,900-square-foot weight room, a team clubhouse and a sports medicine room. Just a fan? Founders Park offers numerous amenities like five luxury suites, two club-level seating areas and a picnic terrace down the left-field line.
Sports: Baseball
What is There to Do in Columbia?
Those looking to plan a sports tournament in South Carolina should look no further than the capital city. Columbia, a region of around 800,000 people, sits right in the middle of the Palmetto State and is home to the University of South Carolina. The Gamecocks have always helped the town attract tourists, as has the revitalization of the downtown area in recent years. A new convention center, baseball stadium and multi-purpose arena have all opened since 2000. Put it all together and you have South Carolina's finest destination for sports and leisure. Lodging options include stays at the Hilton Garden Inn, Hyatt Place—The Vista, Hampton Inn, Aloft and several other hotels.  
Beyond catching a Gamecocks sporting event — always a great option — visitors can find a number of fun activities to fill the time between tourney games. One opportunity for enjoyment is Riverbanks Zoo and Garden, where visitors will love learning about over 2,000 animals and 4,200 species of native and exotic plants. Sitting on the edge of the Saluda River, it spans 170 acres and is always a popular spot for a fun day with the family. Looking to get a better understanding of the Palmetto State's storied history? Look no further than the South Carolina State Museum. This isn't your run-of-the-mill museum: it is a state-of-the-art facility equipped with a digital dome planetarium, 4D interactive theater, an observatory and four floors of fascinating exhibits. The museum might be the most comprehensive of its kind in South Carolina, but just down Main Street one can find the Columbia Museum of Art and its internationally-renowned collection. Keeping on the topic of history and tradition, tourists shouldn't miss seeing the South Carolina State House, originally built in 1855. The historic building features many statues and monuments in and around it, making it a top choice for those who want to learn about Columbia's past. Finally, tourists should head over to Lake Murray, where 50,000 acres and 650 miles of shoreline make it a favorite spot for nature-lovers and outdoor enthusiasts. The lake is perfect for fishing and boating, not to mention being a great source of scenery for those just trying to relax between athletic events.
Planner's Perspective
And let me just say you are the BEST CVB I have ever worked with in all the cities I handle tournaments in the Southeast!
The Tournament Office: Jeff Welch (Tournament Housing Director)
We are really for Experience Columbia SC Sports! You and your team are to be commended for your hard work. We can't thank you enough for your care, energy and time. Tremendously appreciated, thank you so much.
International Dance Challenge, LLC: Randy Coleman, CEO/President
CRSC is an amazing partner – friendly staff, responsive to questions, full of great ideas for our event, and always ready to help!
US Quidditch: Sarah Woolsey, Event Manager
How to Get to Columbia?
By Car: The three major interstates that run through Columbia and are easily accessible from anywhere on the Eastern corridor are I-26, I-77 and I-20. If coming from the West Coast, take I-70. Major cities located within a five-hour drive from Columbia are Atlanta, Jacksonville, Savannah, Charlotte and Montgomery.
By Air: Conveniently located approximately 10 minutes from downtown Columbia, Columbia Metropolitan Airport (CAE) is the region's leading commercial airport with 35 daily non-stop flights from eight destinations. Other airports within 100 miles from Columbia are Charleston International Airport (CHS), Charlotte Douglas International Airport (CLT) and Augusta Regional Airport (AGS). 
Contact Information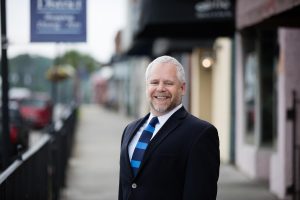 Company Name: Experience Columbia SC Sports
Sports Sales Manager: S. Scott Powers
Title: Executive Director
Telephone: 803-545-0009