It is rare to find a single destination that suits every tournament's needs. Organizers must take countless factors into consideration, whether it's the landscape, spectator capacity or the time of year. Fortunately for them, the sporting venues nestled in Florida's Treasure Coast (Indian River County, St. Lucie County and Martin County) cater to all of these needs and much more. This subtropical paradise, which runs along the Indian River, consists of over a dozen picturesque land and water facilities that will support every athlete, audience and sports competition. What's more, you will almost never have to worry about insurmountable weather conditions, as the Treasure Coast is widely known for its combination of sunny and breezy temperatures.
The Treasure Coast offers athletes and coaches sports sanctuaries where they can participate in tournaments of every kind, from shooting competitions to international fishing and renowned PGA tournaments. The region has larger multi-sport arenas for those who wish to test their endurance in triathlons.
Notable Recent/Upcoming Events
Babe Ruth Softball World Series at Halpatiokee Regional and Pineapple Park (annually in middle of July-beginning of August)
Southern KingFish Association National Championship at Ft Pierce Marina (November 2019)
New York Mets Spring Training at First Date Field (annually February-March)
Florida High School Athletic Association State Swim and Dive Championship at Sailfish Splash Waterpark (annually in November)
Florida High School Athletic Association State Softball Championships at Historic Dodgertown (annually in May)
CVB/Sports Commissions Services Offered
Volunteer Staff
PR/Media Assistance
Signage
Site Visits
Transportation Assistance
Lodging Services
Grant Programs
Welcome Bags/Gifts
Itinerary Development
Event Planning Assistance
Click on tab to see more information about a specific facility
First Data Field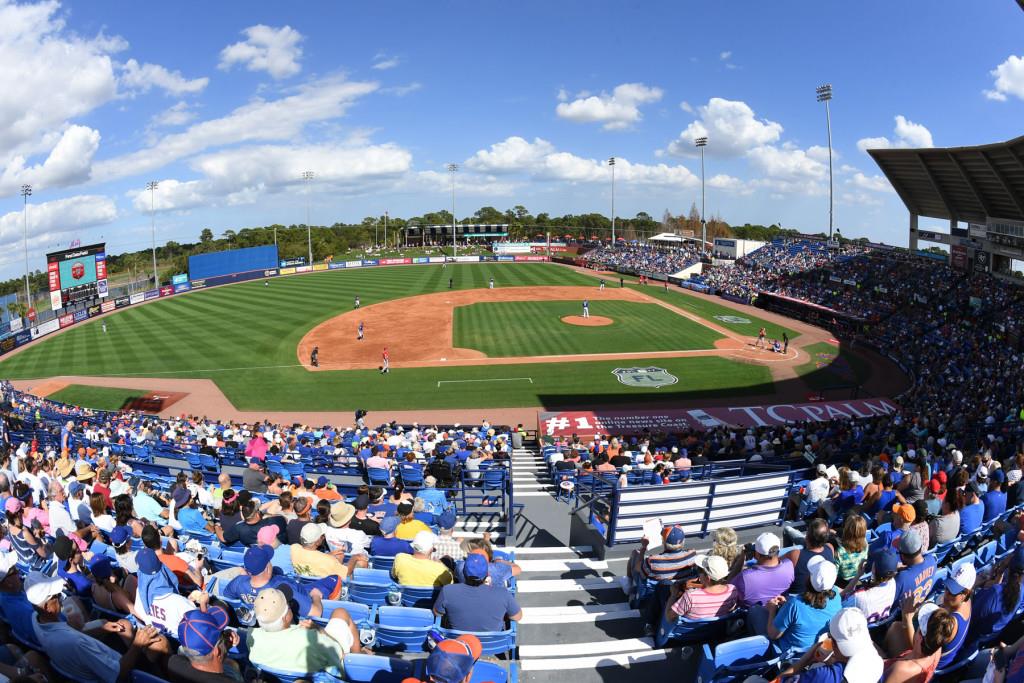 This gorgeous grass field is home to professionals and rookies alike, as the New York Mets train here during the spring. The High-A St. Lucie Mets and Gulf Coast Mets rookie teams take to the field during their respective seasons. First Data seats 7,160 people. Sterling Facility Services operates multiple full-service food and beverage stands. Free parking is available onsite.
Sports: Baseball
Historic Dodgertown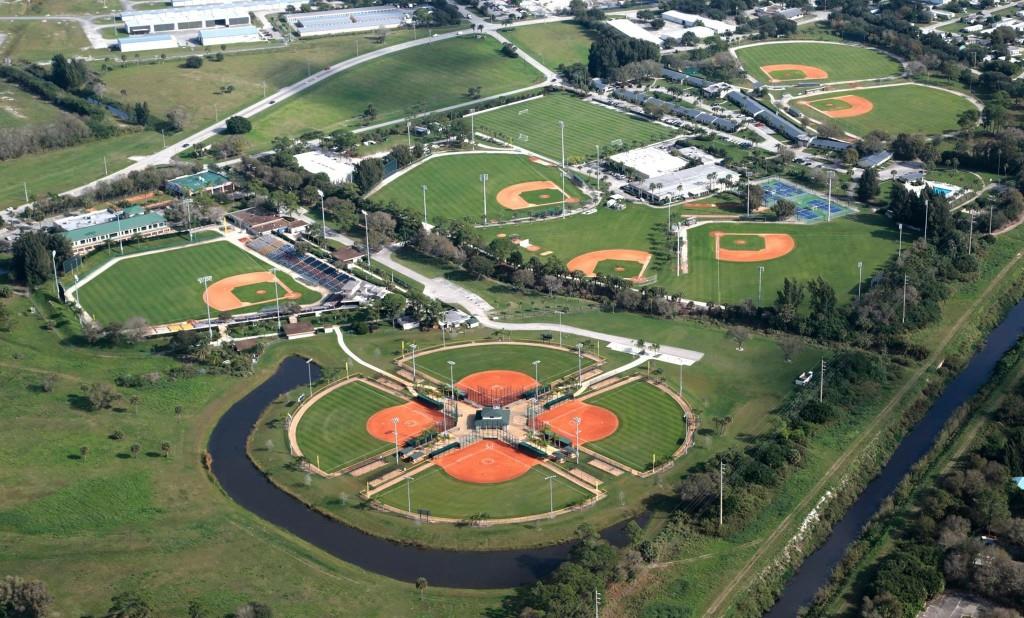 Historic Dodgertown in Vero Beach has four full fields, one 100 x 130-yard sport field that is used for soccer, rugby, lacrosse and football, one half-field, four softball/youth baseball fields, eight indoor pitching tunnels, a 60-yard agility and warm-up area, mini-field for bunting practice and 32 mounds/home plates for individual practices. Almost all of these facilities are equipped with AAA/AA Musco lighting. Holman Stadium seats 6,000 guests. This venue offers food and beverage options plus has 80 villas onsite for overnight stays.
Sports: Baseball, football, lacrosse, soccer, softball, swimming, crew/rowing, rugby
Halpatiokee Regional Park
With 65 acres of beautiful parkland surrounded by 470 acres of wetland preserve and wildlife, Halpatiokee Regional Park prides itself in being the largest park in Martin County, Florida. Athletes have the dual pleasures of going head to head in all kinds of games and becoming one with nature. When you're not playing on any of the natural grass fields, rent a canoe or kayak to see what lies in the South Fork of the Lucie River. Halpatiokee is the Seminole Indian word for "Alligator Water," so keep your eyes and ears open! Or, you can bike along the 7.5-mile long mountain to see the native wildlife. Visitors are within walking distance of several restaurants and hotels.
Sports: Soccer, football, tennis, softball, baseball, hockey, biking, fishing
US Sailing Center of Martin County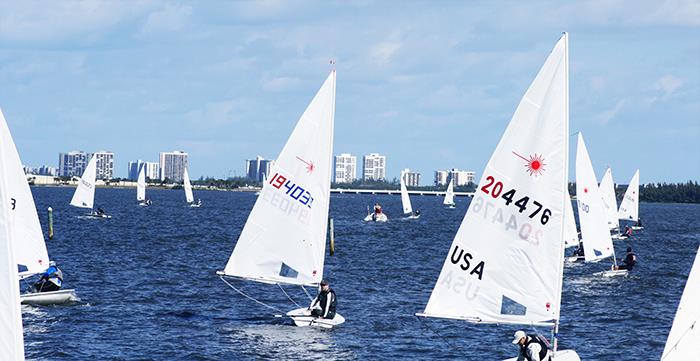 This seven-acre venue with 600 feet of beachfront on the Indian River is home to the Treasure Coast Youth Series at Jensen Beach, a prestigious sailing tournament. Veterans and novices can set sail after choosing from eight Flying Scots, six 12-foot Hartleys, 12 420 Class Dinghies, two Lasers, eight 16-inch Hobie Waves, two 16-inch Hobie Getaways, 37 Optimists and countless kayaks and windsurfers. Amenities include outdoor showers and parking spaces for boats and trailers.
Sports: Sailing
PGA Golf Club

As you may have guessed given its notable reputation, PGA Golf Club is where you'll find Florida's best golf courses. PGA professionals from all over train and play on any one of the four 72-hole premier courses — Wanamaker (7,045 yards), Ryder (7,000 yards) and Dye. Budding beginners can take their first swings at the PGA Village six-hole Family Short Course, while all levels can perfect their skills at the impressive 35-acre PGA Center for Golf Learning and Performance. Guests can attend social and golf events, participate in tennis programs on five lighted Har-Tru courts and lounge in a remodeled pool area with shades, new furniture and a heater.
Sports: Golf
Sailfish Splash Water Park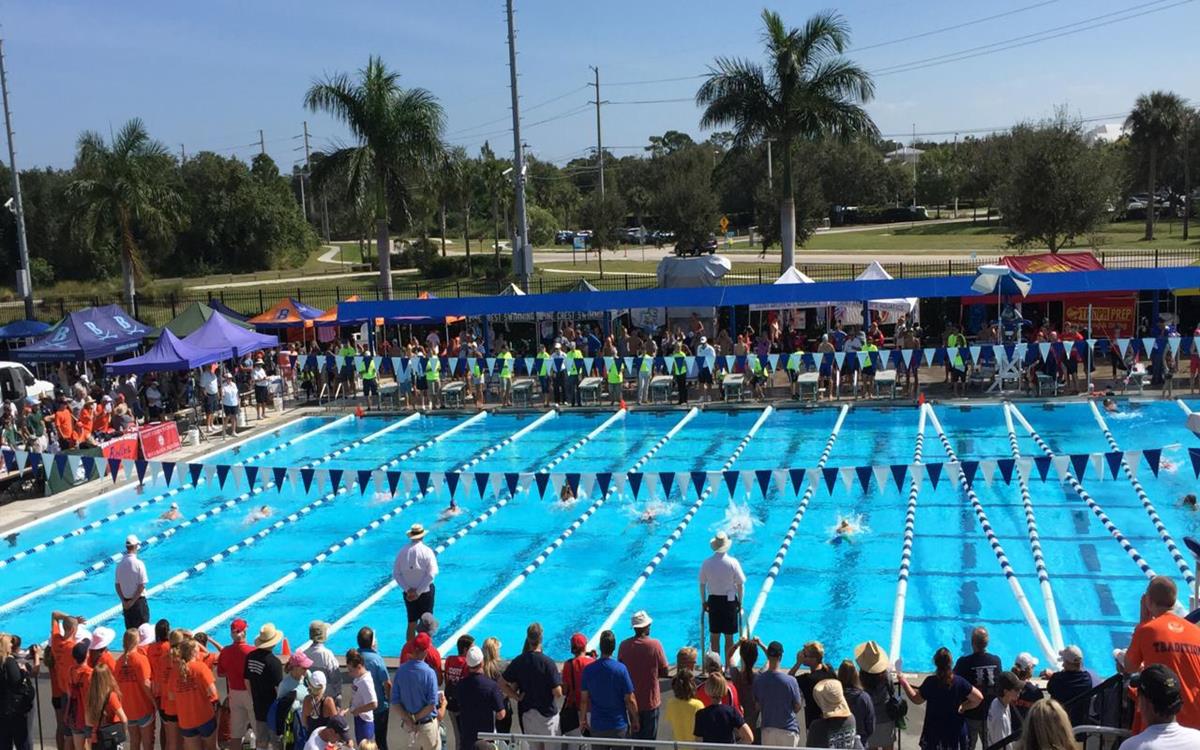 You and your family don't want to miss out on this magnificent two-acre water park. Stuart's Sailfish Splash Water Park is everyone's dream, complete with a 1,000-foot lazy river, a zero-depth entry and a 7,326-square-foot interactive splash playground with slides, sprays, jets and a 317-gallon "Dump Bucket." The water park also sports two four-story waterslides, including a 253-foot closed flume called the "Speed Slide," a competitive lap pool and a Wiggly Waters cargo net walk-across. Guests can station themselves among 700 lounge and deck chairs, a shaded picnic area and private cabanas that can be rented. Families and friends can park, shop, dine — with access to the food pavilion for birthday parties — and use restrooms onsite with free Wi Fi access.
Sports: Swimming
Indian River County Shooting Range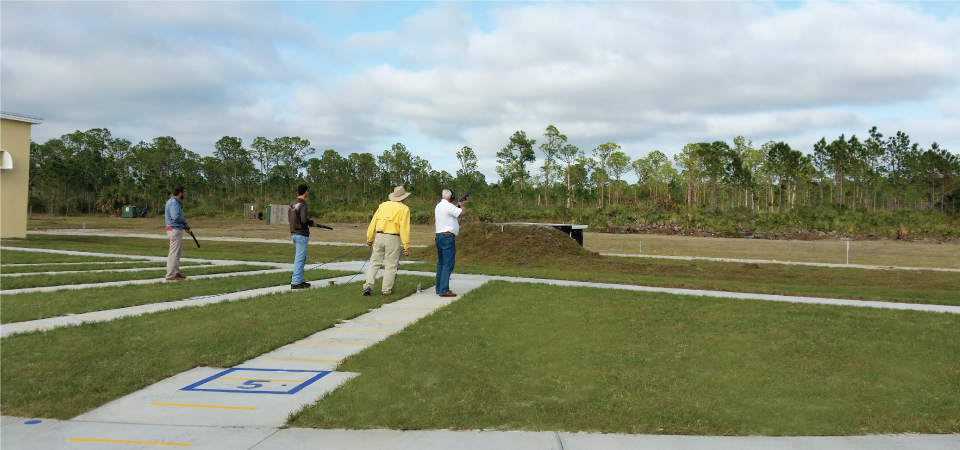 Practice target shooting at this five-stand outdoor shotgun range constructed for leisure and training purposes. Just east of Interstate 95, the five-star training facility offers a pistol range with 35 stations; a rifle range with 29 stations, including 200-yard target firing stations; a 65-yard archery range; walk-through archery and sporting clays courses; an air gun range; three combination skeet and trap fields; and a gun shop. The nearby lake offers fishing opportunities.
Sports: Shooting, fishing
Things to do on the Treasure Coast
The Treasure Coast, situated on the Central East Coast of Florida, boasts a myriad of fishing hotspots; walking, hiking and biking trails; and world-class beaches, such as Hobe Sound, Santa Lucea and Bathtub Reef.
An aquatic center for competitive swimmers featuring towering slides and a lazy river for recreational use, Sailfish Splash Water Park is a favorite year-round activity on the Treasure Coast. Come for a day and splash away in the center's championship caliber, Olympic-sized, FINA-compliant Myrtha pool.
National Navy UDT-SEAL Museum in Fort Pierce houses exhibits on the role of Navy underwater demolition, sea, air and land teams. Preserving the history of the SEALs, the museum invites guests to explore the secret world of naval special warfare.
Children's Museum of the Treasure Coast in Jensen Beach features hands-on displays about nature, history, health and recycling. Kids can play the role of veterinarian at the museum's Vet Clinic or pack their trunks for a 90-day voyage on the 16th century Spanish Galleon.
McKee Botanical Gardens in Vero Beach was founded in 1929 and features 10,000 native and tropical plants, plus one of the area's largest collection of water lilies.
Planner Perspective
The Treasure Coast Sports Commission is truly a partner with the USSCMC helping us to promote sailing while bringing wonderful events to our community. These are events that generate much needed revenue for our area all the while generating customers for our local restaurants, hotels and retail stores.
US Sailing Center of Martin County: Alan Jenkinson (Executive Director)
How to Get to the Treasure Coast
By Car: The Treasure Coast is situated conveniently by Interstate 95. I-95 extends from Bridge Road in Hobe Sound to Fellsmere and the Treasure Coast. Other popular routes include the Florida Turnpike and U.S. Highway 1. Visitors can also take US A1A along Hutchinson Island, an island bordering the Atlantic, or Indian River Drive, which runs alongside the Indian River Lagoon.
By Air: Melbourne International Airport (53 miles), Palm Beach Airport (69 miles), Orlando International Airport (108 miles) and Miami International Airport (130 miles) are all options for accessing the Treasure Coast. Over 30 airlines service these airports. Private planes fly into Treasure Coast International Airport, Martin County at Witham Field, Vero Beach Municipal Airport and Sebastian Municipal Airport.
Contact Information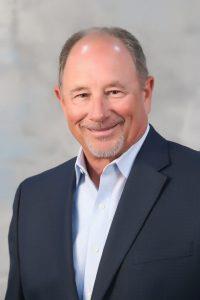 Company Name: Treasure Coast Sports Commission
Sports Sales Manager: Rick Hatcher
Title: Executive Director
Telephone: 772-871-5458