Approximately 30,000 runners from around the globe descend upon the MetroWest in April on Patriots' Day to participate in the world's oldest annual marathon, the Boston Marathon. While it is arguably the most anticipated day of the year for the MetroWest, the area is also home to some of the best sports venues in the Northeast. With its various state-of-the-art complexes along with an abundance of cultural activities, breathtaking nature, exquisite shopping, dining and accommodation options, this Northeastern region is a perfect destination for sporting events of all kinds.
CVB/Sports Commissions Services Offered
PR/Media Assistance
Site Visits
Transportation Assistance
Lodging Services
Welcome Bags/Gifts
Itinerary Development
Event Planning Assistance
Click on tab to see more information about a specific facility
New England Sports Center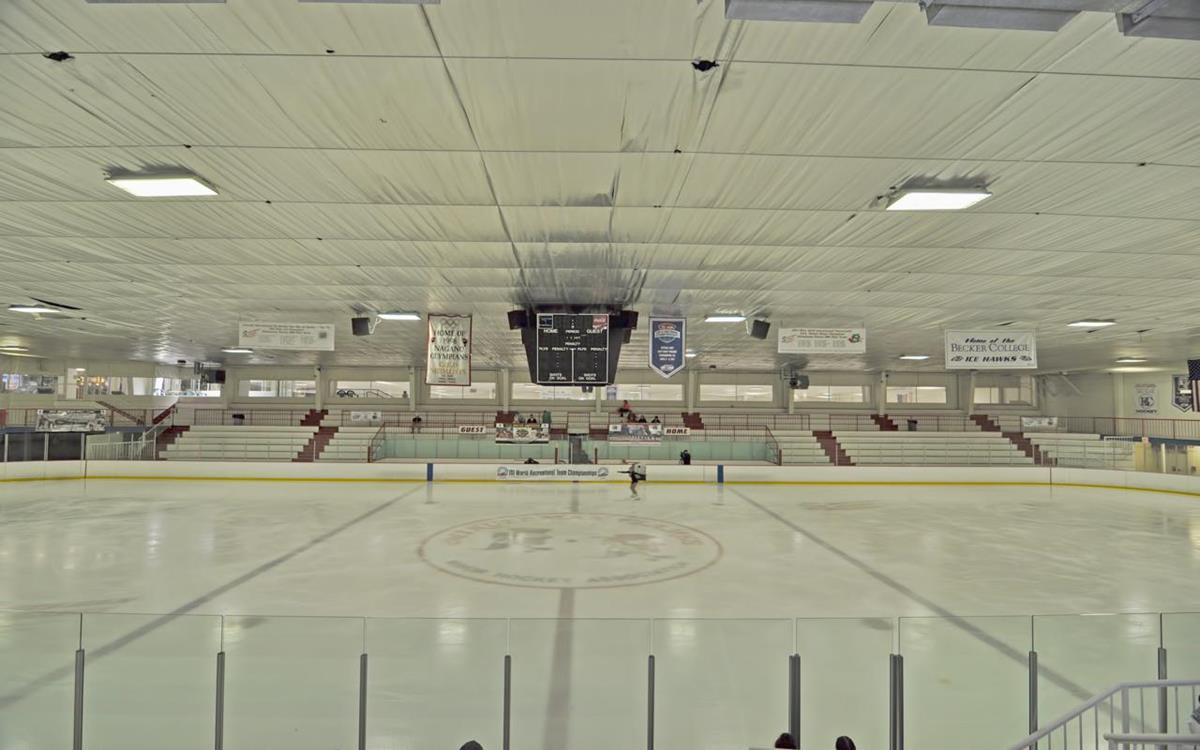 Located on 22.3 acres of suburban land, the two-story, 306,000-square-foot New England Sports Center in Marlborough contains eight full-sized ice skating rinks, 76 locker rooms, a hockey pro shop, ice skate sharpening, ice skate rentals, function rooms, a full service restaurant and a snack bar, making it the largest ice skating arena in the U.S. Host to the Haydenettes and home to the Skating Club of Boston, Minuteman Flames, Junior Bruins and Becker College hockey teams, there is no better place for hockey teams to host their next tournament.
Sports: Hockey
New England Baseball Complex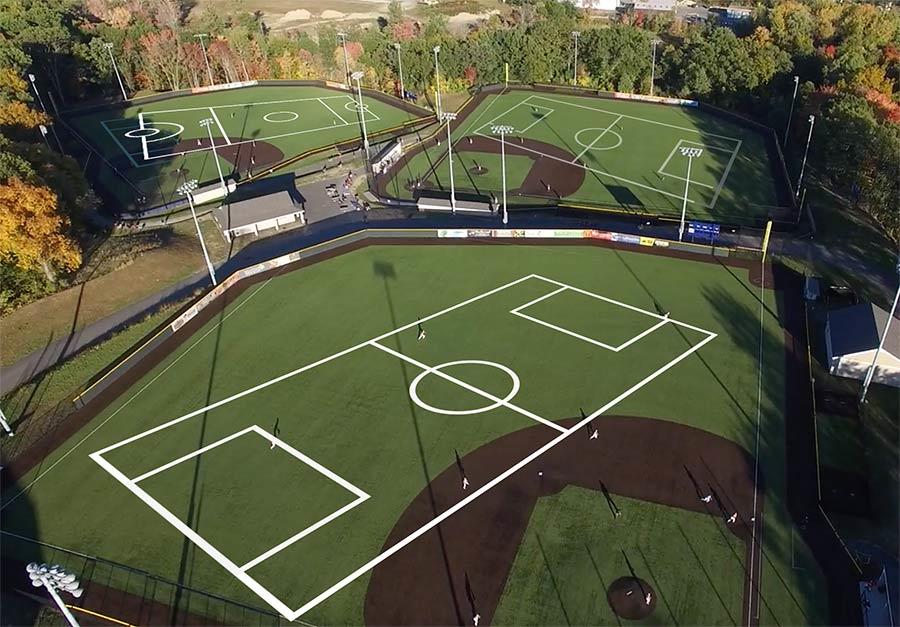 Home to the New England Ruffnecks, the 30-acre New England Baseball Complex in Northborough holds several conferences and tournaments throughout the year for both college-level and youth teams. With three different playing fields, dugouts and concessions, this fully equipped complex has everything you'll need when looking for that perfect tournament location. The NEBC offers cage rentals to Little League teams, individuals and travel teams and offers discounts to all teams participating in NEBC tournaments. The NEBC also has a number of partnered hotels and restaurants, providing teams discounted rates and availability.
Sports: Baseball, softball
Bowditch Athletic and Cultural Complex
Hosting multiple sporting events for three local high schools, two area colleges, various youth leagues and semi-professional teams located within MetroWest, Bowditch Athletic and Cultural Complex in Framingham consists of four tennis courts, two basketball courts, a baseball diamond with spectator seating, a six-lane track and the multi-use playing surface Bowditch Field. To support nighttime recreational and sporting activities, the field is lit by a multi-level lighting system and contains top quality natural turf. The complex's facilities include modern stands capable of accommodating 3,500-plus spectators.
Sports: Tennis, basketball, track, baseball, football
Boston Badminton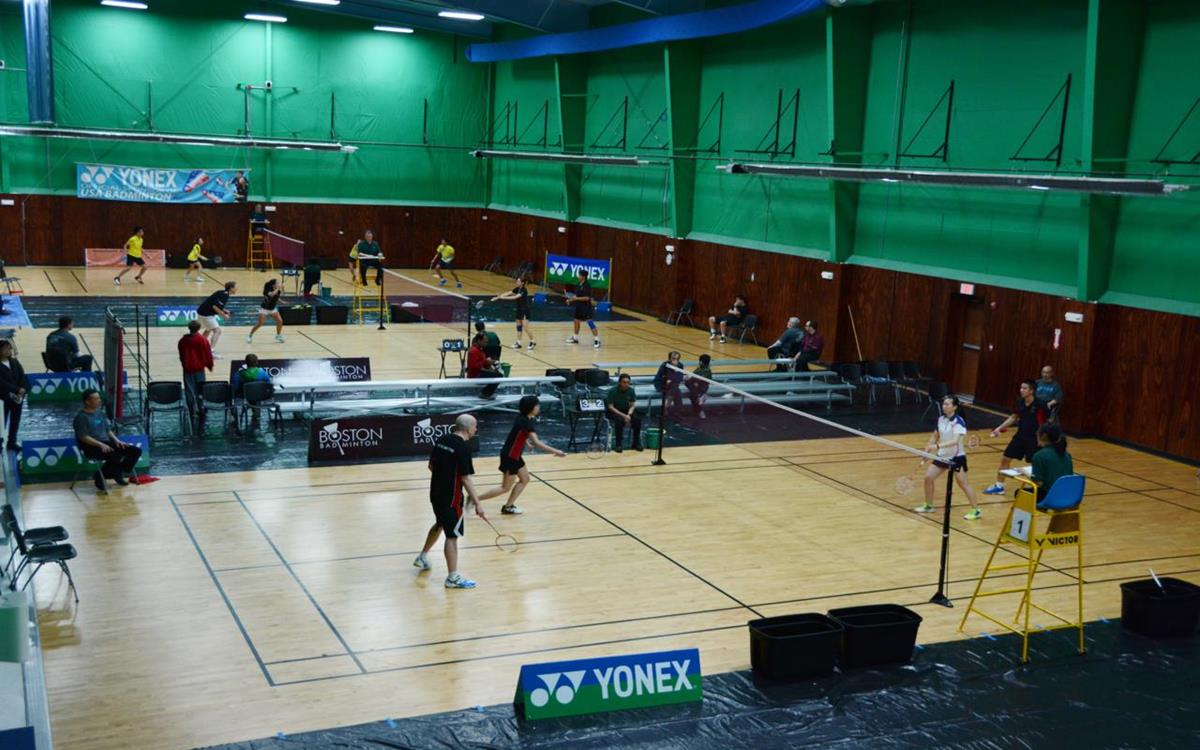 Built to promote the growth of badminton in the Greater Boston area, Boston Badminton in Westborough offers teams a world class, eight-court facility, training program and several tournaments throughout the year. With a 32-plus-foot ceiling, Boston Badminton also provides Ultralux High Bay lighting with BlueMax lamps, locker rooms with a shower, heating, air-conditioning and 56 parking spaces. The facility even has a Robbins Bio-Channel Classic maple sports floor, the same premium anchored resilient sports floor that eight Ivy League universities use for competition.
Sports: Badminton
Fore Kicks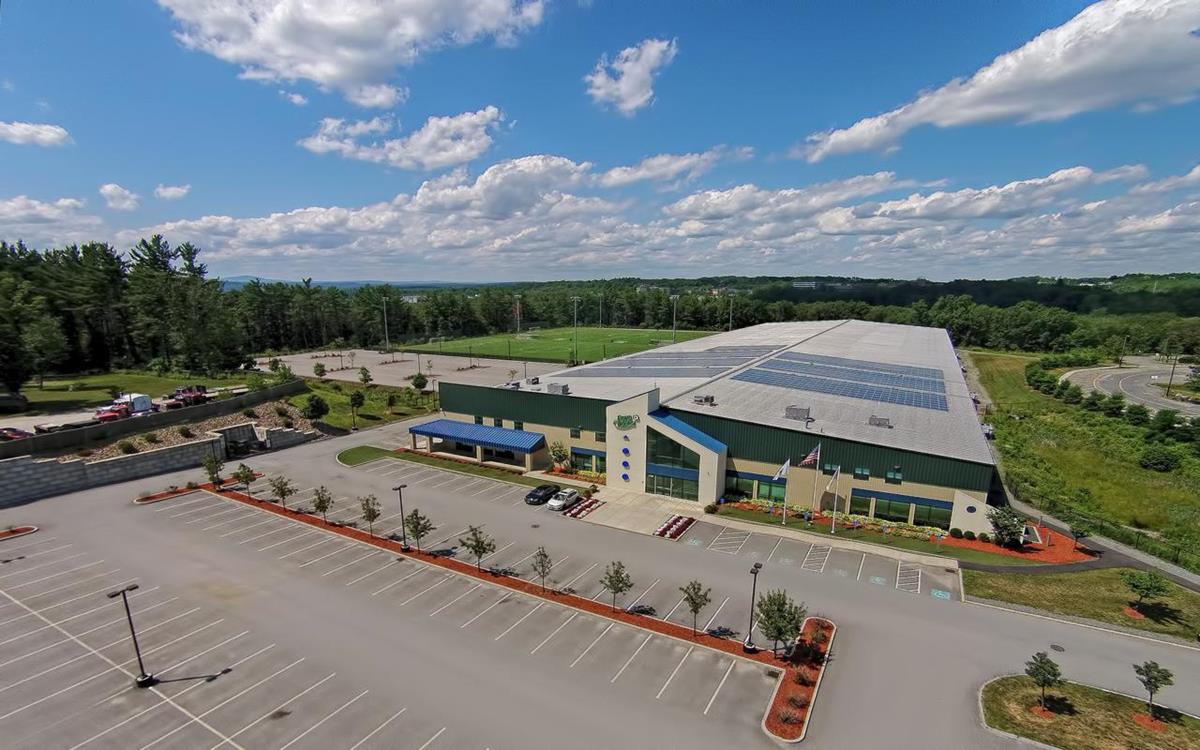 With a 135,000-square-foot indoor sports megaplex, two outdoor lighted full-size synthetic grass fields and an eight-bay indoor golf driving range, this indoor and outdoor sports complex provides amenities for practically any sport imaginable. Fore Kicks in Marlborough offers state-of-the-art customer and player amenities with free wi-fi throughout the facility, an elevated spectators observation lounge, large screen televisions and private player showers and lockers. There are also full concessions and restaurant seating facilities, professional fitness training programs, a conference facility and training and meeting rooms. Fore Kicks hosts several tournaments throughout the year for golf, soccer, basketball, lacrosse, field hockey, baseball and softball, and coaches can rent out various facilities for player development during off-seasons.
Sports: Futsal, golf, soccer, lacrosse, field hockey, basketball, volleyball, flag football, Ultimate Frisbee, baseball, softball
TeamWorks
With youth and adult leagues in a variety of sports, TeamWorks in Northborough hosts indoor tournaments throughout the year, with certified, quality refereeing and timekeepers. TeamWorks' instructional youth programs introduce children to a number of sports, help in the development of young athletes and are held four times throughout the year. The facility also offers school vacation and summer camp programs to keep young athletes active and having fun.
Sports: Futsal, soccer, field hockey, flag football, volleyball, basketball, Ultimate Frisbee, dodgeball, wiffleball, basketball
Boston Marathon Start Line (and half of the course)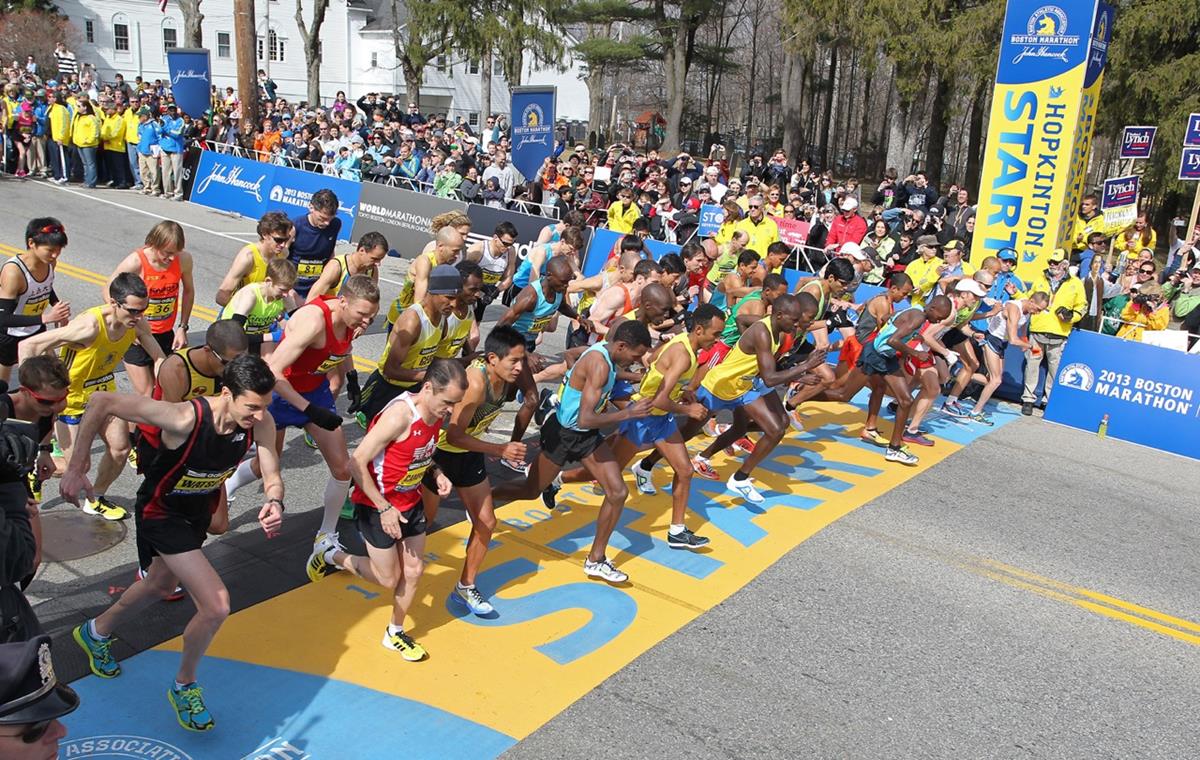 One of Boston's most cherished events is the Boston Marathon, held each year on Patriots' Day. This 26-mile race holds the largest number of participants, with nearly 39,000 runners competing and about 500,000 more people cheering them on. The Boston Marathon Start Line is located on Main Street in New England's Hopkinton Center. From there, they run along the countryside's winding roads through Route 135 and Route 16. Continuing along this path, Route 16 leads to Newtown Lower Falls and Commonwealth Avenue, or Route 30. Runners take these roads through the scenic Newton Hills, where they will turn right on the way to Cleveland Circle. Beacon Street lies on the following left turn.
Sports: Long distance running
Things to do in MetroWest
The MetroWest area of New England features lots of wonderful attractions for planners, athletes and families all within a 20-45 minute drive from Boston. Visit the Urban Air Trampoline and Adventure Park in Bellingham, where kids can experience outdoor adventures with indoor comforts. Challenge the team to obstacle courses, zip lining, laser tag and more. Adults can do the same at the Apex Entertainment Center in Marlborough, offers bumper cars, go-kart racing, bowling and other adrenaline-inducing activities. Groups can then take the fun back outside to Natick's Lookout Farm, just 20 miles away from the city. Here, they will be able to hand-pick their own produce—think berries, pumpkins and apples—while adults taste craft beer and hard cider. The farm also houses train rides and playgrounds to complete the adventure. Animal lovers will make a bee line for Southwick Zoo in Mendon. This 300-acre, group-friendly attraction houses giraffes, rhinos, scorpions, frogs, cheetahs, alligators and over 150 more diverse species. Pick up unique finds and dine-in at The Natick Mall. Known as New England's largest shopping center, the mall comprises over 200 stores and American restaurants.
Our Commitment
Our commitment: For over 300 years, MetroWest's hospitality industry has been meeting the need of its overnight guests. Working in sync with town officials, sports venues, and attractions, our region welcomes competitors ranging from the 30,000 runners at the start line of the Boston Marathon to small groups of hikers and bikers.
Metro West Visitors Bureau
How to Get to MetroWest
By Car: Sitting at the crossroads of major interstates, MetroWest can be reached by the Massachusetts Turnpike (I-90), running from Boston west through the Berkshires and New York. Those coming south from Providence, Rhode Island or north from New Hampshire can reach MetroWest within one hour by I-495.
By Air: Serving approximately 30 million passengers per year, Logan International Airport in East Boston is the 17th-busiest airport in the U.S., and the best way to reach MetroWest by air. Buses from the airport to Framingham in MetroWest run all day.
Contact Information
Company Name: MetroWest Visitors Bureau
Telephone: 508-361-9881