World-renowned and locally loved, South Carolina's golf courses combine the region's scenic beauty with a timeless tradition and exquisitely designed courses
From the beaches of the Atlantic Coast to the top of the Blue Ridge Mountain Range, South Carolina's unique topography have made it a diverse state, ripe to be traveled. Upon exploration of its countryside, no matter what your view is you'll notice one common feature spread throughout the state; golf courses.
South Carolina is home to world-renowned golf courses like Harbour Town Golf Links and Kiawah's Ocean Course, but there are tons of courses throughout the Palmetto State worthy of your attention. Whether you're traveling through the Lowcountry, Grand Strand, Midlands or Upstate, there's a course calling your name. Pack your golf bag and check out any of these 10 great options.
Aiken Golf Club
Originally constructed in 1912, Aiken Golf Club is one of the nation's oldest and most prestigious courses, where celebrities like Fred Astaire came to mix it up with pros like Babe Didrikson Zaharis and Patty Berg. Historic architecture, well-manicured greens and gorgeous fairways combine with a relatively short course, making it very friendly regardless of your handicap. No journey here would be complete without checking out the golf memorabilia and history found throughout the clubhouse and locker room as well.
Caledonia Gold & Fish Club
Consistently ranked as a "must-play" in golf magazines around the country, Caledonia offers golfers a world-class experience, found down the coastal road from Myrtle Beach. This 6,526-yard, par-70 course was built on the former site of a working southern rice plantation, with a picturesque 18th hole which borders an old rice field. Centuries-old oaks can be spotted throughout the grounds, while the antebellum-styled clubhouse isn't to be missed.
Country Club of Spartanburg
Designed with all the usual trappings of a Donald Ross course, the celebrated history of the Country Club of Spartanburg dates back to 1908. Today the golf course there is a hotbed for fantastic tournament action, having hosted the Carolinas PGA, Carolinas Open, Carolinas Amateur and the SCGA Championship, as well as the Bobby Chapman Junior Invitational.
Dunes Beach and Golf Club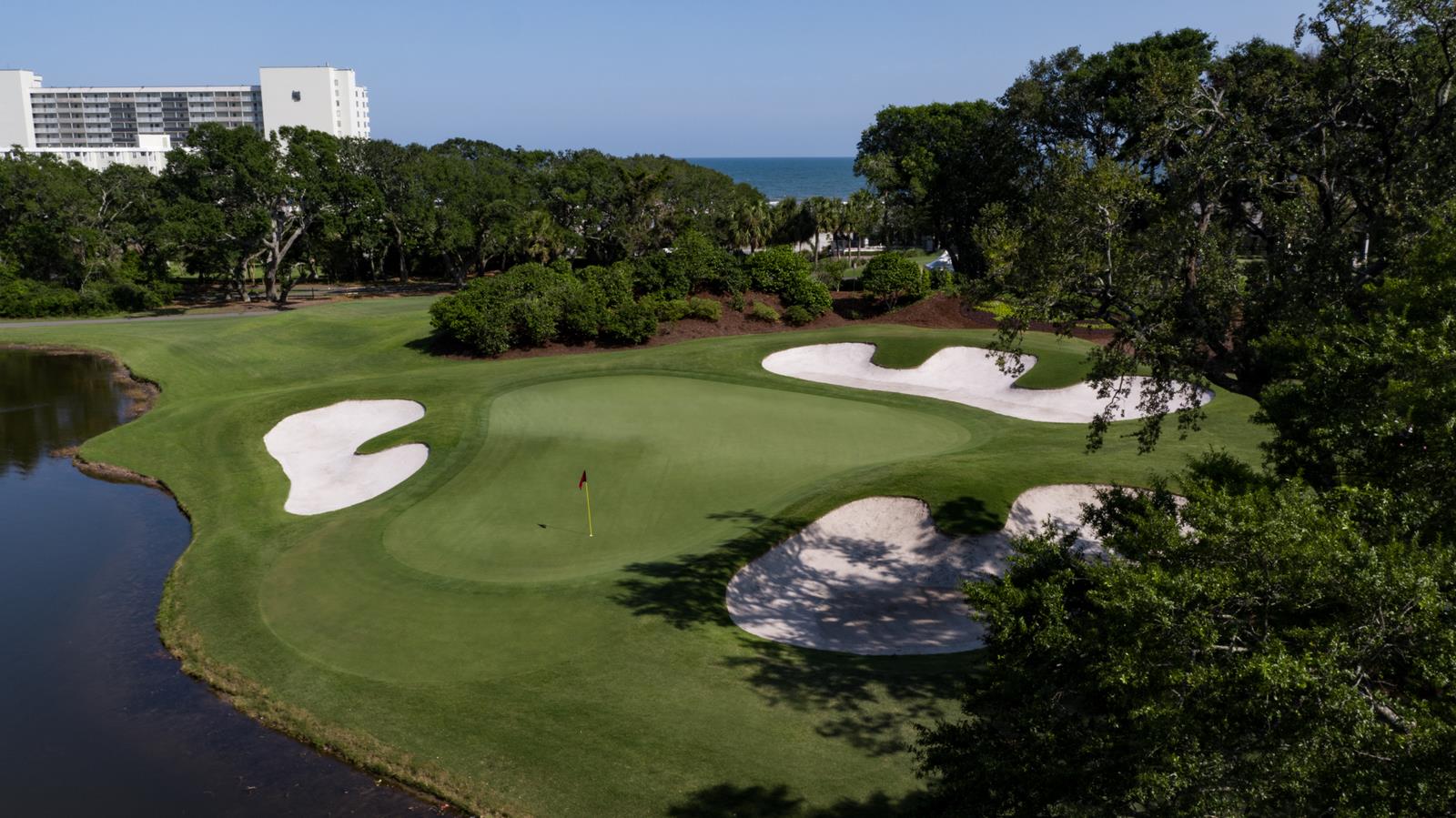 A true classic from famed golf course architect Robert Trent Jones, the Dunes Club course has evolved significantly since its creation in 1948. Each green on the signature course was converted to Ultradwarf Champion Bermuda grass in 2013, while the practice range was enlarged and a new chipping green and practice bunker were added. The result has been a course measuring 7,450 yards on an ideal landscape for golf, with rolling terrain along the ocean and splendid trees framing the fairways.
Heddles Hideaway Golf Club
Nestled into the mountains of Spartanburg, Heddles Hideaway is an escape from the ordinary, though Southern charm and traditions still abide here. Dramatic elevation changes through majestic oak-lined fairways are par for the course here, where a secluded driving range is open to the public. The Heddles Hideaway clubhouse offers a relaxing atmosphere as you wait to kickstart your next special event or tournament.
Indian River Golf Course, West Columbia
With an unusual course layout that combines nature and unspoiled terrain, set against the backdrop of Lake Frances, Indian River is out of the ordinary but no less extraordinary than competing courses. Built in the fashion of a Scottish-Highlanders course of yore, this 6,507-yard-long course designed by Lyn Young features newly renovated Tif-eagle greens, providing a challenge for even the most experienced golfers.
The Legends at Parris Island
As one of the premier courses in the entire South Carolina Lowcountry, and one of the top military courses in the world, The Legends at Parris Island has a unique history that can't be missed. Each hole is named for a legendary United States marine who either trained at or were stationed on Parris Island, including National Baseball Hall of Fame member Roberto Clemente.
Palmetto Golf Club, Aiken
It's reasonable to think that Palmetto Golf Club is the second-oldest golf course in the United States, bested only by the Chicago Golf Club in that city's west suburbs. Palmetto debuted as a four-hole golf course in 1892 and then quickly expanded to nine and eventually 18 holes by 1895. The course is designed similarly to Augusta National, with wide fairways and unique green complexes, though unlike Augusta little has changed at Palmetto through the years, preserving a timeless tradition of excellence.
Secession Golf Club
Located in Beaufort, Secession's open, wind-swept course offers "Scottish-style" bunkers reminiscent of golf in the British Isles, with fantastic tidal marsh views of the South Carolina Lowcountry available on 14 holes. Designed by former PGA Tour player Bruce Devlin, the course combines challenging play with the region's exceptional beauty, where playing one round is never enough.
 The Spur at Northwoods Golf Club
Stretching 6,800 yards and with a par-72, this Columbia-area golf course is renowned for a beautiful layout and manicured landscaping. Open 365 days per year, Northwoods has produced memorable matches since 1990, with a challenging but inviting course designed by P.B. Dye that provides a level playing field and feels like a private club. For more information on golf courses in South Carolina, visit discoversouthcarolina.com/golf.