With rising numbers in youth sports and in the collegiate ranks, lacrosse is a major player in the sports industry
Considering lacrosse is the oldest team sport in North America with roots dating back to the 1600s, it's going to take more than a measly worldwide pandemic to stunt its growth.
Prior to 2020, lacrosse was enjoying a meteoric rise across North America. Not only was it one of the fastest-growing sports among youths and high schoolers, the NCAA declared lacrosse to be the fastest-growing collegiate sport as well.
From 2001 to 2014, lacrosse participation in the U.S. increased by 218 percent and in 2018, the Sport and Fitness Industry Association released a report saying youth lacrosse participation had grown 25 percent since 2012. Over that same period, baseball's participation levels only grew 2 percent and football's participation fell almost 16 percent.
On the collegiate level, the NCAA said that between 2003 and 2018, Division I lacrosse grew by 61 percent among men and a whopping 97 percent among women. Since 1982, the number of college lacrosse programs in the U.S. has increased by more than 60 percent. Today, lacrosse is an NCAA staple with 127 Division I women's programs and 75 Division I men's programs.
Lacrosse is Bouncing Back
This impressive growth comes on the heels of the 2020 pandemic, which stunted lacrosse's prosperity, albeit momentarily. According to data from the Physical Activity Council and Sports & Fitness Industry Association, lacrosse in 2019 recorded total U.S. participation numbers of more than 2.1 million players. That dropped to1.88 million in 2020 before slightly rising to 1.89 million in 2021.
"Like most youth sports, COVID hit our numbers and the recovery among recreational players is taking a bit longer than we would have liked," said Brian Silcott, vice president of Sports Growth & Development, USA Lacrosse." Membership initially dropped around 25 percent, but we are seeing a return to play, and we anticipate our membership numbers will be higher in 2023 than they were in 2019.
"Lacrosse tournaments and events have recovered well since 2020 and most of our top event operators are reporting that their events are back to pre-pandemic participation numbers," Silcott added. "The past two years have been about recovery, not growth. We are always looking to grow the game, but with the impact of COVID on participation numbers, our focus has been on supporting our member organizations as they work to get back to business as usual. Now that we are seeing that happen, we will turn our attention and resources to growing our participation numbers across all age levels from high school down through 6U."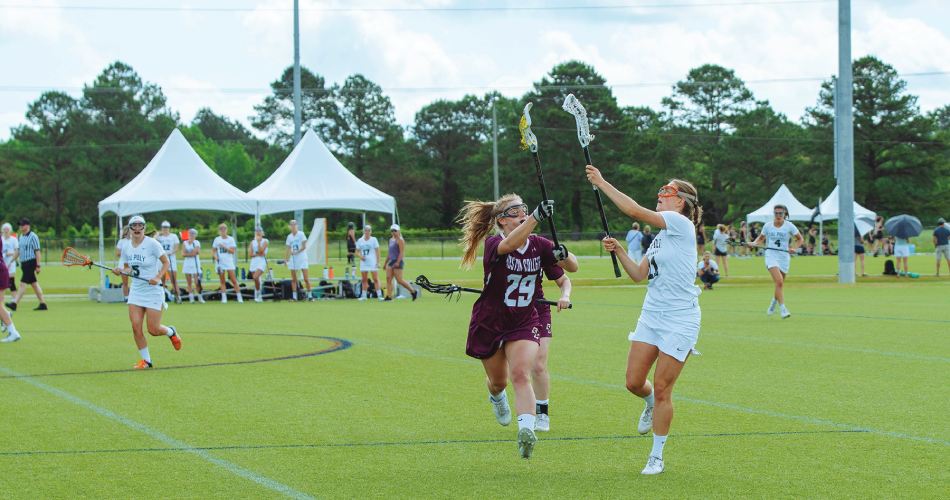 Lacrosse is a Sport on the Rise
Today, lacrosse is not only returning to normalcy on the youth and collegiate levels, it is thriving professionally. The National Lacrosse League was founded in 1986 and features 15 teams in the U.S. and Canada and plays box lacrosse, an indoor version of the sport. The Premier Lacrosse League, which debuted in 2019, is made up of eight teams and plays field lacrosse, which takes place outdoors. Both leagues are partnered with ESPN and in 2022, the Premier Lacrosse League secured a four-year media rights deal with ESPN reportedly worth eight figures.
ESPN's confidence in the PLL has proven fruitful thus far as the league's cable viewership has risen 147 percent. In 2022, a broadcast of a Cannons-Archers game averaged 452,000 viewers and was the most-watched outdoor lacrosse game on record.
A third league, Athletes Unlimited, has provided a professional platform for women's lacrosse since 2021 and is also carried by ESPN. Athletes Unlimited features 56 of the best women's professional lacrosse players in the world and is doing its part to help grow the game for women.
Another successful event that took place in 2022 was the World Lacrosse Women's Championship, which stretched across 11 days and featured 29 teams, the most in a women's world championship. More than 500 athletes competed and nearly 40,000 tickets were sold for the competition. With ESPN broadcasting almost 200 hours of the championship, this event was a major success and another example of lacrosse's momentum heading into the future.
Lacrosse is clearly a sport on the rise. With the considerable growth of the sport in the U.S., the rest of the world is also taking notice.
In 2021, the International Olympic Committee voted to grant full recognition to the international federation for lacrosse, a major milestone toward getting the sport into the Olympics. The last time lacrosse was played in the Olympics was 1908. It was a demonstration sport in 1928, 1932 and 1948. Lacrosse is now one of nine sports that have been invited by Los Angeles 2028 to present its case for inclusion into the 2028 Olympic games.
If that happens, the benefits to the ongoing growth of the sport will be massive thanks to sheer exposure alone. The Tokyo Summer Olympics averaged 15.6 million viewings per night and the 2022 Olympic Winter Games in Beijing were watched by more than a billion people.
"We are currently building our strategies around this project and working to align all stakeholders in our sport to create a singular push for growth of the game in advance of the 2028 Olympics," Silcott said. "Over the next 5-10 years we plan to double participation (in the entire sport of lacrosse)."

Lacrosse isn't the only sport make a big comeback is recent years. If you'd like to learn more about other growing sports and amazing facilities, be sure to Subscribe to Sports Planning Guide for FREE.
By Jason Paha
Main photo: Lacrosse at Smith River Sports Complex. Photo courtesy of Darrin Doss.