Mesa, Arizona: Great Weather Year-Round and Top Notch Facilities
Delicious food, fun activities and a vibrant downtown make Mesa a destination visitors can't wait to revisit
Mesa, Arizona is sports central in the Southwest. Home to Chicago Cubs and Oakland A's spring training baseball, the city has some of the state's most in-demand sports facilities with even more under construction. The newest venue to call Mesa home is Bell Bank Park, powered by Legacy Sports USA – the largest complex of its kind in the country. Not to be missed is Mesa's aquatic centers, boasting fast pools where legends come to compete.
Mix in endless opportunities to play outdoors in fantastic weather and it is no wonder why Mesa is the ideal city to host any type of sports competition.
After the game, head out and explore the rest our destination has to offer. Enjoy Route 88's scenic desert wilderness, history and folklore from the Superstition Mountains and its Lost Dutchman Mine, Goldfield Ghost Town and more. Tonto National Forest is perfect for desert exploration with camping, hiking and gorgeous recreation sites that visitors can discover year-round. The Lower Salt River lines Mesa's northern border and features stunning recreation areas and well-marked trails.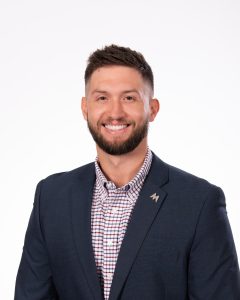 Lance Fite
Director of Sports Sales
Get a Planner's Perspective
Don't just take our word for it, hear what these planners had to say.
"Arizona Disabled Sports values its long-standing relationship with Visit Mesa and its support of initiatives that enhance the quality of life for individuals with intellectual, physical, or visual impairments. We appreciate the support and look forward to opportunities to expand on our current events and bring national adaptive sports competitions to Mesa. Together, we can highlight all that Mesa has to offer while building a more inclusive community for those with disabilities."
— Rhonda Carlson, Executive Director, Arizona Disabled Sports
Find Your Perfect Mesa Facility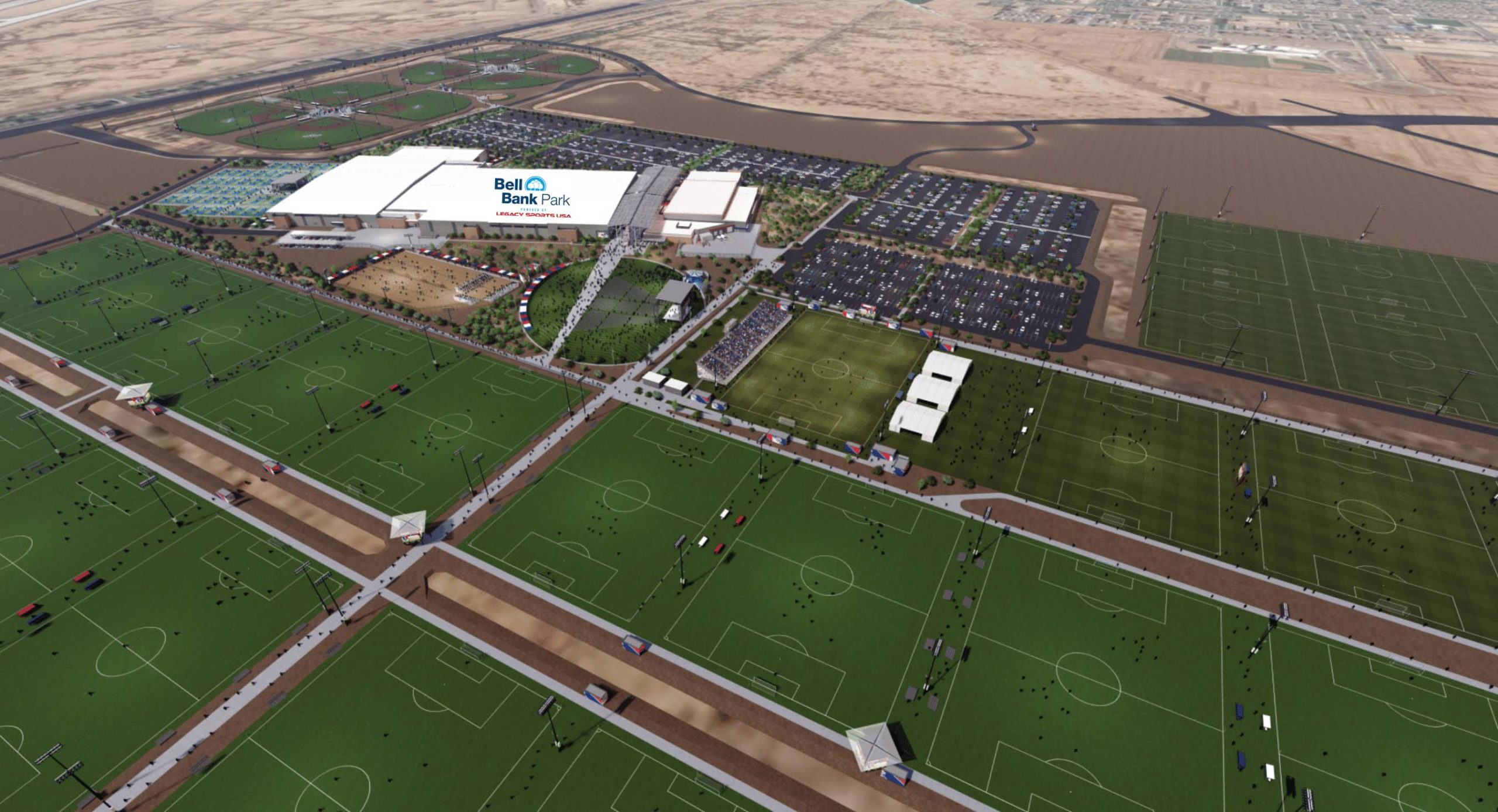 Bell Bank Park Powered By Legacy Sports USA
Sports Covered: Soccer, E-gaming
Bell Bank Park powered by Legacy Sports is an impressive $300M, 320-acre multi-use family sport and entertainment complex of outdoor and indoor team athletic facilities. Opened in early 2022, the park features 25 turfed flat fields, a 5,000-person stadium field, 41 pickle ball courts, 20 basketball courts, 22 futsal courts, 57 indoor volleyball courts, 12 sand volleyball courts, 8 softball/baseball diamonds, 5 golf simulators, state-of-the-art training and wellness centers, nutrition professionals and a wide selection of dining options. Legacy Sports Park will also feature a 40,000 sq foot multi-purpose arena, an indoor gaming/arcade center and an outdoor amphitheater.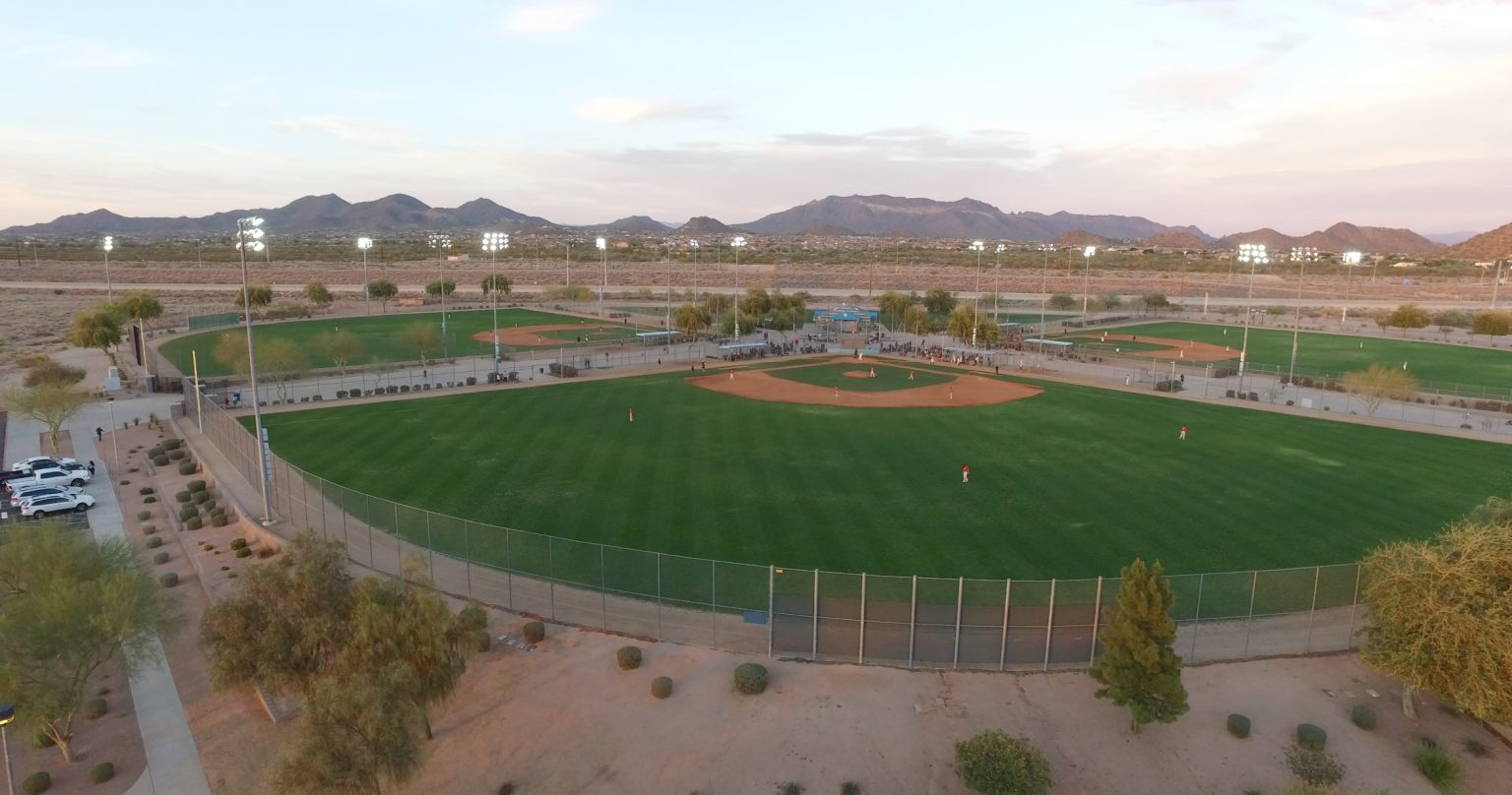 Red Mountain Soccer and Baseball Complex
Sports Covered: Soccer, baseball
Located in northeast Mesa, Red Mountain features six professionally-groomed soccer fields, ranging in sizes for different levels. Nearby, a 242-acre park area with a lake has playground equipment, a basketball court, a volleyball court, equestrian trails, disc golf course and ramadas. A $30 million expansion of the complex, to be completed in 2024, will add ten new regulation-size fields, four of which will be for youth baseball/softball, expanded parking and more.
Gene Autrey Baseball Complex
Sports Covered: Baseball
Gene Autry Sports Complex features a total of three professionally-groomed baseball fields (full-size 90-foot bases), batting tunnels and an eight-pack covered pitching station. There is a 47-acre park area nearby that includes playground equipment, four lighted sand volleyball courts, a tennis center and ramadas of varying sizes. The tennis center and lighted baseball fields and volleyball courts are available by reservation only.