Planning the Perfect Sports Event in Portland, Texas
A growing hub for baseball and softball in the Texas region, Portland is making a name for itself in the sports world and offers planners a variety of options to make their event a success 
Portland, Texas is a unique family-friendly area along the coast. Portland is a quiet community near Corpus Christi, Texas, with diverse outdoor areas along the Corpus Christi and Nueces Bays that attract outdoor enthusiasts and sports fanatics. Our all-synthetic turf fields at Portland Municipal Park and the Sports Complex are award-winning and the best of South Texas. 
Explore the largest aquarium in the great state of Texas just 10 minutes from Portland. The Texas State Aquarium has it all — a dolphin bay, a stingray lagoon, a shark touch pool, an otter creek and much more.

Just next door to the aquarium is the dock site of the USS Lexington, a WWII aircraft carrier and naval museum where visitors can explore historic aircraft, test their skill in the flight simulator, prepare for takeoff at the virtual battle stations and feel the power of flight in the MEGA Theater.

Go outside at Indian Point Pier & Sunset Lake, where you can boat, bird watch, kayak, swim and hike throughout this unique saltwater wetland, home to many species of migrating waterfowl. 
Find Your Perfect Portland Facility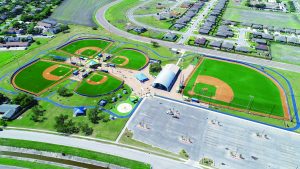 Municipal Park
Sports Covered: Baseball, softball, basketball
Opened in 2017, this baseball complex has already hosted its fair share of impressive events, including the USSSA World Series, USSSA Baseball State Tournament, DFW Fastpitch-Texas A&M Kingsville/South Texas Championship and the USA Baseball South Texas Region Team Identification Series (NTIS). The park has been a great asset to the community since its grand debut and was designed with both athletes and spectators in mind. The park has a total of five baseball fields, along with a basketball court, playground, splash pad and shade structures that are perfect for congregating.
Portland Sports Complex
Sports Covered: Baseball, football, softball, soccer
Another recent addition to the Portland community, the Portland Sports Complex has provided a second great venue option for sports planners looking to bring their event to the region. As a co-host of the DFW Fastpitch-Texas A&M Kingsville/South Texas Championship, the complex made a name for itself in the sports world less than a year after opening. On site you will find four softball fields, a youth football/soccer field, all-purpose turf field and picnic area. Like its counterpart the Municipal Park, the complex is outfitted with a playground, splash pad and shade structures that make it the ideal layout for hosting an event. Both players and fans will love the impeccable facilities and the amenities that go along with them.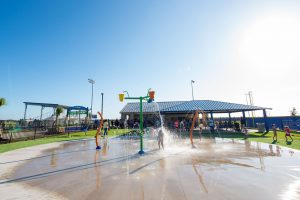 Portland Aquatic Center
Sports Covered: Swimming, diving
The Portland Aquatic Center is a year-round outdoor facility featuring two pools. The recreation pool includes a boat slide, dual slide, bubblers, palm tree splashers, and a zero depth entry. The heated competition pool measures 25 meters by 25 yards and ranges from 4-13 feet in depth. It features diving boards, lily pads and floating play structures. The facility also features four large shade structures with pool furniture to help you relax after your workout.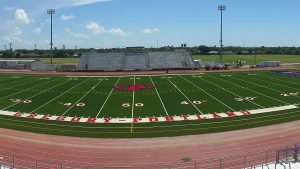 Ray Akins Wildcat Stadium
Sports Covered: Football, track, soccer
This stadium is named for legendary football coach Ray Akins, who put the Gregory-Portland High School football team on the map. He coached the Wildcats from 1965 to 1988. During his tenure, Gregory-Portland won 16 district titles and played for a state championship in 1971. This stadium has a capacity of 8,000 people and features an artificial turf playing field. It also has a video scoreboard and can host soccer games, football and track & field events. It is also wheelchair accessible. 
What are you waiting for?
Let Sports Planning Guide help you plan the perfect event.