Wilmington and its island beaches have become a sought-after destination for sports planners thanks to a variety of venues and plenty to see and do before and after the event.
From Olympic-caliber softball and pro-am volleyball tournaments to IRONMAN North Carolina and seaside soccer tournaments, Wilmington and Island Beaches has hosted many diverse events. Located along the Atlantic Coast, Wilmington and its beaches – Wrightsville Beach, Carolina Beach and Kure Beach – all make the perfect backdrop for your next sports event.
Wilmington and the surrounding area mix Victorian and antebellum architecture with modern design and new attractions like a performing arts center, an event pier near the Port City Marina, hotels and restaurants. The area is also home to some top sports tournaments and events, like a city-wide IRONMAN competition in October 2019 and a USA Wrestling tournament that will be hosted at the Wilmington Convention Center in May 2020.
If you happen to be in town for a tournament, consider staying at any of the fine lodging options available, including the Embassy Suites Wilmington Riverfront Hotel, Hampton Inn by Hilton Wilmington Downtown or Comfort Suites of Wilmington.
Notable Recent/Upcoming Events
IRONMAN 70.3 North Carolina – Citywide (Oct 2019)
USA Wrestling – Wilmington Convention Center (May 2020)
2020 NC Junior Team Tennis State Championships – Parks throughout New Hanover County (Jun 2020)
2020 Southern Combo Doubles – Parks throughout New Hanover County (Nov 2020)
CVB Services Offered
Volunteer Staff
PR/Media Assistance
Signage
Site Visits
Transportation Assistance
Lodging Services
Welcome Bags/Gifts
Itinerary Development
Event Planning Assistance
Click on tab to see more information about a specific facility
Cape Fear Regional Soccer Complex
This soccer complex offers seven full-sized soccer fields for challenge and classic soccer leagues, adult leagues, and other soccer tournaments. Home to the Cape Fear Soccer Club, this complex also offers the opportunity for other events such as lacrosse and running races.
Sports: Soccer, cross-country, lacrosse
Althea Gibson Tennis Complex at Empie Park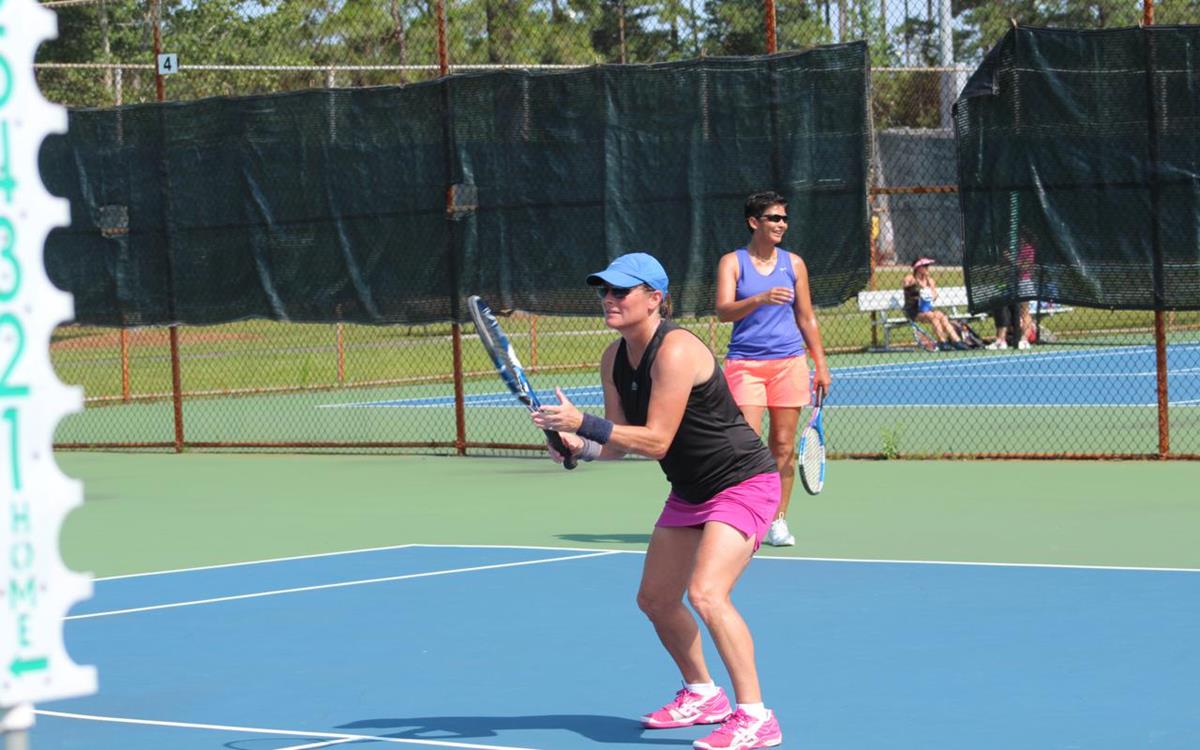 The Althea Gibson Tennis Complex has 24 lighted hard courts, a clubhouse and restrooms. Courts are open for public play, while the City of Wilmington offers recreational programs throughout the year and the Greater Wilmington Tennis Association uses the courts for tournaments and league play.
Legion Sports Complex
With more than four acres of paved parking, this great complex includes Legion Stadium/Jurgenson-Gabriel Field (which hosts football and soccer matches on artificial turf), the Legion Back Field, Buck Hardee Field (baseball), four lit tennis courts, and the Robert Shipp Pool. Located next to Greenfield Lake and minutes from the historic downtown area, the complex is fantastic for hosting athletic events.
Sports: Tennis, baseball, lacrosse, soccer, swimming
Olsen Park
This city park has five lighted baseball/softball fields along with concession stands and a picnic shelter. It is used to host regional and state athletic tournaments.
Sports: Baseball, softball, volleyball, football, lacrosse, basketball
Ogden Park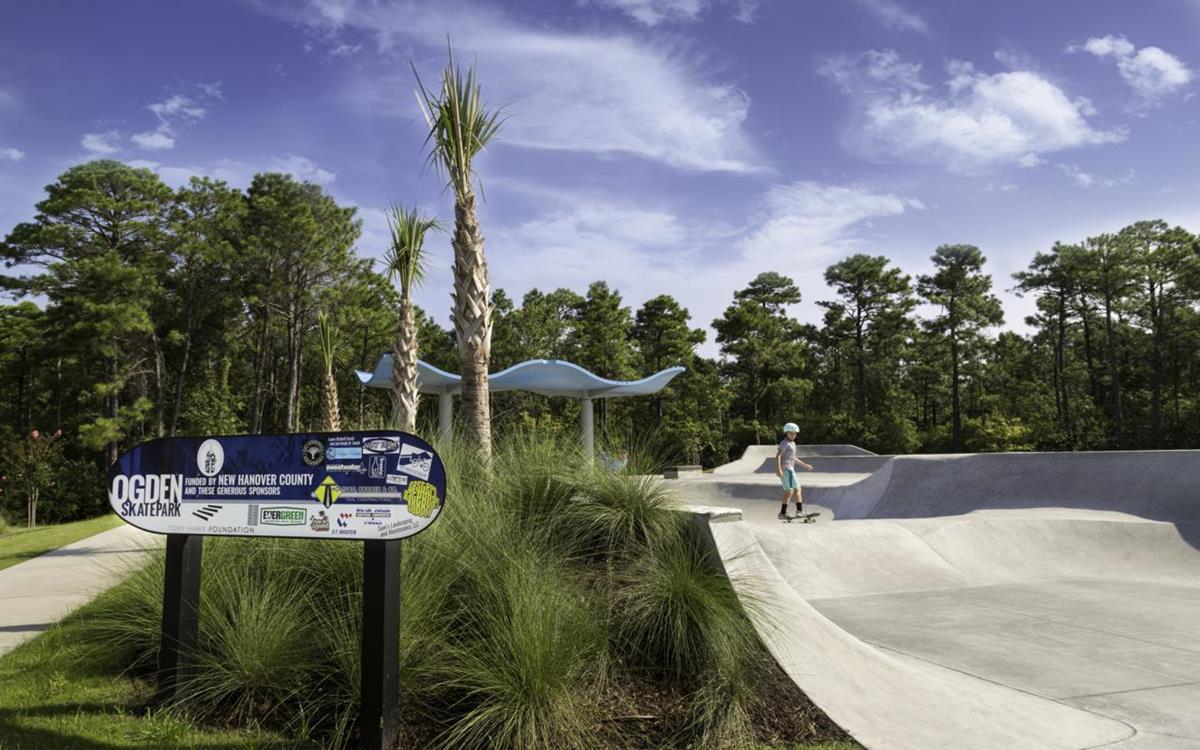 Enjoy the outdoor experience provided at Ogden Park, which features three picnic shelters, restrooms, a playground, an off-leash dog park and more. Tournament planners will enjoy nine tennis courts, three baseball fields, one softball field, a full-size basketball court, three soccer/football fields and a youth football stadium, all equipped with lights. Ogden Park additionally has a 10,000-square-foot concrete skate park equipped with a skate bowl, rails and steps.
Sports: Baseball, soccer, football, lacrosse, biking, running
Hugh McRae Park
Located in central New Hanover County, Hugh MacRae Park includes four Little League baseball fields with lights, four lighted tennis courts, a sand volleyball court and a full-sized basketball court with lights. Picnic shelters and a gorgeous garden area with a pond and gazebo can be reserved for outdoor activities as well.
Sports: Soccer, football, lacrosse
Wilmington Ice House
Located near Ogden Park off Market Street, Wilmington Ice House is home to the University of North Carolina-Wilmington hockey team. This 30,000-square-foot facility features an NHL regulation-sized ice surface, a pro shop with the latest equipment and apparel, skate rentals and repairs. Private rooms are available for birthday parties and meetings.
Sports: Hockey, figure skating
New Hanover County
Efficiently maintaining more than 25 parks as well as extensive athletic facilities, New Hanover County Parks and Gardens manages over 2,900 acres of green space. The surrounding territory supports sporting areas, boat ramps, fishing areas, public spaces, walking trails in addition to non-park properties, including historic Airlie Gardens as well as the New Hanover County Executive Development Center. New Hanover County will host the 2020 NC Junior Team Tennis State Championships in June as well as the 2020 Southern Combo Doubles in November.
Sports: All
Things to do in Wilmington and the Beaches
Step back in time when you get onboard the refurbished Battleship NORTH CAROLINA, a WWII-era vessel that faced fierce combat in the Pacific Theater. The self-guided tour features nine levels of living spaces, mess decks, gun turrets, powder storage, a sick bay, and more. Serving as a memorial for the 11,000 North Carolinians who died during the war, the Battleship is open every day.
Located at the southern tip of nearby Kure Beach, Fort Fisher is home to two of North Carolina's landmark attractions: the North Carolina Aquarium at Fort Fisher and Fort Fisher State Historic Site and Museum. Climb along the Adventure Reef, witness an albino alligator, wonder at baby sea turtles or feel the smooth skin of a gliding stingray at the North Carolina Aquarium at Fort Fisher. At the Fort Fisher State Historic Site and Museum, see historic artifacts and learn about the site of the largest land-sea battle of the Civil War.
Jungle Rapids Family Fun Park features water slides, a wave pool and a lazy river as well as laser tag, rock climbing, mini golf and go-karts.
At Wilmington's island beaches, parents and children alike can learn to surf with WB Surf Camp or Crystal South Surf Camp at Wrightsville Beach or Tony Silvagni Surf Camp at Carolina Beach. Rent or take a guided tour on stand-up paddleboards, kayaks, outrigger canoes, pedal boards and surfboards at the South Side of the Blockade Runner Beach Resort in Wrightsville Beach.
Greenfield Lake Park's 250 acres are filled with biking and walking trails that run alongside the lake. The park boasts two tennis courts, the Greenfield Grind Skate Park, an outdoor amphitheater, and boat and kayak rentals.
Planner Perspective
The Swing into Spring Unified Doubles Tournament and Skills Clinic was held at Althea Gibson Tennis Complex at Empie Park on Saturday, Feb. 24, 2018.

When you start planning an event, you want all aspects of your event to be first class. Althea Gibson Tennis Complex is a first rate tennis facility. Their courts are well maintained, they have enough courts to hold a sizable event, and the staff at the Complex goes out of the way to help make our event successful.

Athletes and their families travel from across NC to participate in the tournament. When trying to find a host hotel, it takes a lot of work and time to contact the hotels in the area. This year, we contacted the CVB to help in our search for a hotel. Armed with the knowledge of our needs, the CVB contacted the hotels for us. They then put together a spreadsheet that contained info on all the hotels. We were able to quickly compare what each hotel had to offer and choose a hotel that matched our needs. The CVB can also help find fields and other types of facilities.

When athletes and families travel to Wilmington for the tournament, they are always looking for things to do before and after the event. They often spend additional days enjoying the area. Our tournament is an event the athletes and their families look forward to each year because Wilmington and the surrounding area have much to offer. Some of the places they've visited are the nearby beaches, Battleship NORTH CAROLINA, North Carolina Aquarium at Fort Fisher, music festivals and local breweries.

With top notch recreation facilities, plenty of local accommodations, beaches and nearby attractions, everything a sports event organizer needs can be found in Wilmington.
Billie Fitzsimons, Abilities Tennis
USA Wrestling has loved our relationship with the Wilmington and Beaches CVB! Our wrestlers, parents and fans are at "home" when they come to Carolina Beach. The welcoming, relaxed atmosphere is a great break from the stress of everyday events, and our participants look forward to Beach Nationals with great enthusiasm. We often hear about participants who were reluctant to come the first time, but vow to never miss another because they are "hooked" after their visit! It is not just a great event, but also a great community that helps create that "hooked" feeling, and we have seen our event grow every year as a result.
Ed Duncan, NCUSA Wrestling
How to Get to Wilmington and the Beaches
The major East/West interstate artery, I-40, leads to Wilmington and Beaches, which is located midway between New York and Florida. The destination is also served by Highways 17, 74/76, 117 and 421. Interstate I-95 is 73 miles away.
Contact Information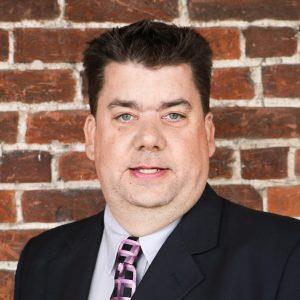 Company Name: Wilmington and Beaches CVB
Sports Sales Manager: Robert Cox, CDME, CSEE
Title: Director of Sports Development
Telephone: 800-650-9064 x124