When it comes to baseball in South Carolina, you really can't go wrong with any sports venue you choose. To get you started, here are the top South Carolina baseball facilities and stadiums.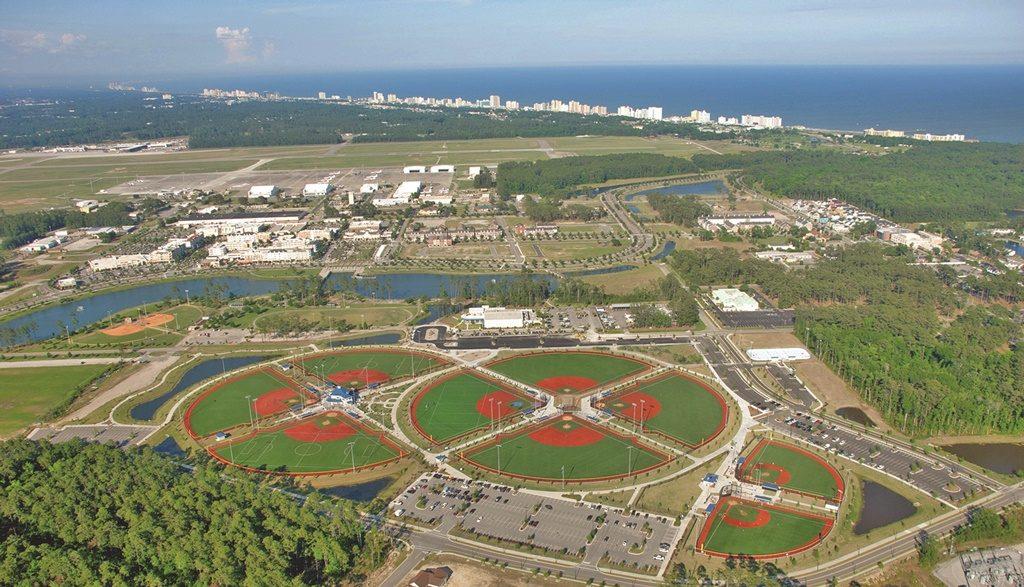 A top baseball facility in Myrtle Beach, Grand Park is a multi-use complex with seven full-size baseball fields and two youth fields.
The grounds are equipped with synthetic grass and lights, and the complex offers a six-tunnel batting cage. Bleacher seating is available next to each field. There are three towers for concessions and restrooms and parking for over 1,000 cars. The sports venue is adjacent to The Market Common, a popular shopping area with a variety of shops and restaurants, plus a playground, roller hockey rink and movie theater. A short drive to the shore is where you will find the closest accommodations, and there are chain hotels to fit every budget.
North Myrtle Beach Park & Sports Complex (North Myrtle Beach)
An elite baseball and softball facility, this complex features four regulation youth and collegiate softball fields and two regulation high school and collegiate baseball fields. The latter can be changed to regulation youth baseball. Athletes can practice at the eight batting tunnels. For those who can't make the game, they can watch the action on live streaming video. Fans can enjoy snacks from a full-service concession stand and eat at the picnic areas, and there's plenty of parking for large sporting events. The site can host lacrosse, soccer and flag football as well. Off the field, athletes can take part in a thrilling zip line experience at Go Ape Zip Line & Treetop Adventure or have a close encounter with a reptile at Alligator Adventure. Teams can rest their heads at one of many nearby hotels located along the water.
A premier baseball stadium, the University of South Carolina ballpark (formerly Carolina Stadium) boasts a state-of-the-art video scoreboard and sound system. It has seating for 8,242 spectators and offers a Picnic Terrace along left field and premium seating in suite and club levels. With the stadium being on the campus, it's close to many great attractions, including the South Carolina State Museum, Columbia Canal & Riverfront Park and Columbia Museum of Art and much more. You will find many hotel accommodations near the university.
Citizens Park (Aiken)
This multi-purpose sports park features 15 lighted baseball/softball fields and includes access to meeting rooms and umpire rooms. The park offers players eight full-size batting cages for practicing and plenty of entertainment for spectators. Fans can grab a bite at many concessions stands and enjoy some downtime at Splash Park. Nearby attractions to enjoy when the competitions are over include Hopeland Gardens, Aiken County Historical Museum, Riverwalk Augusta and Aiken Thoroughbred Racing Hall of Fame and Museum. Great hotels are a short distance away in the center of town.
Fluor Field at the West End (Greenville)
Modeled after Boston's historic Fenway Park, Fluor Field at West End is the home of the Greenville Drive, a Class A affiliate of the Boston Red Sox. The stadium seats more than 5,000 fans and has a hand-operated scoreboard and a 30-foot-high "Green Monster." It's a very memorable place to have a baseball event in South Carolina, especially for those die-hard baseball enthusiasts. Greenville has plenty of fun attractions to keep athletes and fans busy when they're off the field. Check out the Greenville Zoo, Falls Park on the Reedy and Upcountry History Museum. Right next to the field is the Shoeless Joe Jackson Museum, which all baseball fans will love. Sports planners have a number of reasonably priced properties just a short drive away, making it super easy for teams to get to the field for their games.
A choice baseball and softball facility in Spartanburg, Tyger River features 12 fields arranged in four-field clusters and a championship stadium that seats 600 spectators. The complex has top-of-the-line amenities, including a clubhouse, several concession areas, a lounge, covered seats and loads of parking. When teams are done playing, they can venture into the city to enjoy some great attractions like the Hatcher Garden-Woodland Preserve or Pelham Mill Park. Just a short drive from the baseball park along Highway 85 are a number of chain hotels, and even more options can be found closer to downtown Spartanburg.
Sparrow Stadium at Francis Marion University (Florence)
Part of Francis Marion University in Florence, Sparrow Stadium is a state-of-the-art venue for baseball. The stadium has seating for 900 with a capacity of 1,755. Onsite amenities include a concessions area, VIP room and press box. The complex also includes a lake, soccer and softball stadiums and a fieldhouse. Some popular attractions where athletes and fans can spend some time include the Florence Flea Market and War Between the States Museum. A quick drive up the road from the university are many hotels that will work perfectly to house your teams for a few days.
Lexington Sports Complex (Columbia)
A recent addition to Columbia, Lexington is home to the Lexington County Blowfish. It offers box seating for 3,000 fans, as well as concessions all along the first baseline. It's located near the Lexington County Museum and Mitchell House & Gardens, some great attractions for players and fans to enjoy. The city of Lexington boasts a number of high-quality hotels that can easily accommodate a number of baseball teams.
Jeff May Recreation, Wellness and Sports Complex (Greenwood)
The 25-acre, multi-sport venue is home of Lander University's soccer, baseball, softball and tennis teams. It features a 950-seat baseball stadium, a 350-seat softball stadium, a field house with meeting space, a soccer field, 12 tennis courts and a tennis pavilion. Teams can spend downtime walking around Lander University or the nearby Greenwood Mall, or spend an afternoon perusing the exhibits at the World War II Museum. Afterwards they can relax at any of the many great hotels nearby.
Shaver Baseball/Softball Complex (Mountain Lakes Region/Oconee County)
In Mountain Lakes, you'll find the Shaver Baseball/Softball Complex. This facility features four 200-foot fields and two 285-foot fields that can handle youth baseball and softball tournaments. Nearby there are many historic state parks to explore, as well as a number of great hotels where athletes can relax after a long day of baseball.
Sports planners will find everything they're looking for at these top South Carolina baseball venues. If you're interested in learning more or renting one of these baseball facilities, download the South Carolina Sports Alliance State Feature Guide here.