A youth and adult recreational sports village designed to become a family sports destination like no other, Grand Park Sports Campus in Westfield is a carefully designed 400-acre sports complex with championship-level facilities for baseball, softball, soccer, football, field hockey, lacrosse and so many more.
With 26 diamonds and 31 multi-purpose fields, three indoor fields and eight indoor courts, it's no wonder sports tournaments planners are flocking to Grand Park Sport Campus for their next world-class sporting event.
Besides the facility's world-class amenities, Grand Park Sports Campus is located just a short 30-minute drive from Indianapolis, the Hoosier State's most prominent bustling metropolitan city and state capital. This supreme location offers planners, traveling sports teams, family members and spectators alike a plethora of lodging options, eclectic restaurants and exciting activities to enjoy during downtime.
Upcoming events at Grand Park Sports Complex include Region 5 Xcel Regional Qualifications for gymnastics, USYS National Presidents Cup for soccer, The Grail Lacrosse Tournament, baseball's PBR Future Games and the Indianapolis Colts Training Camp.
Notable Recent/Upcoming Events
Region 5 Xcel Regional Qualification, Gymnastics (April 27-29, 2018)
USYS National Presidents Cup, Soccer (July 11-15, 2018)
The Grail, Lacrosse (June 29-30, 2018)
PBR Future Games, Baseball (August 1-4, 2018)
Indianapolis Colts Training Camp, Football (July 26-August 18, 2018)
CVB/Sports Commissions Services Offered
Volunteer Staff
PR/Media Assistance
Signage
Site Visits
Transportation Assistance
Lodging Services
Grant Programs
Welcome Bags/Gifts
Itinerary Development
Event Planning Assistance
Click on tab to see more information about a specific facility
Grand Park Sports Campus comprises 26 diamonds and 31 multi-purpose fields, three indoor fields and eight indoor courts extended across 400 acres. This world-class sports facility features a variety of venues and is known amongst locals and visitors alike as one of the nation's largest sports complexes of its kind.
Field Sports Facilities
Grand Park's Field Sports Facilities feature 24 Kentucky Bluegrass fields and seven synthetic fields with eight lighted fields, including one championship/stadium field, all of which are outdoor fields. These 31 multi-purpose full-size fields are surrounded by seven concession stands, each equipped with a second level that contains a 360-degree view of the fields. This area is also used for bookkeeping, meetings and scouting.
The facility, which is home to the Indianapolis Colts Training Camp for the next 1o years, offers a Field Sports Administration Building with office and meeting space for officials, teams and classrooms, with restrooms and locker rooms throughout. Located on the grounds are two sets of permanent stands, seating 30 spectators per stand.
Sports: Soccer, lacrosse, football, flag football, Ultimate Frisbee
Diamond Sports Facilities
The campus's Diamond Sports Facilities feature 26 diamonds with eight high school and collegiate fields, 14 junior's/softball synthetic fields and four Flex fields. Eight of these diamonds are labeled D1-D8 and their dimensions are as follows: D1's dimensions are 330 feet down the lines and 400 feet to center. D2-D8's dimensions are 320 feet down the lines and 390 feet to center.
Six of these diamonds offer skinned infields and portable mounds can be used at various fields. The Diamond Sports Administration Building features an office for meeting space. As of 2018, all 26 diamonds are equipped with turf infield, 18 of the diamonds are equipped with grass outfield.
Sports: Baseball, softball
Grand Park Events Center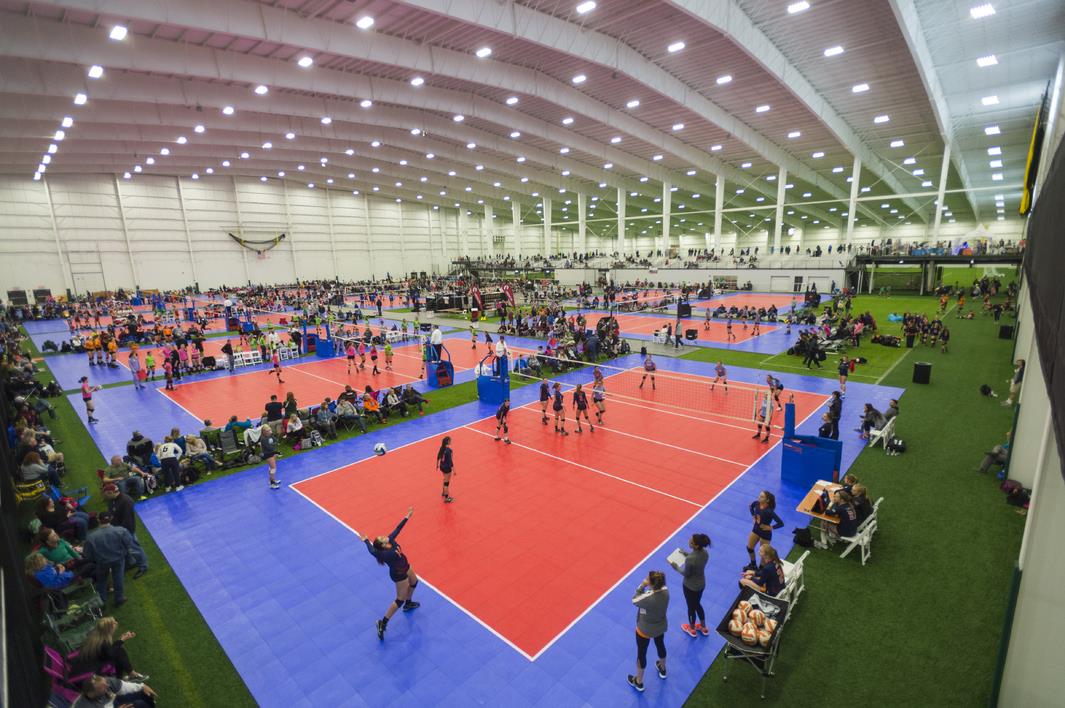 Serving as the centerpiece for the 400-acre Grand Park Sports Campus, Grand Park Events Center opened in the summer of 2016, featuring 377,000 square feet, three full-size professional turf fields, four locker rooms and an 18,000-square-foot commercial kitchen, cafeteria and bar lounge.
The center also offers 30,000 square feet of mixed-use office space, including private suites and several conference rooms. Further amenities at the facility include a spectator lounge, retail space and administrative offices. There is a multi-use space for trade shows, live entertainment, conventions and special events. The center is home to the state association ISA and local club IFJ.
Sports: Soccer, lacrosse, football
Pacer's Athletic Center
An 88,000-square-foot facility housing eight courts and an E-sports center, Pacer's Athletic Center has quickly become a Midwest hotspot for youth sports training, leagues and tournaments.
Home to the largest youth basketball league in the state, the Indy Youth Basketball League (IYBL), the Pacer's Athletic Center and the IYBL host six leagues throughout the year with more than 1,000 participating teams.
The athletic center hosts a variety of youth camps throughout the year with a focus on having fun, all while growing knowledge and skills in a given sport.
Sports: Basketball, volleyball
Things to do around Grand Park
During downtime, coaches, players, family members and spectators have a wide variety of activities to choose from in and around Indianapolis. The Children's Museum of Indianapolis offers guests the opportunity to partake in indoor exhibits, outdoor sports experiences and live theater shows. Visitors can learn what pop-culture is and how it shapes us at the American POP exhibit or partake in a family-friendly game of mini-golf.
At NCAA Hall of Champions in Indianapolis, two levels of interactive exhibits invite visitors to engage and create a true understanding of what it takes to be a NCAA Championship team. Trivia challenges, current team rankings, video highlights and donated artifacts are a few things guests can expect to find at the museum.
Kids will love a trip to Indianapolis Zoo for a day of exploration and educational experiences. Players and family members can hang with the orangutans, experience the beauty of earth or take a spin on an African safari at this cherished Indianapolis activity. 
An interactive history park, Conner Prairie in Fishers invites guests to play freely and run farther in a space designed for exploration and uncovering new things. This history parks boasts various activities, connecting families with history, science, nature and art. Another Fishers activity, Top Golf offers fun for all ages with various games to choose from, along with food and drink, lessons and classes and a Kids Zone.
Planner Perspective
We recently completed the 2018 US Youth Soccer Midwest Regional Championships at Grand Park in Westfield, Indiana, and had an outstanding experience. For years, I've been telling people that Grand Park has the absolute best soccer park in the country. Sure, there are other parks that have high-quality fields and there are other parks that have a lot of fields, but Grand Park combines both quantity with quality in one pristine property.
US Youth Midwest Regional Championship: Jonathan Meersman (Chair)
How to Get to Grand Park
By Car: The campus can be reached by both I-465 East and US-31. Grand Park Sports Complex is situated in Westfield, less than a four-hour drive from major cities such as Chicago, Indianapolis, Louisville, Cincinnati and St. Louis.
By Air: Major airports nearest the facility are Indianapolis International Airport (IND), O'Hare International Airport (ORD) and Cincinnati/Northern Kentucky International Airport (CVG).
Contact Information
Company Name: Grand Park Sports Campus
Sports Sales Manager: TJ Land
Title: Business Development Manager
Telephone: 317-691-1331