Due to the Hoosier State's rich basketball history as a five-time NCAA Championship winner for men's basketball, it is no surprise the rest of the state has an abundance of modern sports facilities. In Northeast Indiana, Fort Wayne has some of the finest arenas, adaptive sports facilities, field houses and historical coliseums in the state. Since Fort Wayne resides in the continental climate zone with four distinct seasons, it houses several leading indoor sports facilities for year-round games, tournaments and competitions. Besides the city's leading sports facilities, Fort Wayne is a destination overflowing with first-rate hotels, family-friendly entertainment and mouthwatering restaurants.
Fort Wayne is a hub sublimely situated approximately 200 miles from all major cities in the Midwest, including Chicago, Cleveland and Milwaukee. Fort Wayne's ideal location makes getting there a breeze, while offering planners, athletes, family members and spectators the comforts of Midwestern hospitality with prevailing urban amenities.
Notable Recent/Upcoming Events
Adaptive Sports USA 2018 Junior Nationals (July 21-28, 2018)
NCAA DIII Men's Basketball Championships (March 15-16, 2019)
NCAA DI Women's Basketball Regional (March 27-30, 2020)
US Figure Skating 2019 Midwestern Sectional Figure Skating Championships (November 13-17, 2018)
United States Roller Hockey State Wars Championships (2014, 2016, 2019)
CVB/Sports Commissions Services Offered
Volunteer Staff
PR/Media Assistance
Signage
Site Visits
Transportation Assistance
Grant Programs
Welcome Bags/Gifts
Itinerary Development
Event Planning Assistance
Community Information Table
Custom Microsite
Pre-promotion
Click on tab to see more information about a specific facility
Plassman Athletic Center at Turnstone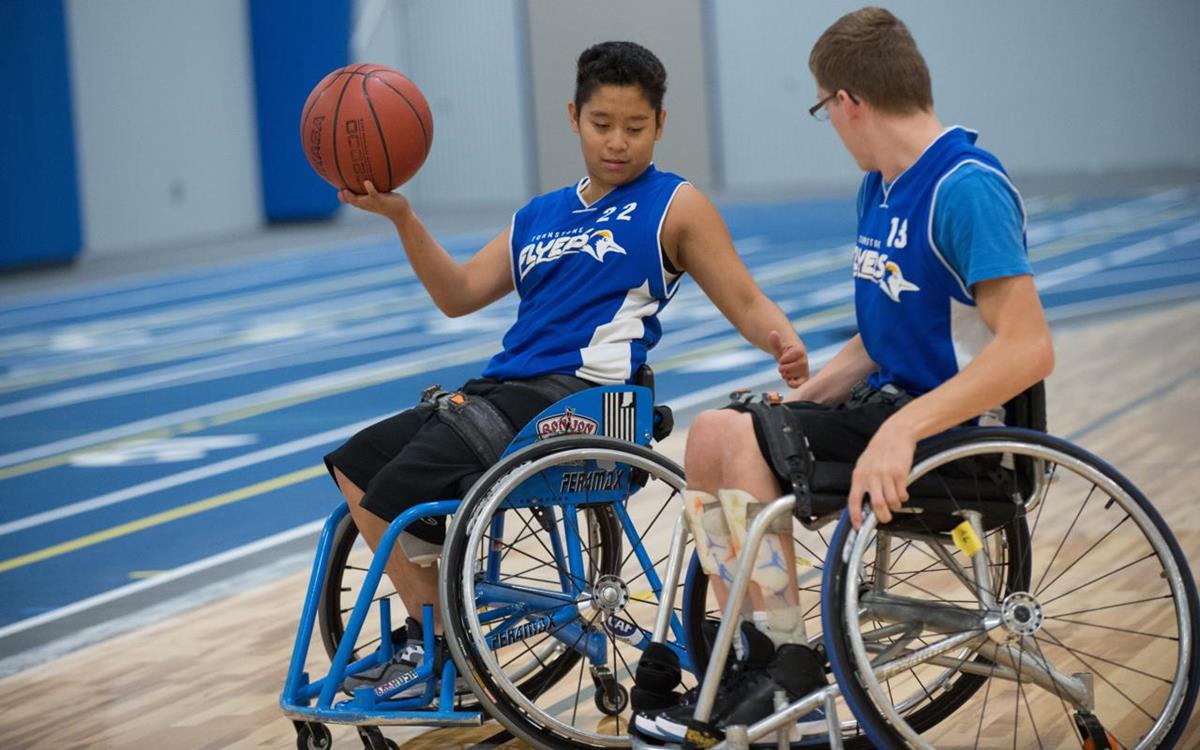 Providing adaptive sports and recreation for over two decades, Plassman Athletic Center at Turnstone is a leading adaptive sports facility for children and adults with disabilities. As the 4th largest Paralympic Sport Club in the nation, the center offers both competitive and recreational opportunities, featuring a 75,000-square-foot field house, a 230-meter track, four collegiate basketball courts, a 9,100-square-foot warm water pool and 13,000 square feet of extra space for equipment storage, personal training, therapy facilities and exercise classes. Amenities at the center include locker rooms, showers and restrooms specifically designed for people with disabilities, parking and community conference spaces.
Sports: Wheelchair basketball, wheelchair tennis, power soccer, adaptive golf, sled hockey, goalball, quad rugby, boccia
Allen County War Memorial Coliseum
A multi-use arena, Allen County War Memorial Coliseum was initially authorized in 1946 to construct a living memorial to the nation's war veterans. Since its construction, the coliseum has held several major sporting events, including the 1955 and 1956 NBA Finals and the 2010 NCAA Men's Division I Ice Hockey Tournament Midwest Regional. Today, this massive arena is home to the Fort Wayne Komets, Fort Wayne Mad Ants and the Fort Wayne Derby Girls. With the capacity to seat 13,000 guests for basketball and 10,480 for hockey, the facility's amenities include accessible parking, family restrooms, wheelchair storage rooms, elevators, escalators and medical assistance offices.
Sports: Basketball, hockey, wrestling, volleyball
SportONE Parkview Icehouse
An ice rink like no other, SportONE Parkview Icehouse is a multi-purpose rink with state-of-the-art amenities, namely its three NHL sized ice surfaces. As the only three-sheet facility in Indiana and one of the largest in the region, the icehouse features both youth and adult recreational and competitive leagues, and has partnerships with the Fort Wayne Amateur Hockey Association, Fort Wayne Ice Skating Club and Indiana Tech Hockey Teams. It is also the primary practice facility for the ECHL Fort Wayne Komets professional hockey team.
Sports: Hockey, sled hockey, ice skating, curling
SportONE Parkview Fieldhouse
SportONE Parkview Fieldhouse is a massive 80,000-square-foot multi-purpose facility, professionally designed for indoor sports. A premier destination for indoor competitions, leagues, tournaments and camps, the field house features 10 volleyball courts, eight basketball courts, hardwood floors, bleacher seating, a sports performance area and on-site storage. Several area clubs and leagues call the field house home, including Summit Volleyball, Fort Wayne Futsal and Gym Rats Basketball. Amenities include Parkview Ortho Express Clinic, on-site restaurant and bar, 21 restrooms with three personal showers, vending machines and accessible parking.
Sports: Basketball, volleyball, futsal
Grand Wayne Convention Center
Luxury and service combine in this  award-winning downtown convention center.  The Grand Wayne offers 80,000 square feet of fully carpeted, dedicated event space.  The Convention Hall also features a sub-divisible 50,000 sq. ft. space.  The Grand Wayne Center is the 2nd largest convention center in Indiana, and is connected to three hotels, the Hilton, Courtyard by Marriott, and the Hampton Inn.
Sports: Martial arts, dance, cheer, cubing, eSports, gymnastics
Spiece Fieldhouse
The fieldhouse offers eight full-sized courts, a high-tech fitness center and a full-service spa.  For nearly 20 years, Spiece Fieldhouse has been Fort Wayne's premier basketball location.  The facility hosts prestigious year-round tournaments, clinics, camps, leagues and instruction seminars.  Hundreds of America's top prep basketball stars have competed inside the walls of Spiece Fieldhouse.
Sports: Basketball, volleyball, pickleball, futsal
The Plex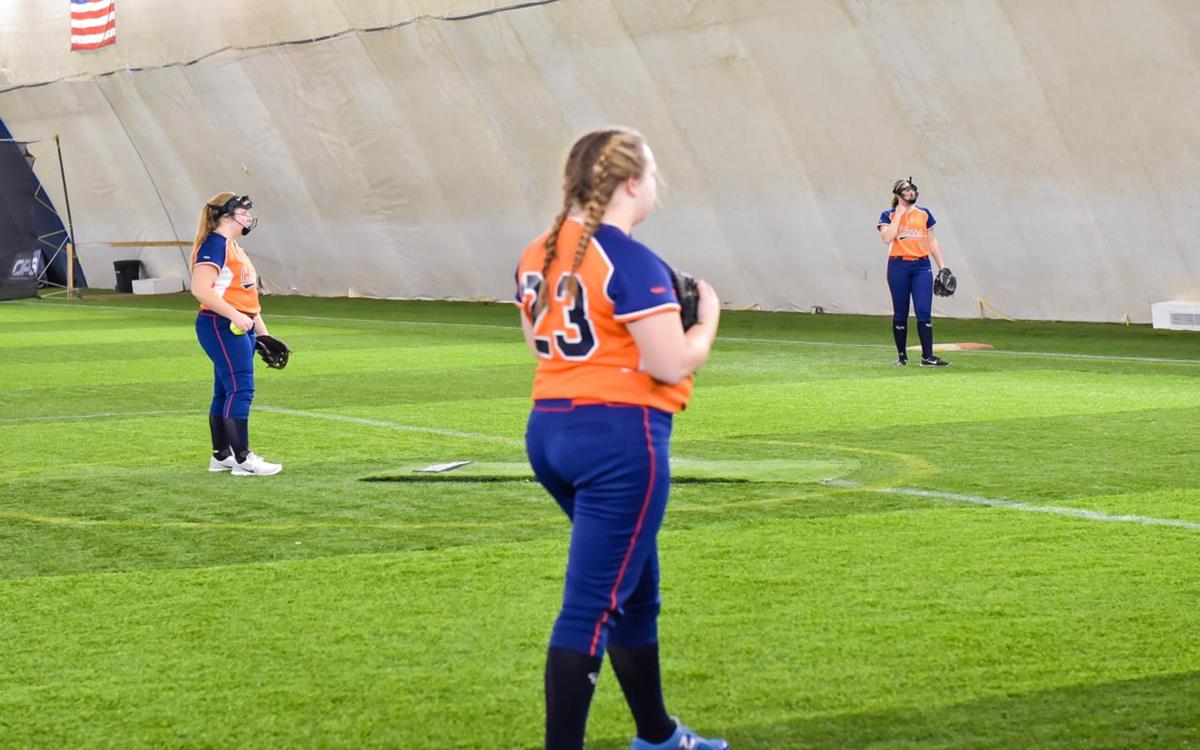 The Plex provides a safe and fun environment for athletes of all ages and skill levels for year-round recreational and competitive sports. This sports center is home to the largest soccer program in Northeast Indiana, housing the Fort Wayne United Futbol Club, Beasley Futsal Club, and the Sarah Killion League. Offering indoor and outdoor flag football playing fields, the facility's amenities include two indoor soccer fields with XL turf, 19 ourdoor fields, an indoor driving range for year-round swing practice, a golf simulator, and on-site batting cages.
Sports: Soccer, football, softball, baseball, golf
Things to do in Fort Wayne
Planning a sports event isn't just about the athletic facilities a region, city or town provides, but also what sorts of activities athletes and their families can enjoy in their downtime. At Fort Wayne Children's Zoo, visitors can gaze upon rare and bizarre animals, such as Amur leopards, De Brazza's monkeys, zebra sharks and wrinkled hornbills. A unique and valuable resource for the Northeastern Indiana community, the Genealogy Center offers group tours to educate visitors about family history, with more than one million physical collection items to help researchers discover details of their lineage.
Take your sports team out to the ballgame at Parkview Field, a minor league baseball stadium located in the central business district, and home to the Fort Wayne TinCaps, the city's beloved Class-A Minor League Baseball team.
A favorite activity amongst youngsters, Science Central features several touring and permanent educational and hands-on exhibits, including Science on a Sphere, a cutting-edge technology system with a six-foot diameter sphere of the earth that appears to be floating mid-air, one of only about 100 installations of its kind in the world.
For nature lovers, head to Foellinger-Freimann Botanical Conservatory for a day of exploring through lush seasonal displays, tropical gardens with palms and orchids and desert gardens with cacti, jojoba and yucca plants.
Planner Perspective
We host events all over the nation and Fort Wayne is our favorite by far! Fort Wayne's welcoming community and outstanding facilities are second to none.
Gym Rats Basketball: Todd Hensley
Working with Visit Fort Wayne was outstanding. They were a major reason that our convention was such a huge success. Their friendly staff was with us every step of the way.
ATC: Great Lakes Athletic Trainers Association, #1 Minor League Sports Market, 2008: Bob Hirschelman-LAT
How to Get to Fort Wayne
By Car: For sports planners and teams coming from the West Coast or Midwest states like Iowa and Illinois, take Interstate I-80 E, then take Exit 31 for State Highway 49 towards Chesterton/Valparaiso. For those coming from the East Coast, take Interstate I-90 W, I-76 W and I-71 S to US-30 W. If coming from the South, take Interstate I-75 N, I-24 W, I-65 N and I-69 N to Illinois Road in Fort Wayne.
By Air: Centrally located near a plethora of major international airports, Fort Wayne is nearest Fort Wayne International Airport (FWA), a primary commercial service airport with passenger flights reaching eight airline hubs of Atlanta, Chicago, Charlotte, Dallas/Fort Worth, Detroit, Minneapolis/St. Paul, Newark Liberty International Airport and Philadelphia.
Contact Information
Company Name: Visit Fort Wayne
Sports Sales Manager: Stephanie Coleman
Title: Group Sales Manager, Sports
Telephone: 260-424-3700