Cumberland County Has Been Hosting American Competitions since 1775
Located in the heart of North Carolina, the communities of Cumberland County have a historic charm packed with culture, excitement and top-notch sports facilities.
What makes Fayetteville a great sports event location?
Sports and athletics are dear to the heart of any hometown. In Cumberland County, it's almost a more elevated kind of experience. Our love of country and the American spirit means we take a little bit of extra joy in a hard-fought competition. Our wide variety of venues provides an amazing array of opportunities for athletes, tournament organizers, and even dedicated spectators. From soccer to basketball, skeet shooting to fishing, racquetball to wrestling, we have the facilities, accommodations, community amenities and support system to ensure your event goes off without a hitch.
Cumberland County is home to NCAA and professional teams, so it is no stranger to the sports scene. Collegiate roots are paving the way for a rapidly growing sports market, and the facilities are making noise in the sports industry. The area also hosts a collegiate summer baseball team, the Swampdogs.
The warm climate and Carolina blue skies offer a setting for outdoor sports year round, perfect for off-season tournaments in the winter months. Fayetteville also has world-class indoor facilities and hosts the Fayetteville FireAntz minor league hockey team.
What can your visitors do in Fayetteville?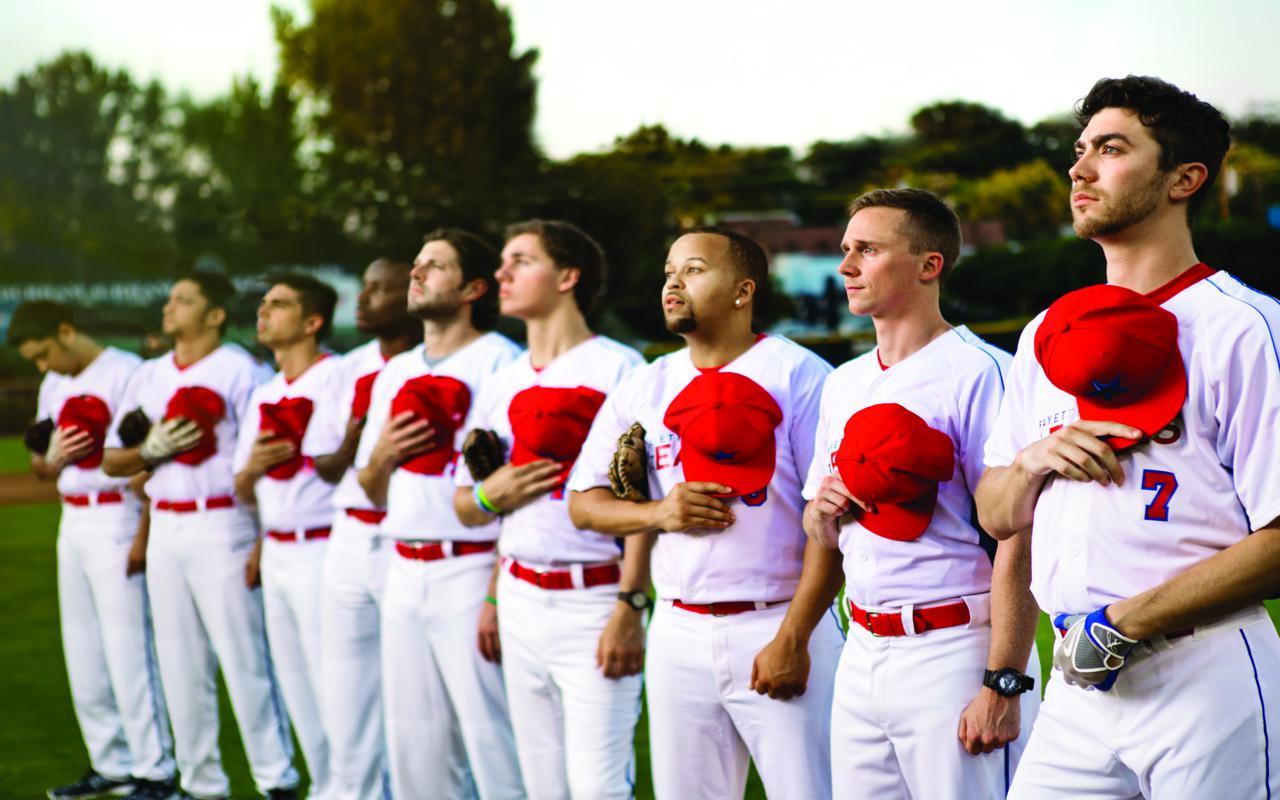 A historic community with Civil War and American Revolution roots, in addition to cultural charisma and Southern charm, American's Hometown has a variety of events and activities to enjoy in their free time.
Whether you like hiking or exploring, antiquing or adventure, there is no shortage of opportunities with the over 750 miles of themed trails that criss cross throughout Cumberland County. Whether exploring the Cape Fear Botanical Gardens on the All-American Adventure trail, taking in a live theatre production at the Cape Fear Regional Theatre on the Patri-Arts & Gardens trail or witnessing a parachute jump at Fort Bragg on the Patriots: Past & Present trail, Fayetteville/Cumberland County has the perfect route planned for whatever your interest might be.
The communities of Cumberland County also boast a thriving culinary scene, offering more than 500 restaurants that range from Thai to good old American cuisine. After a bite, indulge in some shopping at one of the 700 shops, boutiques and other retailers around the area.
For history and military sights, Cumberland County has many memorials and locations with connections to the Civil War and American Revolution. Check out the Fort Bragg military community, the first one of its kind in the country. Visitors can also visit the John F. Kennedy Special Warfare Museum, 82nd Airborne Division War Memorial Museum and Airborne and Special Operations Museum.
Let us connect you with Fayetteville Area NC

Stephanie Decatur
Sports Sales Manager
---
X Factors
Grant and bid fees available
Customized agendas and RFPS for your group's needs
Customized app for your groups to use for communication and things to see and do
Not cookie cutter – each group is assigned an enthusiastic staff member to get your needs met
PR support
Site Inspections, board presentations and show building attendance
Connection to community resources and service providers
Volunteers
Visitor Information services
Planner Perspective
We want to personally thank the bureau for its support to the Junior World Skeet Championship. When we started planning, we had no idea how to address some areas. Your staff was so helpful in many areas, helping arrange hotel contract and providing items and information for the welcome bags was critical and they suggested other places and people for possible support. Our job of planning the event was made easier with the help of the bureau's staff. Attendees were very happy they came to the Fayetteville/Fort Bragg area.

– Jim and Belinda Tiner, Tournament Directors
On behalf of the North Carolina High School Athletic Association, we wish to extend this letter of thanks and congratulations.  The Eastern Regional Basketball Tournament hosted in Fayetteville at the Crown Coliseum was an outstanding event and your involvement and support for this event was greatly appreciated. We appreciate your commitment to the NCHSAA events in Fayetteville and hope that we can, along with the Tournament staff, count on your support next year.

– Davis A. Whitfield & Carolyn Shannonhouse, Commissioner and Assistant Commissioner
The staff at FACVB has been instrumental with getting the right people in the room to assist Elite Tournaments with planning a new tournament in Fayetteville.  Their understanding of the youth sports market and the key decision makers has accelerated the planning and development process to get us on the way to creating a top level event in a new location while working with excellent local partners.

– Matthew Libber, Elite Tournaments, Vice President of Operations and Business Development
Our Tournament at the Crown Center this weekend was spectacular. There was plenty of room for all the players, and great accommodations near the arena.

– Bob Johnson Guy, High School Basketball Coach
Sports Venues/Facilities
Crown Complex
Sports: Indoor sports
The $55 million Crown Complex has hosted NBA games, pro boxing matches and NHL exhibition games. Located directly on business I-95, this multi-use complex offers two buildings suited for a variety of sporting events.
Crown Coliseum – The state-of-the-art Crown Coliseum opened in October 1997, and has continued to set success records. With seating for 13,500 this versatile facility can host ice-hockey, arena football, high school, college and professional basketball games and tournaments, boxing and rodeos.
Crown Arena – The popular, multi-purpose Crown Arena seats up to 5,000 and can host a wide variety of athletic competitions, including wrestling, basketball, cheerleading and soccer tournaments.
Fayetteville State University 
Sports: Football, basketball
Serving as the home site for the Fayetteville State University Broncos' men's and women's basketball teams, Felton J. Capel Arena was completed in 1995 and is known as one of the best in the NCAA's Division II. Featuring more than 12,000 square feet of competition space, the arena houses an Olympic- sized swimming pool, a 4,000-seat basketball arena, indoor track, racquetball courts, outdoor tennis courts and the FSU athletic department's training facility.
The Climbing Place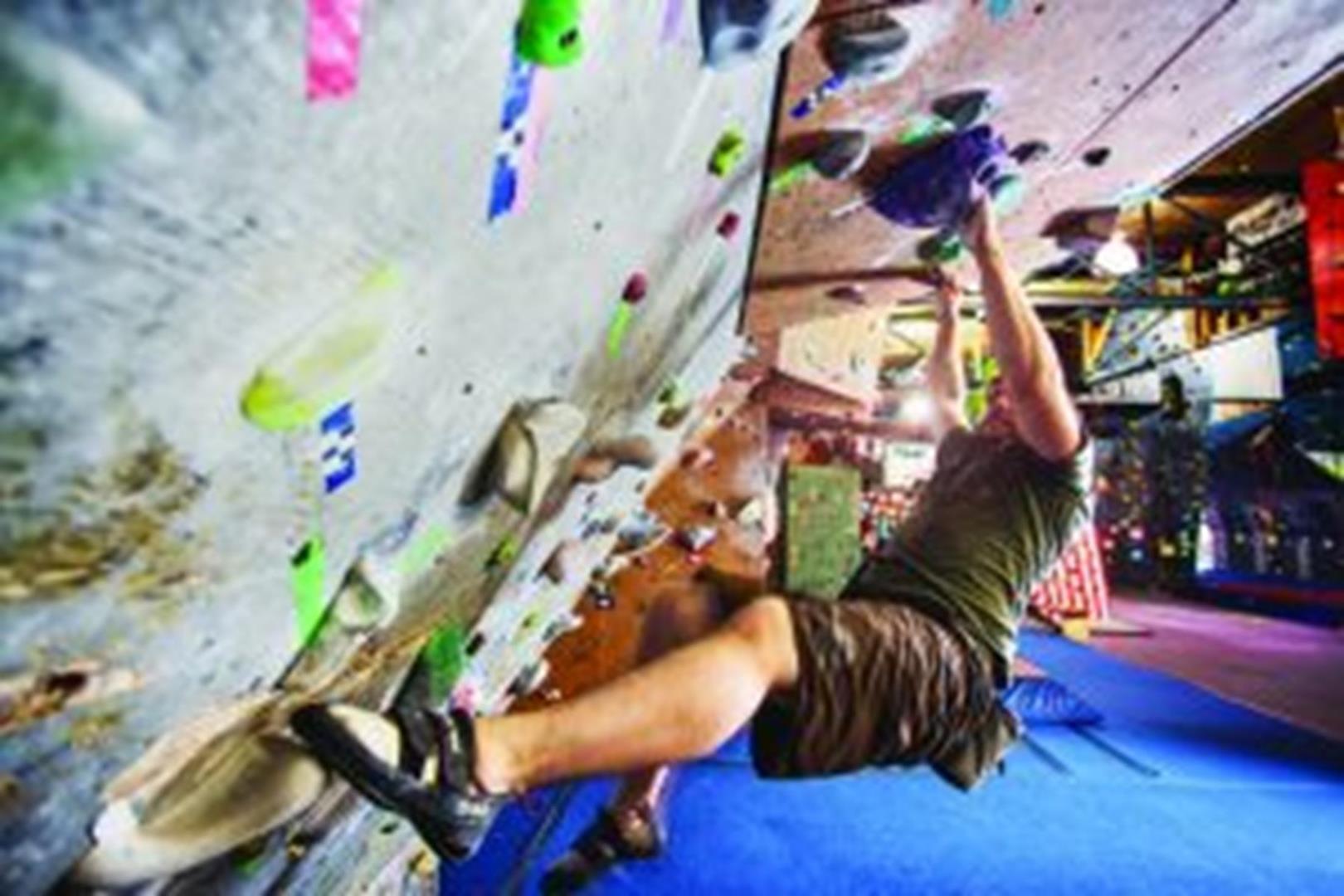 Sports: Rock Climbing
This 18,000 square foot climbing surface facility is the largest indoor rock climbing center in North Carolina. It offers over 40,000 climbing holds, 60 top ropes, a massive overhang area, a 300 foot gym traverse and thousands of square feet of bouldering surface, as well as a top-out boulder. And, it even has a retail store to meet all your climbing and backpacking needs.
Fayetteville Motor Speedway
Sports: Drag Racing
The Fayetteville Motor Speedway is a 4/10th mile dirt oval where a schedule of races is held March to October in the Late Model, Modified, Super Street, and Pure Stock and U-Car divisions. Its also a regular stop for World of Outlaws Late Model and Lucas Oil Late Model Dirt Series.
Milton E. Mazarick Park
Sports: Disc Golf, tennis, baseball, fishing
Milton E. Mazarick Park contains 80 acres and a variety of activities for patrons. Featuring an 18-hole disc golf course, 8 tennis courts, a baseball field, scenic running trails, fishing at Glenville Lake and more, this park meets many recreational needs.
Amenities: Softball field, pavilions, concession stand, fishing pier, boat rental, trails, playground, tennis courts, disc golf and restrooms.
Jordan Soccer Complex
Sports: Soccer, rugby, ultimate frisbee, lacrosse
A $1.5 million, eight-field complex, said to be one of the finest eight facilities in the south. The complex, which is adjacent to Methodist University, features 8 high-quality Bermuda grass fields. A full-service snack bar, restrooms and ample paved parking are part of this stellar complex.
Fort Bragg Clay Target Center
Sports: Archery, clay shooting
As the area's premiere archery and clay shooting range, the Clay Target Center has hosted a number of specialty tournaments, including the Armed Forces Skeet Championship and the U.S. Open Skeet Shooting Championship.
Athlete's Choice Batting Center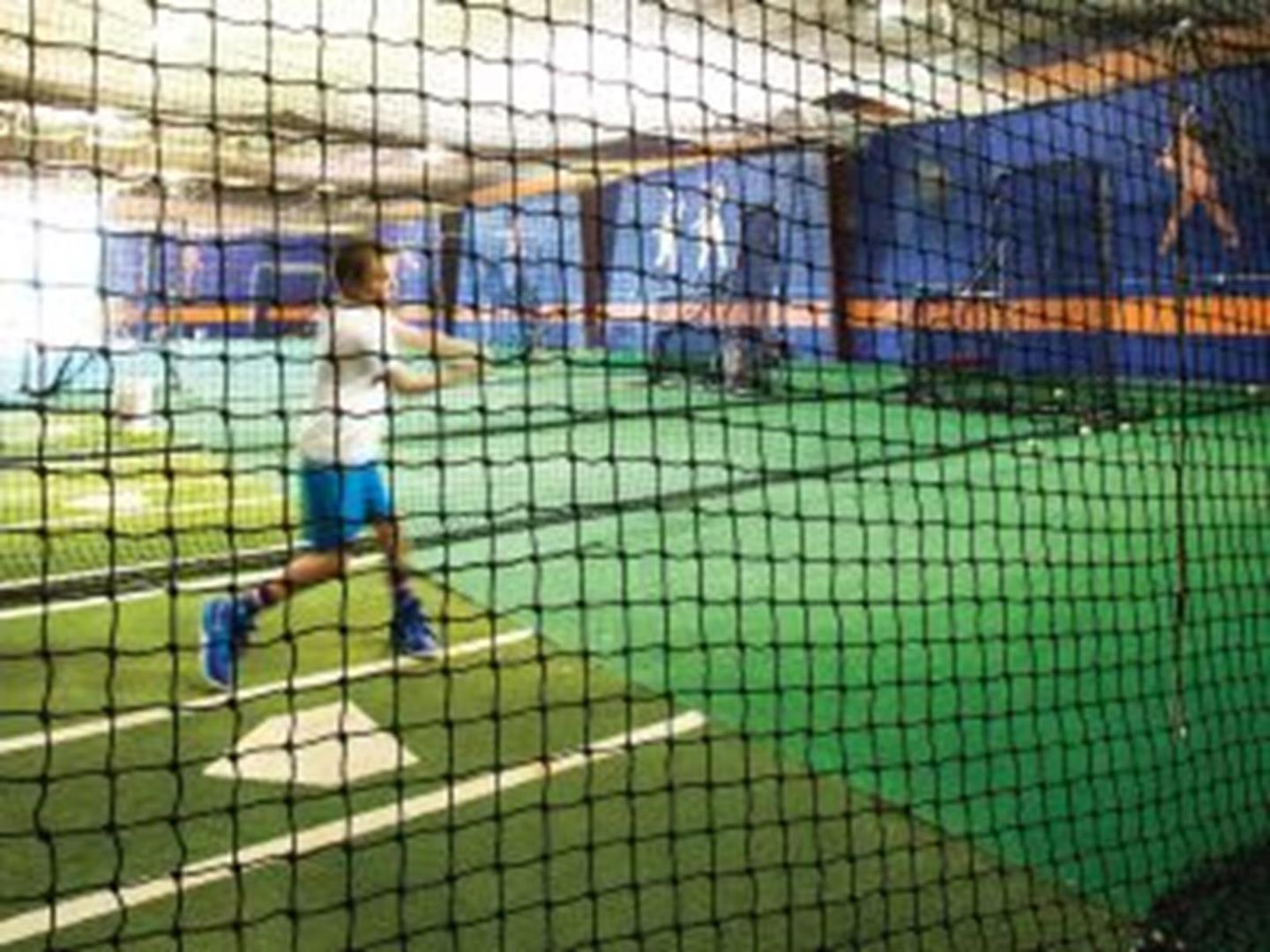 Sports: Baseball
Come test your baseball skills at this 17,000-square-foot center. There are 5 batting cages for team play, 6 coin-operated batting cages with pitching machines, 6 dirt pitching mounds and a wind tunnel for speed and agility training. There is also a high school-size infield built behind the center.
Arnette Park
Sports: Baseball, volleyball, disc golf
A popular place for walking and jogging, this 100-acre park offers a combination of developed facilities and natural woodland, including several scenic spots that overlook the Cape Fear River. Picnic pavilions, ball fields and more make this a popular gathering spot for families and large groups. The one mile long perimeter road is ideal for biking and walking.
Amenities: Baseball fields, sand volleyball courts, concession stand, horseshoe pits, disc golf, picnic pavilions, playground, tennis courts, nature trails and restrooms.
How do you get to Fayetteville?
One of the largest cities in North Carolina, Fayetteville is located at the junction of major interstates and highways. With a regional airport in town, Fayetteville is a very accessible location for your next tournament.
By Car: Interstate 95, a major north-south artery, goes right through Fayetteville.. Florida and Georgia drivers can take it up from the south, and it connects with New York, Baltimore and Washington D.C. to the north. I-95 connects with I-20, which goes west through much of the South. U.S. Route 401 stretches north to Raleigh.
By Air: On the south end of town is the Fayetteville Regional Airport, servicing flights through American, Delta and United Airlines. Other regional airports are in Raleigh, Charlotte and Myrtle Beach.
Summary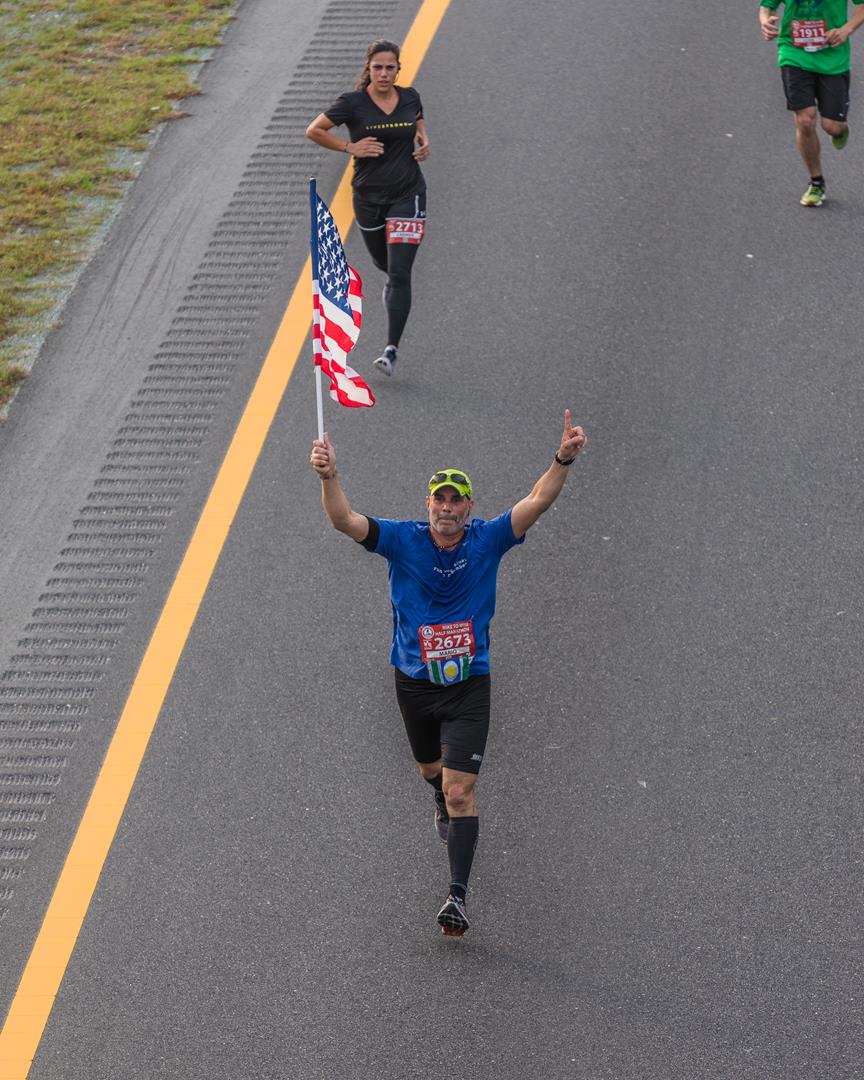 Article Name
Your next Fayetteville tournament will hit for the cycle
Description
In the heart of North Carolina, Fayetteville has a historic charm packed with culture, excitement and top-notch sports facilities.