Sports tournaments can be nerve-wracking experiences for athletes. There can be an unbelievable level of pressure to perform well and to bring home a victory each time. Why not alleviate some of this pressure by allowing them to compete somewhere fun, relaxing and maybe even inspirational? Gainesville, Florida is the ideal place for all that and more. It is home to the University of Florida, where proud Gators like Tim Tebow and Emmitt Smith once played. Thousands regularly flock to football games at Ben Hill Griffin Stadium as well as numerous other athletic complexes to watch exciting competitions at venues like Stephen C. O'Connell Center, Alfred A. McKethan Stadium and Donald R. Dizney Stadium. These venues offer some of the finest sites to play and watch basketball, volleyball, baseball and lacrosse. But there's even more beyond campus grounds. Baseball and softball players love playing in Champions Park, while BMX enthusiasts appreciate spending a day at High Springs BMX. Perhaps the most impressive thing about Gainesville is its flexibility regarding sports venues. Gainesville Raceway is perfect for racing and cycling, and Alachua County's Jonesville Park boasts a bevy of multi-use fields, or take a trip to out to the Legacy Park or Easton Newberry Sports Complex, as both of these sites can host tourneys in a variety of sports from basketball to archery.
When you're ready to plan, the Gainesville Sports Commission will help you coordinate your event with volunteers, lodging, program logistics and so much more. They'll also recommend attractions that the whole team will enjoy, including museums, shopping centers and natural parks. All this seamless planning will ensure that your team can focus on their game and be victorious in the end.
Notable Recent/Upcoming Events
USA BMX National Championship at High Springs BMX (October 20-22, 2017)
Florida High School Athletic Association Competitive Cheerleading State Championship at Stephen C. O'Connell Center (February 4-5, 2018)
US Amateur Basketball Boys National Championship at City of Alachua's Legacy Park (June 28-July 1, 2018)
USA Archery National Indoor Championships and JOAD National Indoor Championships at Easton Newberry Sports Complex (January 19-21, 2018)
Pepsi Florida Relays Track and Field at Percy Beard Track at James G. Pressly Stadium (March 28-31, 2018)
Florida High School Athletic Association Competitive Cheerleading  State Championship at Stephen C. O'Connell Center (January 31-February 1, 2019)
2019 USA Gymnastics Region 8 Men's Championship (April 4-7, 2019)
CVB/Sports Commissions Services Offered
Volunteer Staff
PR/Media Assistance
Signage
Site Visits
Transportation Assistance
Lodging Services
Grant Programs
Welcome Bags/Gifts
Itinerary Development
Event Planning Assistance
Click on tab to see more information about a specific facility
City of Alachua's Legacy Park
The 100-acre City of Alachua's Legacy Park is a major hub for sports tournaments, including the Amateur Athletic Union pickleball and gymnastic events, as well as the Sunshine State Basketball Championship, and the US Amateur Basketball Boys National Championship. The outdoor part of the complex is joined with the Hal Brady Recreational Sports Complex. Teams will have access to five baseball and softball fields equipped with lighting and four other multi-sport fields. The outdoor facility fields offer an air-conditioned press box and seating for up to 2,500 spectators. Planners can also host competitions indoors, where they will find 40,000 square feet of space, 30,000 of which is open wooden floor space. Try out any of the four volleyball and basketball courts or the championship court. Hold your next event in meeting rooms complete with A/V assistance and concessions.
Sports: Baseball, basketball, football, gymnastics, karate, lacrosse, rugby, soccer, softball, volleyball
Stephen C. O'Connell Center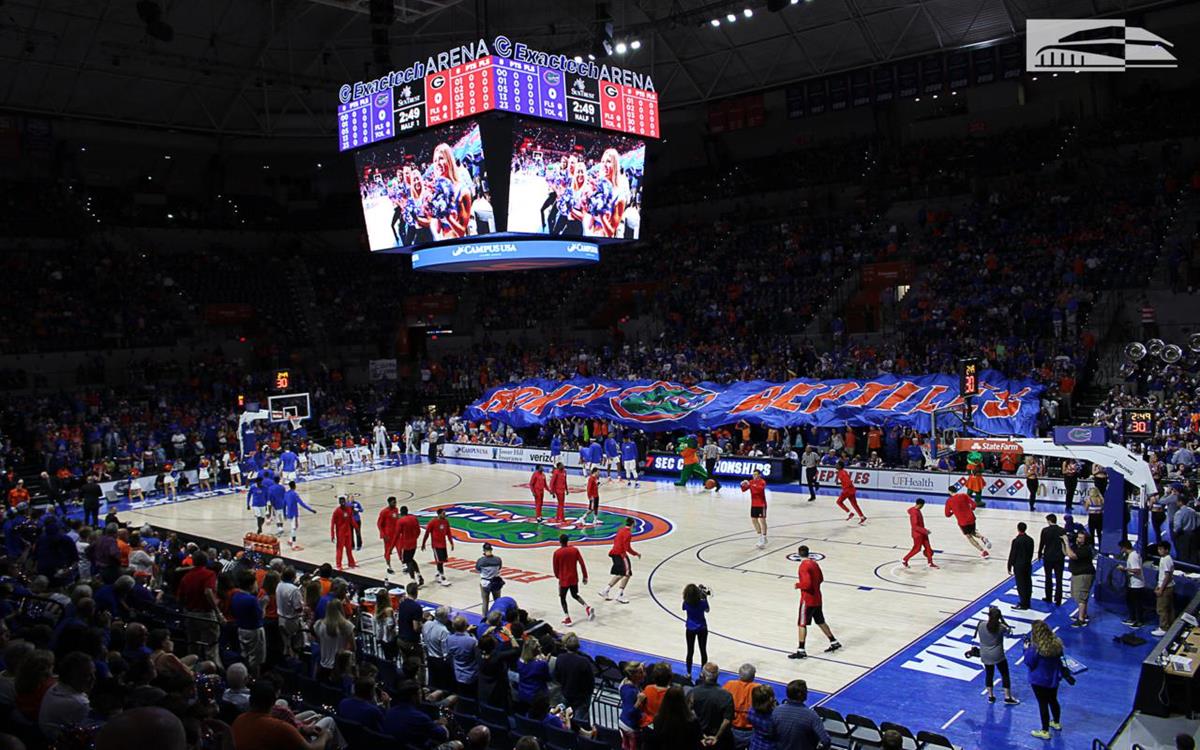 Host sports competitions of all levels at the Stephen C. O'Connell Center. This popular venue is home to University of Florida sports, as well as the USA Synchronized Swimming Collegiate Championship, the USA Weightlifting National University & Under 25 Championships, and the Florida High School Athletic Association Competitive Cheerleading State Championship. This 292,000-square-foot facility houses a variety of sports arenas, including a main court that seats a maximum of 12,000 guests. Athletes will also find 20,000 square feet of open space and an eight-lane indoor pool, which comes with several platforms, a moveable bulkhead and diving well.
Sports: Basketball, cheerleading, diving, gymnastics, martial arts, swimming, synchronized swimming, volleyball, wrestling
Easton Newberry Sports Complex
The Easton Newberry Sports Complex boasts an award-winning reputation, especially after earning the award for 2017 Mid-Mart Event of the Year and the Gator Archery Cup from the Florida Sports Foundation. This facility, located on a 100-acre sports wonderland, provides 20,000 square feet of space. Planners will be able to organize tournaments in areas with seating for 500 and a variety of meeting spaces. Amenities such as Internet and video assistance, fiber-optic cables, restrooms and concessions are available inside. The facility is always busy, as it regularly hosts USA Collegiate and National Archery competitions throughout the year.
Sports: 3D archery, baseball, basketball, cross country, field archery, football, indoor archery, lacrosse, soccer, softball, volleyball
Champions Park of Newberry
Baseball and softball lovers will unite at the Champions Park of Newberry, the established center for USSSA Baseball, the Babe Ruth Florida State Tournament and World Series, and USA Elite Softball. Teams of all levels can choose from 16 modern natural grass and artificial turf fields, each equipped with 220ft. of high fencing. This 2017 award winner for Small Market Venue of the Year holds state-of-the-arts scoreboards, meeting space, restrooms and concessions. The venue is offset by a massive parking lot for up to 500 cars.
Sports: Baseball, fast-pitch softball
Ben Hill Griffin Stadium at Steve Spurrier-Florida Field
Your trip to Gainesville gets even better at Ben Hill Griffin Stadium at Steve Spurrier-Florida Field, site of every home football game for the University of Florida Gators. This iconic stadium maintains its place as the world's 18th largest stadium and the nation's 12th largest football arena. Located near the Alfred A. McKethan Stadium, the Ben Hill Griffin Stadium has supported about 92,000 fans since its opening nearly 90 years ago. Besides football championships, the stadium hosts the Swamp Challenge Fitness Competition, a test of endurance across six weightlifting, cardio and exercise regiments for fitness athletes.
Sports: Football
Alachua County's Jonesville Park
Planners can organize any kind of tournament at Alachua County's Jonesville Park, where major competitions such as the Gator Soccer Showcase, Florida Youth Soccer Association State Cup and President's Cup Rounds, and United States Tennis Association Tournaments. The complex's baseball park is in full swing, with 4 baseball/softball fields, 6-tunnel batting cages, shaded bleachers, bullpens and concessions. Soccer players can compete on any of the soccer complex's six convertible natural grass fields, accompanied by lighting, concessions, parking and restrooms. Afterwards, celebrate under the venue's covered spaces for awards presentations. The soccer complex is adjacent to the park's tennis center, which houses 14 lighted clay courts, two pavilions and a tournament-size court. Restrooms with showers and a pro shop are available to service your needs.
Sports: Baseball, flag football, lacrosse, soccer, softball, tennis, ultimate
Percy Beard Track at James G. Pressly Stadium
The Percy Beard Track, located at the James G. Pressly Stadium, is the ultimate venue for any track and field event. This venue sports track with nine lanes, lights and a grass field in the center. The university's track and nearby field are always arranging tournaments. Many of these are big time tournaments for college athletes, like the NCAA National Championship qualifiers and home soccer games. Teams also arrive at the stadium for every home track and field meet, the Pepsi Florida Relays and the AAU Junior Olympics National Qualifier. The stadium supports about 9,000 fans on bleachers and 4,500 guests on permanent seating.
Sports: Soccer, track and field
High Springs BMX
Rev up your bikes at High Springs BMX park, the center for the USA BMX National Championship. This year-round track maintains a reputation as one of the prime bike arenas of the southeast. Also know for its challenging rounds, the park periodically undergoes renovations to upgrade its dirt surfaces. Bikers beware, as the track boasts a twisty "M" shape, with three turns and four straights. Guests are welcome to watch from the first and fourth straights and from seats located around the park.
Sports: BMX biking
Gainesville Raceway
Situated just east of the Mississippi River, Gainesville Raceway is known for arranging the National Hot Rod Association (NHRA) Gator Nationals, also known as "Gatornationals." This event is the largest annual drag race held near the river. Athletes will compete on a 1.6-mile road course and nearby 1,320-foot drag strip. Each year, Gatornationals sees over 30,000 spectators, who can be found on outdoor balconies, bleachers and even in skyboxes with amazing views. In addition to Gatornationals, the venue can be transformed into various cycling competitions.
Sports: Cycling, drag racing, kart racing
Things to do in Gainesville
There is an abundance of natural attractions for teams to take in while exploring Gainesville. About 175 diverse landscapes encompass Florida's State Parks. Unmatched for its top notch quality of cross-country biking in the state of Florida, San Felasco Hammock Preserve State Park offers over 30 miles of single-track mountain bike trails that shows a rare example of mature Florida hammock woodland. Paynes Prairie Preserve State Park contains more than 30 miles of hiking trails, along with showcasing its 20 biological communities that provide a rich array of habitats for wildlife and livestock, including alligators, bison, horses, and more than 270 species of birds. The outdoor adventure continues at the Kanapaha Botanical Gardens. This 62-acre land includes exotic plants flourishing and rare birds flying elegantly among them. Among many wonders, visitors will find vineries, a rose garden and hummingbird area. The Santa Fe River and Springs offers nearly as many springs as the botanical garden has flowers. Sail along the river for the fresh catch of the day or to get a glimpse of manatees, bobcats and black bears.
If you're searching for indoor adventures, visit the Florida Museum of Natural History and Butterfly Rainforest. This interactive attraction features replicas of natural butterfly rainforests as well as several exhibits with unique insects. The museum is also divided into outdoor trails that will take you on a journey through butterflies' natural habitats. Last, get the team to the University of Florida. Your athletes will appreciate the college's rich sports spirit, which is evident in each of its 14 facilities. You can also take them on college tours for a snapshot of college life and specializations in the arts and sciences.
Planner Perspective
The Florida High School Athletic Association is sincerely appreciative of the partnership we have with the Gainesville Sports Commission. It is our mission to continue to build leaders through teamwork, sportsmanship and citizenship, and there is no doubt in our mind that our partnership with the GSC gives us the ability to follow through with that objective. One of our biggest goals it to find quality venues for our state championship events. In the 1970s, our Executive Director George Tomyn had the privilege of playing in the state basketball championships. He constantly reminds us that he has yet to forget the feeling he had and the "Wow-factor" he felt when he entered the venue. It was a huge deal to his teammates and him, and it is now a huge deal to the FHSAA. We believe that when our student-athletes enter the venues the GSC has to offer, including the Stephen C. O'Connell Center, they immediately think they are on the world's biggest stage.
Florida High School Athletic Association: Kellie Doucette (Director of Athletics)
The Gainesville Sports Commission has been an excellent partner that the Florida Sports Foundation enjoys working with each year.  With the many events taking place throughout Alachua County, including the Sunshine State Games with archery, basketball, and karate, the Gainesville team continues to raise the bar of excellence and provides a dynamic atmosphere for the sporting community to engage in on daily basis.
Florida Sports Foundation: Marvin E. Green, Jr. (Vice President of Amateur Sports and Events)
How to Get to Gainesville
By Car: Visitors can travel along several routes to get to Gainesville. Reach the city's center by taking US Route 441 and Interstate 75. Highways 24 and 121 are additional convenient routes.
By Air: Gainesville Regional Airport is the closest airport to the city. Travelers may also fly into Daytona International Airport or Jacksonville International Airport, located 101 miles and 81 miles away, respectively.
Contact Information
Company Name: Gainesville Sports Commission
Sports Sales Manager: Joleen Cacciatore Miller
Title: Executive Director
Telephone: 352-338-9300