Rockford on the Rise
Addition of sports complexes helps revitalize region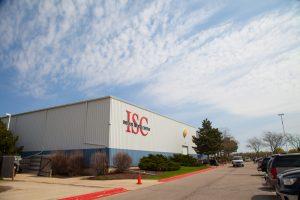 In June of 2016, Rockford made a considerable splash in the sports tourism industry when it debuted the 105,000-square-foot UW Health Sports Factory, a multi-use indoor venue that hosts numerous athletic events.
One year later, on June 7, the Rockford region will again make its presence felt when the Mercyhealth Sportscore Two complex in Loves Park unveils a $13 million expansion to its Indoor Sports Center during a grand opening ceremony.
Already a nationally recognized facility that hosts more than 1.4 million visitors per year for its sports tournaments, trade shows and other annual events, Mercyhealth Sportscore Two is poised to gain even more tournaments and events. Couple this with its companion facility, Mercyhealth Sportscore One in Rockford and the aforementioned UW Health Sports Factory, and Rockford is entering a golden age for attracting visitors.
"We've had a great track record in Rockford of success as a sports tourism destination, and we're continuing to invest in athletics because of the positive impact it has on our residents and visitors," said Nick Povalitis, sports destination and sales manager for the Rockford Area Convention and Visitors Bureau. "The indoor addition at Mercyhealth Sportscore Two will really help to again elevate our facilities' offerings region-wide."
Covering 180 acres, Mercyhealth Sportscore Two is a multi-sport complex that is designed to host tournaments and events all year round. Featuring indoor and outdoor multi-sport surfaces, the venue can accommodate a variety of competitions. It has 26 soccer fields, seven turf fields with lights (including the 2,500 seat Wedgbury Stadium) and three sand volleyball courts.
The Indoor Sports Center addition features a massive 133,000-square-foot building that will house four full-size turf fields in addition to the two the facility already has. The structure's ceiling has nearly tripled from 26 feet to 75 feet and the turf field area will be so vast, the complex will be able to host six soccer games or four softball games simultaneously. The complex already hosts multiple tournaments, including soccer, softball, baseball, lacrosse and rugby and now thanks to its expansion, the indoor facility will give the venue even more year-round sporting opportunities.
"This expansion will have a big impact on us long-term," said Louis Mateus, general manager of the Sportscore complexes. "We expect an increase in people using our facility in fall and winter. We weren't as busy during those seasons because of the weather but now we can play these sports indoor."
The site's grand opening festivities will coincide with a national soccer tournament featuring 220 teams from across the country that will take place at the facility from June 8-11.
The addition of these complexes has benefitted Rockford tremendously in that almost every form of athletic competition can take place in the area. Mercyhealth Sportscore One attracts soccer, softball, baseball, lacrosse and rugby tournaments to its complex that includes 18 soccer fields and eight lighted baseball/softball diamonds. The UW Health Sports Factory can house 16 volleyball courts, 16 wrestling mats, two championship courts and space for eight regulation-sized basketball courts.
While traditional competitions are well represented, another benefit to these facilities is they allow lesser-known sports like pickleball or dodgeball to get their moments in the spotlight.
Two such examples took place over Memorial Day weekend at the UW Health Sports Factory. The complex hosted both the USA Table Tennis 2017 America's Team Championship and the American Cornhole Organization Rockford Cornhole Tournaments.
"I think (the UW Health Sports Factory) has helped downtown (Rockford) tremendously," Mateus said. "More people are going down there now. Just volleyball alone, the facility hosts 30 teams a week. Now think about what kind of impact that does on a weekly basis. All those people, all of those families are going downtown when they might not have gone downtown before. Now they are heading down there to use the facility."
The public has responded to the myriad activities these complexes are offering. In the past two years, the two Sportscore facilities attracted more than 5.7 million people while the UW Health Sports Factory has drawn a robust 260,000 visitors since it opened. With the city actively seeking to fill its facilities year-round, those numbers are only going to grow, which will be a major boon to Rockford's downtown and surrounding areas and should strengthen the community's bond.
"We have a fantastic team of sports business people at the Rockford Area CVB, Rockford Park District, the many club teams who call the area home, and more," Povalitis said. "We understand it is the people in our community who make our hosted events a great experience, and ultimately bring visitors back."
Summary
Article Name
Description
Addition of sports complexes helps revitalize region
Author