Situated in central Kansas, Salina is a convenient destination for any sports event. On top of its ideal location, it also offers the perfect mix of small town charm with big-city amenities, including state-of-the-art athletic facilities that can handle any size event. Throw in some family friendly attractions, cultural events, delicious cuisine and comfortable accommodations, and you have the makings for a great sports event destination. Plus, the team in Salina welcomes visitors with open arms, and is there to help you get in the game and make your Salina sports event a huge success.
Notable Recent/Upcoming Events
KS Kids Wrestling Tournament of Champions (January)
AAU Missouri Valley District Championship (April 2019)
Kansas Grand Slam Tournament (July)
KS USA Softball VIP Series and Championships (June 2018)
CVB/Sports Commission Services Offered
Volunteer Staff
PR/Media Assistance
Signage
Site Visits
Transportation Assistance
Mobile Apps
Lodging Services
Welcome Bags/Gifts
Itinerary Development
Event Planning Assistance
Hotel Bid Requests
Special Activities Preperation
Midwestern Hospitality
Click on tab to see more information about a specific facility
Tony's Pizza Events Center
Renovated in 2016, Tony's Pizza Events Center is a multi-purpose facility that hosts a variety of sports events throughout the year. It's home to the Salina Liberty Indoor Football Team, Salina Sirens Roller Derby Team and the Salina Saints WCBA Basketball Team. In January, the venue hosts the Kansas Kids Wrestling Tournament of Champions, and has held the KSHSAA State Championships in wrestling, basketball and volleyball. The facility's 30,000-square-foot arena can accommodate over 6,500 spectators. The 20,000-square-foot Heritage Hall offers a column free space that can be halved or quartered to the needed specifications, offering another area for events that can accommodate 2,000 people.
Sports: Basketball, volleyball, wrestling, indoor football, roller derby
Salina Fieldhouse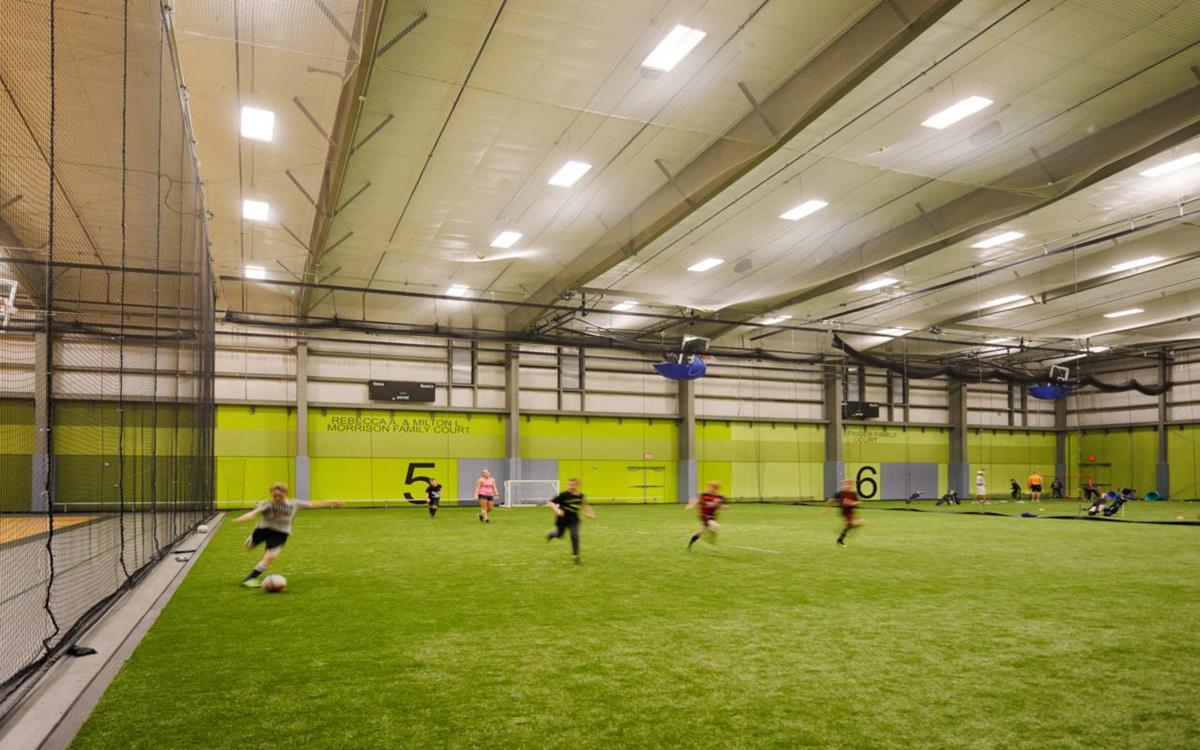 The newest addition to the Salina area sports facilities, the Salina Fieldhouse was completed in July 2017. The 68,500-square-foot indoor sports venue features several multi-purpose surfaces, allowing a range of events to be held here. The fieldhouse will play host to the AAU Missouri Valley District championship in April 2019. It will also host league play, tournaments, camps, clinics and team practices for a range of sports. The venue features six basketball courts that can be cross lined to create eight volleyball courts, one indoor regulation or three small sided soccer fields. There are also drop-down batting and pitching tunnels and golf netting.
Sports: Basketball, volleyball, soccer, dodgeball, dance, cheerleading
Dean Evans Stadium
Salina's premier baseball venue, Dean Evans Stadium is a popular facility for baseball teams around the area. It hosts events and teams including the Salina Shock collegiate league, the Salina Stockade Pecos League, Kansas Wesleyan University and KSHSAA 4A State Baseball Championship. It welcomed the Kansas Grand Slam Tournament just this past July. The facility features a covered stadium with seating for roughly 800 spectators.
Sports: Baseball
Bill Burke Park
Considered Salina's main facility for youth baseball and softball, Bill Burke Park can easily accommodate sports events large and small. It's the host of the Kansas USA Softball VIP Series and Championships, as well as many other local and regional competitions. The venue has eight baseball/softball diamonds, five of which are lighted. The complex also features six multi-purpose fields used for soccer and football practices. Players, coaches and fans will also enjoy a playground, biking/jogging paths, picnic shelters with grills and concessions.
Sports: Baseball, softball, soccer, football
Salina Stadium
Located on the campus of Salina High School Central, Salina Stadium is a premier sports facility for football, soccer and track & field. The 4,200-seat stadium is home to both Salina High School Central and Salina High School South's teams and has also hosted Salvation Army Football and KSHSAA State Football Championships. The turfed venue finished renovations in early 2018 and is now complete with new facade, press box, concessions, ticket booths and admission gates.
Sports: Football, soccer, track & field
Salina Soccer Complex
Located near Dean Evans Stadium and Bill Burke Park, Salina Soccer Complex is a premier soccer facility. It is home to local leagues and camps and has hosted several youth and high school soccer tournaments. The Mid Kansas Cup Regional Tournament started at the complex in 2015, with the two-day event averaging around 60 teams. The venue features five full-sized lighted fields, parking, concessions and a playground area.
Sports: Soccer
KWU-Graves Family Sports Complex and Mabee Arena
Located on the Kansas Wesleyan University campus, The Graves Family Sports Complex was completed in 2015. It's home to the university's football, soccer and track teams. The complex includes Bissell Field, a 2,000-seat stadium with a complete track, practice fields and tennis courts. The Mabee Arena, located in the Student Activities Center, has seating capacity for 1,500 and is home to the basketball, volleyball, wrestling, and cheer and dance teams. It has hosted several KCAC post-season and championship events.
Sports: Soccer, football, track & field, basketball, volleyball, dance, cheerleading
Things to do in Salina
Salina may not be considered a big city, but there's so much to see and do here, you'll feel like you're in a bustling metropolis. Grab the whole family and head to Rolling Hills Zoo, where you can discover some incredible species. You can take an interactive tour around the world in the 64,000-square-foot museum, which highlights seven unique regions. Then stroll through the rest of the zoo and check out the 350 animals that live there, from aardvarks to wolves.
Learn the history of the Smoky Hills region through photos, artifacts, engaging exhibits and captivating stories at the Smoky Hill Museum. Visitors with little ones shouldn't miss The Curiosity Shop, the interactive children's area which features four thematic areas: Kansas Weather, Town Building, The World of Radio and The Dirty '30s.
Take a stroll through downtown with the SculptureTour Salina, presenting a collection of sculptures loaned from artists, which changes every May. Catch a rock concert or classical music performance at the Stiefel Theatre for the Performing Arts or enjoy a comedy or drama production from Salina Community Theatre.
Cool off with some surf and fun at Kenwood Cove Aquatic Park, Salina's largest water park, featuring thrill rides, 1,400 feet of slides and attractions the whole family will love.
Planner Perspective
The Fieldhouse is an excellent facility, and Salina has all the necessary amenities for our participating teams—diverse and affordable lodging accommodations, a large quantity of great restaurants, and attractions such as the Smoky Hill Museum and Rolling Hills Zoo. The future developments, such as the downtown project, exemplify the support of the community to grow. This enthusiasm, support, and commitment to making great things happen, coupled with the outstanding people of Salina, is why we've selected Salina to host the Midwest Crossroads Regional Championship
USSSA Basketball: James Taylor (National Director)
The X-Treme team hosted their annual Winter Wonderland competition last January at the Salina Fieldhouse and it is a great facility.  Many are looking forward to coming back next year for the Winter Wonderland competition and for the 2019 AAU Missouri Valley District Championship.
Salina X-treme Gymnastics: Sheena Torrez (Coach)
It's been our goal over the years to grow this tournament, and we're excited that we're seeing that growth. Not only Kansas teams, but also teams from MO, IA and NE are participating.  Our tournament is as big as a "Metro" tournament, and we're starting to get noticed by other USA organizations.  As it should be, this will place Salina on the map. Salina has great hotels, restaurants, shops attractions and of course people that support us. We like working with Salina Parks & Recreation, Optimists Club, local KS ASA umpires and Visit Salina staff. We feel our relationship in Salina is strong and we'd like to continue to grow the Salina tournaments.
KS ASA/USA Softball: Chuck Vogan (Tournament Director)
How to Get to Salina
By Car: Salina is located in central Kansas, and less than a day's drive from a majority of the country. Some major cities that are less than five hours away include Kansas City, Oklahoma City, Omaha, Tulsa and Wichita.
By Air: The Salina Regional Airport has regional jet service to Chicago (ORD) and Denver (DEN). Book United.com.
Contact Information
Company Name: Visit Salina / Salina Area Chamber of Commerce
Sports Sales Manager: Tiffany Benien
Title: Sports & Special Events Manager
Telephone: 785-827-9310 x130