Delegates included sports event owners, city officials, hoteliers, athletic directors, DMO representatives, sports commissions and media. The two-day event was packed with educational seminars, keynote addresses from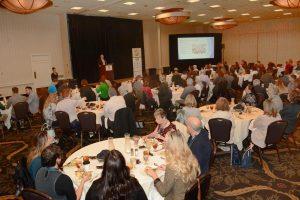 industry leaders, panel discussions, networking events and a trade show. Speakers included Al Kidd, president & CEO of the National Association of Sports Commissions; David Higdon, Advisory Board chair of the University of Oregon's Warsaw Sports Marketing Center; Bev Smith, executive director for KIDSPORTS, Eugene, Jeff Gayduk, publisher at Premier Travel Media; Tom Jordan, director of the Prefontaine Classic; Michael Reilly, CEO of TrackTown USA, and Sasha Spencer-Atwood, director of external affairs at TrackTown USA.
Educational sessions covered topics such as Building Sponsorship Proposals, Event Management, Permitting, Medical and Emergency Staff, Group Housing, Hosting Sustainable Events, Managing the Inevitable Risks of Any Sports Event, Social Media – Measurement & Analytics, Understanding and Calculating Economic Impact, Utilizing Your Local Sports Commission, Volunteer Management, What Sponsors Want, Working with Facilities and Working with the Media.
Janis Ross, executive director of the Eugene, Cascades & Coast sports commission, said, "The post-event responses from our inaugural event last year were overwhelmingly positive.
Attendees indicated they wanted more education, so we decided to expand the event to two days."
Regarding the local flavor of the event, Ross commented, "While there's a big emphasis on events like Oregon 2021, World Track & Field Championships coming to Eugene and a number of legacy projects that will sprout up as a result, we know our bread and butter are locally-focused events, therefore the summit is locally focused.
"We know we will bring in more local events if our local leagues and teams are well educated and willing to work with us to create them. It's our chance as we market this conference to them to say, 'Hey we're here, we're a resource for you. You don't have to be afraid to take that step because we can help you along the way."
For more information visit OregonSportsSummit.com.