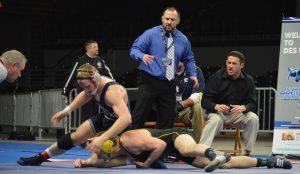 More than 2,550 out-of-state wrestlers and 450 in-state wrestlers will visit Greater Des Moines for the USA Wrestling Preseason Nationals, setting a new event record.
This year marks the first time Des Moines has hosted this championship event, previously held in Cedar Falls. The event will take place October 27 and 28 at the Hy-Vee Hall at Iowa Events Center. The competition will feature grade school, middle school and high school wrestlers from 40 states, including Hawaii, Alaska, Connecticut, Florida and more.
"We are thrilled to welcome the USA Wrestling Preseason Nationals to Des Moines this weekend," said Greg Edwards, president & CEO at Catch Des Moines. "With over 3,000 wrestlers registered and 40 states represented, this will be the largest Preseason Nationals event ever. Factoring in all divisions, this will be one of the largest wrestling tournaments in the world and we can't wait to showcase all that Greater Des Moines has to offer."
Edwards credited Catch Des Moines' relationship with Brian Keck and USA Wrestling, plus extensive work over the past 12 months to secure the event in Greater Des Moines. The team is now focused on ensuring the athletes have an easy transition to a new city and a new venue.
"This is a major event for Greater Des Moines, with more than 2,500 hotel room nights utilized over the weekend and an estimated $2.8 million in economic impact," said Ryan Vogt, national sales manager (Sports) at Catch Des Moines.
"USA Wrestling and myself are super excited to bring the USA Wrestling Preseason Nationals to the great city of Des Moines, said Brian Keck, USA Wrestling Preseason Nationals Tournament director. "I've personally been hosting events in Des Moines for the past 12 years and I knew this would be the ideal place to host a tournament of this size. The Catch Des Moines staff has been outstanding to work with during this whole process and I look forward to bringing this event back to Des Moines in future years."