Hundreds of thousands of sports events take place across the United States each year. From Hilo, Hawaii to Hialeah, Florida, players compete, crowds gather and ultimately, victory is declared.
SPG has scoured thousands of events across major disciplines of athletic competitions to compile 20 major events worth watching. Some of them were chosen because of their size, like Schwan's USA Cup Soccer Tournament that hosts 1,178 teams from 19 countries. Others because of their geographical scope, like the 3,000-mile (bike) Race Across America or the Spokane Hoopfest that repurposes the downtown into basketball courts.
We recognize those that give back to society, like the Rock n' Roll Marathon series, which has raised over $310 million for charity, and the Invictus Games, an international Paralympic-style, multi-sport event for wounded or injured armed services members and veterans. Other featured events represent the tradition of their sport, like the Pond Hockey Classics and the Head of the Charles Regatta. All of these striking events are worth watching.
Take a look at our favorites and their footprint on America's competitive sports scene:
Invictus Games
Orlando, Florida
X Factor: Honoring Those Who Serve
The 2016 Invictus Games, held in May at the 220-acre Walt Disney ESPN Wide World of Sports Complex in Orlando, continued a tradition started by Prince Harry in 2015, when the inaugural Games took place in London. The event honors ill and wounded men and women who have served their countries, inspires rehabilitation and recovery, and provides a platform on which military veterans can display their skills in a variety of sports, including wheelchair basketball, indoor rowing and archery. In 2016 nearly 500 athletes from 14 nations competed for gold medals. The energy surrounding the Wide World of Sports facilities, which boasts Champion Stadium, Hess Sports Fields and 70,000-square- foot HP Fieldhouse, was electric. The competitions were broadcast on ESPN2. The 2017 Invictus Games will be in Toronto.
Spokane Hoopfest
Spokane, Washington
X Factor: Nontraditional Event Space
This three-on-three basketball tournament is the largest of its kind in the world—the event attracts over 7,000 teams annually. While the population of Spokane, a medium-sized city in eastern Washington, is only 208,000, more than 250,000 fans go to Hoopfest each year to watch basketball games, listen to live music and enjoy delicious cuisine. Eight sections make up the competition, including Special Olympics and wheelchair divisions. Tournaments are double elimination and consist of 16 teams. Attracting visitors come from as far as Hawaii and Georgia, the competition spans more than 450 courts in 40-some downtown blocks.
Omaha Slumpbuster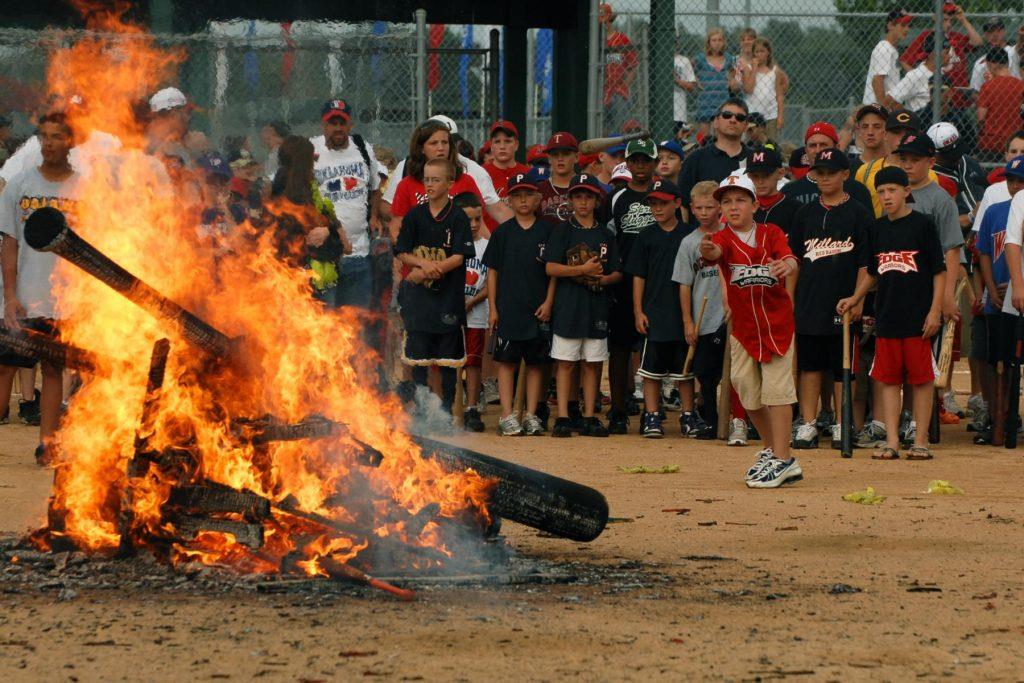 Omaha, Nebraska
X Factor: Piggybacking the College World Series
The annual Slumpbuster tournament, presented by Triple Crown Sports, runs in conjunction with the College World Series every June in the ultimate baseball town: Omaha, Nebraska. Started in 2003 for age levels 9U through 18U, the event now attracts 575 teams from 37 states and is widely considered one of the finest tournaments in the country. Triple Crown schedules roughly 1,500 games to be played at 19 baseball complexes in eight different cities, making for quite the spectacle. The entire event spans four sessions, each five days long, providing the perfect opportunity for players, coaches and their families to experience Omaha and the College World Series. The city provides an abundance of attractions, including the Henry Doorly Zoo. But what most kids want to see is their favorite college baseball teams competing for a national title. Fortunately, Triple Crown provides each team with 20 tickets to a College World Series game.
Head of the Charles Regatta
Boston, Massachusetts
X Factor: The Tradition
Since 1965, the Head of the Charles Regatta has welcomed some of the finest crew teams in the world to the banks of the Charles River every October. The two-day rowing competition attracts over 11,000 athletes annually and brings in hundreds of thousands of spectators. Luckily, a staff of 1,500 dedicated volunteers helps to plan and coordinate the festivities. The race starts in Boston and ends in Cambridge, with over 1,900 boats sailing in 61 events in what has become the largest two-day regatta on the planet. Rowers come from places like China, South Africa, Croatia, Ireland and the Netherlands to compete, while the age of athletes ranges from 14 to 85 years old. The course is three miles long and known for its challenging nature, as many teams have trouble completing the race without penalty or incident. The Head of the Charles Regatta has also raised over $650,000 for Cambridge Community Foundation and Community Rowing in the past 18 years.
---
Powered By:
Error, group does not exist! Check your syntax! (ID: 128)
---
Rock n' Roll Marathon Series
Multiple Locations
X Factor: Giving Back
 Since its conception in 1998, the Rock n' Roll Marathon Series has raised $310 million dollars for charity, becoming the most popular event of its kind in the United States. Marathons grow more and more common every year, with swaths of athletes flocking to the nearest big city almost every weekend of the year. Yet the Rock n' Roll Series is unique—at a variety of cities across America, this organization hosts the 26.2-mile race, in addition to a world-class Health and Fitness Expo and concerts at the finish line. Past performers in towns like Chicago, Dallas and San Francisco have included Pitbull, the Goo Goo Dolls, Flo-Rida, Train and Lady Antebellum.
 Schwan's USA CUP
Blaine, Minnesota
X Factor: Global Participation
This tournament is sometimes referred to as the best soccer tournament in the Western Hemisphere, and for good reason. Schwan's USA CUP takes place in Blaine, Minnesota, just 25 miles from Minneapolis, every July, welcoming thousands of teams from 19 countries and 19 states. The 2016 event, Schwan's 32nd edition of the competition, was the largest ever, with 1,178 teams, an increase of 25% over the 2015 tourney. It was held on the 54 soccer fields at the National Sports Center, the world's largest amateur sports and meeting facility. Schwan's USA CUP attracts the best young male and female soccer players annually from around the globe, but the diversity this event offers doesn't stop with the competitors—in 2016 referees hailed 12 countries and 15 states.
Pond Hockey Classic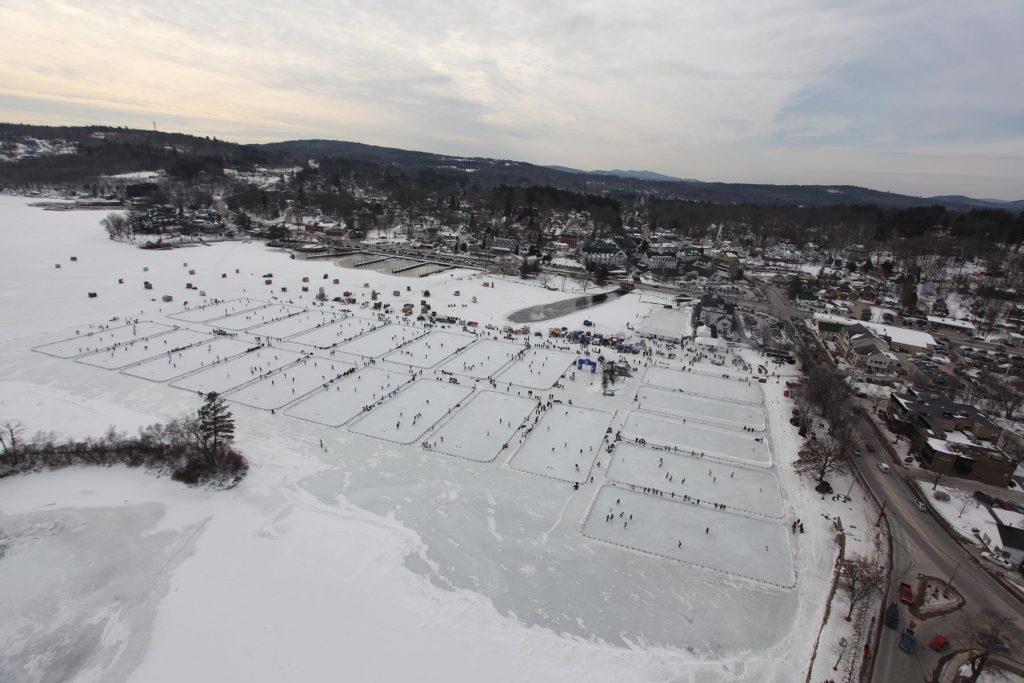 Multiple locations
X Factor: An Instant Classic
The Pond Hockey Classic began as an innovative idea from recent college graduate Scott Crowder in the fall of 2009 and has since grown into one the premier-unique outdoor hockey events in the country. The first tournament took place in January 2010 in New England, where 77 teams competed and Crowder witnessed the kind of popularity and enthusiasm for his idea that he never would have dreamed of. With such widespread acceptance, the Pond Hockey Classic spread to other locations like Vermont, Montana and New York. The 2011 New England event doubled in size, with 152 teams signed up. Crowder and his team of administrators have had the chance to work with sponsors like Bauer Hockey, Muscle Milk and USA Hockey to create a constantly improving event that never disappoints.
AAU Girls' Junior National Volleyball Championships
Orlando, Florida
X Factor: Staggering Numbers
The 2016 Girls' National Volleyball Championship took place in June at the ESPN Wide World of Sports complex and Orange County Convention Center. Designated by the Guinness Book of World Records as the planet's largest volleyball event, this AAU end-of-the-year tourney was broadcast on ESPN3 and provided a valuable showcase for players looking to receive college recognition and even scholarships. The numbers are staggering: 27,000 athletes, 40,000 spectators (including more than 400 college coaches), 177 courts and a total economic impact of $52 million on the surrounding community. No serious volleyball player would rationally turn down a chance to play in the AAU Junior National Championships, where top-notch facilities and college exposure combine to form the finest in volleyball events.
Race Across America
Multiple locations
X Factor: Going Coast to Coast
Started in 1982, Race Across America is an ultra-marathon bike race that runs from Oceanside, California, to Annapolis, Maryland. The distance is roughly 3,000 miles, or 30% longer than the Tour de France, and spans 12 states. The race regularly hosts cyclists from 35 countries worldwide and lasts just over a week. Racers can compete for any charity of their choice—over the past five years, the event has raised an average of $2 million per year for a variety of charitable foundations. The race is fun and certainly for a good cause, but the event as a whole is far from easy. Leaders can expect to sleep only one-and-a-half hours per day; plus, the race has no stages. It simply runs from start to finish without breaks for the entire duration, until a winner is crowned and everyone finishes. Grueling but worthwhile, Race Across America is the nation's premier cycling spectacle.
*Pop Warner Super Bowl
Orlando, Florida
X Factor: Every Kid's Sports Vacation Dream
The largest amateur American football tournament is held annually at the ESPN Wide World of Sports Complex, where dazzling facilities and otherworldly amenities make for one of the most prolific sporting experiences imaginable. The six-day event occurs in early December, the culmination of the Pop Warner football season. Some of the nation's best teams participate in a total of 68 games, including the Division 1 Midget National Championship Game, which is broadcast on ESPN and ESPN2. In addition to thrilling football games, the Pop Warner National Cheer and Dance Competitions are held at the 70,000-square-foot HP Field House. Athletes, coaches and their families won't want to miss this event, as they will be given the chance to enjoy top-notch competition and Walt Disney World Resort. It's a perfect sports vacation destination.
The Patriot Cup Invitational
Owasso, Oklahoma
 The Patriot Cup is an annual golf event presented by the charitable organization Folds of Honor, which has worked since 2007 to provide educational support to the spouses and children of America's fallen and wounded soldiers. The Invitational takes place on Memorial Day weekend and includes military veterans, PGA and LPGA Tour members and celebrities. Though this singular tournament is beneficial and certainly a premier sports event, Folds of Honor also sponsors Patriot Golf Days, in which golf courses across America sign up to have their own tournament similar to the Patriot Cup. All proceeds go to the noble cause—since 2013, Folds of Honor has awarded over 10,000 scholarships, with a staggering $6.4 million in scholarships was awarded last year alone. With 5,200 courses signed on to participate in Patriot Golf Day this year, the event has become one of the most notable of its kind.
Governor's Challenge
Wicomico County, Maryland 
The Governor's Challenge was the largest holiday basketball tournament in the state of Maryland—until December 2016 rolls around and it becomes the largest of its kind on the East Coast. The tourney will return to the Wicomico Youth and Civic Center, which boasts dazzling facilities and a number of enticing amenities. The complex contains a 30,000-square-foot arena and a 10,000-square-foot secondary arena, along with locker rooms, meeting space and ample parking. In 2016, the Governor's Challenge will consist of more than 100 teams in a multitude of divisions and disciplines. A varsity girl's division will host 20 top teams from Maryland, the Washington, D.C., area and Delaware, while the DMVelite division will feature 16 of the best teams in the East. After being re-branded in 2010, the Governor's Challenge will return for a 35th year in 2016, showcasing some of the most competitive basketball the East has to offer.
BMX Race for Life
Multiple locations
In 1980, 11-year-old Todd Kingsbury had dreams of becoming a top professional BMX racer. Unfortunately, Todd was diagnosed with leukemia that same year. Though the young motocross enthusiast passed away in September 1981, his legacy surely did not. The American Bicycle Association began the Race for Life Series shortly after Todd's diagnosis; over 130 tracks participated and all proceeds were dedicated to the Leukemia and Lymphoma Society. Dozens of events are held each year in memory of Todd at a number of BMX tracks around the United States. The format of each race is simple—racers need not be professional, they just need to bring a $10 fee/donation and their own equipment to be qualified to compete. BMX riders and tracks have raised over $3.3 million for leukemia and lymphoma research in the past 30-plus years, making this not only one of the most exciting series of sporting events around but also one of the most important.
2017 State Games of America
Grand Rapids, Michigan
The State Games of America only occur biennially, yet the size and magnitude of these competitions make it impossible to exclude from any list of major sporting events. The 2015 Games in Lincoln, Nebraska, attracted 15,000 athletes in 24 different sports, including archery, badminton, baseball, BMX and judo. The 2017 event is expected to garner widespread attention as more than 12,000 competitors gather in Grand Rapids. The State Games of America have excited viewers as a domestic Olympics since 1999, when the inaugural spectacle was held in St. Louis. Since then, summer State Games have happened in 31 states annually and winter State Games have taken place in 10 states. Grand Rapids was selected as the 2017 host city in 2014.
2016 US OPEN Pickleball Championships
Naples, Florida
The sport of pickleball is growing in the United States, evidenced by the success of the 2016 US OPEN Championships held in April of 2016. Over 1,000 athletes traveled to beautiful Naples to experience the six-day event and compete to win medals and prize money. The tournament featured a unique Zing Zang championship court, special Gold Box seating, event parties, live entertainment, charitable fundraising activites and a Kids Day. Though pickleball has been around since 1965, it only started rising in popularity in 2008, when it hit the senior market. Today, it is estimated that over two million play the game and eight million will be participating internationally in 2018. Though the sport is played around the globe, one of the top tournaments can be found right here in the United States.
2016 NASP Youth Archery Tournament
Louisville, Kentucky
The National Archery in the Schools Program (NASP) is a non-profit organization that promotes student education, physical education and participation in the lifelong sport of archery. The program awards scholarships to deserving students and aims to support archery as an integral part of the in-school physical education curriculum. The NASP's biggest tournament was held over a three-day period in May 2016, when the world's largest indoor archery ranges were constructed in Kentucky's Exposition Center. The ranges totaled a half mile long—they needed to be massive, as the event hosted 12,897 archers, an increase from the previous year. Archers from 909 schools in 41 states competed, while $192,000 in scholarships was awarded to top teams and individuals. Since the program's start in 2001 it has given away $926,000 in scholarship money. And the Louisville tourney included nearly 100 exhibits surrounding shooting areas, making the entire experience one based around teaching the sport of archery and allowing others to see the best in the world compete.
48th Annual Hawaiian Invitational Water Polo Tournament
Honolulu, Hawaii
Few people would turn down the opportunity to visit Honolulu, the scenic vacation destination that played host to the 2016 Hawaiian Invitational Water Polo Tournament in August. The six-day, USAWP-sanctioned event saw some of the finest water polo clubs from around the globe fight for trophies and recognition. The tourney grows every year—over 100 teams participated in 2016—and has hosted squads from a variety of countries, such as New Zealand, Australia, Brazil, Canada, Italy and England. Tournament games are held at the University of Hawaii, Iolani School, Punahou School, Kamehameha School and the Veterans Memorial Aquatics Center. With warm weather and an overall atmosphere geared towards water polo, this is a can't-miss affair.
2017 National Senior Games
Birmingham, Alabama
Similar to the National State Games, the Senior Games happen once every two years. The event is huge—as an example, the 2015 Senior Games took place in Minneapolis for two weeks in early July, when 12,000 athletes aged 50 or older competed in 19 sports. The 2017 Games will be held in Birmingham. The Senior Games started in St. Louis in 1987 and have grown ever since. As the largest multi-sport event in the world for senior athletes, the Senior Games should be quite the spectacle when the summer of 2017 rolls around.
The Hartford Ski Spectacular
Breckenridge, Connecticut
Every year more than 850 people participate in the Hartford Ski Spectacular, one of the largest winter sports festivals for athletes
with disabilities in the entire country. The event aims to strengthen and expand adaptive snow sports initiatives and helps identify and train young athletes and wounded warriors. Programs include ski and snowboard lessons, a weeklong race camp, Nordic skiing, a variety of free clinics, and other banquets and social networking activities. The Hartford Spectacular is held at Beaver Run Resort, where scenic hills and a top-of-the-line hotel and conference center create the perfect site for any major sports event.
2016 Sam McQuade Sr. Softball Tournament
Bismarck, North Dakota
The largest charity slow-pitch softball tournament in the world takes place every June, drawing approximately 400 teams to the Bismarck-Mandan region. The first tourney occurred in 1976 and raised roughly $1,000 for a variety of charities. By 1992 the event had expanded to 400 teams and raised $30,000. Teams come from a multitude of states and Canadian provinces, while the event has helped to sponsor international divisions in Bosnia, Baghdad and Kosovo. Though slow-pitch softball tournaments are not exceedingly rare, especially in the United States, none boast the accolades of Sam McQuade's.