On September 13, 2017, the 130th International Olympic Committee (IOC) Session will convene in Lima, Peru, where the IOC will announce the host of the 2024 Summer Olympic Games. It's also where the winning city will assume a global leadership role in advancing the practice of responsible sports.
"Society today demands more from sports organizations and sports events," says IOC president Thomas Bach of social responsibility's significance throughout the Candidature Process 2024. "We need to respond by embracing sustainability and delivering positive, long-term legacies for the local population."
Budapest and Paris may be geographically an ocean apart from Los Angeles, but each 2024 finalist is keenly intertwined through social responsibility of sports (SRS).
And for Team USA, that's an Olympic calling Los Angeles knows well.
"Los Angeles was the only city to submit a formal bid to host the 1984 Olympic Games," says Renata Simril, president & chief executive officer at the LA84 Foundation. "Early on, the Los Angeles bid committee and the U.S. Olympic Committee came together and decided if they had any surplus after the Games, they would use it for a lasting program."
After hosting a vastly profitable Games, Los Angeles essentially re-wrote the playbook for a sustainable and scalable legacy program model—a prototype that present day sports organizations like the Council for Responsible Sport, the Eugene, Cascades & Coast Sports Commission, and the National Association of Sports Commissions (NASC) continue to learn from.
This Los Angeles lesson traces back to the 1976 Montreal Games, which left the host city with well over $1 billion in debt that took 30 years to pay off. The stigma that resonated left the IOC with only Los Angeles and New York as frontrunners to host the 1984 Games, and the United States Olympic Committee (USOC) banked on Los Angeles over NYC. Under the stewardship of Peter Ueberroth, president of LA's 1984 organizing committee, the City of Angels more than stood up.
Ueberroth fielded a team that included entrepreneurs who understood and were careful in their budgeting, ultimately leading to a $232-million surplus. Forty percent—or $93 million—went toward founding what is now a 32-year living legacy of those Games, the LA84 Foundation. Another 40 percent went toward seeding the USOC Foundation, and the USOC distributed the remaining 20 percent evenly between its Olympic sports national governing bodies.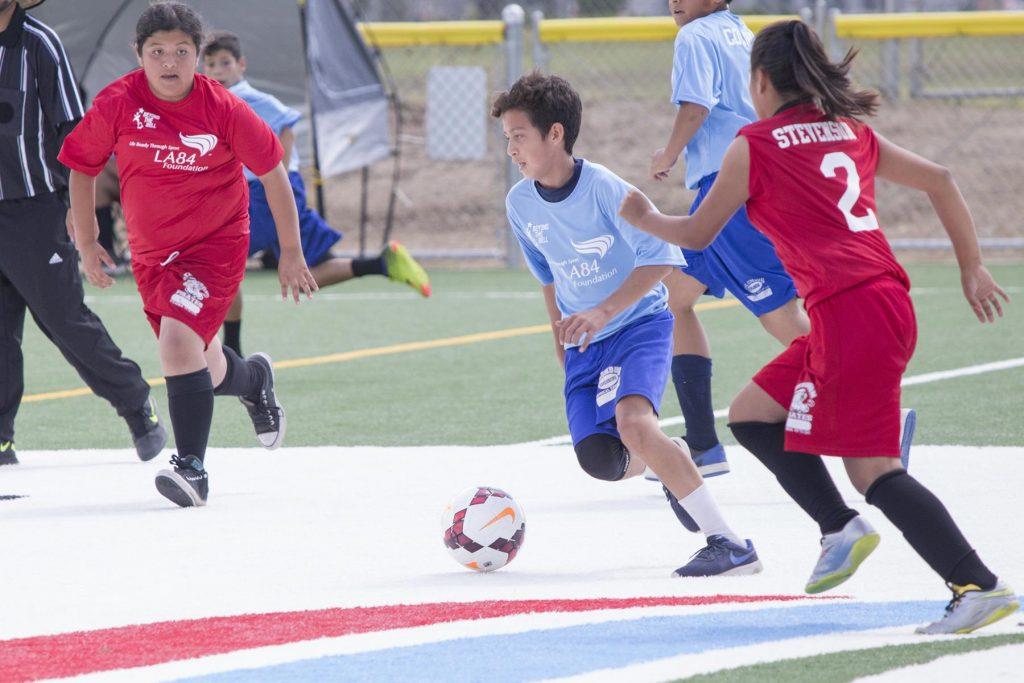 LA84 grant funding is centered in the eight Los Angeles-area counties, many of which featured venues during the 1984 Games, but its impact extends far beyond. Originally the Amateur Athletic Foundation, the organization dialed in on youth sports specifically because the organizing committee understood first-hand after hosting the Games just how underfunded amateur athletics were at the time.
The Foundation lives its Life Ready Through Sport tagline through its grantmaking, coaching education, youth sports programs and industry research. Since its inception, LA84 has served three million youth throughout Southern California, funded more than 2,200 grantees, provided clinics to more than 75,000 coaches, conducted various conferences and seminars, and has commissioned research. To date, LA84 has invested nearly $250 million into youth sports while maintaining an endowment currently valued at $160 million.
"As it relates to social responsibility, you can't have a greater impact," Simril says. "In the Olympic context, there is no better example of giving back to youth than LA84. What is the next legacy we can have in LA, post-2024? During the eight-year run-up, how can we expand our programming—what does that look like?"
Authenticity, Foresight and the Right Cause
In the Pacific Northwest, a 12-plus hour drive up the coast from Los Angeles, social responsibility looks naturally green. In a region renowned for its outdoor beauty, the Eugene, Cascades & Coast Sports Commission makes social responsibility a centerpiece of its mission.
"It ties back to the culture of Lane County: Oregon has an incredible amount of beauty and scenery," says Joey Jewell, director of sports sales and development at Eugene, Cascades & Coast. "There is a built-in, huge community buy-in that reinforces what we do and makes it easier to support our programs.Who wouldn't want to bring an event to a place with such natural beauty that is committed to social responsibility?"
While Eugene, Cascades & Coast is also looking to combat issues of accessibility stemming from both physical and financial limitations, according to digital marketing manager Angie Riley, its organic and authentic base is green initiatives. The Commission frequently partners with the Council for Responsible Sport, which was established in 2007 as an organization that envisions a world where responsibly produced sports events are the norm. The Council's work includes a four-tiered certification program for socially and environmentally responsible event production.
"We are nowhere near the tipping point," says Keith Peters, board member and former executive director of five years at the Eugenebased Council. "There is something like 20,000 running events—we've only certified about 60 of those events."
The Council's four levels of certification—basic, silver, gold and evergreen—are awarded based on the number of credits an event earns. The extensive process includes: application and fee; pre-event planning, calls and implementation; on-site observation; event wrap-up documentation; and post-event calls with the Council for final approval. The certified event list is now up to 133 events globally, including nine based in Eugene.
---
Powered By:
Error, group does not exist! Check your syntax! (ID: 128)
---
"The most important part of the certification program is that we are celebrating the great work that the events are doing," says Peters, who transitioned to nonprofits in 2001 after running marketing, public relations and corporate responsibility efforts for 17 years at Nike. "It is their accomplishment."
In Los Angeles, leveraging sports for access achievement is paramount. Poverty rates in the city continue to hover above the national average, including 35 percent (2014 U.S. Census Bureau)—more than double the national average—in concentrated areas like south Los Angeles.
"In LA, our focus is on underserved communities; those with high poverty rates, kids who need help with equipment, coaches or field fees," says Simril, who credits the longstanding partnership with the Los Angeles Unified School District (LAUSD) with aiding LA84's successful integration. "We're also seeing more programs like Summer Night Lights, which is a midnight basketball league that brings together gang members and the Los Angeles Police Department. We need to understand that we have more in common than not."
That same sentiment carries over to adaptive sports through national programs like the VA Adaptive Sports Grants, which will benefit approximately 10,000 veterans and service members this year. Moreover, the international Paralympic-style Invictus Games were first held in London in 2014 for ill, wounded and injured service men and women. And in Southern California, Angel City Sports offers a similar opportunity through the Angel City Games, which launched in 2015 as an opportunity for adaptive sports athletes to compete locally.
"Sports is one of the only platforms in society that brings very diverse parts of the population together," says Howard Brodwin, founder of Sports and Social Change and a volunteer with the Angel City Games. "Each community, when bonded together for a specific cause, becomes really strong."
Since cutting his teeth in sports events and product launches for K-Swiss in the early 1990s, Brodwin has integrated responsibility into sports by working with and supporting many organizations like the Special Olympics or LA84 Foundation.
"Cause-related marketing is one of the last untapped areas of sports marketing," says Brodwin, who played lacrosse at San Diego State University. "But if it is not authentic, people will snuff it out immediately. Pick a cause, not an organization, and then ask if it is the right fit."
The National Association of Sports Commission has picked a cause in each of its host communities for the organization's annual conference, the NASC Symposium. What started in 2009 as an equipment drive, the NASC Sports Legacy Fund is now customized for each Symposium host community.
"We have an application process in which we ask the host to look at and put forth applicants that they believe are qualified as having a real need in their community," says Don Schumacher, executive director at NASC. "We were able to fundraise $27,000 for Grand Rapids in 2016, $20,000 in Milwaukee last year and $15,000 the year before that."
Schumacher credits Kevin Smith, director at the St. Pete/Clearwater Sports Commission, with jumpstarting the legacy program when Smith noted that the NASC needed to do more. At the 2016 NASC Symposium in Grand Rapids, Michigan, the NASC Sports Legacy Fund donated $27,000 to Mary Freed Bed Wheelchair & Adaptive Sports.
"We're certainly proud of how the NASC Sports Legacy Fund has exponentially grown, but the bottom line is the experience," Schumacher says. "To be there when the recipient receives the donation and to see his or her reaction is really important."
Like Schumacher is of Smith, Simril is quick to credit others for visionary leadership—and specifically Anita DeFrantz. Before a 28-year run as president of LA84 Foundation that concluded in late 2015, DeFrantz was captain of the U.S. Olympic bronze medal rowing team at the 1976 Montreal Games. While DeFrantz is widely lauded for her outstanding leadership that helped set LA84 up for sustainability, Simril is also grateful for the vision of the 1984 Games organizers.
"Looking back, we have to consider the foresight of the Games' organizers to even think about a surplus let alone what they would do with it," Simril says. "When you think about the lead organizers—people like Peter Ueberroth, who went on to become the commissioner of Major League Baseball (MLB) for 15 years—there is so much great work that has resulted from the 1984 Games. LA84 is the most significant youth sports legacy program in the country."
From Sandlots to Big Leagues, Responsibility is Universal In October 2013, youth and professional sports intersected when Richie Incognito of the Miami Dolphins was in the midst of an investigation for bullying and racism of a teammate. A renowned real estate developer, philanthropist and majority owner of the Dolphins, Stephen M. Ross commissioned a research project with the New York University (NYU) School of Law and NYU School of Continuing and Professional Studies after the Incognito story broke.
"Stephen Ross had a bullying problem and he contacted us, so we formed a think-tank that produced a research document about bullying," says Arthur Miller, chairman of the NYU Sports & Society Program and a professor in the NYU School of Law. "The problem of bullying is not just a professional sports problem: it is a universal problem, a human phenomenon that can have roots in racism from professional locker rooms to youth sports."
A leading scholar in civil procedure and associate dean at the NYU Tisch Institute for Sports Management, Business and Media, Miller and the NYU think-tank hosted approximately 120 metro-area high school athletic directors, coaches and school administrators for a June 2014 conference titled "Character, Respect, and Civility in Youth Sports: Ending Bullying, Improving Performance."
Since then, NYU has continued its industry research, and on March 14, 2016 the NYU Tisch Institute hosted the first Social Responsibility of Sports (SRS) Conference. Executives from nine major professional sports leagues including MLB, National Football League (NFL), Major League Soccer (MLS) and National Basketball Association (NBA), among others, attended a morning summit to develop a collective and individual set of best practices in SRS. The afternoon session included a keynote by NBA commissioner Adam Silver, as well as various panel discussions for sports industry professionals.
In addition to NYU's SRS Conference, which is again in the works for 2017, the City of Eugene hosted a responsible sports seminar in conjunction with the 2016 U.S. Olympic Track and Field Team Trials.
"The goal was to bring together people and organizations that have a reputation for supporting SRS," says Peters, who attended with the Council for Responsible Sport. "We exchanged a lot of information and came to understand that we have different issues depending on where you live. The discussion surrounding water conservation meant drought to Los Angeles and lush and green to Eugene."
The fifth annual LA84 Foundation Summit is slated for October 27, 2016, when organizers will produce "Playing Forward: The Present and Future of Youth Sports in Los Angeles." Regardless of the type of conference or meeting, Brodwin, Miller and Peters all agree that the greatest need in elevating the scale of socially responsible sports is simply talking more about it.
"It is not so much about growth but consolidation: do more better together, and then figure out how to further social responsibility," says Peters, who trains regularly at the Encino Velodrome, an LA84 Foundation grantee.
"We're trying to get people to focus on what sports can give back," adds Miller, formerly a professor at Harvard Law School from 1971-2007 and legal editor for two decades for ABC's Good Morning America. "If you pick the right cause—the cause that matches your community—people will be convinced that the efforts are authentic."
A Responsible Legacy Keeps Doing
As Peters attests, there is no story quite like the 32-year track record of the LA84 Foundation. As a bridge between global sports and the region's youth, Simril has partnered with Kathryn S. Schloessman, president of the Los Angeles Sports & Entertainment Commission (LASEC), in efforts to position LA to host premier events like NBA All-Star Weekend and the NFL's Super Bowl.
"We're in the process of planning alongside NBA Cares and LA84 in support of local activation throughout 2018 NBA All-Star Weekend, and we're also currently working with the 2017 U.S. Amateur Championship and LA84 to integrate 50 grantees tied to local youth golf into the championship," says Schloessman, who was hired to launch LASEC in 1995 after 13 years in real estate. "It works great because Renata and LA84 already have the relationships with schools and youth organizations."
Simril—who previously held LA based leadership roles at the mayor's office, in real estate, with the Los Angeles Dodgers and at the Los Angeles Times, among others—and Schloessman are also linked through social responsibility within LA's candidature process for the 2024 Games. The LA 2024 bid proposal campaign slogan is Follow the Sun, a vision that alludes to the city's ideal climate, innovative spirit, athlete experience, branding expertise and commitment to a long-term Olympic legacy.
A living Olympic legacy, LA84 is referenced time and again in the LA 2024 bid, which cites the Foundation as the "proven model, providing increased access to sport programming across the country in the years leading up to—and beyond—2024."
In a 2014 interview about the Foundation's 30-year anniversary, Ueberroth said LA84 shouldn't just be looked at as a legacy. Rather, LA84's true legacy is reflected by what it does every day to progress in perpetuity—it should teach us to fish so we can eat for a lifetime.
"This is my dream job: I get to talk about sports and the Olympic spirit all day, and the positive impact of sports on the lives of young people," says Simril, one of Los Angeles' key anglers leading up the 2017 IOC Session. "And as we compete for the 2024 Games, we have to continue to elevate the work we've done."