Your group will fall in love with The Biggest Little City in the World
After months of preparation and strict regimes to ensure high-quality performance, cheer squads and dance groups step on stage to showcase their talents and compete for grand titles and shiny prizes. Between the leaps, spins, splits and mounts, it is essential for competitive teams to find the correct venue in order to create a memorable experience.
Which is why the city of Reno is a perfect choice to host your next cheer or dance competition. Tucked away in the eastern slope of the Sierra Nevada Mountains, Reno shines as a tourism hot spot filled with endless opportunity. The constantly evolving atmosphere of Reno is reinventing the landscape for cheer and dance competitions. State-of-the-art equipped facilities ensure that visiting groups can perform at their highest potential and display the dedication and passion put into each performance.
Over the years, Reno has proven to be a prosperous area and has attracted an influx of people and investments, resulting in more than $57 million worth of newly built facilities and renovated infrastructures to accommodate visitors. This includes refreshed rooms and suites, sleek modern design, and completely renovated convention centers, casino floors and new, expanded fitness centers all at affordable prices and with flexible cancelation policies.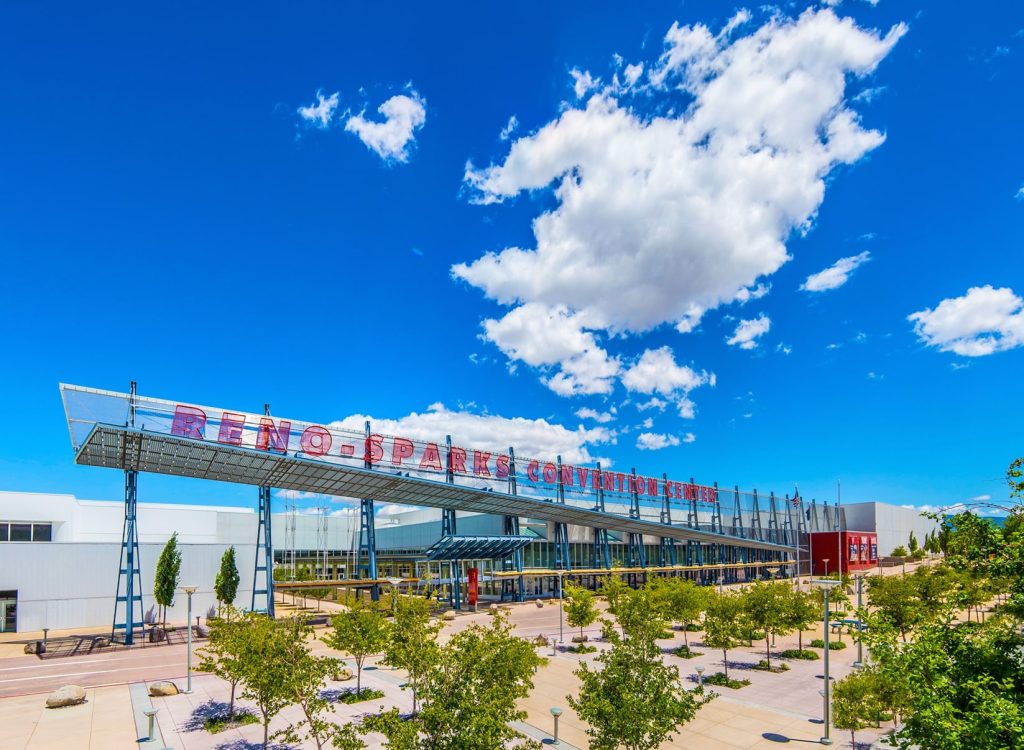 Excellent cheer and dance facilities
The Reno-Sparks Convention Center is comprised of five convention halls, a massive ballroom for ceremonies and more than 100,000 additional square feet of meeting space. The open interior allows for large teams to spread out with ample room and for spectators to view the action from bleacher and riser seating. The venue has held a variety of top-level cheer and dance competitions in recent years including the prestigious Five Star Athletics Cheerleading Competition, the Sharp International West Coast Championship and the Pop Warner 2022 Best of the Pacific Northwest Cheer & Dance Competition.
With 118,000 square feet of total space, Reno Events Center is the premier venue in Reno for a variety of events including cheer and dance competitions. The center resides in the liveliest area of the city and provides a 7,000-seat capacity with high ceilings and brilliant lighting to showcase the talent exhibited by cheer and dance squads. The venue features 56,000 square feet of column-free exhibit space and 14,000 square feet of concourses. A 300-space covered parking garage is conveniently located across the street at the National Bowling Stadium. Among the cheer and dance competitions that have been held here include the High Sierra Showdown, a cheer and dance championship for the heralded Midwest Cheer and Dance Academy.
The Silver Legacy Resort Casino was renovated in 2011 and has a total meeting space of 110,000 square feet. Its largest room covers 56,000 square feet and the second-largest room spans almost 28,000 square feet. It was built for flexibility, providing space to make a large group feel comfortable with intimate space for smaller events. The venue boasts more than 1,700 hotel rooms and features four nightclubs/lounges, a comedy club, steakhouse, oyster bar, cafe, buffet and a coffee shop. Its Grand Ballroom can host more than 3,000 people at a time and has hosted many major events including the Pop Warner 2021 Regional Cheer and Dance Championship.
Since 1983 when it opened, Lawlor Events Center has welcomed a multitude of competitions. The 12,000-seat oval arena is an ideal locale to host cheer and dance competitions as it also offers an inviting lobby that can accommodate hundreds for pre-functions and 24,300 square feet of concourse space for crowd movement and exhibits. In addition to the arena, the meeting rooms at Lawlor make an ideal location for gatherings for 300.
Reno Tahoe is constantly evolving and reinventing the destination to allow planners the flexibility to do more with their cheer and dance event for a more affordable price. The staff at Reno Tahoe will ensure your competition will unfold in beautiful fashion. The destination offers competitive compensation including a 10% commission when booking qualified group rooms, a $5,000 signing bonus to be applied towards group's master account or expenditures when booking qualified events and a Come See, Fly Free program in which Visit Reno Tahoe will personally fly you out to the destination to see the facilities and downtown first-hand.
By Margaux Shearer
Main photo: Reno Events Center