With Prowess Over the Air, In the Air & On Location, Sports Properties Continue to Invest in Charlotte
Of the Queen City's many booming industries, sports may be the greatest of this time.
Charlotte's lengthy sports business lineage includes the likes of NASCAR, the NBA's Charlotte Hornets, the NFL's Carolina Panthers, Charlotte FC and continued community investments by the greatest of all time, Michael Jordan.
Hardly reasons alone, but inspiration aplenty for properties like the Atlantic Coast Conference (ACC) and National Junior College Athletic Association (NJCAA) to move headquarter operations to the financial capital of the south.
"From when we moved until now, we feel pretty good, especially when you see an organization like the ACC coming into town," says Dr. Christopher Parker, president and CEO of the NJCAA. "You already have the Big South, the CIAA (Central Intercollegiate Athletic Association), NASCAR, an NBA franchise, an NFL franchise, triple A baseball team, minor league hockey—it's been good for us on a number of fronts."
While the NJCAA celebrated its grand opening in Charlotte in January 2018, the aforementioned decision last month by the ACC to move offices less than 100 miles down the road from Greensboro, NC, represents the latest example of Charlotte's allure.
Case in point: the 14-county bi-state region is located in the eastern time zone, where nearly half of the U.S. population resides; it has experienced 18 percent population growth since 2010 and is projected to grow another 15 percent by 2030; it's population is a combined 35 percent black, Hispanic/Latino and Asian and features a median age of 38; it's home to the fifth-busiest airport in the world, as well as ESPN's largest campus; and it's the second-largest financial market in the country.
When considering these impressive data points, the difficult decisions for the ACC to depart Greensboro after nearly seven decades and for the NJCAA to move from Colorado Springs, CO, after more than three decades may be deemed more of a slam dunk.
"The vision was to align ourselves with media markets," Parker says. "Knowing that ESPN has a large presence in Charlotte, how do we align ourselves with those organizations to be more strategic in what we do? One of the difficult parts about Colorado Springs was there were only two flights to most places. In Charlotte, practically one flight can get us to a destination. It was huge advantage for us to be more efficient and nimbler."
It's About Geography and Talent
As the voice of business for the region, the Charlotte Regional Business Alliance (CLT Alliance) is steeped in building awareness of and consideration for the Queen City as a top destination to invest in. The CLT Alliance's recent sports market work alongside the ACC represents the collaborative efforts of the City of Charlotte, many regional economic development partners, sports organizations and corporate community, a team approach that has long cultivated a thriving economy.
"We have a team of six tasked with lead generation to identify opportunities in specific sectors that we think Charlotte can capitalize on to bring in jobs and capital investment," says Gretchen Carson, director of business recruitment at the CLT Alliance. "When those types of projects come in such as the ACC, we are the team that fields those requests."
When the ACC announced in 2021 it was pondering relocation, Charlotte's long-standing relationship with the conference—including the ACC signing a 10-year extension in 2018 to keep the conference's football championship in town through 2030—and its impressive portfolio of corporate partners helped amplify Charlotte's case.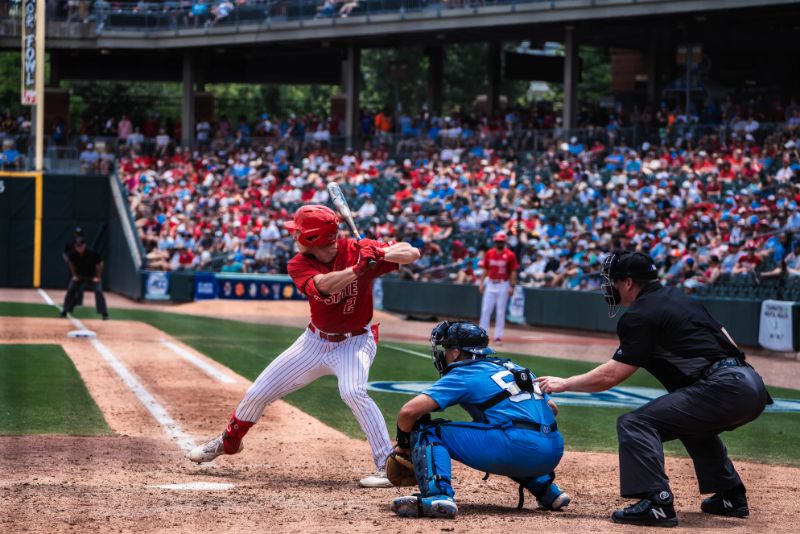 In addition to its sports partners, the region is home to Bank of America (the second largest bank in the U.S.), Truist (sixth largest bank), Lowe's and Krispy Kreme, highlighting an economic development track record that helps perpetuate Charlotte's business-friendly narrative.
"When we talk about our marketing efforts, we're focused on the influencers, the site selectors, decision makers, the C-suite executives who ultimately make that decision," says Rob Horton, chief marketing & communication officer at the CLT Alliance. "The ACC opportunity came from a site selector. We don't do specific marketing within the state, but we build a sense of awareness within the site selection community."
Contracted to explore an ACC relocation, Newmark Group, Inc. first established a criteria for interested cities to follow: an Eastern Time zone, positive population growth trends and a diverse population, a large airport, strong anticipated benefits for member schools and projected financial gains. And while Greensboro, Raleigh-Durham and Orlando made their interests known, Charlotte naturally checked all of the boxes.
"With any relocation or expansion decision, it's about geography," Horton says. "Are you in the right location for that company? And it's also about talent—do you have the talent the company is going to need immediately, but also in the longer term?
"Those are the two initial cuts, if you will, to get us on the short list and Charlotte sits in a really great position in both of those areas, specifically with how fast the southeast is growing. About 84 people a day move to Charlotte, so we get a constant talent pipeline coming into the region. That makes it attractive for organizations thinking of expanding or relocating here."
When transplants arrive, they're quickly welcomed by a sports-friendly community complete with walkable downtown professional venues and amenities that are flanked on the city's perimeter by ESPN, NJCAA and NASCAR facilities. Add it all up and, according to Horton, you get '220 days of live sporting events in the Charlotte region.'
As the Queen City became the right choice for the ACC to remain in its home state, the same may be said of the NJCAA's cross-country move. Parker and his staff fielded quite a few calls from cities around the country before taking a closer look at Kansas City, Indianapolis and Nashville. Yet Charlotte prevailed in the NJCAA's eyes because of its strong media ties with ESPN (which also owns the ACC Network), its proximity to 500-plus member schools, and the ability to operate as Charlotte's first and only national sports association.
"Charlotte did not have a national headquarters for a national sports organization," Parker says. "We really looked at the big picture and decided to focus on being a national organization in a city that already has plenty of alliances with athletics."
What Charlotte Can Do For You
With the ACC set to transition from Greensboro to Charlotte during the 2022-23 academic year, the goal for the CLT Alliance and its colleagues in the short term remain centered on collaboration to ensure a seamless welcoming into the fabric of the community.
"There is an awareness that sports is part of our ecosystem—we have defined sectors from advanced manufacturing economy to innovation economy to financial sector, but that's not the end all, be all," Carson says. "Sports play a very important role in the community, especially when you look at tourism. This is something we welcome into the community."
In addition to hosting the ACC Football Championship in the coming years, the Queen City remains a regular on the ACC Championships and NCAA Championships hosting rotations. While long-term benefits of the move are still a ways off, the ACC's junior college counterparts can attest that healthy dividends can be expected.
"The relationships, the connectivity, the awareness that we've been able to generate here has really changed the dynamics of the NJCAA holistically," Parker says. "How quickly the Foundation board got established and took off exceeded expectations. I thought it was going to be a slower pace, slower engagement, but it took off. It doesn't matter where I go, that awareness here is so much greater."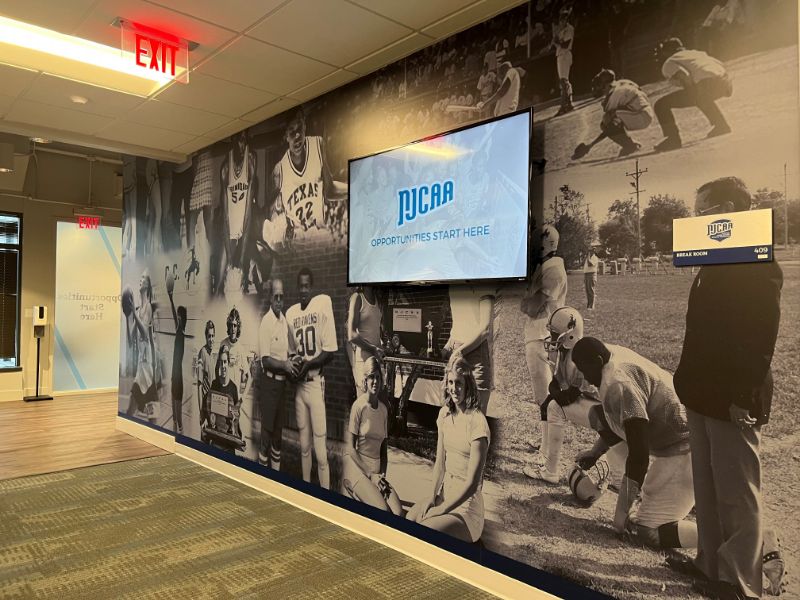 After the NJCAA Foundation launched in 2019 with a 30-member board, the Association made good on its commitment to leverage the junior college athletics story for philanthropic efforts—in 2021 alone, the Foundation raised $400,000 in grants to assist in growing two new NJCAA emerging sports in women's flag football and men's volleyball.
Some other impressive achievements since the NJCAA set up shop in the Queen City include: doubling its annual budget and revenues since 2017; quadrupling the Association's third party partners and sponsors; inking a deal with CBS Sports Network in 2018 to televise an NJCAA championship event for the first time ever; adding six emerging sports, including the rise of NJCAA Esports; and signing a multi-year media rights deal with ESPN in August 2022 that will televise multiple championship and regular season contests nationally across ESPN linear networks and ESPN+.
"The city of Charlotte has been great to us," Parker says. "We have a great office set-up with our own TV studio. We can do everything right here in house – that was a dream years ago, now it's a reality. A lot of that is due to the talent pool and resources, the businesses that have had so much infrastructure in the Charlotte area for years and years. It's all positive and we're glad and appreciative to align ourselves in great company all around the area."
By Nick Povalitis, Plus Seven Company