SPG takes a look at six outdoor stadiums across the state of Illinois fit for a variety of sports and needs
Outdoor stadiums bring a lot of excitement to sports events, not just with the action on the field but with their unique builds, atmosphere and surroundings. We could go into detail on larger facilities like Soldier Field, but those types of outdoor stadiums are already well-known exclusively as professional establishments and aren't utilized for a variety of playing levels. The six provided here are not part of an exhaustive list, but rather showcase the depth of these types of facilities throughout the state of Illinois. No matter the sport or skill, there's a place to compete and feel special.
Corn Crib — Normal, Illinois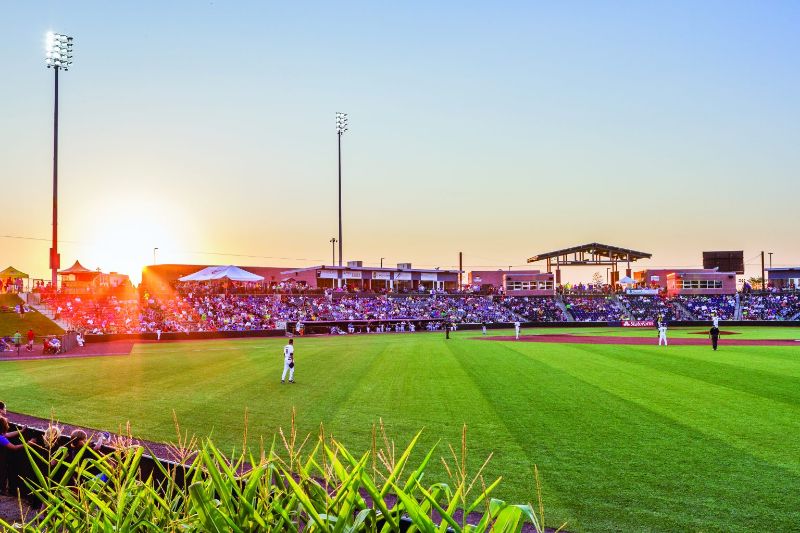 Located in the Bloomington–Normal area, the Corn Crib is a multi-purpose outdoor stadium on the campus of Heartland Community College. Although primarily used for baseball, the stadium is more than capable of hosting other sporting events. Opened in 2010, the Corn Crib features a capacity of 7,000 and is the home of Hawks collegiate sports teams in baseball, softball and soccer.
Since day one, the Corn Crib has been the home of collegiate summer baseball team the Normal CornBelters, and, as of 2019, has also been home to MPL side FC Diablos. Getting to the stadium is easy, being located along I-55 near mergers with I-39 as well as I-74. For those traveling from afar, Central Illinois Regional Airport is about 20 minutes away.
England Stadium — Jacksonville, Illinois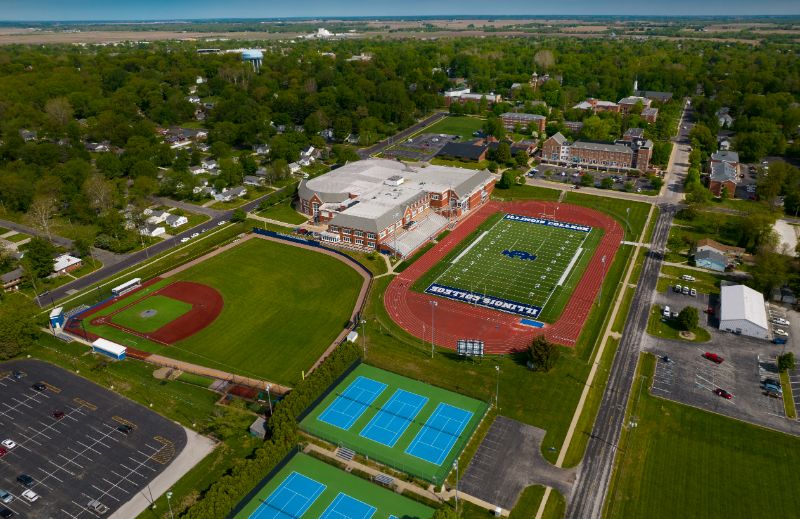 Jacksonville's England Stadium is a 1,468-seat capacity facility fit for all types of outdoor sports and athletics. Despite its modest size, Illinois College's outdoor stadium has received renovations which feature a turf field, known as Green Athletic Field, modern light fixtures and video board to go along with the premier Ware Family Track. For larger sporting events and gatherings, additional viewing areas surround the perimeter.
Being located on the campus of Illinois College, it's no surprise England Stadium hosts the college's football, soccer, track & field and other athletic programs and teams. Multiple routes lead to the campus and its stadium, but the closest and quickest is I-72. The nearest airport is Jacksonville Municipal, which is less than 10 minutes directly north.
Hancock Stadium — Normal, Illinois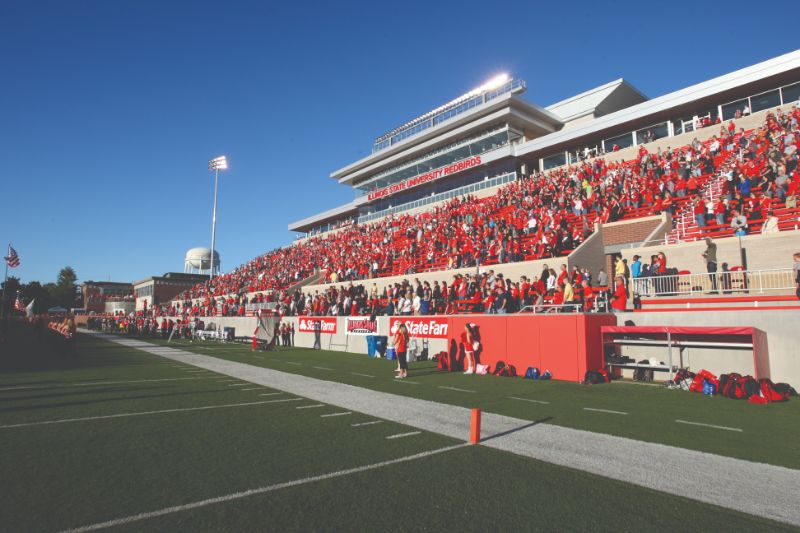 Located on the campus of Illinois State University in Normal, Hancock Stadium is the home of Redbirds football. The multi-purpose outdoor stadium features a capacity of 13,391 seats and first opened in 1963. Since then, the stadium has received multiple renovations and upgrades, including being the first college in Illinois to have turf back in 1969. In 2010, FieldTurf was installed along with a new scoreboard, and in 2013 the largest upgrade saw a bump in capacity, premium seating, a new east-side grandstand and more.
In addition to Redbirds football, Hancock Stadium is home to University High School football and is more than capable of hosting major sporting events beyond the American Gridiron. ISU's campus is a short drive from I-74 and I-55 and downtown Bloomington. Central Illinois Regional Airport is less than 20 minutes southeast of the stadium.
Ozinga Field — Crestwood, Illinois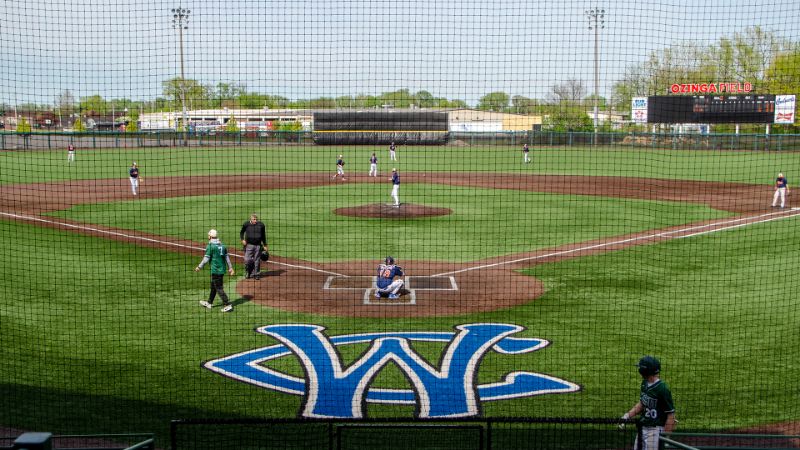 In the Chicago Southland suburb of Crestwood is Ozinga Field, one of the few minor league baseball stadiums in the U.S. to feature an upper deck. Renovations over the past two decades have allowed the 3,200-seat outdoor stadium to expand beyond baseball. The biggest changes occurred in 2015 when the grass field was replaced with synthetic turf and a drainage system was installed. Now the stadium is able to host multiple sports and concerts most of the year.
Ozinga Field has been home to the Windy City ThunderBolts of the Frontier League since 1999, when the stadium first opened, and has been a popular venue in the area ever since. The stadium is close to major highway exits from I-57 and I-294. Midway Airport is roughly 30 minutes away—a straight shot directly north.
Rent One Park — Marion, Illinois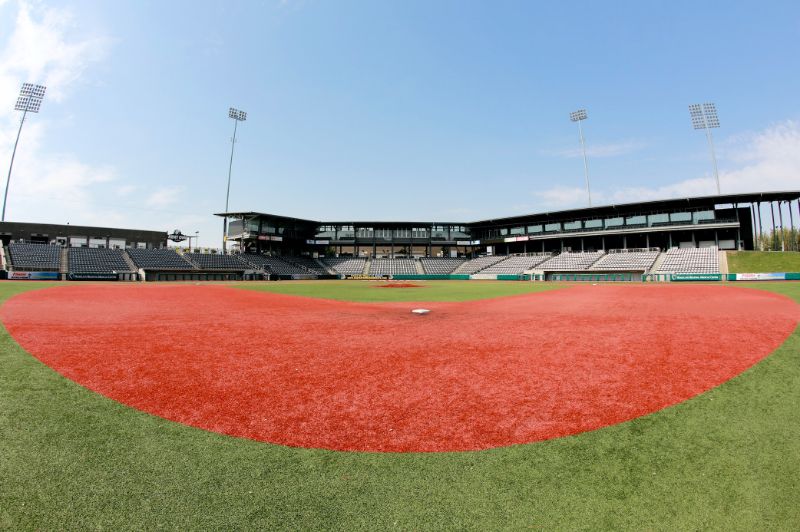 Opened in 2007, Rent One Park in Marion, Williamson County, is a 7,000-capacity stadium originally built for baseball, but is certainly capable of hosting other events. The stadium features 3,400 chair seats with additional lawn seating available, an HD video board, a wiffle ball diamond, 14 suites and a 300-capacity banquet hall. The stadium has a contemporary design, foregoing the red brick and green steel of most ballparks in the U.S., and its Sportexe Turf allows for other sports and events throughout the year.
Rent One Park hosts the Colt World Series every summer and is the former home of the now-defunct Southern Illinois Miners and Canadian Wild. Getting to Rent One Park is a breeze with its location right off of I-57. For out-of-state travelers, Veterans Airport of Southern Illinois is about 10 minutes away.
SeatGeek Stadium — Bridgeview, Illinois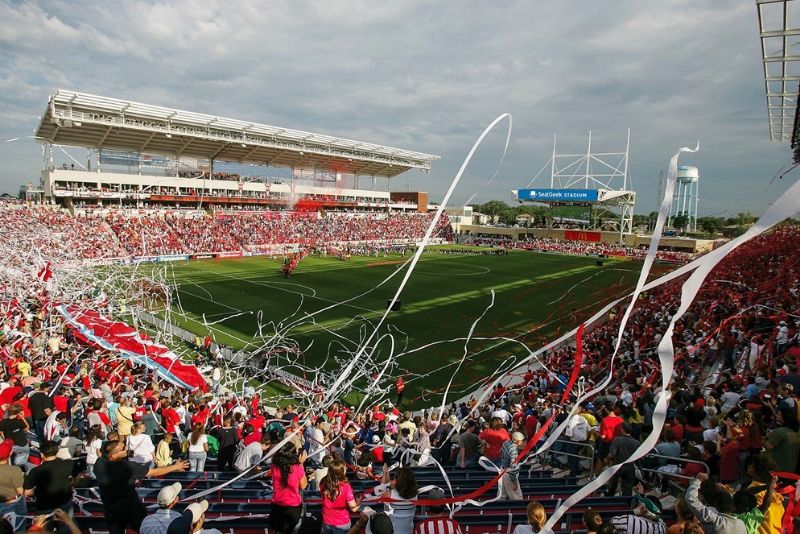 Located in Bridgeview, SeatGeek Stadium is the largest outdoor stadium featured with a capacity of 20,000 for soccer and nearly 30,000 for concerts and other major events. The stadium opened in 2006, originally as Toyota Park, and features a natural grass, full-size field of 74 x 120 yards. Two practice fields are available, with a choice of a natural or artificial surface. There is also a 90,000-square-foot dome, which has a full-size regulation indoor soccer field.
SeatGeek Stadium is the current home of NWSL side Chicago Red Stars. In addition to home teams, SeatGeek Stadium hosts other major events like FIFA World Cup qualifying soccer and rugby union exhibition games, concerts and more. The stadium is a short drive from I-55, and is about 15 minutes away from Midway Airport for out-of-state travelers.
By Christopher D. Silbernagel