With its brand transition firmly in place, Sports ETA's Al Kidd looks to grow the organization's impact in the sports tourism industry by building upon NASC's legacy with a 21st century mindset.
Sports Planning Guide: Lots of news coming out of Sports ETA!
AK: This is a very active time period with travel and getting out and seeing people. The good news is the hard work we've done in the last couple of years laying a bunch of sod is finally taking hold. The outcome from our symposium this year with the by-law changes and rebranding really opens the door for all the things that have been in our strategy since I started here. The narrative now has shifted from trying to coalesce support and align it around those topics to "okay guys, hitch them up. We're getting ready to go."
SPG: What was the main motivator behind the change from NASC?
AK: We had significant amounts of research prior to embarking on the branding process. We looked at the membership construct and the shift in the last five years and we were able to determine that the amount of sports commissions had shrunk, it was down to fewer than 50. Then we have almost 400 CVBs and then we have about 200 rights holders and about 100 industry partners. When you add all that up within the constitution of the membership there has been a significant shift in terms of the types of people that are becoming members and the type of needs they had in terms of what we as an association should do which is help a professional development in resources, networking and events.
SPG: How have members reacted to the changes?
AK: Change comes in two forms; it can be revolutionary or evolutionary.Two years ago, we attempted to move things at a pace that wasn't comfortable for the general membership. When you have a lack of understanding or not enough information to make an informed decision, people pause. What happened is that we as an organization learned what was important and so we weren't about to make a mistake the second time around; this wasn't a sprint. When you're making these kinds of changes that becomes the evolutionary part. It took that much time for us to get around talking to people. We're trying to evolve over a couple of years to better understand some of the reasoning, rational, of where it's going so that the constituencies can make better decisions. Under Kendra Fry's guidance, she was going to make sure that the members had a voice in these things and they did. It's a widely discussed position and there are different opinions, but at the end of the day, the members voted and we are here to serve the members.
SPG: What skill, or historical perspective did you lean on throughout this process, understanding it was more than just a name change the organization is going through?
AK: I've done a lot of name changes with corporations throughout my marketing career, and none of them, I would say, have full support or full denial and it's a process you have to work your way through. This year, we wanted to make sure the members had informed decision-making capabilities. We had town hall forums and webinars in advance of our meeting so that people had the opportunity to ask questions and hear from the people who were producing the work. I can tell you in my entire life there has never been an organization that I've worked with that did a name change that was a popularity voting contest between two and three different choices. You hire professionals who are experts in that field and they discount their personal preferences around color choice, word choice and layout. We have gotten a tremendous amount of positive feedback about the name, both inside our industry and outside every tourism group outside the industry from Destinations International to International Association of Vendor Managers to PCMA. All the leaders are excited about the name change because it represents the broader view of the sports money chain around events in tourism. It had better represent a national standard around us representing the industry.
SPG: What other rifts did you find?
AK: One of the shifts was the continuing expansion of facilities around the country. At this year's symposium, we did a pilot program specifically for facilities because we had 28 facilities that had joined as members, almost as many as we have sports commissions. Our trial event goal was modest, we were hoping for 35 attendees and we had 75 plus a waiting list. So that's a good sign you are onto something. The other petri-dish that we had was the first-ever state's sports tourism group meeting where we had had 25 of the 28 known state organized groups involved. They each brought two people so we had 50 people in the meeting and it was outstanding. We formed a small governing group to help us organize a significant research project that is being funded co-operatively with all the state groups and our research department. The anticipation in both of these groups is that they will then have their own secondary meeting during the course of the year. In case of the facilities, they are putting together the next meeting in October of this year which will be at one of the facilities. We are anticipating a large crowd of people coming and they will be focused on educational opportunities and networking.
SPG: How are you trying to engage rights holders?
AK: At symposium, we had our second right holders' town hall. They have needs like every other constituent group of our association and we are forming a rights holders sub-association. They're anticipating their first meeting in December or January so we're organizing that meeting and it's going to be focused on education. All these sub-groups are part of our membership and we have to observe all of them. We had a bit of an "ah-ha" moment, we now have three to four new sections of that sports events and tourism value chain, all of it tied together with our new name. Everything that we do now will have a familiar look and it will be part of our four pillars of excellence: education, advocacy, resources, networking.
SPG: What's your involvement around SafeSport?
AK: It's something we didn't have before and we started with a fairly easy putt because this is federally mandated that anything associated with new sports will have to go through the SafeSport program. We are a significant distributer of their programs and we are an advocate of the SafeSport educational process and programming. We've had over 60 people already take the course. The beauty is this organization has the network and the built-in distribution to make safety in sports really happen because their reach has expanded significantly. Martha Van Gelder over at SafeSport is very pleased with the partnership, we're excited about it and our members will be more excited as they're presented opportunities to do this simply through our website.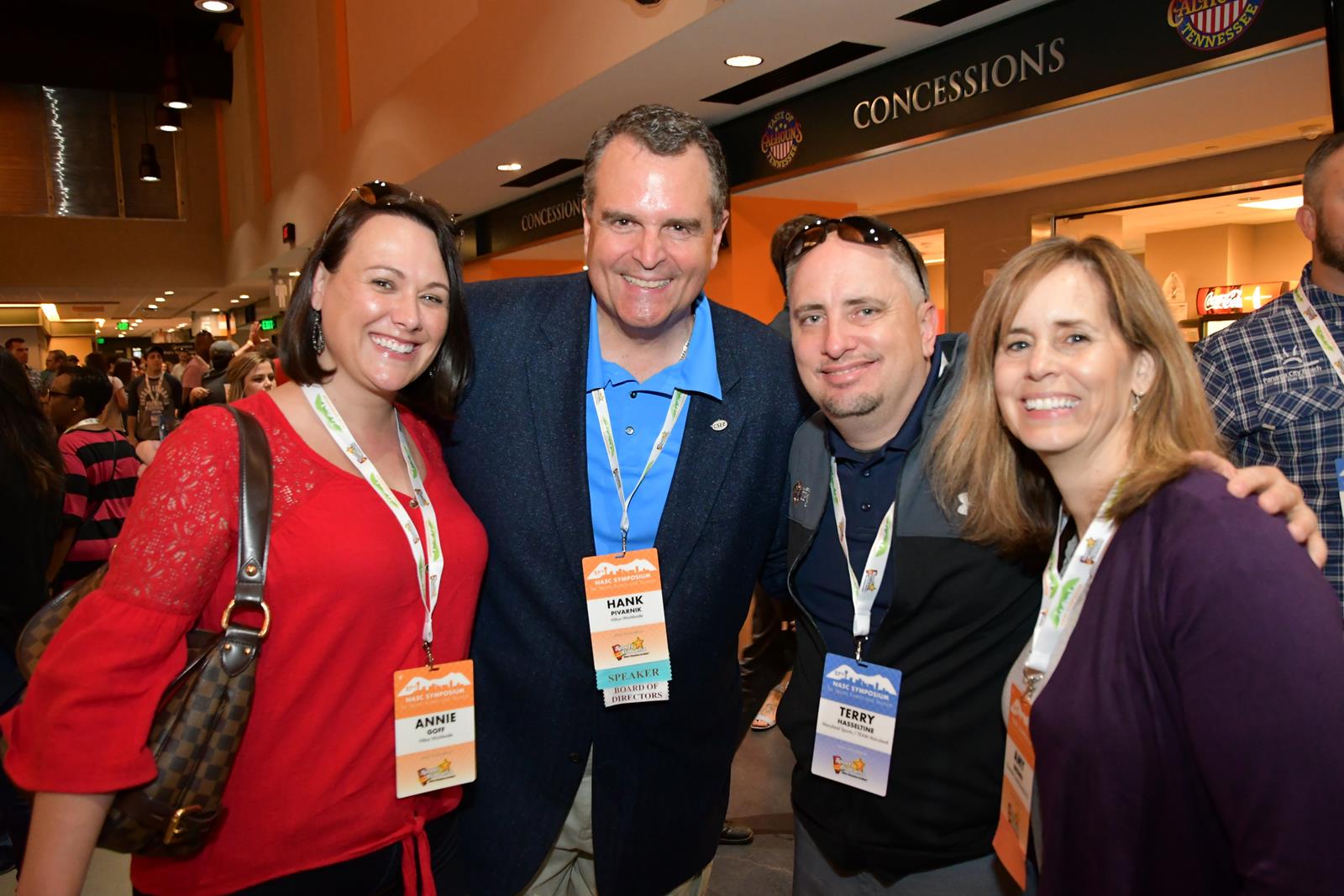 SPG: CVBs might argue that they go to Sports ETA Symposium for the purpose of promoting their facilities because ultimately that's where the games are played. With the separate track for facilities how do you put fences around those two or are fences needed?
AK: That was naturally going to happen whether we were involved or not, and here's the logic behind it. Facilities come in all shapes and sizes. They could be public-private partnership, they can be public which is typically city served rec-departments and they could be private. In each of those cases they are trying to fill their buildings. In the case of the public facilities, they tend to focus first on community outside tournaments or events, so they have a different focus. They also have a different service space and all too often, those facilities don't actively go out to recruit events coming to their building because their community-based and community served. A lot of them don't have sales people running around trying to bring in tournaments. Some are beginning to do that but that isn't the core business.
Facilities that are run privately are developed and built by organizations, and those owners have an expectation to produce some profit. In that case, they will use every resource possible to help them fill the building. They will play nice with sports commissions or CVBs who have sports sales to try and help them fill their building but the sports commission or CVB job is not just to fill that building. In many cases right now you'reseeing those facilities hire their own sales people because they have to fill that building. So, our thought around it was let's bring these people together and get them in the same room and we're going to understand the differences, those differences will manifest themselves in the next couple of years. We can't control it but what we care about is getting everybody together to professionally develop that industry by creating standards for making the management of facilities better. That way we can have better people managing facilities that know how to fill a facility, understand profit and to continue to work as a partner bridge with the sports commissions and CVBs.
SPG: Where do you want to see that group go in the future?
AK: We've done a significant amount of research and we have some resources coming out after the first of the year. There are over 1,100of those buildings and there are more facilities than we have destinations. Some of the leadership working on this project believe that the facility side of this can be as big or bigger as the association that used to be called NASC.
SPG: Are you getting any lift on your webinar? How does that fit into your education portfolio?
AK: Webinars are one tactic within a massive overhaul of our educational delivery. We right now are putting touches on a 2020 vision which is our longer-term strategy.
Webinars are one of the topics that will serve within our new cadre of distribution for educational products. It's a wide-ranging collective certification program with a number of distribution sources, a number of partnerships with other tourism organizations to deliver content to their people, so this is a very aggressive part. We're trying to find a higher level of content and make it more interactive instead of just a power point presentation and we're going to be adding podcasts to our mix. We have the 'Pulse' which is a weekly short-form research that we are gathering to enhance our demographic and psychographic database around our membership and what their wants, needs, and desires are. That's getting good lift and it's growing in population in term of use. We are going to be launching the 'vault' which is a significant offering around new resources both aggregated in the industry as well as specific research and partnerships that we will be announcing after the first of the year. It's a five-part program that has resources, research, analytical tools, white papers, and metric programs. It's a pretty aggressive program and we've identified individuals who we are contracting out to help us build all of these things we've talked about.
SPG: What's the biggest roadblock facing industry expansion?
AK: There are a lot of factors around that so let me start with the core. Not just us but a number of organizations are looking at trying to solve the problem of involvement and how do we attract young people to stay active in sports. At the same time, we have a crumbling physical education structure in America. So, you have less interest of required physical education and it's well documented about the obesity epidemic and what is going on and around with Project Fit. Some of these things are Band-Aids to try and deal with the issue, but the decline of exposure to kids on a broad basis around a variety of sports ultimately will affect participation rates in those sports. Baseball spends a lot of money trying to get the attention of inner city kids with some of their Junior RBI programs and others like that. Basketball does the same thing football does as well, and so the kids that don't have outlets to those sports get an introduction.
The "pay to play" I'm not going to judge whether it's good or bad because there are two sides to that coin. It has taken out those that are without financial resources the ability for early entry into the sport. On the other hand, those that are looking at job creation and the economy can point out that the millions of jobs that have been created. Building these facilities, administrators of the "pay to play" leagues, trainers, tourism build and staffing – it has created a micro economy around youth sports and particular sports activities. It's a tough one to figure out, but the core that's still not been addressed is the lack of mass exposure to a wide variety of sports, and the dwindling participation rates with kids.
SPG: What does the next year hold?
AK: I'll say this right now, our leadership is fully aligned with trying to create these new channels of opportunity. It took some time to get here and it wasn't always easy. We didn't always agree. But the leadership and the board got behind this vision and stayed vigilant.
By Jeff Gayduk