Hitting homers in the Heartland
The Midwest offers an abundance of scenic and historical baseball facilities, perfect for hosting your next tournament. Whether you're looking for places with multiple diamonds to host the most, or more family-oriented parks with amenities and something for everyone, check out our list of ten of the best Midwest baseball facilities to play ball next.
• ASH Centre
• Ballparks of America
• Bettis Family Sports Complex
• Champion Fields
• Diamond Point Park
• Future Champions Sports Complex
• Kent-Stein Park
• McCaslin Park
• Mercyhealth Sportscore One
• Stuart Sports Complex
Featured Baseball Facilities
ASH Centre — Fort Wayne, Indiana
Accessibly located in downtown Fort Wayne, this 26-acre multipurpose sports facility offers four artificial turf baseball diamonds, including one adaptive diamond. Batting cages are also located onsite, as well as an indoor fieldhouse, making the Academy of Sports and Health (ASH) Centre an ideal location for your next tournament. Fields serve both baseball and softball for players anywhere from age 8 through college.
Each year, more than 120,000 people visit the complex for tournaments, camps and instructional sessions hosted by the World Baseball Academy, Fort Wayne's most prominent baseball instruction and professional tournament organization. The World Baseball Academy annually hosts the Eric Wedge Baseball Camp, named after the Fort Wayne native and former manager of the Seattle Mariners and Cleveland Guardians.
Ballparks of America — Branson, Missouri
Built in 2016, Ballparks of America has quickly become one of the most prized parks across the Midwest, offering athletes the experience of playing like the pros. The Branson-based park is equipped with five fields, each a ⅔ replica of MLB ballparks, all with synthetic, rain-proof turf, grandstand or reclaimed seating, big-league lights, professional scoreboards, sunken dugouts and clubhouses with high-level amenities. The sprawling 1.2-million-square-foot campus also includes a generous amount of parking, various concession stands, a restaurant and ice cream shop, pro-shops to purchase merchandise, restrooms, picnic areas and on-site photography services.
Ballparks has become home to the Babe Ruth League's Cal Ripken Major/70 World Series, welcoming young athletes from across the globe to compete for a championship. This summer, the park will be hosting numerous tournaments, from the Father's Day Classic in June to the Missouri Heat Classic towards the end of July.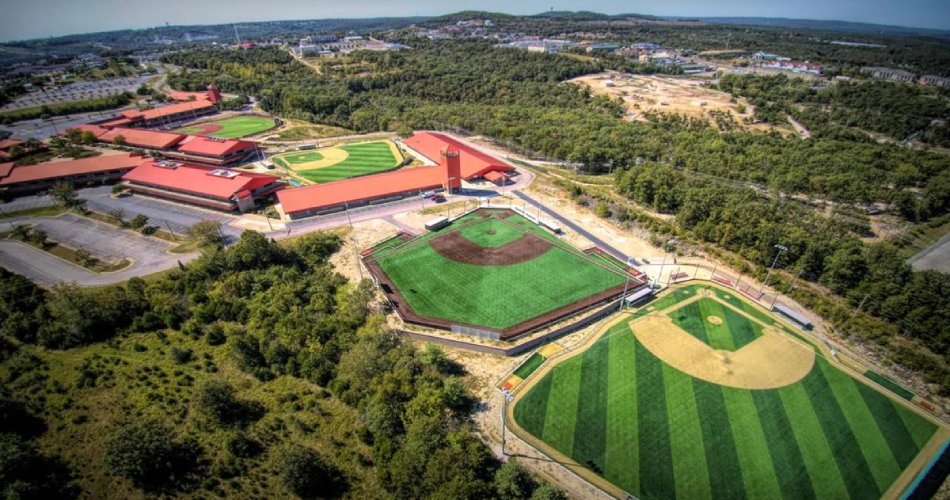 Bettis Family Sports Complex — Topeka, Kansas
Along the shoreline of the Shawnee River, Bettis Family Sports Complex provides a 22-acre park, boasting 6 lighted baseball diamonds with artificial turf infields and grass outfields. The complex includes locker rooms, reception areas, two concession stands, an umpires locker room, restrooms and a plaza area. The park regularly hosts baseball clinics, youth baseball tournaments and is the home to over 30 baseball leagues, including minor league, summer collegiate league and American Legion baseball. Previous events hosted at the Bettis Family Sports Complex include multiple NBC World Series, minor league baseball and state, national and regional tournaments.
This summer, the Bettis Family Sports Complex will host the United Kansas Conference, PG National Tournaments, PG World Series, PG International Tournaments and the Perfect Game Invitational National Championship.
Champion Fields — Normal, Illinois
Located in central Illinois, Champion Fields boasts eight lighted baseball diamonds in the main area, with two additional lighted diamonds at Maxwell Park and is widely considered one of the premier venues in the Midwest. The fields include covered dugouts, bleacher seating, scoreboards and a P.A. system. For every four fields, there are concession stands.
Champion Fields has hosted numerous tournaments since 2000, and is home to many baseball and softball leagues, including adult slow-pitch, girl's fast-pitch and several youth fast-pitch baseball and softball teams.
Upcoming events include the Champion Fields Showdown and the Greater Midwest Baseball Tournament, both set for June. The park also has the honor of hosting the IESA State Softball and the Illinois Softball State tournaments this year.
Diamond Point Park — Bourbonnais, Illinois
Located between Bourbonnais and Manteno Township in Illinois, Diamond Point Park is the perfect spot just southwest of Chicago for your next baseball tournament. Diamond Point Park is home to six baseball diamonds, four of which have lights, one practice infield, as well as a concession stand, playground, splash pad, picnic areas, sand volleyball pit and a pond available for outdoor recreation. Tournament openings begin every year in March and play through October, weather-permitting.
Diamond Point Park is set to host several youth tournaments this year including May Madness, Memorial Weekend Fighting for a Cure and Ballpark Regionals. Collegiate tournaments coming to the park this season include the Northern Illinois Classic and the Illinois State Classic.
Future Champions Sports Complex —Jacksonville, Illinois
Home to six artificial turf fields, Future Champions Sports Complex caters to all levels of baseball, offering youth recreational leagues to collegiate contests. Following renovations during quarantine, each stadium-lighted facility now possesses concrete dugouts, electronic scoreboards, a professional sound system, and a concession stand which even offers adult refreshments. Current renovations are underway to remodel a building located to field 6 to house a climate-controlled restaurant and. The remodel, to be finished mid-March, will also include open-air spaces, arcade games, private adult gaming and ADA-accessible restrooms.
This summer, the complex is scheduled to host everything from local high school tournaments to 9u to 12u tournaments as a part of their "Play the Turf" series. Events include the Perfect Game Central Elite Championship, Perfect Game Central Region World Series and the Perfect Game Central Region All-State Games.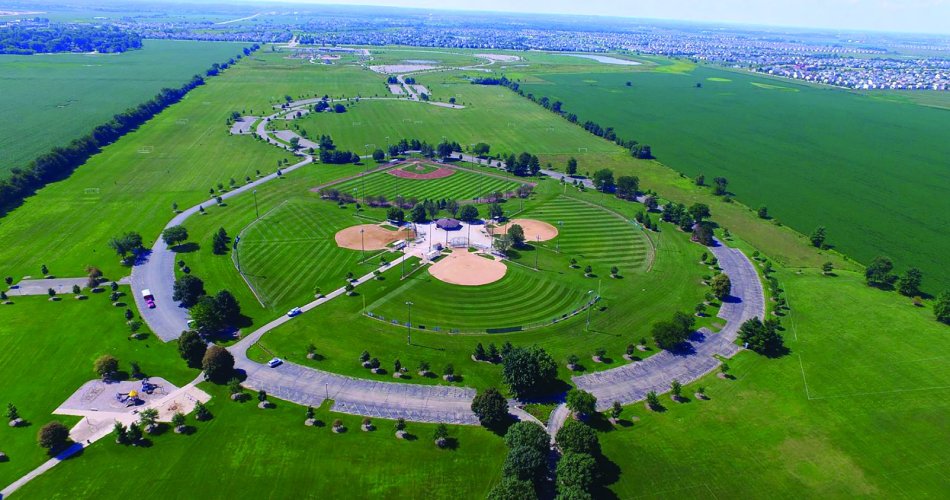 Kent-Stein Park — Muscatine, Iowa
This 66-acre park on the border of Illinois and Iowa brings in baseball fans all summer long. Kent-Stein Park offers guests eight lighted baseball diamonds, including the historic Tom Bruner Field. The famous field, erected in 1910, was originally called League Field and served as home to the Muscatine Pearl Finders of the Northern Association – an eight-team minor baseball league. Now, over a hundred years later, Tom Bruner Field and the park play host annually to over 100,000 visitors, who may also enjoy the park's nine lighted horseshoe courts, picnic areas, two concession stands, permanent restrooms, and even fishing in the slough.
Yearly, the Kent-Stein Park entertains events sponsored by national, state and local associations involving participants of all ages. One such tournament is the MHS Muskie Invite, as well as the Lady Hitman Softball Tournament.
McCaslin Park — West Chicago, Illinois
Originally opening in 2002, the robust McCaslin Park underwent extensive renovations in 2010, and now presents baseball-lovers with four baseball diamonds with artificial turf infields, lighting and bleachers. Residing on 32 acres of land, these premier Midwest baseball fields serve both adult and youth leagues and tournaments and offers a variety of youth camps and family special events over the season. Visitors are also welcome to concession stands and shaded seating to beat the heat during hot games.
The park also brings in visitors for its paved trails, which encircle the ball fields and connect to a larger network of neighboring trails. Children may also stay busy with a large playground, splash pad, mini golf course, volleyball sand pit and a Bankshot basketball course, all on the grounds.
This year, McCaslin is scheduled to host its annual McCaslin Classic, as well as the Screaming Eagle Classic, Spring Swing Invite, and the Spartan Classic.
Mercyhealth Sportscore One — Rockford, Illinois
Spanning 147 acres, this expansive complex is a nationally recognized premier host of softball and baseball tournaments. MercyHealth SportsCore One is conveniently located in Rockford, out in northwestern Illinois, and includes eight lighted baseball/softball diamonds, 18 soccer fields, two playgrounds, a fishing pond, ultimate frisbee, boat ramp, a recreation path and concessions.
This season, the athletic complex is set to host numerous local high school and recreational league games and tournaments. Other events include the Illinois Baseball Youth Tournament, NAFA Midwest Nationals Girls FastPitch Softball Tournament, and the OneNation Slow Pitch Softball tournament, making it one of the busiest Midwest baseball facilities.
Stuart Sports Complex — Aurora, IL
One of the largest sports complexes in the Midwest and the third largest outdoor athletics complex in the country, Stuart Sports Complex is a premier location for holding your next local, regional or national tournament. Whether you're looking to host game day or a weekend tournament, Stuart Sports Complex and its 8 baseball diamonds have you covered. Located in both Aurora and Montgomery, IL, the 317-acre complex is complete with a 15-acre dog park, multiple concession areas, portable and permanent restrooms, 1,300 parking spots with additional overflow parking, a playground with a splash pad, and scenic views of Jericho Lake which also offers a disc golf course.
Annually, Stuart Sports Complex hosts over 4,000 athletic contests, involving over 75,000 participants and attracting over 100,000 spectators. The complex is also home to "The Stuarts," a local fastpitch softball league, as well as numerous other youth and adult softball and baseball leagues. The next events to come to Stuart Sports Complex are the Monster of the Midway and Monster of the Midway Fastpitch tournaments, both set for mid-April.
By Peyton Spanbauer
Main image: Drone shot of McCaslin Park diamonds out in DuPage County, Illinois.