2022 competition attracts 5,500 athletes from all 50 states
For 54 years, the Special Olympics have helped change lives by providing athletic competition in a variety of Olympic-type sports for children and adults with intellectual disabilities.
This past June was no different as the Special Olympics took place in Orlando, Florida and were among the biggest games in history.
Featuring roughly 5,500 athletes from all 50 states and the Caribbean Islands, coaches and officials from the United States and 15 countries across the globe, 10,000 volunteers and an estimated 125,000 spectators, the impact of this event was sizable. In fact, organizers claim the 2022 Special Olympics had an economic impact upwards of $61 million.
"We could not be prouder of our friends and partners with the 2022 Special Olympics USA Games, Special Olympics Florida, Orange County, their title sponsor Jersey Mikes and their host sponsor ESPN Wide World of Sports, who all came together to put on the most impactful, inclusive and largest Games in Special Olympics storied history," said Jason Siegel, president and CEO of the Greater Orlando Sports Commission. "After nearly five years of fundraising and planning, our community was delighted to have been selected and cherished the opportunity to serve as the host city." 
Siegel's organization, which studied the potential economic impact of the games, estimates as many as 55,000 to 65,000 hotel rooms were used by teams, families and spectators. Some of the spending also came from the Special Olympics, which had a budget of $25 million.
Eleven venues across Central Florida hosted the events, including ESPN Wide World of Sports Complex in Kissimmee, Disney's Coronado Springs Resort in Orlando, Exploria Stadium in Orlando, Boardwalk Bowl Entertainment Center in Orlando, Disney's Typhoon Lagoon Water Park in Orlando, Lake Minneola Waterfront Park in Clermont, Luckys Lake in Orlando, Orange County National Golf Center in Winter Garden, Osceola Heritage Park in Kissimmee, Rosen Aquatic Center in Orlando and the USTA National Campus in Orlando.
The athletes competed in 19 Olympic-style events including athletics, basketball, bocce, bowling, cheerleading, equestrian, flag football, golf, gymnastics, open water swimming, powerlifting, soccer, softball, stand-up paddleboard, surfing, swimming, tennis, triathlon and volleyball. The state of Florida alone featured 607 athletes competing at the games.
The games had a variety of partners supporting them including Jersey Mike's Subs, Disney, Bank of America, Coca-Cola, Experience Kissimmee and Orlando Health. Sponsors are a critical part of delivering the Special Olympics' mission, offering cash support, in-kind resources, event sponsorship, volunteerism, brand awareness, executive leadership and advocacy.
Special Olympics Florida serves 48,700 athletes and offers Olympic-style individual and team sports that provide meaningful training and competition opportunities for persons with intellectual disabilities.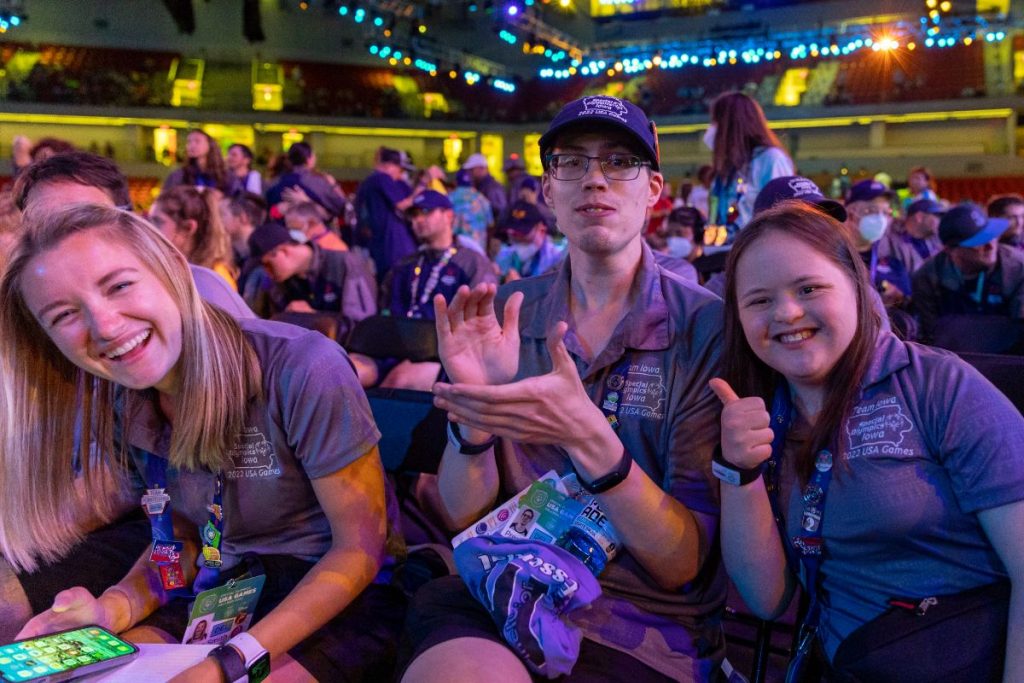 Florida Senior Games
It's no surprise Florida seamlessly held the Special Olympics considering the state has a history of hosting Olympic-style games. For example, the annual Florida Senior Games, an Olympic-style sports festival for athletes aged 50 and over, have been a popular event in the state for decades.
The Senior Games first started in Florida when the Golden Age Games were created in 1974. Soon after, local and state Senior Games events began appearing nationwide, especially throughout Florida. The games feature a wide variety of sports including basketball, volleyball, table tennis, bowling, powerlifting, pickleball, swimming and racquetball. Outdoor sports include track and field, tennis, archery, cycling and a 5K road race.
Recently, the Florida Sports Foundation, the state of Florida's sports promotion and development organization, has reached an agreement with Pasco County to host the 2022 through 2024 Florida Senior Games presented by Humana. The 2022 Games will be held Dec. 3-11 with a roster of 22 sports. The 2022 Florida Senior Games is a qualifier for the 2023 National Senior Games, to be held in Pittsburgh, Pennsylvania.
"The staff of Florida's Sports Coast has made Pasco County and the northern edge of Tampa along Interstate 75 a premier sports destination," said Florida Sports Foundation President Angela Suggs. "We look forward to introducing the area to Senior Games athletes, not only from Florida, but nationwide."
---
By Jason Paha
Photo courtesy of the Greater Orlando Sports Commission.