Learn about nine hidden gem beaches in the Pacific Northwest
Even before summer hits, many people begin looking for beaches to enjoy the water and the heat. The Pacific Northwest provides beautiful beaches, coastlines and beach parks perfect for tournaments, water events or just a fun summer trip. Whether it's competition, wanting to learn a new sport or just lounging around, SPG has you covered on where to have fun in the sun.
• The Oregon Dunes
• Sand Master Park
• Sunset Bay State Park
• Bastendorff Beach Park
• Horsfall Beach
• Sacajawea State Park
• Howard Amon Park
• Angle Lake Park
• Beach Park Event Center
Featured Pacific Northwest beaches venues
The Oregon Dunes National Recreation Area — Oregon Coast
Located on the Oregon Coast, these are the largest expanse of coastal sand dunes in North America and one of the largest expanses of temperate coastal sand dunes in the world. How big? These dunes stretch approximately 40 miles through three counties from Florence to North Bend, with some reaching 500 feet above sea level.
This venue is the main location for the Oregon Dunes Triathlon and Duathlon where participants traverse through a series of different landscapes that include swimming in Woahink Lake, biking along the serene roads in Dune City, running on Honeyman State Park's trails and climbing the dunes.
Being in close proximity with the forest and ocean, planners and event holders will be able to take advantage of the expansive sand dunes that provide a unique all-natural terrain for sporting events. Fishing, sandboarding and surfing are all made possible thanks to this one-of-a-kind terrain.
Sand Master Park — Florence, Oregon
For those who have an urge to snowboard during the summer, Sand Master Park is the world's first sandboard park with 40 acres of private sculpted sand dunes that offer beginner and advanced slopes and a 40-foot ramp. This Pacific Northwest beach venue also offers sandboarding lessons and rents sandboards along with sand sleds, surfboards, boogie boards, skim boards and paddle boards.
Every July the park hosts Sand Master Jam, the longest running sandboard competition in the world. It's free to the public, which draws professional and amateur competitors that go for huge air. Host your next sandboarding tournament at Sand Master Park.
Sunset Bay State Park — Coos Bay, Oregon
Snuggly tucked between towering sea cliffs near the renowned Coos Bay, Sunset Bay is a spot that features beautiful sandy beaches, amazing tide pools, picnic facilities, restrooms and campgrounds. The peaceful bay is a favorite among local anglers, paddleboarders, kayakers and hikers. With such an open space, gatherings to hold kayaking, fishing—and a mix of the two known as kayak fishing—tournaments and events can be made possible.
Though not many big events have used this venue, it is more of a hidden spot where locally organized events, trail runs and small fishing and kayaking tournaments are frequently held. Explore this hidden, tranquil destination and everything it has to offer.
Bastendorff Beach Park — Coos Bay, Oregon
Bastendorff Beach is a favorite hot spot among surfers and kite flyers. Being a large, undeveloped 89-acre beach, the space is perfect for holding gatherings. The massive beach comes with amenities such as reservable gazebo-like shelters, which are equipped with electric outlets, kitchen sinks with cold running water and large lawns ideal for softball and volleyball and even areas with large fire pits, barbecues and a fish cleaning stand.
Popular activities at this Pacific Northwest beach venue include deep sea fishing, crabbing, beachcombing and windsurfing. Most commonly, wrestling tournaments take advantage of this spacious land, exemplifying the unique potential for future tourneys. During primetime summer with the sun blazing, wind speeds can pick up from 20 to 30 mph, perfect for catching giant waves for tournaments and events like surfing, surf fishing and even kite flying.
Horsfall Beach — North Bend, Oregon
Being one of the longest stretches of undeveloped beaches in Oregon's Adventure Coast, Horsfall Beach provides lots of space for hosting large events. Activities like kayaking, fishing, surf fishing and surfing are all made possible with this naturally wide area. The expansive space also makes it ideal for off-road vehicles.
The venue is additionally equipped with flush toilets, drinking water, picnic area and an accessible beach-viewing platform. It's best to take advantage of summer high winds, ranging around 25 mph, making this location an ideal place to hold kite flying tournaments as well.
Be sure to call or research ahead of time as flooding may close the area for extended periods.
Sacajawea State Park — Pasco, Washington
Located along the Columbia-Snake River in the Tri-Cities, Sacajawea State Park spans to about 267 acres, with 200 feet of docks, providing a lot of space for groups of people to congregate. There is also a shelter that can accommodate up to 200 people.
Typical events held at this Pacific Northwest beach venue span from cultural and historical ones at the Sacajawea Interpretive Center, to hiking ones and most of all, several fishing contests and derbies. The park is excellent for launching motorized and non-motorized watercraft as well as paddle boarding and an array of watersports.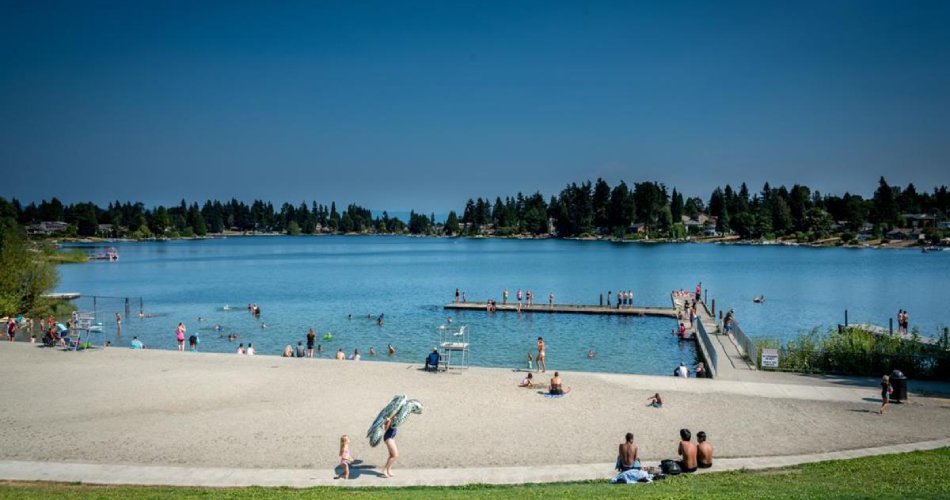 Howard Amon Park — Richland, Washington
Also just along the Columbia River is Howard Amon Park, a hidden gem for water sport activities and a multitude of events. During the summer, the park is an event hotspot with multitude programs such as triathlons and runs, as well as leisure and entertainment options like music festivals, art workshops, car shows and river floats. Many of these events feature offshore, dry activities, but the park certainly has its perks when it comes to watersports.
Though a little small in space, Howard Amon Park features both a swimming and boating dock as well as a fishing dock. Cozy picnic shelters are scattered throughout, making it an excellent choice for smaller groups of people to meet.
Angle Lake Park — SeaTac, Washington
This 10 acre lake-front park is Seattle Southside's gem as it has a wide range of water sporting events. Along with an annual community event, the SeaTac International Festival, the park also features an array of great amenities like a fishing pier, boat launch, picnic shelter, barbecue area, restrooms, swimming area and more.
Angle Lake Park also has a history of hosting larger events as well, as it was chosen for the paddleboarding competition at the 2018 Special Olympics.
Beach Park Event Center — Des Moines, Washington
Placed just on the shores of Puget Sound and booked typically for weddings, the Beach Park Event Center is also an excellent space to host large gatherings for water sport tournaments. The event center can hold up to 500 people and grants easy beach access for paddleboarding, kayaking and fishing. Booked guests at this Pacific Northwest beach venue can enjoy land and sea activities as well, like walking nearby trails, going to the creek and, of course, visiting the stunning beach.
The Beach Park Event Center is also adjacent to the newly renovated Des Moines Marina, where they have boat launches, dry and wet moorage and a concrete ramp launch. Sports tournaments can easily be coordinated with the local Seattle Southside CVB.
By Aviraj Gokool
Main photo: Paddleboarding along calm waters at Sunset Bay. Photo courtesy of Oregon's Adventure Coast.