Americans tuning into West Ham United soccer games this season may wonder if their eyes are deceiving them when the camera pans in on the East London team's scoreboard.
Alongside the multitude of familiar British advertisements one expects to see is a promotion for a recognizable and amiably named American city located just south of Orlando: Kissimmee, Florida. This sighting is no mirage, and is the innovative brainchild of Kissimmee Director of Sports Marketing and Development John Poole.
"I like to think outside the box," Poole said. "I'm very lucky to have great leadership that allows us to try different things that we bring to the table."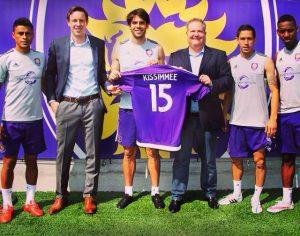 Poole, who was born in England and worked for Kissimmee as a sports development manager in 2013 before moving into the director's chair in December 2014, has established a reputation as an uncommon thinker. He has helped Kissimmee secure a number of sporting events for the city, including Tough Mudder, the NXL World Cup and Powerboat P1. He also played an important role in securing Kissimmee's partnership with Major League Soccer's Orlando City Soccer Club.
His efforts in landing Kissimmee's three-year promotional deal with West Ham United of the Premier League however, has particularly raised eyebrows across the sports marketing community. This arrangement is a unique opportunity in which Kissimmee is given prominent branding in the club's new London Stadium, where the team began playing in 2016.
"I've always seen soccer as a great platform for our organization," Poole said. "We are the first destination marketing organization to partner with the Premier League. The league is the best platform in sports worldwide. It reaches so many key markets of ours. We were talking to a few teams in the UK and West Ham offered a few things that were unique compared to the major teams in the UK. If we would have partnered with a major team, we would have been lost in the clutter. West Ham moved into a new stadium, has 55,000 season ticket holders and is a tourist attraction as the stadium is adjacent to Europe's largest shopping mall (Westfield Stratford City)."
London Stadium features a giant 272-by-40-foot video screen that displays commercials 365 days a year. The exterior of that screen, which can be seen year-round outside the stadium, runs a Kissimmee commercial at various points per day while inside the stadium, a Kissimmee commercial is broadcast on two screens, once before a game and once before halftime. Kissimmee is also featured on the stadium's LED board, the team's email blast and on the West Ham United interview backdrops, so whenever a player or manager is interviewed, Kissimmee's brand is visible to millions of eyes.
The impact of this relationship has had a positively tangible effect on Kissimmee.
Sports tourism is responsible for driving in excess of 200,000 room nights, 300,000 visitors and more than $130 million in economic impact to Kissimmee annually. Kissimmee's room nights have increased by 40,000 since the Kissimmee Sports Commission (established by Poole) began in 2015.
"Whenever we go to the UK or even when we travel around the U.S., our organization, Experience Kissimmee, is a big topic of conversation. Especially the West Ham United deal. It's the first of its kind and it's made us stand out to be a very forward-thinking organization."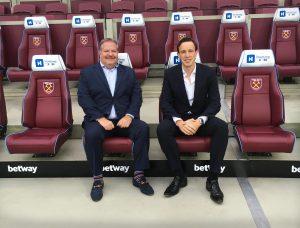 Another striking aspect of the West Ham partnership will take place in the digital world as Kissimmee's logo will be featured in the FIFA 2018 soccer video game with the city's branding donning West Ham's stadium LED board in the game.
"In terms of numbers, FIFA 2017 sold over 6.5 million copies worldwide," Poole said. "That just extends the amount of views we get. The brilliant thing about sports and branding is you can't replicate the emotional connection people have with their sports team. In the Premier League, it's almost like religion. Fans of that team will have a bigger propensity to travel to a place that is affiliated with the brand."
The West Ham contract comes on the heels of another unique sports partnership Poole and Kissimmee enjoyed: The 2016 Invictus Games in Orlando, a 10-sport competition featuring wounded veteran athletes. In that instance, Poole led the charge to ensure Experience Kissimmee would be the sole tourism partner at the international event that saw 15 countries compete.
"We were the official destination partner," Poole said. "We had a presence. (We had) branding, programs, people were given fans with the Kissimmee logo on them. When we talked about that deal, we wanted exclusivity. We wanted to be the only DMO involved."
In order to maximize its exposure, Kissimmee aimed to advertise more heavily in events that best fit its brand, and found a creative way to do so.
"We looked at all the events taking place and the events that had synergy," Poole said. "Every vacation hotel has a pool in Central Florida so we thought the swimming portion of the event made sense. We put our branding on the touch pad (the pad swimmers tap when they finish a race). Whenever a swimmer hit the touch pad, the camera would zoom in and show off our branding."
Kissimmee also received royal exposure that doesn't come around often in the United States thanks to Invictus Games Patron Prince Harry.
"Prince Harry was involved with the swimming portion and because of that we had multiple pictures in the Daily Mail (a major London newspaper) with Prince Harry in front of our branding. You can't put a price on that."
The success Poole has enjoyed with his creative mind has him eyeing the future and other untapped sports and markets.
"We have some very big and luxurious vacation homes in Kissimmee," Poole said. "We want to attract people with a certain level of wealth that can afford those homes. We captured the general audience with West Ham and we're now looking at niche sports to attract other sects of the market.
"Our biggest plan is to advertise in a number of emerging markets," Poole added. "I'm always looking at exposure. How can we generate awareness and elevate our brand?"