Planning a Redding Sporting Event is a Slam Dunk
A medley of renowned fishing, kayaking and hiking trails paired with state-of-the-art sports facilities make Redding a premier destination for sports events in the Golden State.
When people ponder about the essence of Northern California, a few things will probably come to mind: extensive vineyards, redwood forests, a dramatic Pacific coastline and plenty of outdoor activities to indulge in year-round. Redding in particular is a destination known for its boundless outdoor adventures, from fishing and hiking to kayaking and biking.
As the second sunniest city in the U.S., seeing 300 total days of sunshine throughout the year, Redding has also been named a "Top 10 Fishing Town in North America" by Forbes Magazine and the "Unofficial Capital of Kayaking" by Time Magazine. Known as the trail capital of America, Redding has also been hailed as the "gem of the U.S. trail system" by the San Francisco Chronicle. With so many remarkable awards and recognitions, it's no wonder people are flocking to Redding to experience all that it has to offer.
More than 600 square miles of state and national parks and forests open to the public extend within a 30-mile radius of Redding, and it is famous for being the site of John F. Kennedy's last official dedication at Whiskeytown National Recreation Area in 1963. Besides its historical significance and highly recognized outdoor recreation opportunities, Redding makes planning the details of a sports events a breeze with hundreds of family-friendly eateries and nearly 50 different accommodations options to choose from. Planning a sports event in Redding, California will not disappoint.
Notable Recent/Upcoming Events
Wild West Bass Tournament (January 25-28, 2018; February 17, 2018)
BASSMaster National Fishing Tournament (April 18-23, 2017)
National Softball Association (November 3, 2018)
California Narcotic Officers Association Bass Tournament (April 21-22, 2018)
USA Softball 2019 National Championship (July 23-28, 2019)
CVB/Sports Commissions Services Offered
Volunteer Staff
PR/Media Assistance
Signage
Site Visits
Transportation Assistance
Lodging Services
Grant Programs
Welcome Bags/Gifts
Itinerary Development
Event Planning Assistance
Click on tab to see more information about a specific facility
Big League Dreams Sports Parks
At Big League Dreams Sports Parks, the name says it all. This facility in Redding is dedicated to giving the average youth or adult player the chance to have the feeling of playing in the big leagues by creating smaller replicas of famous ballparks, such as Boston's Fenway Park, New York's Yankee Stadium and Chicago's Wrigley Field. The facility's 20,000-square-foot climate-controlled field house is equipped for hockey, soccer and volleyball leagues. The baseball and softball playing fields feature stadium-style seating with the capacity to seat 200 spectators. Other amenities at the sports park include batting cages, a playground and Stadium Club Restaurant.
Sports: Baseball, softball, soccer, hockey, volleyball
California Soccer Park
A nonprofit sporting facility connecting communities, enriching lives and inspiring families, teams and athletes through high quality experiences, California Soccer Park fosters respect, competition and accountability. The soccer park is devoted to delivering excellence through innovation in a safe environment for athletes, featuring a 22-acre facility with four NCAA sized lighted synthetic turf fields for year-round play, paved walkways, elevated seating, 2,000-square-feet of covered seating with ceiling fans and a full-service restaurant. There is a small entrance fee of $3 on game days and $4 during tournaments. Pets, food and drinks are not allowed inside the park, but water is provided for athletes.
Sports: Soccer
Redding Aquatic Center
A leading destination for aquatic sports, Redding Aquatic Center offers a variety of classes and practice facilities, including the Kid's Sailing Camp, a course designed to give a general knowledge of the marine world through study and hands-on sailing experience. The Shasta Rowing Association is dedicated to the education of the art of Olympic-style rowing, featuring rowing courses for children and adults. For first-time divers or anyone looking to improve their headfirst entry, the aquatic center offers diving lessons focusing on forward diving techniques from the deck and one-meter diving board. Private swim lessons and various special events are also held throughout the year.
Sports: Swimming, rowing, boating, paddleboarding, diving
Redding Civic Auditorium
With approximately 120,000 visitors to the facility annually, Redding Civic Auditorium is run by Advance Redding, a public benefit nonprofit established in 2011 to manage and revitalize the auditorium. The venue can accommodate between 1,100 and 2,200 spectators, with the ability to remove seats to be used for display space, exhibits, entertainment or sports events. Concessions at the venue include Premiere Catering and River Rock Café, featuring a variety of snacks and drinks. Amenities at the facility include restrooms and wheelchair accessibility.
Sports: Wrestling, boxing, martial arts
Shasta Lake
A hub for water sports, Shasta Lake is a cherished Redding destination and arguably the area's most popular attraction. Featuring the ninth tallest and second largest concrete dam in the U.S., Shasta Lake has endless mountain biking trails, such as Clikapudi Trail, the most extensively developed trail at the lake that takes about two hours to walk and is popular amongst mountain bikers, equestrians and trail runners. As the state's largest reservoir, the lake extends 30,000 acres and is a dream for bass, crappie, catfish and sturgeon fishers. For family members of athletes, the lake offers a free tour of Shasta Dam and guided tours of Lake Shasta Caverns.
Sports: Fishing, mountain biking, cross country, rowing, wakeboarding, waterskiing, equestrian
Whiskeytown National Recreation Area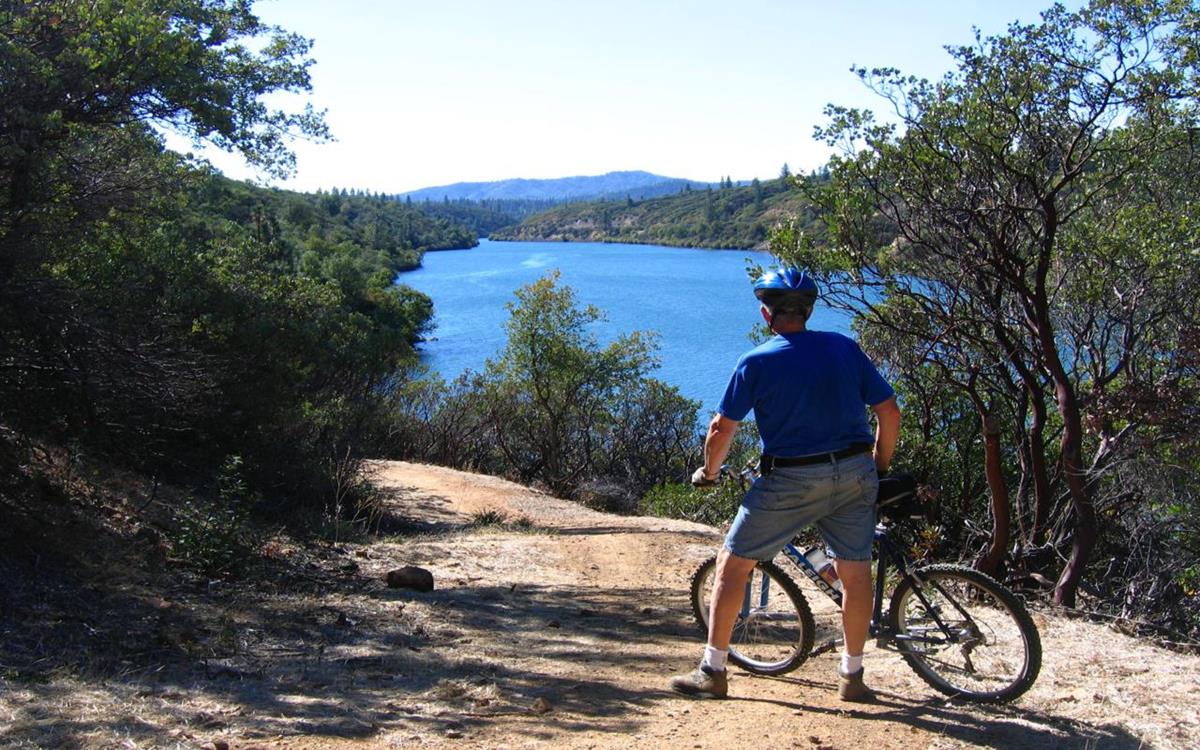 Located at the juncture of the Klamath Mountain range and the northern edge of the Sacramento Valley, Whiskeytown National Recreation Area's Whiskeytown Lake has beautiful crystal-clear waters surrounded by mountain peaks that make for a great photo-op. This unparalleled mountain setting provides endless water sports opportunities with 36 miles of shoreline and a full pool in the summertime. The lake's placid surface is ideal for swimming, scuba diving and fishing. A California fishing license is required and all federal and state boating regulations apply.
Sports: Boating, kayaking, swimming, sailing, water skiing, scuba diving, fishing
Redding Rodeo
A one-of-a-kind experience, Redding Rodeo offers educational experiences like Western Heritage Day, a program for local elementary schools where students are brought to the grounds of the rodeo to learn about Western education, featuring rodeo slack events, group chats with cowboys and cowgirls, specialty acts and talks about the care given to the rodeo horses. Anticipated events throughout the year include Bulls and Barrels, an evening of PRCA Xtreme Bull riders and WPRA champion barrel racers.
Sports: Rodeo
Things to do in Redding
Redding is undeniably most well-known for its plethora of incomparable outdoor activities. At Turtle Bay Exploration Park, visitors can explore the biology of a group of uniquely super-sized dinosaurs or take part in an aquatic adventure to learn about water ecosystems and the importance of the Sacramento River.
Lake Shasta Caverns National Natural Landmark is a geologic adventure for the whole family to enjoy, with the opportunity to take part in a comprehensive and robust tour of the caverns and surrounding lake with over 370 miles of shoreline. A paved multi-purpose trail, Sacramento National Recreation River Trail winds along the Sacramento River, with stunning hilly vistas on the north side and glimpses of the Sundial Bridge on the east end.
As the second oldest state park in the California State Parks system, McArthur-Burney Falls Memorial State Park lies within the Cascade Range and Modoc Plateau natural region, with vast forests and five miles of lake shoreline and streamside. Whiskeytown National Recreation Area is another great destination for leisurely outdoor activities and is a prominent United States National Recreation Area in Northern California. A day spent at Whiskeytown is filled with picturesque lakeside views, 70 miles of trails, pristine mountain creeks and gushing waterfalls.
Planner Perspective
How to Get to Redding
By Car: Redding is near the northern most tip of California and can be reached by most southern states by taking I-5 N. All states east of California should take I-80 W. Cities within a 10-hour drive or less from Redding include Los Angeles, Sacramento, Portland, Las Vegas, Reno and Salt Lake City.
By Air: Redding's nearest airport is Sacramento International Airport (SMF), located just 150 miles south of Redding on I-5 N, serving as a hub for Southwest Airlines. Other airports located approximately within 200 miles of Redding include Reno-Tahoe International Airport (RNO), Oakland International Airport (OAK) and San Francisco International Airport (SFO).
Contact Information
Company Name: Redding Convention & Visitors Bureau
Sports Sales Manager: Sabrina Jurisich
Title: Sports Commissioner
Telephone: 530-225-4103
Summary
Article Name
Planning a Redding Sporting Event is a Slam Dunk
Description
A medley of renowned fishing, kayaking and hiking trails paired with state-of-the-art sports facilities make Redding a premier destination for sports events in the Golden State.
Author