Reno Tahoe: Event Capital of the West
Sports events big and small are finding a new home and a willing partner in Reno Tahoe USA.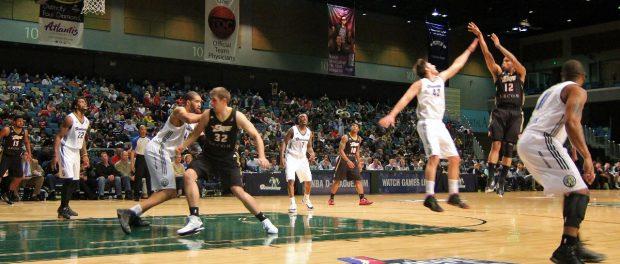 Ante up on Reno
Planning a sports event is never easy, and finding a location that meets all of your specifications is even harder. A successful event is about more than the games won and lost; it is about the time spent with family and the memories made. That's why Reno Tahoe is a sports planner's dream come true, and another reason why Interbike, the country's largest bicycle industry trade show, is moving its week-long event to northern Nevada.
From the sunny weather and warm climate to its long history of upstanding sports-travel events, Reno is the place to be. Boasting sports teams such as the Reno Aces and Nevada's Wolf Pack, it's not hard to see why this city is an easy choice when it comes to hosting a sports event. With its top-of-the-line sporting facilities, close proximity to major cities and never-ending list of activities, the whole family will be begging to come back again.
What is there to do in Reno?
In a city as exciting as Reno, there's enough entertainment for everyone in the family. Enjoy a relaxing day at one of the region's 50 golf courses, or take your pick of first-class spas and resorts. Enjoy a stroll or art walk along the Riverwalk District or the burgeoning MidTown area. There's also major retail and outlet shopping, as well as myriad fine and casual dining restaurants offering diverse menus featuring local meats and produce.
Let's not forget the family activities that will keep the entire group entertained. At The Discovery Museum in downtown Reno, everyone can get involved in the science center's hands-on experiments and exhibits. Wild Island Family Adventure Park gives kids a chance to run around at its many pools and water slides, test out their driving skills on the go-karts or strike out the competition at the bowling alley. Gather up the team and take them for an exhilarating adventure at Ultimate Rush Thrill Park. Combining the elements of hang-gliding, bungee-jumping and sky diving into on 185-foot tower fall, this park sets the stage for the perfect team-building activity.
Whether you're relaxing after a long day of play or spending time with the family, this city has something for everyone. From skiing to kayaking, everyone will walk away with unforgettable memories from a great family vacation.
Let us connect you with Reno-Sparks CVA

Shelli Fine
Director of Sports Development
Phone: 775-827-7790
Website: VisitRenoTahoe.com
---
X Factors
Event Production and Local Organizing Committee Assistance
Airport assistance
Marketing and PR assistance
Social Media, Facebook and micro-webpage assistance
Right's Holder Perspective
Triple Crown Sports has seen increasing success in the Reno-Tahoe area over the last four years. The RSCVA sports staff, our hotel partners, and all the area's sports facilities have gone above and beyond for TCS and our tournaments. All four sports properties that Reno-Tahoe hosts are not only successes on the field, but off the field as well. Our athletes and their families truly enjoy the destination as they can come and seriously compete on first-rate fields, then relax after the competition in a world-class setting. The Reno area is a great destination for our growing national event business.

– Katrina Maestas, Western World Series director with Triple Crown Sports
These facilities can't be beat
Reno-Sparks Convention Center
Sports: All
With a little creativity, the Reno-Sparks Convention Center can host virtually any indoor sports event. The 500,000-square-foot facility has hosted events such as the Summer National Fencing Championships, Junior National Volleyball Championships, USA Taekwondo National Championships and Jam On It AAU basketball tournaments. Choose from one of five massive exhibit halls to host your event. The facility also has meeting rooms that can be used for registration, coaches meetings or trophy ceremonies. Boasting superior costumer service, guaranteed for all clients, this convention center is an easy choice for any sports event.
Reno Events Center
Sports: All
From pop superstars to headlining comics, the Reno Events Center is just the right size. Every square foot of Reno's most versatile venue is built for entertainment, from world tour concert kickoffs to electrifying boxing matches, and everything in between. Its flexible 7,000-seat capacity and its location in the liveliest part of the city make it the place to be in Reno. The REC also hosts the NBA D-League Reno Bighorns, and has been the home of multiple D-League Showcases as well as World League Volleyball. This center is the perfect place to accommodate a sports planner's every need.
Golden Eagle Regional Park
Sports: Soccer, baseball, football, softball, volleyball, bocce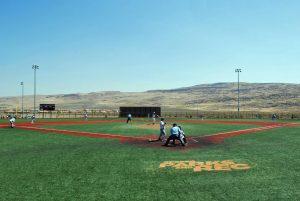 Consistency can be a major challenge when it comes to field maintenance, and can also prove costly for budgets and natural resources. In an efforts to curb these concerns, the City of Sparks constructed Golden Eagle Regional Park. Built in 2008, Golden Eagle covers more than 100 acres and feature more than 1.4 million sq. ft. of artificial turf, making it the largest facility of its type on the continent. The complex houses four full-size baseball fields, four youth baseball fields, six softball fields, three full-size football/soccer fields, four volleyball courts and two bocce courts. With ample parking, seating, lighting, pavilions and a full-service restaurant, Golden Eagle Regional Park is a great, all-in-one tournament venue.
Reno-Sparks Livestock Events Center
Sports: Equestrian, monster truck, motocross, wrestling
The world famous Reno Rodeo takes center stage at the Reno-Sparks Livestock Events Center every June. The rest of the year, the RSLEC hosts a variety of tournaments from pole vaulting competitions to BMX races, and from rodeos to wrestling tournaments. For equine or rodeo-type events, the RSLEC features 19 barns, two indoor arenas and one outdoor arena. The main indoor arena holds 6,200, while the livestock pavilion seats 1,000. Despite having "livestock" in its name, the RSLEC functions much like a convention center and regularly lays down the flooring necessary to host a variety of sports events.
National Bowling Stadium
Sports: Bowling
Spanning 363,000 square feet with 78 championship lanes, Reno's National Bowling Stadium is the largest bowling stadium in the world. Visitors can fully equip themselves in the stadiums pro shop and enjoy a leisurely day at the stadium club. It also features a 172-seat theater and a 440-foot-wide screen, the longest video screen in the world.
The stadium can be recognized from miles away due to the 80-foot-tall silver bowling ball perched atop its roof. For all-in-one bowling tournaments, there truly is no other venue like the National Bowling Stadium.
University of Nevada
Sports: Football, basketball, volleyball, baseball, softball
Home of the Wolf Pack, the University of Nevada offers Division I facilities to tournament planners looking to host events during the summer months. The university has many premier facilities on campus. Mackay Stadium is a lighted, artificial-turf football stadium that seats 30,000. Its basketball arena, Lawlor Events Center, seats more than 11,000. Virginia Street Gym hosts volleyball games and can seat up to 1,800 people. Peccole Park is the school's lighted, artificial-turf baseball stadium, which seats 3,000. And there is also Christina M. Hixson Softball Park, which has room for 1,500 fans.
So, how do I get there?
Getting to Reno is the easiest part of planning your trip there, with tons of ready-available options, it won't take long to pack your car or book your flight.
By Air: Getting to Reno Tahoe is easier than ever with new nonstop service to Los Angeles, Oakland, Boise and New York City. With more nonstop flights to Dallas and Atlanta coming online soon, arrangements for your next event will be even more convenient. Chicago, Phoenix, Seattle and Denver remain in regular rotation, and the Reno-Tahoe International Airport is committed to adding more air service to accommodate the destination's growing tech industry. Wherever your competitors hail from, Reno Tahoe USA is not far away!
Summary
Article Name
Reno Tahoe: Event Capital of the West
Description
Sports events big and small are finding a new home and a willing partner in Reno Tahoe USA.