Greek philosopher Heraclitus once said, "There is nothing permanent, except change." That concept is more true today in the world of sports tourism and events than ever before. The marketplace has evolved to a very entrepreneurial state, a place many tenured professionals in our industry never saw coming. While these changes are unique and different, we view them largely as good for the health of our industry.
Each year at this time our team sits down to take stock of the past 12 months, and to look at what lies ahead. Aligning with Heraclitus, "change" is the thread that weaves together today's industry trends. Below, we offer you the top ten things to look for in 2017…..
1. Incubating of Events
Numerous destinations are focusing more resources on "incubating" new events. That is, CVBs and sports commissions are helping their local event promoters to grow their existing events and to start new ones. Note that "incubating" is very different than "owning" them. Incubating is working with a partner to give them resources to launch and develop their sports properties. "Owning" is creating and managing events yourself. Most DMO type organizations are not built to own and operate, thusly the focus has turned to incubating events in partnership with a local promoter, until a time comes where the event can stand on its own. The more successful these destinations are at creating inventory to fulfill their tourism mission, the less dependent they are on the competitive bid process to attract events to their communities.
2. Rebranding
A large number of CVBs have expanded their sports marketing efforts in the past year, and many more are planning similar growth strategies in the near future. The increased focus on sports tourism often times requires a rebranding of the sports effort in order to match the expectations of event rights holders. Recent examples of this exist in Bryan College Station, Fort Worth, Hershey – Harrisburg, Eugene, and Duluth among others. Rights holders are making buying decisions, and they want to be sure their championships are in the hands of experienced event operators, more so than "Visit insert-city-name-here." Destinations are more event savvy today than in years past. The smart ones are giving their sports departments the resources, and the branding, to match the growth we have experienced in the sports tourism market.
3. C-Level Change
As in most Olympic cycles, several National Governing Bodies will (or have already) experience staff turnover at the top level post Rio. In addition, there are changes ahead at the National Association of Sports Commission with the retirement of long-time leader Don Schumacher, and DMAI recently installed a new CEO. These high profile senior level staff moves will likely have a short-term ripple effect throughout the industry. The incoming leaders of these organizations have the potential to create a meaningful impact on the sports tourism landscape. How they do that, nobody knows. But then again, did anyone ever think Quidditch would be a real sport with a sanctioning body? Big thinkers can make big changes. These executive positions are worth keeping an eye on in the near future.
4. Enhanced Relationships
Keeping in line with the C-level turnover noted above, developing and managing relationships between rights holders and CVB/sports commission leaders will be as important today than ever before. New leaders mean new visions and new priorities. In the case where a past relationship has been compromised through executive turnover, increased efforts to rebuild those organizational relationships will be critical for future success.
5. Performance Clauses
Host communities are focusing more today on the results achieved by their event partners than in years past. The days of bid fees being handed out without performance clauses are becoming few and far between. Nearly all of our clients have a formal incentive/grant program with an event evaluation matrix, benchmarks for success, and specific deliverables that are put upon the event promoter. Several of our clients even have "claw back" clauses for cases where the DMO or sports commission can get money back from event promoters that don't deliver on their goals. These incentive-type programs are always evolving. The most successful programs we see are those that only give a portion of the support funds out on the front end, and the rest upon the rights holder delivering on their promises.
6. Bricks and Mortar
There are more communities investing bed tax dollars in sports facilities than ever before, and the trend doesn't seem to have an end in sight. Rockford, Warren County (OH), Monroe, Evansville, Placer Valley (CA), Pasco (FL). The list goes on. These communities and many others are using tourism revenues to build bricks and mortar venues to stay competitive in the sports tourism arms race. Is this a trend of success, or one of destruction? It's too early to tell, but the industry needs to keep tabs on this entrepreneurial trend going forward.
7. Sports Service
The most successful host destinations are experts at servicing sports groups. These CVBs and sports commissions provide support to the event operator in a way that allows them to focus on their championships, and little else. They also provide a superior athlete and fan experience, presenting their community as a desirable place to host events. We often coach our clients to focus on everything "outside the lines" so their event partners can concentrate on the championship at hand (or "inside the lines"). If you are a host city, and your team is used to having backpacks on, with feet on the ground on game day, you are on the right track.
8. Bounce
New events that are introduced to the Olympic program often experience a popularity boost in the short-term. This year in Rio golf and rugby were introduced, and in four years Tokyo will roll out karate, surfing, skateboarding, and sport climbing (along with the return of baseball and softball). Which of these sports will experience an increase in popularity, membership, and participation? Only time will tell (my bet is on rugby sevens).
9. Community
Last year's trends included a section on legacy programs. This year we expand that concept to a more global concept of "community." The term "legacy" often involves a project specific to an event, such as the event owner putting in a new scoreboard at the softball complex as a leave behind from their national tournament.
"Community" is much more broad reaching. Community in this sense means a more ongoing and sustainable programmatic link between the host destination and the event rights holder. An example of this would be the implementation of the USA BMX STEM Program in area schools where BMX National races are being held. The race is one weekend, the STEM Program lasts through the school calendar and can be implemented more than just one year (extending the host city and BMX brand in a longer and more meaningful way than a one and done event). Legacy leave behinds are good, however finding ways to offer long-term community impact through sports is better.
10. Technology
Anyone ever think Twitter would be streaming live events? And paying the NFL $10 million to do so? For ten games? A million dollars a game for a pilot program, using a technology that was never designed to stream live events. This is proof that anything can happen in the tech space. Just dream it up and someone probably "has an app for that." E-gaming is a multi-billion-dollar industry. Fans used shared live streaming services Periscope and Meerkat to pirate the biggest prize fight in decades. Uber and Lyft are disrupting the entire transportation industry, with self driving cars picking up passengers in Pittsburg. Whatever comes next will likely continue to be focused on the shared economy model. How will that impact sports tourism? We don't know, but we are sure new technologies will make their mark in 2017.
There are more host cities, more sports event rights holders, and more events than ever before. Our industry has seen annual growth nearly every year for over two decades. New sports are emerging. New technologies are shrinking the world. Millennials are changing the economy. Our political climate is
at a tipping point.
Change is coming. Are we ready?
About the author:
Jon Schmieder is the Founder of the Huddle Up Group LLC, a consortium of three sports related companies led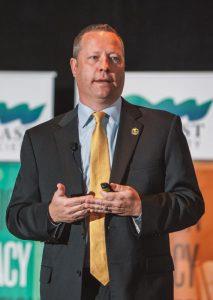 by award winning executives. Schmieder has over 20 years of experience in leading sports tourism and events organizations through strategic growth and increased community collaboration. Huddle Up Group clients and partners include USA BMX, Detroit Sports Commission, Fort Worth Sports Marketing, Eugene Cascades & Coast Sports, Connect Sports, Veteran Tickets Foundation, Arizona Football Coaches Association, Evansville Sports Corp, Travel Medford, Des Moines CVB, Las Cruces CVB, Morgantown CVB, Monroe-West Monroe CVB, Visit Mississippi Gulf Coast, Visit Hershey Harrisburg, Hamilton County Sports Authority, Bryan College Station CVB, USA Volleyball, USA Badminton, the Association of Chief Executives of Sport (ACES), Visit Duluth, and the Delaware Sports Commission. The Huddle Up Group can be reached at Jon@HuddleUpGroup.com or 602.369.6955. To receive the weekly "Monday Huddle Up" sign up at https://tinyletter.com/JonSchmieder.