An outdoor enthusiast's playground awaits in the rugged Pacific Northwest
Outdoor enthusiasts of all backgrounds and skill levels will find one-of-a-kind adventures throughout Oregon including lower-impact excursions, beginner trails and kid-friendly hikes. There's no shortage of majestic waterfalls, rugged Oregon coastline to explore, bicycle paths galore and natural hot springs.
Eugene Cascades and the Coast Region offer a treasure trove of outdoor activities. With a wide range of skill levels and unique courses, disc golf is an optimal way for groups to enjoy the great outdoors. Visit Alton Baker Disc Golf Course or Westmoreland Park in Eugene where golf meets frisbee. At Cascades Outdoor Center at Westfir Lodge, experience an unforgettable three-hour river rafting expedition and see Oregon the way it was meant to be seen. Ride the whitewater rapids of the upper Willamette River with a professional tour guide and glimpse the picturesque banks of Willamette National Forest. Rejuvenate in Oregon's natural hot springs with soothing mineral waters sure to relax your group after endless hours of outdoor play. For a rustic experience, visit McCredie Hot Springs off Highway 58 and soak in the warm shallow saltwater pools. Or pamper your group at the Belknap Hot Springs Resort for a spa environment.
In the heart of Southern Oregon, Medford and the Rogue Valley have an array of outdoor opportunities to reconnect with nature. A must-see is Oregon's only National Park, a mere 60 miles north of Medford. Crater Lake National Park offers expansive views, hiking and biking trails, and incredible stargazing. Discover the Table Rocks boasting jaw-dropping vistas of beautiful Rogue Valley from high above. Just south of Medford is the mesmerizing Roxyann Peak in Prescott Park. Enjoy the park's splendor with the most breathtaking scenery as far as Mount Shasta. The park also provides paved and unpaved biking and hiking trails throughout the 1,740 acres.
Hop on your bicycles and cruise through Historic Downtown Salem and visit unique sites along the beloved historic cycling route. Discover the Willamette Heritage Center, Salem's Riverfront Carousel, the Bush House Museum and more on the three-mile bike route. At Minto-Brown Island Park, immerse in the 1,200-acre wildlife sanctuary flourishing with plants and native creatures offering 19 miles of packed and soft biking and hiking trails. For groups looking to get out on the water with their poles, Silverton Reservoir & Marine Park stock the Silverton Reservoir with some 20,000 trout every year. It's also a popular swimming hole and recreational boating area (electric motors only).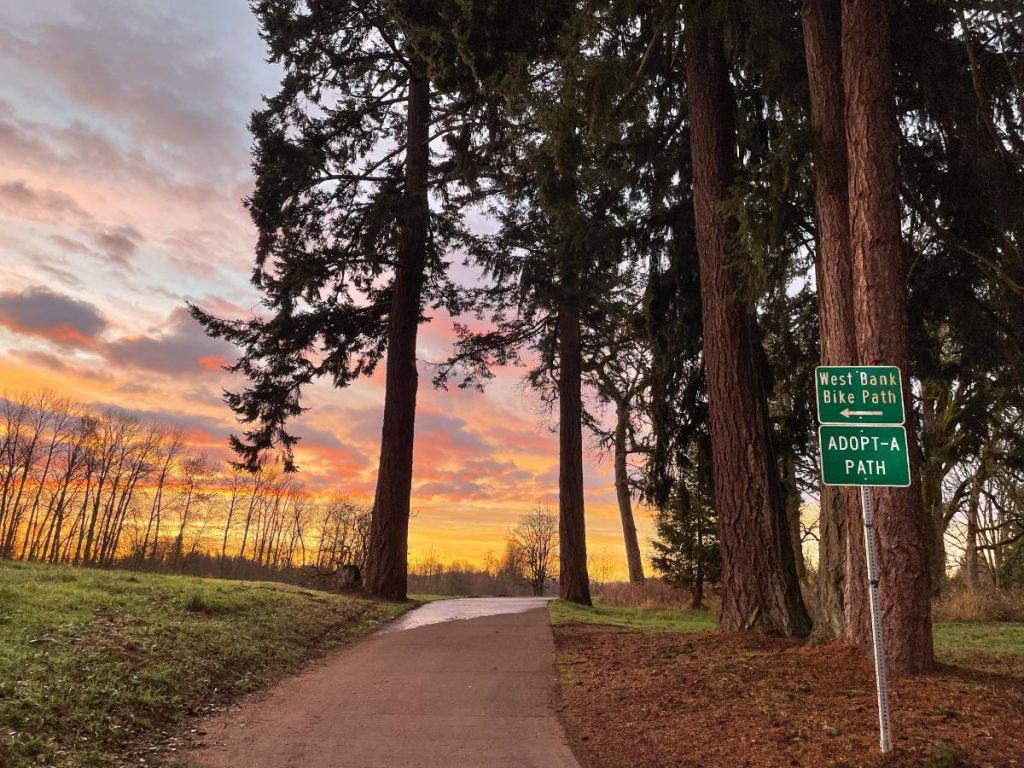 Situated near Portland in Washington County, the Tualatin River National Wildlife Refuge invites groups to discover over 200 bird species, the vital wetlands full of waterfowl and amphibians, and enjoy the interpretive exhibit inside the visitor's center. Tour Smith Berry Barn, a 30-acre working farm producing a wide variety of berries including boysenberries, loganberries and Marionberries. The family-owned farm also hosts a 5-acre apple orchard growing modern and vintage apple varieties and a gourmet shop featuring raw honey, berry preserves, gift baskets and an espresso bar. At the 53rd Ave Community Park, outdoor activities are abundant for groups of all ages. Enjoy a rousing game of soccer or football on the artificial turf field, a game of tennis or basketball, splash around in the water play fountain area on hot days and so much more at the 14-acre municipal park.
Calling all cyclists to the Willamette Valley Scenic Bikeway, part of the vast network of riding paths and bike lanes that navigate in and around Corvallis. The bikeway follows along the Willamette River from Champoeg State Park to Armitage Park outside of Eugene giving way to bucolic scenery. Corvallis grants families with children many kid-friendly hikes at places like Bald Hill Natural Area with a 1.5-mile multi-use beginners trail, or Fitton Green Natural Area providing easy access to higher elevations via the parent-approved Allen Throop Loop Trail revealing impressive and unobstructed panoramic views of Willamette Valley.
Did you know that there are over 90 waterfalls just 30 miles east of Portland? The Columbia River Gorge National Scenic Area offers a variety of multi-level hikes to the stunning Columbia River Gorge Waterfalls, natural scenic vistas and one-of-a-kind adventures. This deep canyon was carved out by the ancient waters of the Columbia River where you can now discover hidden grottos and steep vertical cliffs gracefully shaping snowmelt and glacier-fed waters into falls. Stretch your legs at Portland's biggest open-air emporium, the Portland Saturday Market, from March through December. Explore more than 150 vendors and local artisans showcasing unique arts and crafts, handcrafted furniture, food and drinks, and live music and entertainment. Peruse locally crafted jewelry, ceramics, wood and silver treasures, clothing and much more.
Coos Bay is part of Oregon's Adventure Coast region promoting three nature parks. Visitors can get up close to marine life in tide pools, beach comb for shells and other sea treasures, and swim in the shallow waters of Sunset Bay State Park. Hike, camp, swim, and be on the lookout for whales, seals and sea lions at Cape Arago State Park. View luscious gardens blooming with vivid colors and exotic plants at Shore Acres State Park where they also put on a resplendent holiday lights display. There's no shortage of outdoor adventures in the Pacific Northwest and Oregon is at the heart of it all.
---
By Heather Dale
Coos Bay is a perfect spot for adventurers to explore. Photo courtesy of Sport Oregon.