Multi-Purpose Design, Programming Principles Connect Communities to Push the Limits
When the world stopped, esports became the arena of the people.
After nearly 11 million viewers attended Fortnite's debut metaverse concert featuring DJ Marshmello in February 2019, the title re-purposed the differential of community in gaming when Travis Scott took the virtual stage in April 2020 to an audience of more than 12 million.
While crystal balls of years past may have missed the onset of a pandemic, the gaming masses again showed up as predicted. With a critical mass defined by community and purpose, esports investments and revenues have grown exponentially over the last decade into slam dunk ventures that bring people together through the seemingly limitless potential of design.
"We began to look at this intently in 2013 and did a lot of internal R&D and investigation into how we believe esports and venues of the future could be designed by applying a lot of the principles that we know from our traditional sports venues work," says Brian Mirakian, senior principal and esports director for the Americas at Populous. "We looked at this in future-thinking mode, to design things as you may for a concept car where we were applying a lot of principles but looking at it in a futuristic sense. From those initial ideas and creative thinking, real projects started to happen."
As an increasing amount of data and insight from financial institutions like Goldman Sachs continued to validate the credibility of esports, Populous began testing the market during meetings and industry events. Those efforts crystallized further at South by Southwest (SXSW) 2017 when Mirakian led a presentation that made a case for considering the design and construction of colosseum-esque facilities centered on esports. As no surprise to Populous, a Kansas City-based sports and entertainment design firm founded in the 1980s, the audience reception was positive and the firm would soon thereafter land its first esports venue design project—Esports Stadium Arlington, a converted convention center space that opened in November 2018 and still stands as the largest esports venue in North America.
Since then, global interest and investment in dedicated esports venues has surged as new projects have arisen, including other Populous projects like: the 1,000-capacity Fortress Melbourne in Australia (opened March 2020); a new fan district-infused riff on the planned 3,500-seat Fusion Arena concept in Philadelphia (opening date TBD); and a 7,000-seat venue with an adjacent 382-unit hotel slated for Toronto (projected opening in 2025).
"Esports and gaming is not one specific game, it's not like designing a basketball venue," Mirakian says. "Esports comprises a wide spectrum of close to 100 games that are the most popular in the world, and we know that's going to change. In five years, there will be something else."
Following a mantra of innovative investment in esports, SURGE, designed by Chicago-based architecture firm KOO, remains on track to open in 2023 in the historic Bronzeville district in south Chicago. Led by Smash Interactive, a joint venture formed by real estate firm ECD Company and virtual reality upstart MassVR, the $30 million SURGE project plans to feature 108,000 square feet of interactive, multi-use space with seating for 1,040. The facility's location also provides added value, as it's only 0.6 miles from larger event venues Wintrust Arena and McCormick Place, and approximately one mile north of the Illinois Institute of Technology (IIT).
Known for its esports prowess with a club team that dates back to 2013 and its present-day scholarship student-athletes, Illinois Tech Esports naturally became an integral partner of the SURGE project after its work at the 2018 Intel Extreme Masters, a Counter-Strike: Global Offensive (CS:GO) tournament at Wintrust Arena. IIT students and staff volunteered at the event and also hosted their own college tournament, repurposing the professional stage and production equipment that was already used and paid for by the Intel Extreme Masters event staff—something that inspired SURGE co-leads Scott Greenberg (ECD Company) and Chris Lai (MassVR) to connect with Illinois Tech.
"SURGE is allowing us to add an educational component to the building; they are building a lab for us that will be branded Illinois Tech," says April Welch, who serves as Illinois Tech's associate vice president of strategic initiatives and director of esports and digital arts. "In that lab, we'll be able to teach the community Unity and Unreal (Engine), use the tools that you use for game design and to create videos, like Blender, Photoshop, and (Adobe) Premiere. When folks don't have $2,000 for a rig, we'll be able to bring them in and show them how to do this work and host workshops right from the SURGE facility."
Welch, who oversees Illinois Tech Esports that has more than 100 competitors, 500 active Discord participants and 900 members, adds that the flexible venue and program design allows for seamless integration of college team practices, community access, weekend tournaments, weddings and next-level tech.
"They're really making an effort that it's a space for you to want to come and have a drink and watch a game—or just to learn about streamers or jump into the VR world," Welch says. "That's the hidden gem, the virtual reality component that they are building with MassVR."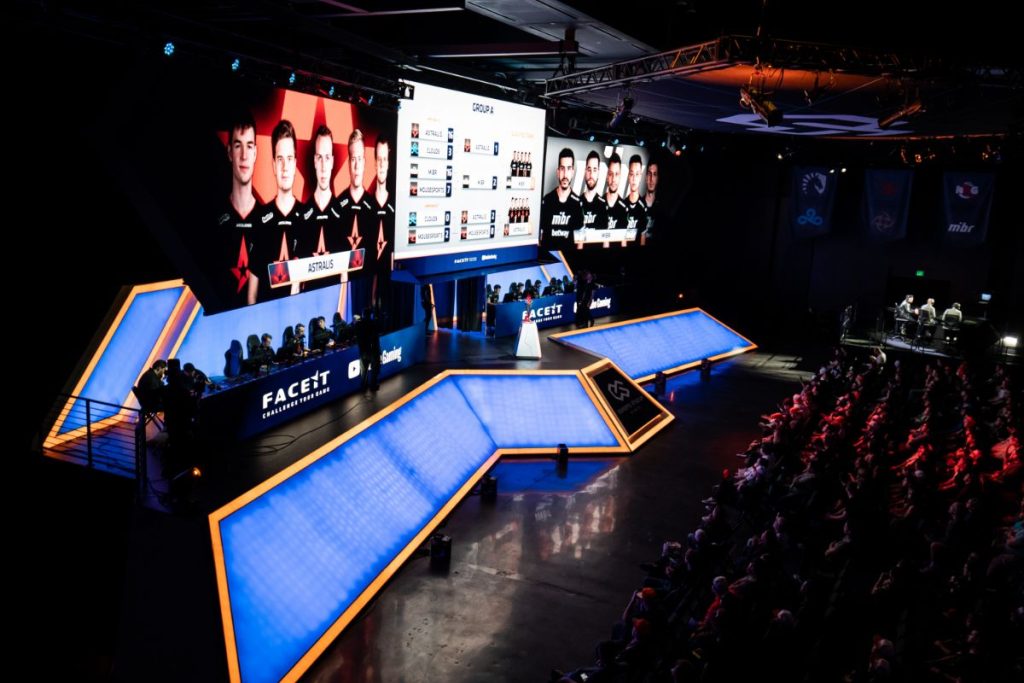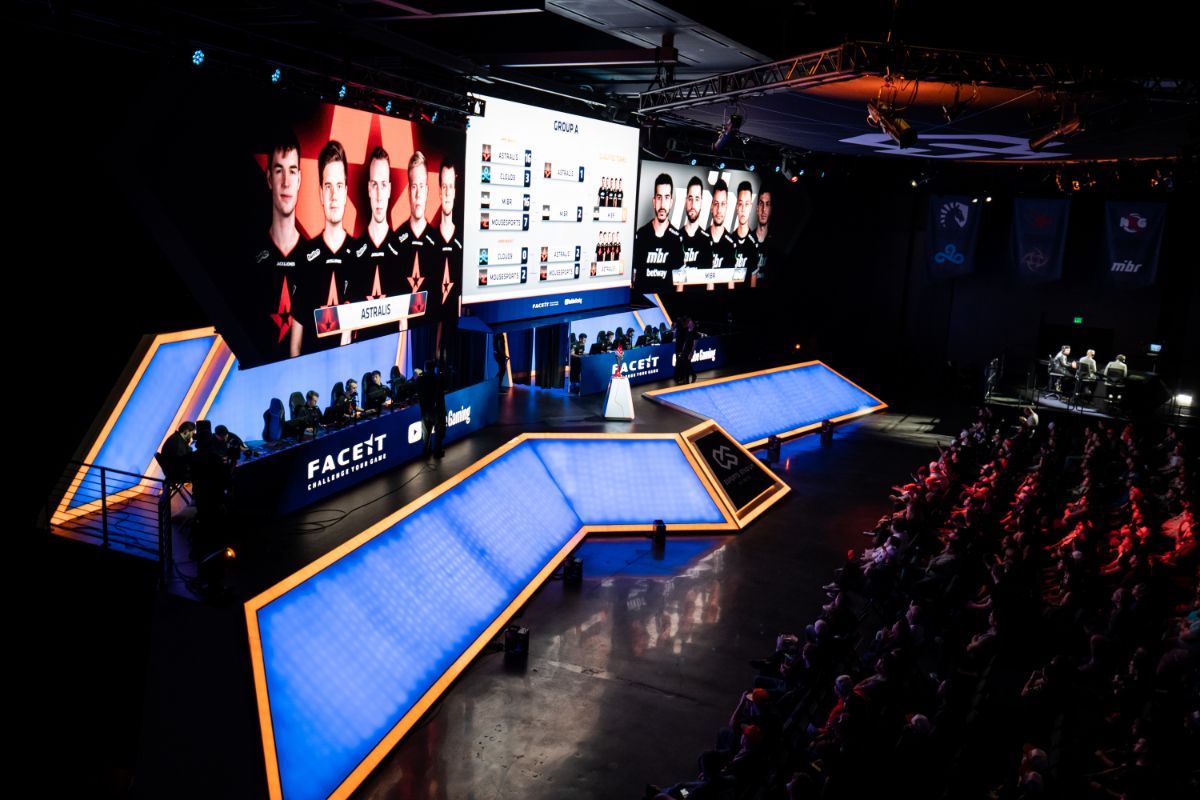 CONNECTIVITY, ACCESS AND 'THE RACE TO BE FIRST'
The pandemic has led to supply-chain related delays, though the modular design nature of SURGE has allowed it to keep making progress on and offsite. Additionally, the project's neighboring buildings, Interstate 55, the Chicago Transit Authority Green Line and existing neighborhood aesthetics have helped to provide a defined yet unique set of features to build from.
As a convention center retrofit, Esports Stadium Arlington also presented opportunities for the Populous team to capitalize on. Some of the common amenities that come with the bones of a convention center helped in Texas, including space for a main stage and seating, 30-foot ceilings with rigging capacity, flexible spaces for media and production set-up, and a baseline tech infrastructure.
"Both processes are tremendously rewarding as an architect, but for our clients—and especially in esports where things are rapidly changing and there's a race to be first—there are some inherent benefits to a retrofit, especially if you have a piece of property that's viable," says Mirakian of new versus retrofit facility work. "There are certain aspects related to technology, a tech backbone, which make the challenge significantly less from day one if you don't have to add things that add significant cost—things like fiber, basic power requirements, networking."
While Mirakian says technological complexity can account for 40 percent of a total construction budget, Esports Stadium Arlington was completed in 2018 for a relatively modest total—$10 million compared to other projects in the queue with total costs in the tens and hundreds of millions range—and delivered to market through the Populous Design Build method within six months of it being fully funded. And a few months after the facility opened, Mirakian made a follow-up visit to SXSW in March 2019—Populous's third speaking appearance at the acclaimed Austin, TX, show—alongside the president of Esports Stadium Arlington to report on the success of their partnership and what it could signal ahead.
"[The kids] are not only gaming, they're learning how to communicate and work together as a team."
The future of esports is now in the Windy City, where Welch and Illinois Tech are busy connecting the SURGE project to the campus, neighborhood and renowned global brands like FaZe Clan. Welch and her students have spent many days and nights presenting to city council members, parents and community leaders about why esports and SURGE are so important for kids to remain connected during a pandemic and to develop career and life skills. The kids 'are not only gaming, they're learning how to communicate and work together as a team,' according to Welch.
Esports serves as a multi-faceted catalyst for access, a critical attribute that helped SURGE receive full city council support in March 2021. In addition to boosting internet and technological reach and helping to narrow latency gaps in gaming and learning, the SURGE model provides a more holistic esports ecosystem suited for a variety of gaming titles, which is welcoming to organizations like the*gameHers, an online community dedicated to amplifying female gamers and marginalized genders. Also as an extension of the SURGE partnership, Illinois Tech is helping establish the Bronzeville Esports League, which will bring esports directly to Chicago Public Schools middle and high school students.
These are efforts that come full circle as part of the college experience at Illinois Tech Esports, whose members prioritize community engagement that can vary from utilizing the title Valorant to boost IIT's virtual homecoming during the pandemic, making regular visits to children's hospitals and helping with treatment for post-traumatic stress disorder.
"I'm excited about doing trauma-related work where people will discuss trauma through esports," Welch says. "It's hard to get folks to talk to a therapist, but if you can weave it into part of your tournament or gameplay where you take 15-minute pullouts and discuss how this character would feel, it's not about them or their life. It's about this character who just lost his or her son or brother. You let them work it out through a simulation."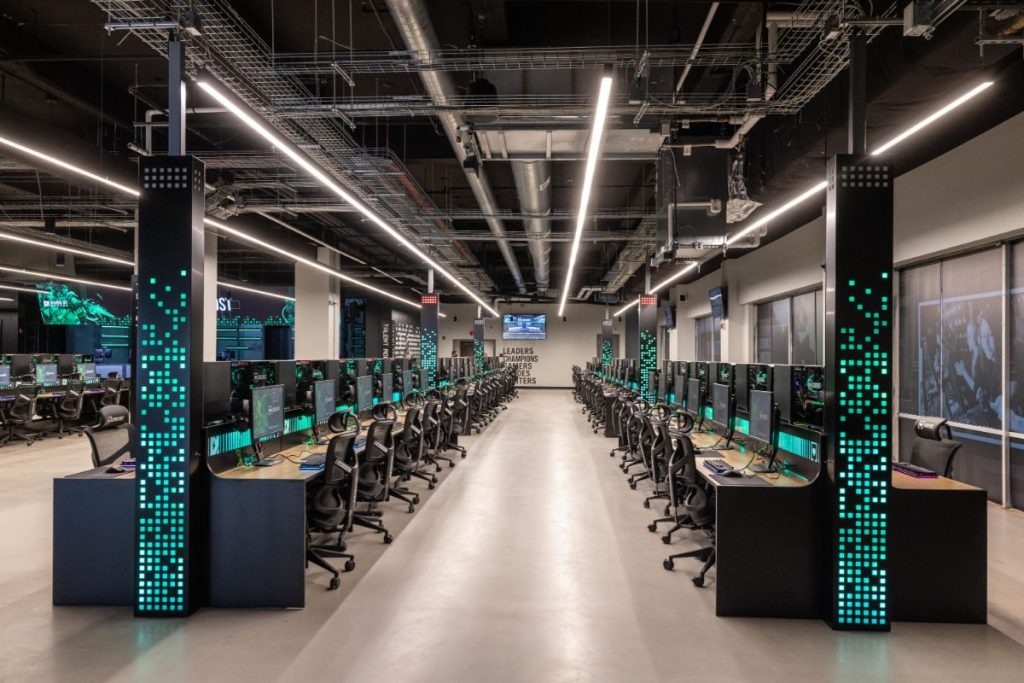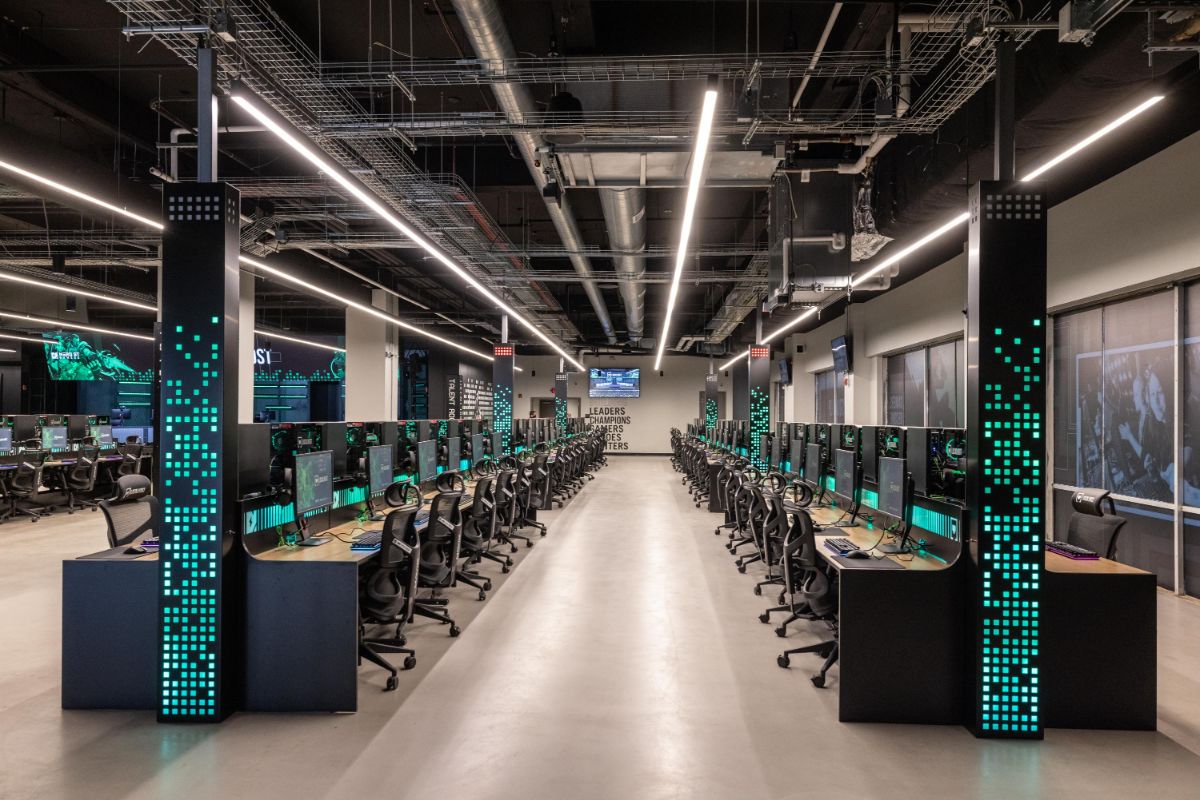 FUTURE FORECAST: BALANCING MULTI-PURPOSE WITH PURPOSE-BUILT
Populous has also focused on leveraging localized centers as community safe spaces through its work with Nerd Street Gamers, which it partnered with in designing one of its Localhost facilities dubbed "The Block." A 40,000 esports micro-campus in the heart of downtown Philadelphia, the space features a robust local area network (LAN) center, retail space, content production and streaming area, training and office space, and food and beverages room.
"What we found is that people want and need to have access to places like that. Not only for gaming, but they need to have a place where they can come in and work on their resume or do their homework," Mirakian says. "It's really important for young people today, especially young people aspiring to do something positive in their life. These places should be thought of as a place to cultivate growth and community. That's what's been so satisfying with the Nerd Street Gamers project."
"When you think about esports, the court has no limits."
Even as venues and programs are projected to increase in scale, balancing multi-purpose with purpose-built presents communities, design firms and gamers a collective goal to target. The futuristic plans for the still-unnamed Toronto 2025 project—a collaborative effort between Populous, OverActive Media and city officials—may provide a forecast of macro-micro coexistence in the years ahead. In addition to the 7,000-seat esports arena, the entertainment complex will be situated on the shores of Lake Ontario and feature a hotel tower, convention space and privately owned public space. Designed with versatility in mind, the facility will be built for conventions and meetings, live music and performing arts and expected to host 200 events annually.
"You have to ultimately design with the mindset that it needs to be inclusive of everyone, it needs to be designed in a way that you can attract an audience that can be as young as nine or 10 years old all the way up to people who are 50-plus," Mirakian says. "What we see is a widening spectrum of people who are using our venues, and we have to ultimately design for that whether you are female, male, young or old. You have to create a venue that's adaptable and flexible and has the ability and room for growth."
At SURGE, that theme of versatility extends to the real and virtual world. While the venue set-up and its nearby partners make it tournament-ready to host the latest high school esports championships or NBA 2K League Playoffs, SURGE's custom full-stack virtual reality program from MassVR adds an additional layer of experiential tech—a differential that may immerse visitors in VR trips to the Museum of Cairo or through the canals of Venice, Italy.
"Esports really opens up the field," Welch says. "Baseball and basketball are really defined—here's your court and here you go. When you think about esports, the court has no limits."
---
By: Nick Povalitis, Plus Seven Company

OAM Toronto is a high-tech venue coming to Toronto, Ontario. Photo courtesy of OverActive Media.