Rendezvous to the lakes, beaches and green spaces for a dose of fresh air and Mother Nature
Whisk your family or the whole team away from the hotel for unforgettable memories during your downtime in the alluring South Carolina wilderness. The state consists of three distinct regions – the Atlantic Coastal Plain, Piedmont, and Blue Ridge provinces. Possibilities are endless with every type of outdoor endeavor imaginable spanning more than 32,000 square miles of subtropical land and seascapes from the mountains to the ocean.
Myrtle Beach
With 60 miles of vibrant coastline teeming with natural amenities, Myrtle Beach provides endless outdoor recreations to explore in between sporting events. Anglers can cast their lines on or offshore on charter boats navigated by professional sea captains. Kayak or canoe through the Intracoastal waterway, scuba dive, wakeboard, water ski, go on a speed boat adventure, take a river or sailboat tour or go surfing. Myrtle Beach State Park and Huntington Beach State Park offer an array of outdoor activities, from hiking and biking to camping on the beach and fishing from the scenic pier.
Beaufort
Comb the pristine beaches of Beaufort, Port Royal and The Sea Islands for ocean treasures while soaking up the warm sun. Visit Hunting Island State Park and explore seashells and driftwood or hike the network of maritime nature trails. From the easygoing quarter-mile Lighthouse Nature Trail to the moderately strenuous 2.3-mile Diamondback Rattlesnake Trail, there's one for every skill level. Rent a kayak and discover the salt marshes and postcard-like coastline, learn about local wildlife and paddle with dolphins in the warm, shimmering waters. Hop aboard the Spartina Marine Education Charter for an educational adventure on the Chechessee River.
Florence
Florence provides a network of trails for biking and hiking and offers adventures for every ability. Explore the Revolutionary Rivers trail by kayak, go for a three-hour guided moonlit paddle or an overnight paddle and camp along the shores. Head to the High Hill Creek Bike & Run Park and discover four miles of well-maintained trails. Lynches River County Park spans an impressive 676 acres and provides endless outdoor recreation, including geocaching (a modern-day techy treasure hunt), a treetop canopy complete with a swinging bridge, picnic areas, a softball field, a basketball court and plenty of green spaces.
Columbia
The South Carolina capital of Columbia hosts beautiful Lake Murray and Congaree National Park and is an ideal place to enjoy the great outdoors. Venture through South Carolina's only national park consisting of massive old-growth hardwoods (the only remaining in the U.S.) on a picturesque boardwalk that meanders through the unique ecosystem. Canoe or kayak down the Broad, the Congaree or the Saluda River with the pros from Adventure Carolina or Carolina Outdoor Adventures. Try paddleboarding or rend a paddleboat on Lake Murray. Go bouldering at Sesquicentennial State Park and rent tubes from Palmetto Outdoors for a leisurely float.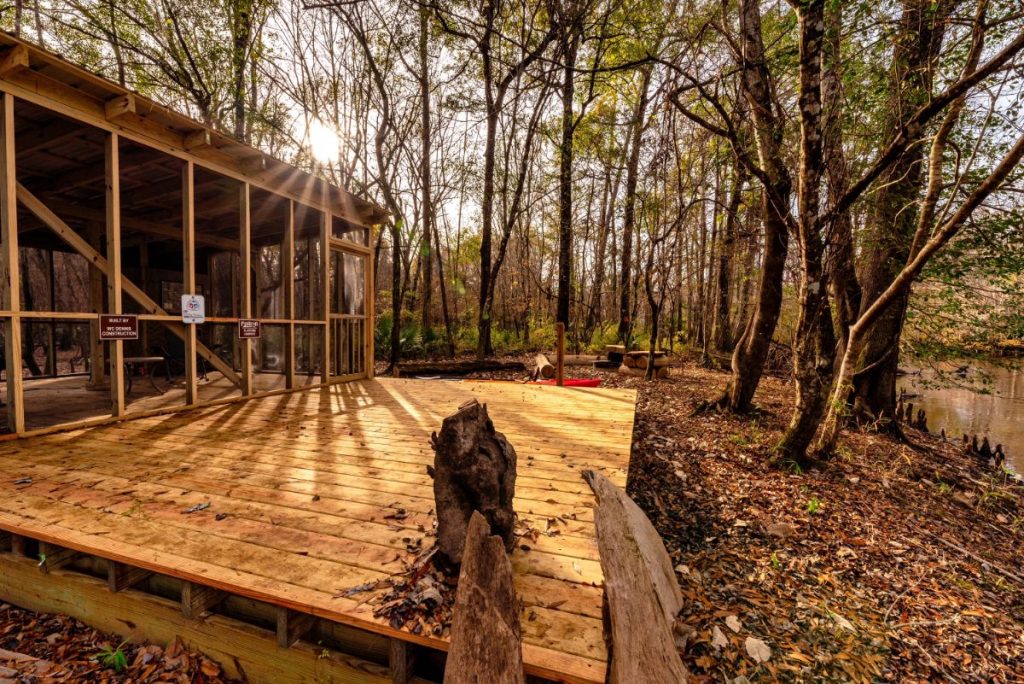 Spartanburg
Spartanburg is a hub for outdoor amusement and casual activities. Breathe the fresh air at numerous parks and green spaces, including Cleveland Park, Croft State Park, Duncan Park, the Glendale Shoals Preserve and the Hatcher Garden Public Botanical Garden & Woodland Preserve, to name a few. The town is also home to many family-friendly scenic amenities like Village Greens Golf Club, Woodfin Ridge Golf Club, Greer Country Club and Heddles Hideaway Country Club. Visit the horses at Motlow Creek Equestrian Center or Cannon Equine Instruction. The Hot Spot Skate Park avails itself to both novice skateboarders and newbies and is the first public concrete skate park in the state.
Greenville
Take in the breathtaking panorama after you hike the 3,124-foot Table Rock summit and view 13,000 miles of sprawling Table Rock State Park. The nearby geologic wonder, Caesars Head State Park, touts South Carolina's tallest waterfall. Glimpse the striking ancient rock outcroppings and a 2,000-foot sheer drop that is part of the Blue Ridge Escarpment, both instrumental in creating the magnificent falls. Rent electric bicycles from Pedego Electric Bikes Greenville and take a fantastic scenic journey along the 22-mile Swamp Rabbit Trail. Explore Downtown Greenville without breaking a sweat and discover the many charming restaurants and shops on a safe, relaxing bike ride.
Anderson
Located on scenic Lake Hartwell, Anderson is an angler's and a boater's paradise. Sadlers Creek State Park is a 395-acre peninsula that protrudes into Lake Hartwell where you can take a sightseeing hike and view native wildlife and folks enjoying water sports. The Saluda River Ramblers will take your group on a kayak adventure down the pristine Saluda River teeming with abundant wildlife like turtles, Great Blue Heron, Kingfishers, otters and more. With three lakes to choose from, fishing opportunities are endless. Lake Hartwell makes up a whopping 56,000 acres of freshwater abundant with fish and over 900 miles of wild coastline. Broadway Lake is a quaint 300 acres of calm water with a public boat ramp welcoming visitors to cast their lines. Lake Russell, managed by the U.S. Army Corps, was created in 1984 by way of a dam comprising 26,650 acres of sparkling water waiting to be fished. Today, the lake provides not only a myriad of recreation opportunities but also mitigates flooding, regulates stream flow, produces power and is a vital water supply.
South Carolina's temperate climate and abundant natural resources make it the ideal place for outdoor exploration. Consisting of freshwater lakes, gorgeous beaches, jaw-dropping cliffs and waterfalls, and numerous state parks and preserves brimming with wildlife, the Palmetto State invites your group to explore its splendor.
---
By Heather Dale

Cycling Croft State Park in Spartanburg County. Photo courtesy of Spartanburg CVB.