Thanks to the efforts of Sport Oregon, the Beaver State has hosted numerous renowned competitions
This past July, the city of Eugene, Oregon did something no other American city has when it hosted the 2022 World Athletics Championships.
The championships, which have showcased the greatest athletes on the planet since 1983, took place at Eugene's legendary Hayward Field, home to the University of Oregon's track and field teams since 1921.
Spread across 10 days, the championships were an enormous success as more than 2,000 athletes representing more than 200 nations competed. Three world records and 13 championship records were broken, and the world noticed. The 2022 edition was the most-watched championships in U.S. television history and more than 146,000 tickets were sold.
"Oregon is the global epicenter of track and field, and it showed in a big way for the Worlds," said Matt Reed, director of Sports Tourism for Sport Oregon. "The Eugene community truly embraced the world – which is no surprise – and the world, in turn, embraced Eugene and our unique Oregon spirit. We couldn't ask for anything more with a global event like this."
The championships are merely the latest in a long line of major events that have been held in Oregon. In recent years, Oregon has attracted some sizable competitioons including the 2014 MLS All-Star Game (held at Providence Park in Portland), the 2016 IAAF World Indoor Track and Field Championships (held at the Oregon Convention Center in Portland) and the Phil Knight Invitational basketball tournament in 2017 (also known as the PK-80 Invitational), which took place at the Moda Center and Veterans Memorial Coliseum in Portland.
Most recently, Oregon welcomed the prestigious 2021 IRONMAN Oregon 70.3, which unfolded in Salem. The IRONMAN was a feather in Oregon's cap as it attracted athletes from across the globe and brought in an estimated $11 million in tourism dollars.
Substantial events like IRONMAN have become the norm in Oregon, which has numerous other events on tap including multiple NCAA men's and women's basketball tournament games which Portland will host in 2022, 2024 and 2026.
IRONMAN and the World Athletics Championships are but a few prime examples as to how Sport Oregon continues to make a name for itself on the national stage and why organizations like Sport Oregon are so integral to a state's economic growth.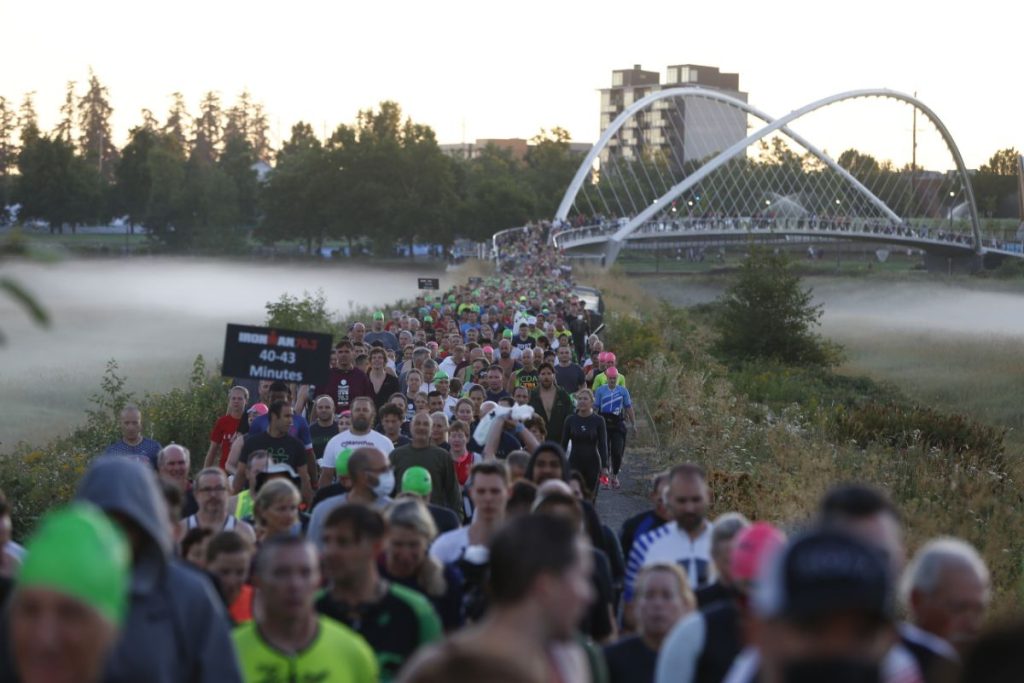 Sport Oregon, a nonprofit group promoting athletics across the state, has served as Oregon's sports economic development arm for almost three decades, injecting more than $350 million into Oregon's economy through sports tourism. With upwards of 150 members, including premier partners like Nike, Adidas, Travel Portland, Travel Oregon, the City of Portland and PNC Bank, Sport Oregon, is thriving like never before.
"We've made unbelievable progress in the just the past few years in positioning Oregon as a willing and capable host for large-scale sporting events," said Reed. "With each success, we gain more positive momentum, more partners, more eyeballs, and we keep rolling ahead. We make strides every day to better our organization and our state, and we're nowhere near finished."
Sport Oregon also owns and produces multiple annual events including the Oregon Wine Country Half Marathon, Oregon Sports Awards and the TrackTown Youth League. Revenue from its owned events is continually re-invested into the community to grow the organization and to help attract high-impact national events into Oregon.
Oregon is a sports playground
It's no surprise Oregon attracts tournaments of all sizes. With a multitude of lauded cities across the state coupled with its incredible natural beauty, Oregon is a sports planner's dream destination.
Athletes from around the world can not only compete against the backdrop of picturesque mountain ranges, forests and lakes, they can also immerse themselves into the scenery with hikes, swims and whatever outdoor endeavor they crave.
Oregon is also home to exceptional modern sports facilities, including the massive Rogue Credit Union Community Complex (also known as Rogue X), which is slated to open in early 2023. This 90,000-square-foot center will host a slew of sports competitions including basketball, swimming, volleyball, pickleball, wrestling, cheer and dance and will be on the short list of best facilities in the country.
Couple Oregon's newer complexes like Rogue X with the state's venerable arenas like Portland's Providence Park, which opened in 1893 and still offers world-class views and atmosphere for Portland Timbers soccer games, and one can see why Oregon is such an enticing destination.
Few, if any states, can blend vintage and modern better than Oregon. Come see for yourself.
---
By Jason Paha
Athletes taking part in the IRONMAN Oregon 70.3. Photo courtesy of Sport Oregon.