With unmatched natural beauty, easy access to wide-open spaces and a slew of fabulous destinations, Arizona was built to be explored.
When the travel bug bites, what's your first choice for outdoor excitement? If you're seeking endless adventure for travelers of all ages, then Arizona deserves a place at the top of the list. Strategically located airports and well-maintained roads and highways make finding your way a breeze. Amazing weather, a wide variety of activities and a welcoming vibe make for a perfect year-round destination.
A Mountain of Fun in Northern Arizona
Situated in the high country mountains of northern Arizona, Flagstaff caters to all kinds of adventure seekers. As the world's first designated International Dark Sky Community, Flagstaff is known for its prime stargazing spots. Visit Lowell Observatory, where Pluto was discovered, and learn about cosmic phenomena. Take the crew on a hike along the Urban Trail system, made up of more than 50 miles of trails around the city.
A Desert Escape
After taking a convenient flight into Phoenix Sky Harbor Airport, which is served by all major airlines and has 1,200+ daily arrivals and departures, head south for about an hour to Casa Grande, considered the state's relaxation station. Take the family on a stroll of historic downtown, comprising more than 40 historic structures, and settle in for a scrumptious meal at one of the many eateries serving up signature dishes.
In the morning, head to nearby Picacho Peak State Park, home to one of the most famous summits in the Sonoran Desert. The 4,000-acre park boasts miles of hiking and mountain bike trails, as well as spots for rock climbing and camping. Continue your drive down to Tucson, the second largest city in Arizona, located less than 30 minutes from the park. Keep the outdoor experiences going with a visit to Saguaro National Park, home to more than 2 million giant Saguaro cactuses, the universal symbol of the Southwest. It also features over 90,000 acres of explorable terrain.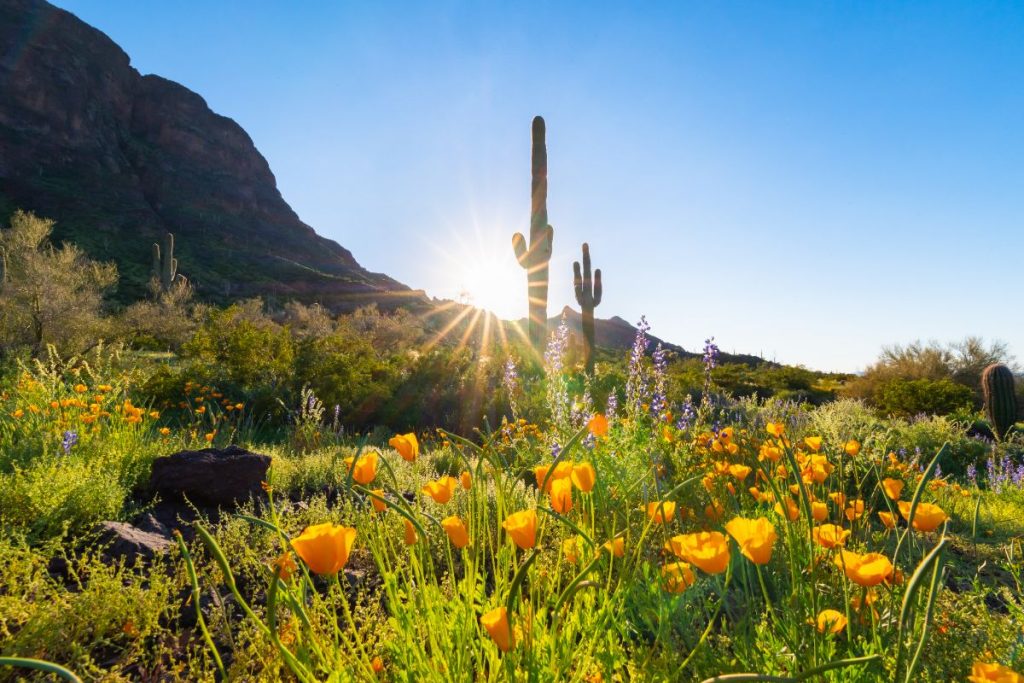 Sunshine and Splash Pads
Arizona's western edge delivers prime outdoor excitement and is easily accessible from several parts of the country either by car or plane. Located just off I-40, Lake Havasu City is considered Arizona's playground thanks to its 60 miles of waterways and ideal weather all year round. After you arrive, spend a day on the water with the family. Rent a personal watercraft and speed along the waves, relax as you float on a pontoon or soak in the scenery on the Havasu Landing Ferry.
After a day or two in Lake Havasu, make your way south along the Colorado River to Yuma, known as the sunniest city on earth. If you're ready to get your heart pumping, head west to the Imperial Sand Dunes, where you and the crew can take an ATV ride over dunes reaching 300 feet into the air.
A Trip Around Phoenix and the Valley of the Sun
As the state capital and the largest city in Arizona, Phoenix has more than enough attractions to keep the family fun going for several days. Start your trip off in Phoenix, and take a morning hike at South Mountain Park Preserve, featuring over 50 miles of trails.
Just east of Phoenix is Scottsdale, known for its glitz and glam. There's plenty of family fun to be had at this upscale vacation destination. Bring the family on a low-key walk on the Bajada Nature Trail or explore one of more than 400 trails surrounding the area. After a hike, head to the Lower Salt River for an afternoon on the water kayaking, tubing or stand-up paddleboarding.
The college community of Tempe, just south of Scottsdale and east of Phoenix, is home to Arizona State University athletics and is packed with a variety of things to see and do. Check out Tempe Town Lake, a man-made reservoir that's perfect for fishing, kayaking and paddleboarding.
To the east of Phoenix, Mesa also buzzes with activity. Its Fresh Foodie Trail is a must-do for those who relish unique culinary offerings. Families can experience world-class eateries and munch on dishes created with locally sourced ingredients.
On the west side of Phoenix, you'll find Glendale. Take the crew on a walk through the historic downtown area, lined with boutiques and antique shops and pick up a few unique keepsakes. As one of the last working cattle ranches in the area, Manistee Ranch offers a glimpse into the past like you've never experienced.
Over in Chandler, east of Phoenix, you'll discover Veterans Oasis Park, which features a lake and trail system families love to explore. And the Chandler Solar System Walk is a great way to enjoy the outdoors and learn a little something.
The town of Gilbert, also just east of Phoenix, is home to several great outdoor escapes, including Riparian Preserve at Water Ranch. The 110-acre park features nearly 5 miles of trails, and is home to hundreds of bird species, insects, reptiles, fish, and mammals.
These are just a small fraction of the adventures awaiting visitors to Arizona. No matter the length of your trip or your appetite for exploration, the Grand Canyon State is ready to fill your itinerary with fun. Start planning here!
---
By Vanessa Day
Even the smoothest events have numerous problems that arise.