Newly opened, renovated and planned fields and facilities keep North Carolina in the forefront of sports competitions
Venues, Fans and Esports Incentives Assure Your Event is Successful
From soccer, disc golf and swimming/diving to cricket, tennis and paddleball there are new indoor and outdoor facilities popping up across the Old North State.
Greater Raleigh Area
There are more sports venue developments in the Raleigh Area then at any time in the past 20 years. Wake Stone Athletic Park, Knightdale: The Town of Knightdale, in partnership with Wake Stone Corporation, NCFC Youth and Wake County, opened this new facility in fall of 2021. The park includes five soccer fields, with more fields planned in future phases. Triangle Aquatic Center, Cary: The addition of a new 50-meter outdoor pool in July of 2022 has expanded the programming and hosting capabilities for the center. PNC Arena, Raleigh: The arena, which opened in 1999, is moving forward with a major design, enhancement and renovation project that will feature a variety of upgrades.
The Center (Cary Indoor Multisport Complex): The new proposed venue will feature a small arena (approximately 4,000 seats), 12 basketball courts convertible to 20 volleyball courts and full Esports capabilities. A site has been selected (South Hills Mall) and a design team has been brought on board. A soft timeline will have construction beginning in 2024 and opening 2026. USA Baseball National Training Complex, Cary: Enhancement will include a covered, open-air, full infield and batting cages for workouts and practice as well as umpire locker rooms, additional meeting and function space and USA Baseball offices. Expected completion date is summer or fall of 2023.
Pleasant Park, Apex: This new venue is under construction with six multipurpose synthetic turf fields, all with lights, along with four tennis courts and six pickleball courts. It is expected to open in fall of 2022 or spring of 2023. Church Street Park, Morrisville: Enhancement to this cricket venue includes artificial turf practice pitches and nets, an addition of 2,000 permanent seats, broadcast infrastructure and additional parking. Estimated completion date is summer 2023. SWING, Raleigh: The new proposed venue will include 35 tennis courts, 25 pickleball courts, 16 paddleball courts, 20 table tennis tables and four beach tennis courts. It is expected to break ground fall 2022. Calvert Ice Sports, Holly Springs: The new proposed venue is expected to include four National Hockey League-sized ice rinks. The expected completion date is 2024/25.
North Carolina is demonstrating a long-term commitment to the Esports community and industry.
The 25% rebate is funded through the NC Esports Industry Grant with currently $5 million grant funds available per fiscal year July 1 – June 30. Applications should be submitted at least 30 days prior to the start of the event.
The incentive is up to a 25% rebate on direct spending within the state of North Carolina via funds from the NC Esports Industry Grant. Minimum spend is qualify $150,000 per event. Qualifying expenses are goods, services, rentals, compensation and wages, fringes, per Diems and living expenses and stipends.
For application and details, reach out to Amanda Baker at 919-447-7765, or via email, amanda.baker@visitnc.com.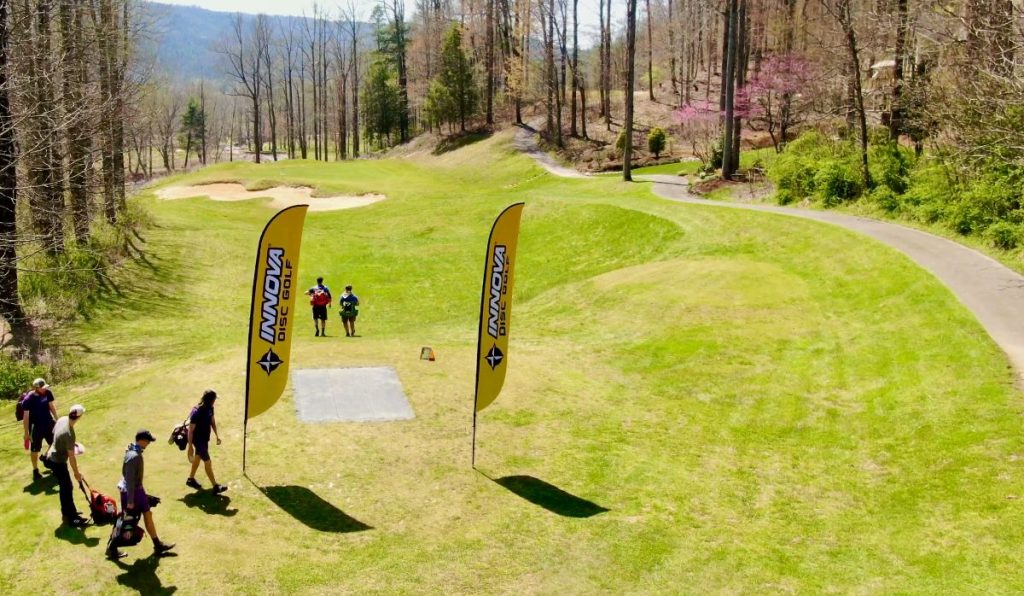 Burlington/Alamance County
The home of the Burlington Sock Puppets, the 2022 Appalachian League Organization of the Year, will have renovations. Burlington Athletic Stadium is adding an entertainment venue to the center upgrading the fan experience and increasing the opportunity to hoist events.
City of Asheboro/Randolph County
Zoo City is frequently used to define Asheboro due to its proximity to The North Carolina Zoo, the world's largest natural habitat zoo. Zoo City SportsPlex, Asheboro: The new 100-acre facility is scheduled to open March 2023 with eight athletic fields for soccer, lacrosse and football, six beach volleyball courts and four pickleball courts. Amenities include walking trails, playground, picnic shelters, and restrooms.
McDowell County
With popular attractions including the Blue Ridge Parkway, waterfalls hiking and mountain biking trails, it's understandable there would be new outdoor developments in McDowell County. The Old Fort Gateway Trails, Old Fort: The 42-mile trail project opened the first six-mile section of the trail in June 2022. These are multi-use trails including a one-mile handicap-accessible trail. Primarily, the mountain biking trails are by far the most used. North Cove Leisure Club, Marion: Nestled between the Blue Ridge Parkway and Pisgah National Forest, the former Blue Ridge Golf & Country Club has been converted to four disc golf courses. The property has already hosted two annual collegiate disc golf championships and two additional contests hosted by Innova.
---
By Dave Bodle
ACC tennis action can be found in Raleigh. Photo courtesy of Garrett Poulos and Raleigh CVB.