ESTA's annual EsportsNext conference has big takeaways for attendees on multiple important topics within the esports industry
Taking place at the Hyatt Centric in Chicago, the EsportsNext 2022 Conference wrapped up two days filled to the brim with informative panels, networking ops and an all-round educational and entertaining experience.
After an action-packed pre-conference event at a Chicago Cubs game on August 21, the Esports Trade Association's (ESTA) fifth annual conference officially kicked off on August 22 with returning Master of Ceremonies Lewis Johnson. The 25-year television business veteran and Olympic commentator electrified the room prior to welcoming ESTA Founder and Managing Director, Megan Van Petten, and Board Chair, John Davidson up to the stage. The duo prepped attendees for the panels to come and paid tribute to the late Harry Jackson III.
"The goal of our panels at EsportsNext is to share knowledge by bringing together industry leaders who are personally doing the work in verticals that are important for our industry," said Davidson. "Topics like Scholastic Esports, Impactful Trends, Successful Partnerships, Monetization Models, Betting Regulation and Gaming for Everyone inform our audience and help to develop a robust, capable community that serves, supports and ethically advances the interests of the esports industry."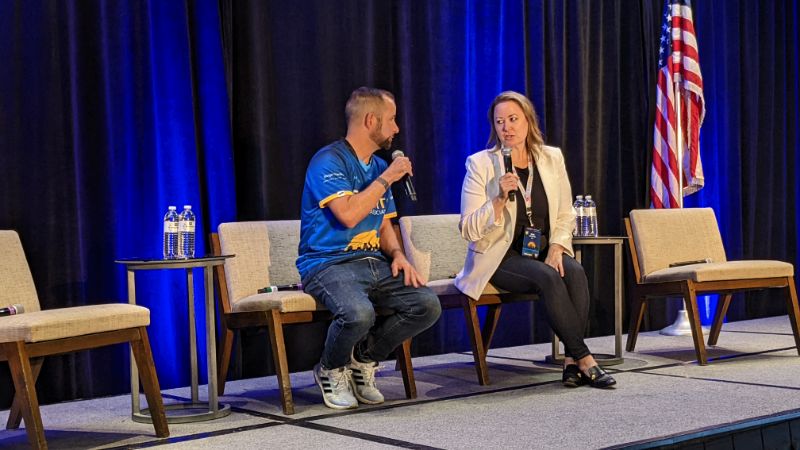 The first panel, Esports Executives, highlighted individual industry leaders' perspectives on opportunities, challenges and predictions for 2023 trends. Moderator Sandra L. Richards, managing director with title sponsor Morgan Stanley, did a fantastic job with questions for the panelists. Kurt Melcher in particular, representing Intersport, detailed toxicity in esports needing to be addressed. He concluded that the issue harms equity in gaming, particularly when it comes to female gamers—a critical topic that would be discussed throughout the conference.
Attendees were able to pick up custom EsportsNext 2022 Conference jerseys with their names or gamertags. The jerseys were a creative and popular touch by ESTA, and created by the fun team at Fatcap with an 80s vibe, Chicago skyline and unique gamer references like flipping the sleeve tag inside out to reveal +10 Luck.
The second day kicked off with the Scholastic Esports panel led by Jeff Palombo of Lenovo. The big takeaway here was that panelists agreed that esports in schools is to focus foremost on creating success for students. There were several key points made on how to do that, including the importance of ensuring students are aware of what's readily available for them, such as grants and community resources, as well as working with schools directly so that they not only better understand esports, but how esports can fit within the goals of a school.
Another common topic of critical importance at EsportsNext was heavily brought up in the Impactful Trends panel—education. There are a lot of stigmas about gaming in general. The point here was to ensure that esports helps distinguish what is fact and what is opinion. Panelists agreed there needs to be an understanding that gamers are learning important aspects of life just as they would in other sports, such as teamwork, leadership and empathy just to name a few.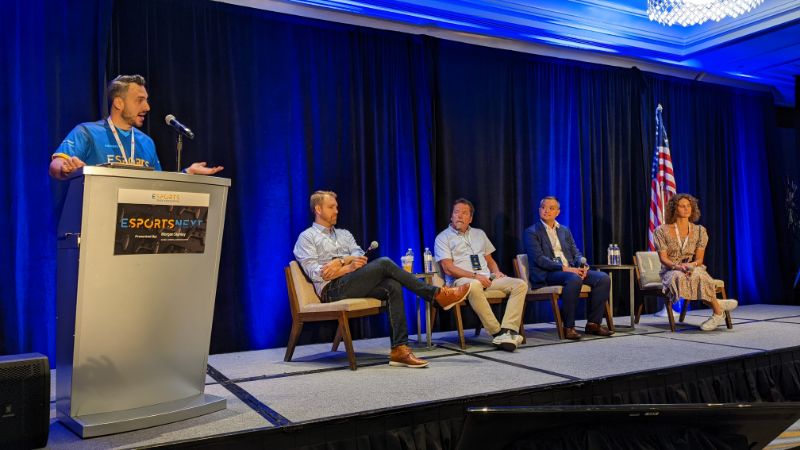 Panelist Roger Payne of YouGov provided invaluable statistics to back up this comparison to other popular sports like basketball and football. These stats also included comparisons between sports by age groups to highlight how critical esports is right now and moving forward. For example, according to YouGov, esports ranked second in popularity in the age group of 8–11 for favorite sport to watch. For girls in particular in that group, esports is still behind gymnastics but a fair way above all major sports leagues.
"One of the things that I'm learning about esports is that it's more than just tournaments. It's also about education. It's about jobs, and it's also about quality of life," said Tammy Dunn, executive director at Snohomish County Sports Commission. "[Esports] has similarities to traditional sports, with understanding community, but this is a whole different type of sport. It's very unique. This conference is helping me to know who the players are … how the athletes should be represented."
To close out the second day of EsportsNext, the Elevator Pitch Contest was won by Marc Rosenberg with his pitch for The Edge Desk, an adjustable ergonomic desk with the health and comfort in mind of those who work sitting for long periods of time. Afterward, ESTA held a happy hour get together at ROOF on theWit, which was hosted by Smash Interactive, the group behind the upcoming state-of-the-art SURGE esports arena in Chicago's Bronzeville neighborhood. This was a great way to close out the conference, allowing the attendees and panelists the opportunity to unwind and network at their leisure.
By Christopher D. Silbernagel
Main image: Scholastic Esports panel, moderated by Jeff Palumbo and featuring (from left to right) Jorrel Batac, Michael Brooks, Gerald Solomon and Dr. Katrina Adkins.