How Elizabethtown, KY & Pecos, TX Made Sports Tourism's Big Leagues
In the United States, 76 percent of the 19,502 incorporated places—cities, towns, villages and boroughs—have less than 5,000 residents while 96 percent have fewer than 50,000.
A land flushed with small and mid-sized towns, it's no surprise that sports tourism has left indelible marks well beyond the American big city, truck stops and tumbleweeds aside.
"Our tourism living prior to sports was a stopover. At one point we called ourselves the hub city—the idea was you could stay here and travel all around the wagon wheel," says Janna Clark, executive director of the Elizabethtown (KY) Tourism and Convention Bureau. "We were the center of it all, the heartland of the country."
Now, a decade after the Elizabethtown Sports Park opened, Etown as it's called by some locals—with a population of about 30,000—is still that community with good proximity, nestled along Interstate 65 less than an hour south of Louisville and about two hours north of Nashville. Yet since opening day on July 21, 2012, the Sports Park has put Elizabethtown on the sports events and tourism map nationally.
With 12 ball diamonds, which were recently upgraded with an installation of artificial turf infields, and 12 multi-purpose fields for soccer and more, Elizabethtown Sports Park has built an impressive calendar featuring an array of national tournament operators. When the community began exploring the construction of a sports complex in the late 2000s, Clark says Elizabethtown held a universal understanding that kids needed sports and a nice place to play, but that success in sports tourism takes much more than building courts or fields.
"We realized that our niche is in the quality of our facility—people have built facilities around us, but we still stand out for the quality of our facility," Clark says. "If we add to that the quality of service and the experience, then we've put ourselves ahead of the competition. So we went looking for that partner."
Most recently, that partner ended up being Ripken Baseball, a tournament experience company founded by Major League Baseball Hall of Fame shortstop Cal Ripken, Jr., and his brother, Billy Ripken. Ripken Baseball and Etown Sports Park signed an agreement this summer that will debut The Ripken Experience Elizabethtown in 2023, bringing multiple weekend and week-long baseball and softball events to the Bluegrass State. As only the fourth Ripken Baseball location, the partnership with Elizabethtown also marks the first time the Ripken brand has branched out from its own venues—the other three in Aberdeen, MD, Myrtle Beach, SC, and Pigeon Forge, TN, are Ripken-owned and operated.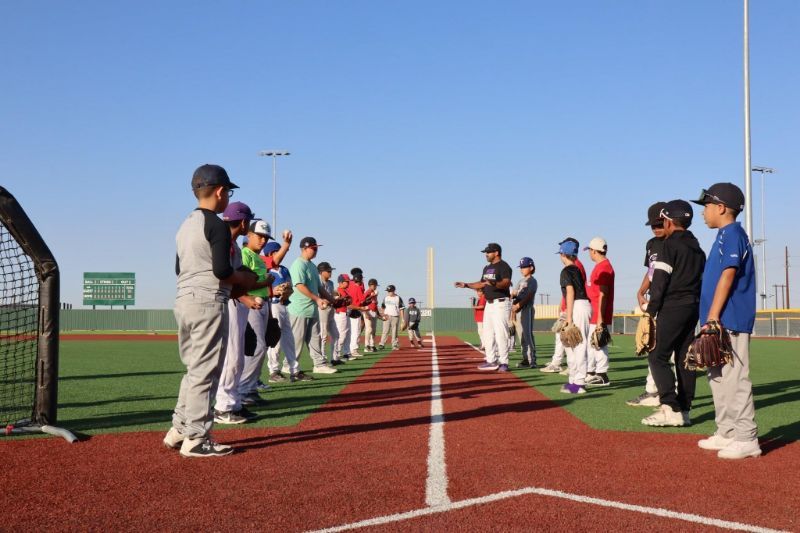 About 1,200 miles southwest of Etown, Ripken Baseball is also on the radar for Pecos, TX. Home to the world's first rodeo held July 4, 1883, Pecos is also a proud west Texas baseball town according to Cathy Garcia, one of 16,000+ residents and the general manager of Cyclone Ballparks. While talks of its own national pastime-centric venue began almost eight years prior, Cyclone Ballparks opened last year featuring five turf diamonds with plans for future growth.
As Garcia attests, the facility—given the Cyclone name as a nod to the region's penchant for high winds and large tumbleweeds—has been a quick hit with a variety of local and regional events, leading to a fully booked calendar this year and 26 events already on the 2023 schedule.
"The visions we had eight years ago were nothing compared to what we have seen in just one year," Garcia says. "The economic impact, if you look at the numbers right now for the year, we are projected at $12 million. This was an $18 million project. Our clients have been extremely satisfied with SFC (Sports Facilities Companies), the way we have structured our events, structured our planning. SFC is an amazing company."
Sports Facilities Companies has been plugged into the Pecos project since mid-2021 when it was contracted to manage the facility. One of its first orders of business included finding a leader who understood the business and market, leading to Garcia, a former hotelier who also has Pecos Little League board experience. As part of her onboarding and training, Garcia traveled to check out operations at Elizabethtown Sports Park, also an SFC-managed facility.
"Elizabethtown is an amazing community, an amazing venue," Garcia says. "There was an event going when I was there; you get chills seeing all the interaction with the youth. It was very overwhelming for me starting, but I loved it. It gave me a vision for what I see Cyclone to be."
While national brands like Ripken Baseball and Perfect Game are on the Cyclone Ballparks vision board, Garcia remains steadfast about a long-term sales cycle—a mix ranging from base hits to home runs much like Clark and her Kentucky counterparts have been proving out for the last decade. After it was built, Elizabethtown Sports Park achieved some success early on thanks to the city parks and recreation department's management team that specialized in maintenance. But it wasn't until the Sports Park's more recent restructuring alongside SFC that led to increased optimization as well as the potential for a seven-figure reduction in annual city general fund expenses.
"There are other things you can be doing to bring those lines closer together toward a net zero," says Clark about the city's shift to SFC as a third-party management company. "But it has to come from ways other than renting a facility—you have to run your own events, you have to sell sponsorships, you have to generate revenue through your website and through your F&B operations, and run camps."
Prior to the SFC partnership, Elizabethtown Sports Park's event operations rested largely on the shoulders of parks and rec staff. Realizing there was a better way, Clark and company challenged and entrusted SFC to make the best business decisions to help drive operational efficiency. Now in the fourth of a five-year agreement with Sports Facilities Companies, Elizabethtown Sports Park has nearly evened out what had been a $1.8 million annual loss—to which Clark is already asking how Elizabethtown is going to keep getting better over the next 10 years. One idea presented by SFC—identifying high quality diamond-side partner organizations, i.e. The Ripken Experience Elizabethtown—is already in practice thanks in part to the increased quality of life that sports has delivered to the community.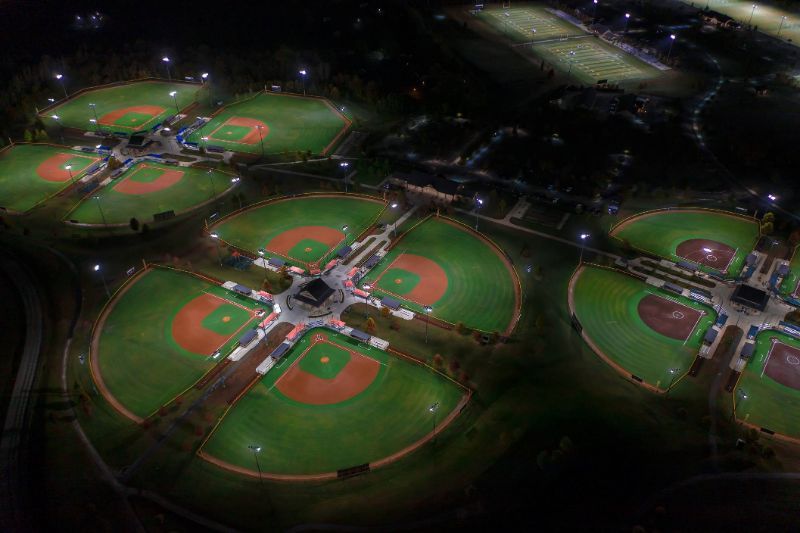 "The development it has brought here is incredible—the new hotels, the new restaurants," Clark says of Elizabethtown Sports Park's impact. "We have a new trampoline park, a new movie theater, a new mini golf [course] that just opened by our hotels, a new waterpark. And when we visited other facilities they said it'd take a good five or 10 years before we'd start to see some development. And here we are at 10 years, and my how we have exploded."
Considering the Elizabethtown template, it may be years before developments like this hit Pecos, but Garcia and her colleagues are already pushing forward plans for the addition of seven diamonds, multi-purpose rooms, office space and a splash pad at Cyclone Ballparks. While the expansion is likely three-to-five years away—at which point a Ripken Experience Pecos may be feasible—Garcia remains busy stacking the schedule with event operators far and near, highlighted by California-based National Championship Sports baseball and softball events and Pecos League minor league games.
And along the same vein as Elizabethtown prioritizing good business, diverse revenue and local access as well as SFC's mission to improve the health and economic vitality of the communities it serves, Pecos is also mixing in a healthy dose of its bullish 1880s roots.
"We are doing a lot of local programming to get our community involved—any type of local event we are open to having here at Cyclone," Garcia says. "Pecos is known for having the world's first rodeo. We had a rodeo kick-off event and had over 2,100 people here in one night. It was a huge event for us, and it was a local gathering. Cyclone is the talk of Pecos."
By Nick Povalitis, Plus Seven Company