With many amazing baseball fields to choose from nationwide, eight venues stand out as grandest of the grand
While there are many great baseball fields of all shapes and sizes throughout the United States dedicated to America's Pastime, a few in particular are distinctly great both in quality and size. East, west, north or south, no matter where you live in the country you'll find one of these eight great mega baseball venues ready to turn your team's baseball dreams into a reality.
Champions Park — Newberry, Florida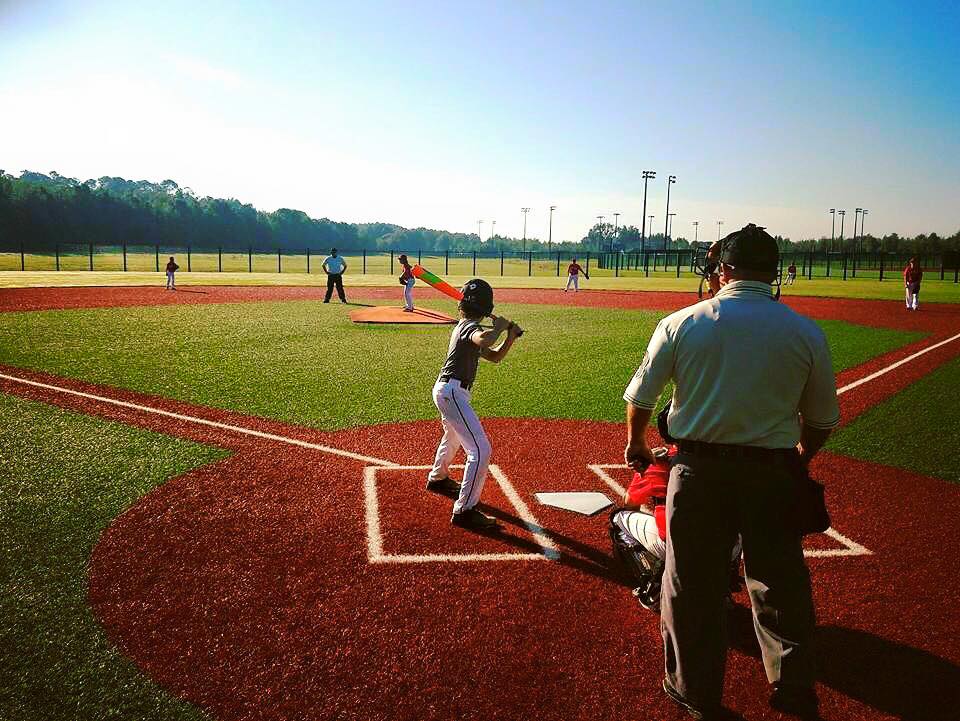 Gainesville, Florida has multiple high-caliber baseball facilities, but Champions Park in nearby Newberry stands out for scouting young talent. The venue features 16 youth baseball fields, all of which are lighted and have 220-feet permanent fencing. Scouting towers for coaches and recruiters overlook the action being played on artificial turf infields and Bermuda grass outfields.
Upcoming tournaments at Champions Park include the USSSA Baseball March Madness and Baseball Spring Showdown. Located along U.S. Route 41, Champions Park is a short drive from connecting I-75 and only 35 minutes out from Gainesville Regional Airport.
Elizabethtown Sports Park — Elizabethtown, Kentucky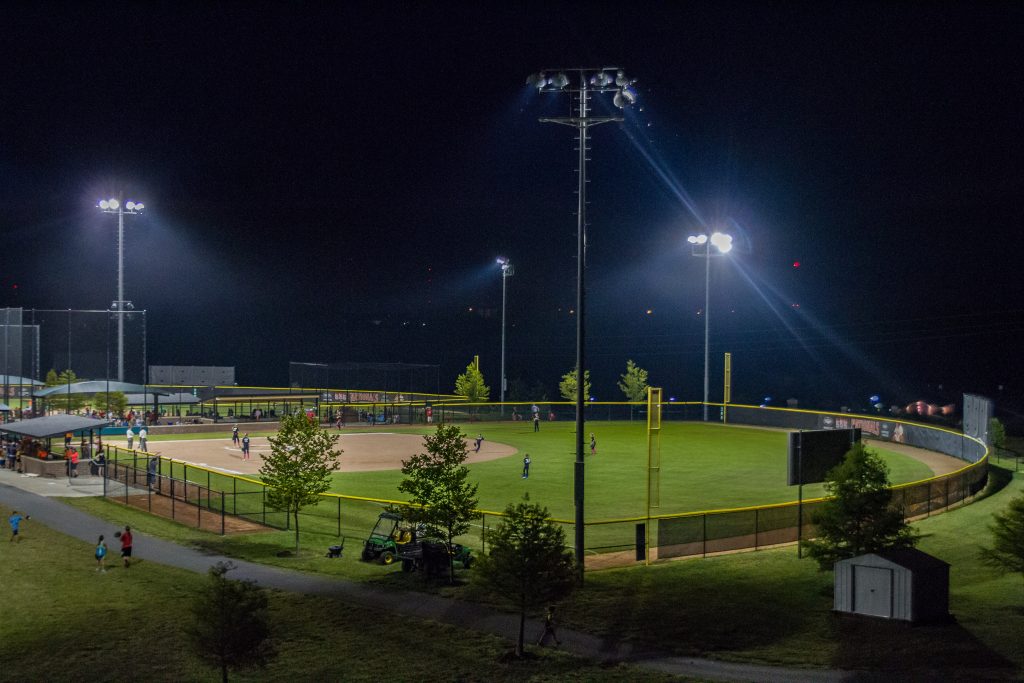 Elizabethtown Sports Park is one of the premier destinations for large baseball tournaments with its two championship fields. Additionally, there are three quads, and all 12 of the diamonds on hand are lighted and have synthetic turf. Along with convenient parking for cars and buses, the facility also has playgrounds with misting systems to cool down between games.
There are plenty of 2022 tournaments scheduled at E-Town, including Gameday USA's 9U through 14U Pre-Season Championships and Silver Series, both of which begin in April. To get to the park, Louisville is the largest nearby city, just north via I-65 which also connects south from Bowling Green and Nashville.
Grand Park Sports Campus — Westfield, Indiana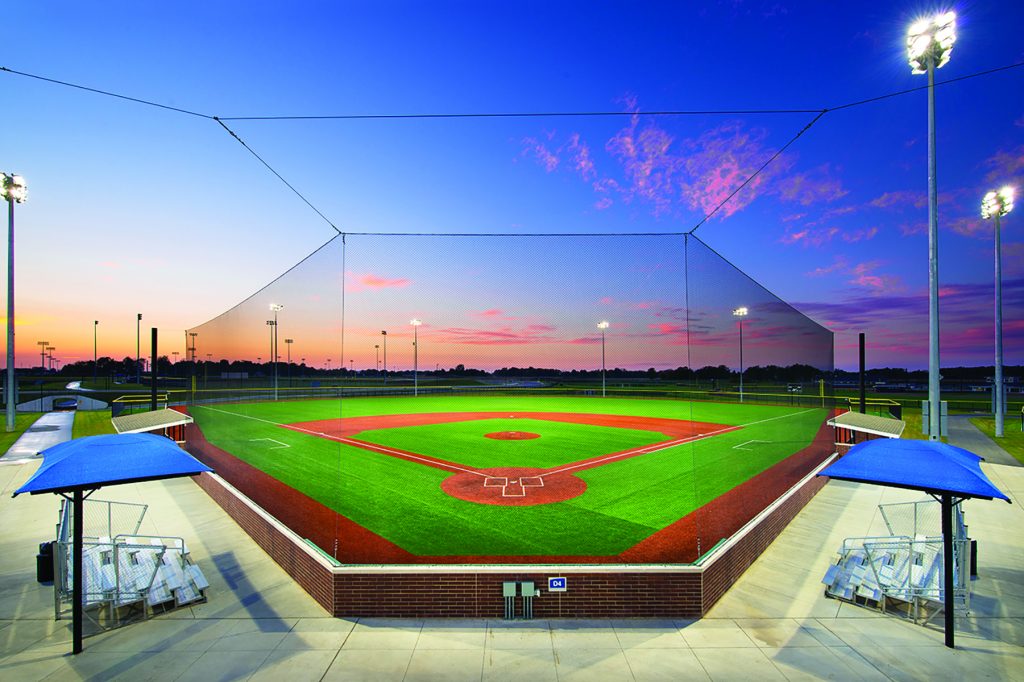 Located in Westfield, central Indiana, Grand Park Sports Campus is a massive venue that's perfect for hosting baseball tournaments. Of the 26 lighted fields on offer, eight are designed for high school and college and 14 for junior. All 26 diamonds have synthetic infields and eight are full-synthetic—allowing for far less rained-out games.
There are many tournaments scheduled at Grand Park, including the multi-level Amateur Baseball Championships throughout June and July, as well as the college-level Crossroads Crossover Series from February 25–27. Getting to Grand Park is easy, with nearby Indianapolis a connecting hub for multiple highways from all directions.
LakePoint Sports Baseball Village — Cartersville, Georgia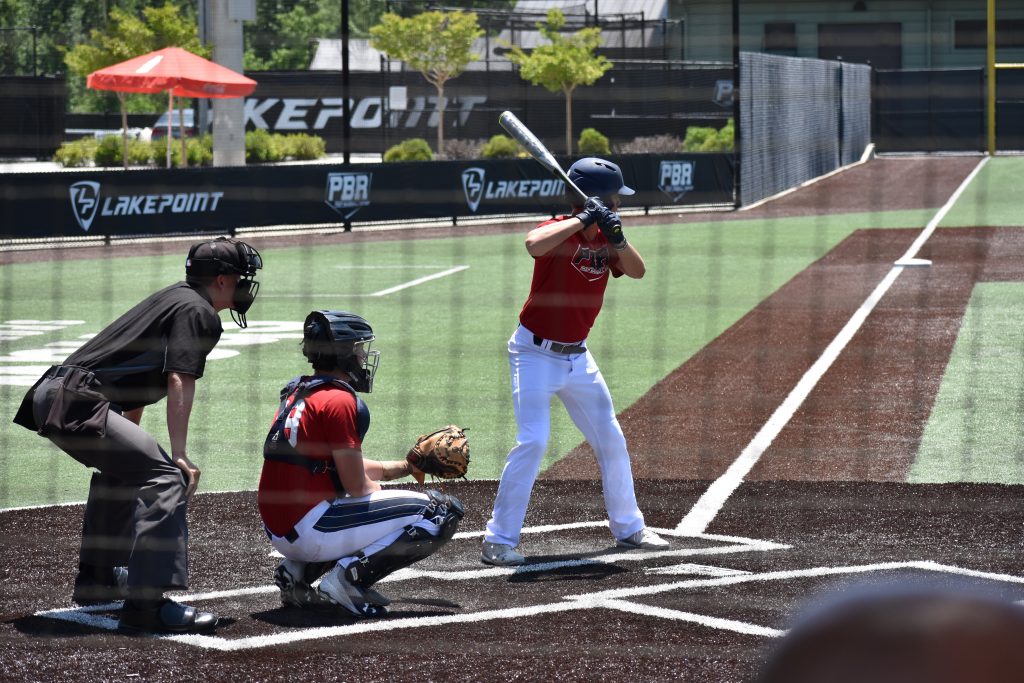 Located in the greater Atlanta area, 1,300-acre LakePoint Sports campus features a designated Baseball Village for hosting top-notch tournaments. The state-of-the-art venue has eight major league-sized, all turf fields, each with two dugouts, two batting cages and two bullpens. Two scouting towers overlook four of the fields. There are also seven cameras available at each field for live streaming and video-on-demand service.
LakePoint is the flagship campus for Prep Baseball Report (PBR) and all of their major tournaments, hosting multiple per year including the PBR Future Games and Upperclass Fall World Series. LakePoint is nestled in scenic Cartersville and close to Cartersville Airport. The facility can easily be reached via I-75 traveling directly from Atlanta or Marietta.
Louisville Slugger Sports Complex — Peoria, Illinois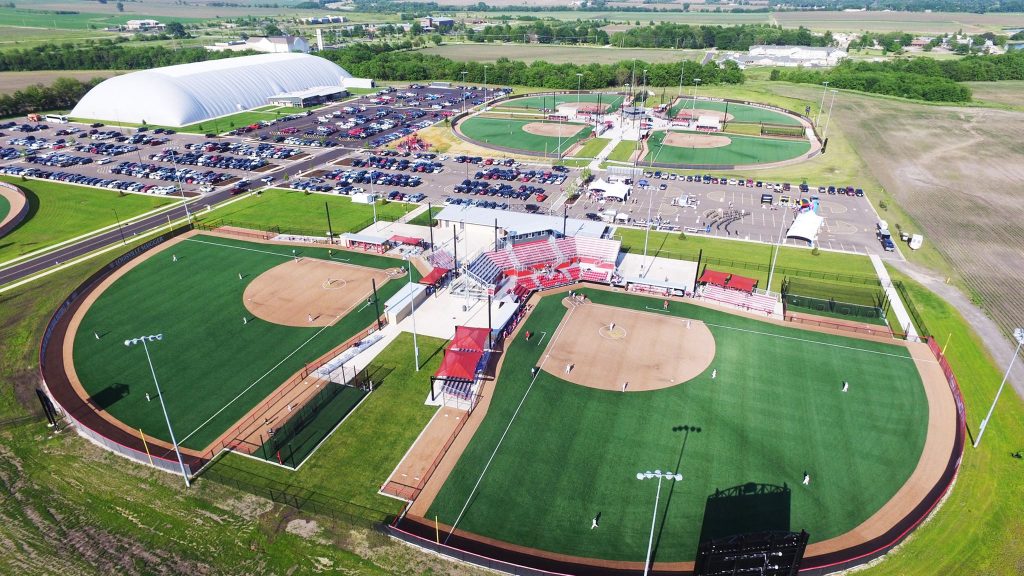 Tournament-ready Louisville Slugger Sports Complex over in Peoria, Illinois has a unique feature on this list. The Slugger Dome is a 125,000-square-foot building with two 200-foot fields. Outside is a 1,300-seat stadium with video board and concert sound, along with 10 additional fields with all synthetic turf. Live streaming for indoor and outdoor games is available.
Upcoming tournaments at Louisville Slugger Sports Complex include the 12U Maple Moonshot from March 18–20, and the 8U through 12U Rise & Grind Shootout at the start of April. Additionally, getting to the facility is a breeze. At a short distance from Downtown Peoria and its airport, a short jump off from I-474 and I-74 will get you there.
Old Settlers Park — Round Rock, Texas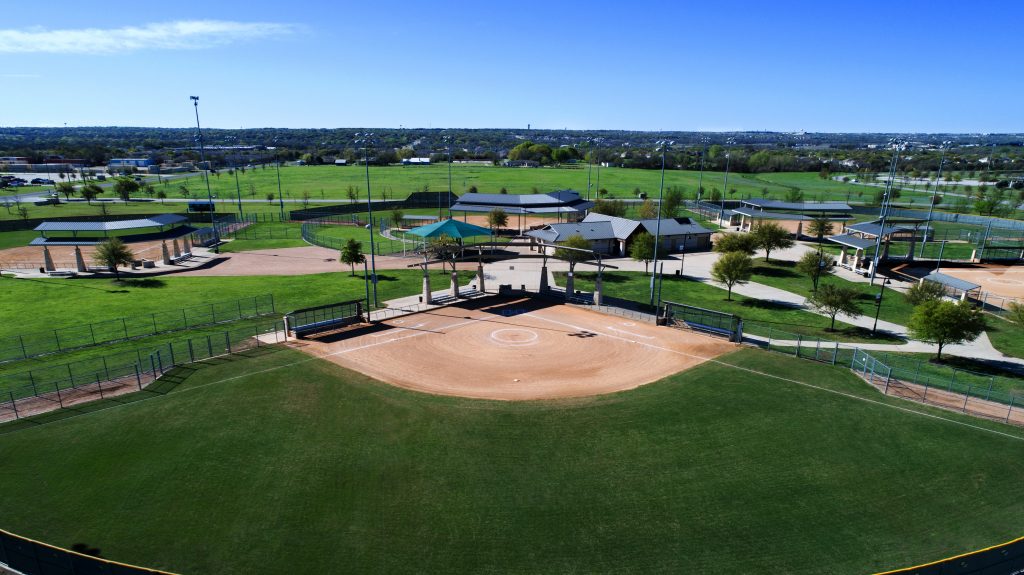 As the crown jewel of Round Rock's park system, Old Settlers is a premier sports destination for hosting baseball tournaments at any level. The venue's Champion Fields features 20 fields designed specifically for America's Pastime. These fields are split into four complexes for designated age groups 4U through 18U, many of which have varying size specs. For example, fields at Triple Crown are 200 feet at center field while the two largest at Cy Young measure in at 350.
In 2021, Old Settlers hosted the popular Patriot Day Super Regional NIT from September 11–12. This tournament featured 7U through 14U at various levels through to Major. Located just outside of Austin, Round Rock is close to the Austin-Bergstrom International Airport. This makes the facility easily reached by car north or south via I-35.
Orange County Great Park Sports Complex — Irvine, California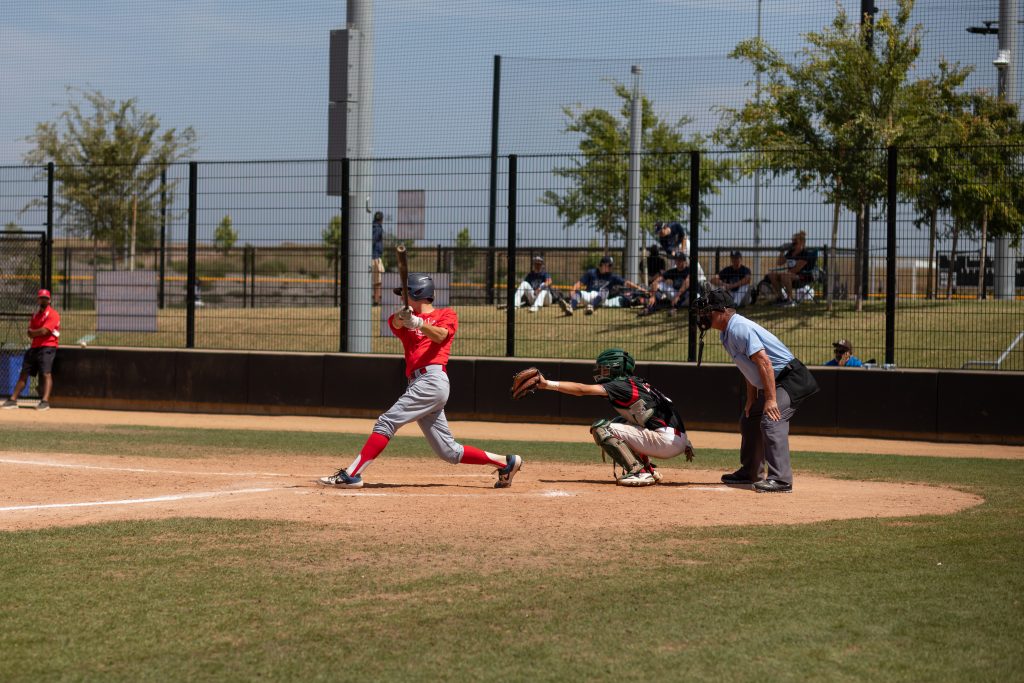 Irvine's sports complex at Orange County Great Park is a sight to behold. At 194 acres, it's one of the largest sports complexes in the U.S. For baseball tournaments in particular, its championship stadium and six additional lighted fields make it an excellent spot to host. Opened in 2018, the Great Park has already hosted a number of great tourneys, including USA Premier Baseball's 2021 Fall Classic. Upcoming, the 2022 Spring Fling Friendly will take place in late March.
As part of the larger Great Park, there's plenty to do between games. At over 1,300 acres, Great Park also features a balloon ride experience with unmatched views, an arts complex, educational playground and more. Located 20 minutes from John Wayne Airport, the venue is easily accessible via I-405 and I-5.
The Ballpark of the Palm Beaches — West Palm Beach, Florida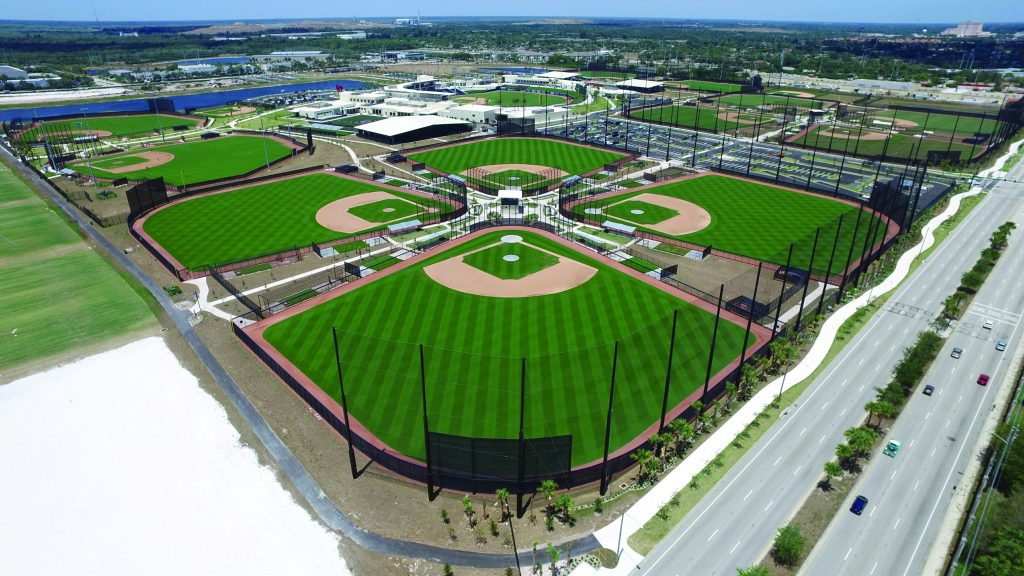 As the Spring Training home to the Washington Nationals and Houston Astros, The Ballpark of the Palm Beaches is not only one of the top spots for baseball in Florida, but also the U.S. The complex's 7,700-capacity stadium is its centerpiece with an elegant wrap-around concourse and inviting sightlines. At over 160 acres there are a total of 13 MLB fields, as well as five multipurpose athletic fields covered in beautiful Bermuda grass.
Past major tournaments held at Palm Beach County's ballpark include the 2021 Ultimate Baseball Championships for 14U through 17U. Along with plentiful parking, access to the facility is a breeze since Palm Beach International Airport is only a 20-minute drive via I-95.
By Christopher D. Silbernagel
Main photo: LakePoint Sports Campus, Cartersville, GA.