Sports culture runs deep in Indiana, a centrally located state that seems like a natural for sports event planners scouting out their next tournament.
A premier destination for regional, national and international rights holders, the Hoosier State cherishes its sporting traditions. Indiana is home to the largest high school basketball gyms in the country—mammoth houses of hoops that reflect their communities' absolute love for the sport. In the world of college athletics, the programs at Indiana University, Purdue University and the University of Notre Dame are legendary. On the pro level, the state hosts the Indiana Pacers, Indianapolis Colts and several minor league baseball teams. And everyone knows the world's most-attended single-day sporting event is the Indianapolis 500, an auto race that has been filling the stands at the Brickyard since 1911.
Offering top-rate facilities ranging from the historic to state-of-the-art, Indiana's small towns and large cities provide a myriad of choices for tournament planners seeking just the right venue. New sports complexes and other venues pop up regularly, and old standbys are being renovated all the time.
Situated in the heart of the Midwest, within a day's drive of 60 percent of the country, Indiana has always been a crossroads, and with the recent surge in gasoline prices, it's an attractive destination from an economical point of view.
New on the horizon in Columbus, about an hour south of Indianapolis, is NexusPark, a redevelopment of the former Fair Oaks Mall. The fieldhouse, scheduled to be completed in late 2023, is expected to attract tournaments in basketball, football, pickleball and other sports. The complex will also have restaurants, retail, and medical and wellness offices. Columbus, moreover, has emerged as a center for the fast-growing sport of pickleball, offering 118 indoor and outdoor courts at 35 locations, including three dedicated outdoor pickleball courts at Marion Franklin Park.
In Hammond, just 30 minutes from downtown Chicago, the new $100 million Hammond Central High School opened in 2021 and features three gymnasiums, a weight room, swimming pool, an outdoor track and a turf football/soccer field. Ukraine's Olympic Greco-Roman wrestling team held its training camp there from July 7-August 3, 2022.
Lafayette is bringing baseball and softball tournaments to sparkling new Loeb Stadium, which opened in 2021 on the site of the old stadium. The $20 million project saw the field rotated 180 degrees, and new hospitality suites and group seating areas were added. Located in Columbian Park, the 1,910-seat stadium hosts the Lafayette Aviators of the Prospect League, a summer college baseball league, and Lafayette Jefferson High School's baseball team. In 2018, Lafayette's McCaw Park added 12 lighted pickleball courts, and in West Lafayette, Purdue University's Schwartz Tennis Center continues to be a popular venue for tennis tournaments.
In southwestern Indiana, the eight diamonds at Evansville's Deaconess Sports Park have taken on a new life after the installation in 2022 of synthetic turf infields. The artificial grass promotes better drainage, resulting in fewer game cancellations and a reduction in the length of rain delays, making the venue more attractive to tournament planners. The park in 2022 held more than 40 events, one of the biggest being the USA Softball Girls 14UA National Championship. In neighboring Warrick County, plans are in the works for developing an indoor complex for amateur and youth sports.
In Hamilton County, north of Indianapolis, Grand Park Sports Campus in Westfield has certainly made a name for itself since opening in 2015. The 400-acre, world-class complex offers 31 multipurpose fields for soccer, football and lacrosse, 26 baseball/softball diamonds and four indoor facilities, attracting more than a million visitors and participants annually. For some baseball and softball tournaments, Grand Park collaborates with Kokomo's new Championship Park, an all-turf facility with four high school/college fields and four junior/softball fields that opened in 2021.
Hamilton County also draws hockey tournaments with six sheets of ice, and 18 golf courses make the area a top destination for regional and national meets.
At Indiana University in Bloomington, The Pfau Course, designed by Steve Smyers and Fuzzy Zoeller, opened in 2020 and has emerged as one of the premier public golf courses in the Midwest. It welcomes the LPGA Amateurs Championship Finals in July 2023.
The pride and joy of Terre Haute's sports community is LaVern Gibson Championship Cross Country Course, one of the few purpose-built cross country courses in the world and one of the most spectator-friendly distance running courses. Nationally recognized, the 250-acre venue in western Indiana, with its mix of uphill and downhill sections, has hosted numerous NCAA Division I Cross Country Championships.
Fort Wayne, the state's second-largest city, has distinguished itself in the world of adaptive sports. The non-profit Turnstone Center for Children and Adults with Disabilities, one of 11 Paralympic Training Sites in the U.S., works with the City of Fort Wayne and Visit Fort Wayne to attract regional and national tournaments. Turnstone Plassman Athletic Center, featuring a 75,000-square-foot fieldhouse with a 230-meter track, four collegiate basketball courts and a warm pool, hosts wheelchair basketball and tennis, power soccer, adaptive golf, goalball, quad rugby and indoor rowing. Teams from all over the nation converged there in June of 2022 for the U.S. Power Soccer Association's national tournament.
Fort Wayne also is a big player in competitive hockey thanks to SportONE/Parview Icehouse. The only three-sheet facility in Indiana under one roof, it offers NHL-sized rinks for figure skating and curling as well as hockey. It hosted the USA Hockey Blind and Special Classic in 2022.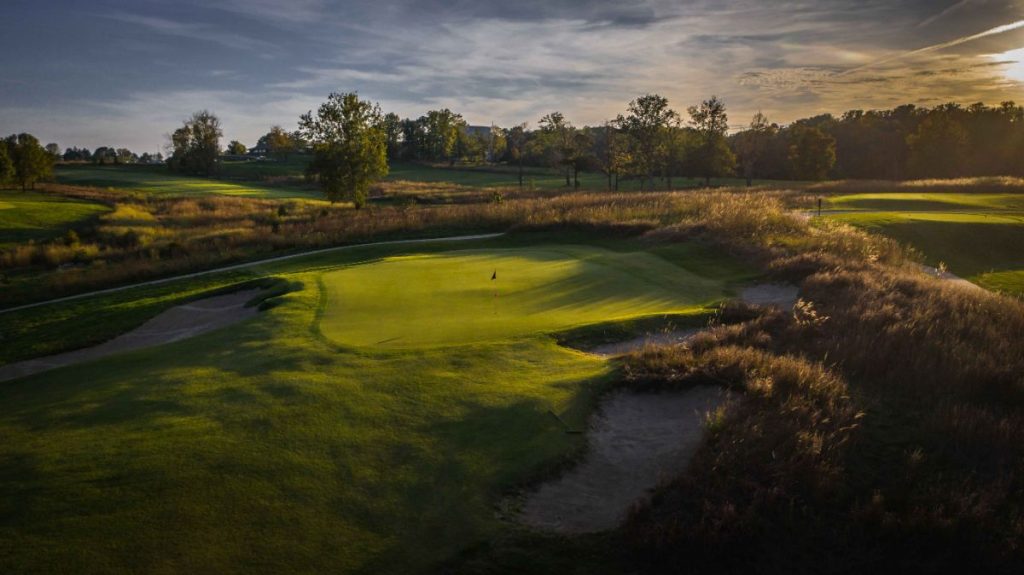 South Bend's four ice rinks (two at the University of Notre Dame's Compton Family Ice Arena and two at The Ice Box) make it another northern Indiana hockey hub.
Top-notch college facilities in Fort Wayne include those at Purdue University Fort Wayne and Indiana Tech. The latter's Warrior Park, with a turf softball field and outdoor track and field, opened in 2019 and ranks as one of the best facilities in the NAIA. An indoor track is being added to the athletic complex in 2022.
Indiana aquatic facilities host some of the best swimmers, divers and water polo athletes. Elkhart Health & Aquatic Center, which opened in 2019, boasts a larger than Olympic-sized pool that has 10 lap lanes and ranks as the fifth-largest public-use pool in the nation. Evansville's Deaconess Aquatic Center, a two-story facility with separate competitive and recreation areas, opened in fall 2021. For nearly 40 years, Indiana University Natatorium, located on the Indiana University-Purdue University Indianapolis campus, has hosted elite competitions and holds up to 4,700 spectators, making it the largest indoor pool in the United States. The aquatic venues on the main campuses of Indiana and Purdue, in Bloomington and West Lafayette respectively, also attract top events. The USA Water Polo Champions Cup is set for November 2023 in Bloomington.
Volleyball reigns supreme in the Muncie area. Worthen Arena at Ball State University hosts top tourneys like the IHSAA Girls State Volleyball Finals, and Yorktown Sports Complex in nearby Yorktown is home to Munciana Volleyball, America's elite junior volleyball training program.
Sports planners with an eye on the hottest trends look to Indiana for esports competition. The LAN Center at Bendix Arena in South Bend, one of the first dedicated esports facilities in the Midwest, attracts gaming events with top-of-the-line equipment, including 36 PC stations. The brand new 7,500-square-foot Esports Park at Butler University serves as a hub for the tech, gaming and academic communities in Indianapolis and has about 50 PCs.
Iconic arenas and fields appeal to planners captivated by tradition, and Indiana has some good ones. The well-preserved Hinkle Fieldhouse, a fixture on the Butler University campus in Indianapolis since 1928, is Indiana's "basketball cathedral." The sixth oldest basketball arena still in use appeared in the 1986 movie Hoosiers. Also dating from 1928 is the huge Muncie Fieldhouse; the home of the Muncie Central High School Bearcats underwent a $1.7 million renovation after being damaged in a 2017 tornado. Baseball lore is alive at Evansville's historic Bosse Field, a filming site in the 1992 film A League of Their Own. Built in 1915 as the first municipally owned sports facility in America, it is home to the minor league Evansville Otters.
Besides being able to book top-notch facilities, tournament planners appreciate Indiana for a secret ingredient it offers out-of-towners—heaping helpings of Hoosier Hospitality. Not only will they find dedicated professionals from the sports commissions and visitor bureaus, but each location will have an army of engaged volunteers—passionate, sports-minded people who add a level of service to every event.
---
By Randy Mink
Enjoy amazing scenery and golfing at Pfau Course at Indiana University. Photo courtesy of the Indiana Sports Corp.